Now Available in the APPA Bookstore!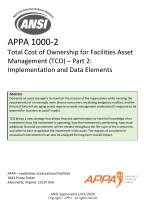 This new ANSI approved standard is available in the APPA Bookstore, and lays out the steps and defines the implementation and supporting data elements fundamental to the successful implementation of APPA's Total Cost of Ownership (TCO). Building on APPA 1000 Part 1: Key Principles, Part 2 establishes a common framework for owners of facilities assets to identify and more effectively track and manage costs of a facility, building, or supporting infrastructure their full life cycle.
APPA's TCO brings a new strategy that allows financial administrators to have full knowledge of an investment: how the investment is operating, how the investment is performing, how much additional financial commitment will be needed throughout the life cycle of the investment, and when to best recapitalize the investment in the asset. The impacts of consistent or occasional noninvestment can also be analyzed for long-term overall impact.