APPA's Certified Educational Facilities Professional Credential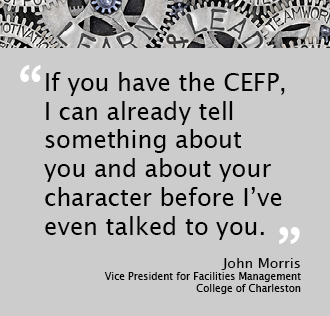 At APPA, we help facilities professionals like you work more efficiently and effectively. Our Certified Educational Facilities Professional credential (CEFP) is designed to help you get the knowledge and develop the skills you need to provide world-class service to your institution.
Today, the CEFP is the industry standard for educational facilities professionals. Employers recognize the value of the CEFP, because they know the multidisciplinary design of APPA's program. They know that the professional with the APPA credential is well positioned to work cross-functionally on a campus — and you already know how critical that is today, as institutions are making hard decisions about their operations.
John Morris, Vice President for Facilities Management at the College of Charleston explains why he thinks the CEFP is so important.
You'll Be More Competitive!
When you hold this advanced certification, you become more competitive among other professionals and more desirable for future leadership positions. You also have more opportunities for career advancement and the ability to leverage your personal return on investment in terms of career development.
All it takes is eight years of combined experience and education – and the UTSA graduate certificate can be counted toward your total! See if you qualify!
You Can Get Started Now!
Once you qualify, you're on your way to 24/7 access to our online learning platform. Our robust online learning platform puts you in control — learn when and where it's convenient for you.
Enroll today, and get immediate access to:
APPA's Body of Knowledge
Flash Cards
Practice Exams
Webinars with experts in the field
As an added benefit, you'll learn with a cohort of your peers who can provide a new perspective and build your professional network. You will learn about a wide range of relevant topics educational facilities managers face every day: planning; design; construction; operations and maintenance; utility and energy systems; sustainability; and management and administration.
For more than 100 years, APPA has helped professionals like you keep pace as the profession has grown and changed. We continue to do that as educational facilities evolve to meet the changing demands of learners; apply technological innovations; adapt to shifting workforce dynamics; and now to respond appropriately to a global pandemic. We can help you and your institution thrive in a landscape destined to look dramatically different than what we're used to.
Learn more about the CEFP or contact us today at kelly@appa.org.
Contact Us
If you have questions, please contact:
Kelly Ostergrant kelly@appa.org
Credentialing Coordinator
(o) 703-542-3835 (c) 615-294-5780
Christina Hills chills@appa.org
Director of Credentialing & Benchmarking
(o) 703-542-3844