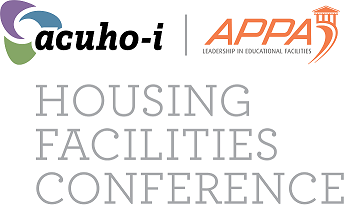 ACUHO-I/APPA Housing Facilities Conference
October 2-5, 2023 | Columbus, OH
Explore current strategies and innovative approaches for areas across campus housing facilities – operations, technology, maintenance, construction, leadership, and more.
The ACUHO-I/APPA Housing Facilities Conference gives you inside access to cutting-edge solutions in facilities management, while providing spaces for you to engage with our collaborative community.
Join us October 2-5 for our Housing Facilities Conference! You'll receive curated educational content, community-building spaces, and more. Join sessions with practitioners in the field, draw inspiration from our featured speakers, and make new connections.
This year's three content conferences (Academic Initiatives, Business Operations, & Housing Facilities) will be taking place concurrently October 2-5, 2023, in Columbus, Ohio. In addition to our traditional interest sessions, we will be offering cross-functional programming as well. Registrants will have the chance to attend one, two, or all three conferences.
---
---