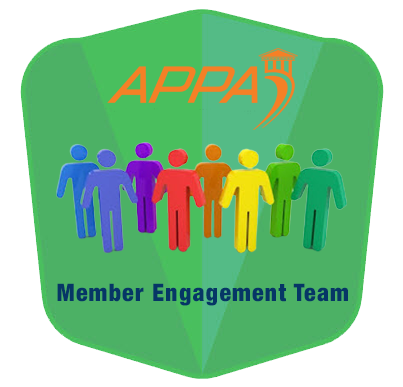 APPA invites you to join its Member Engagement special interest group to become involved in your area of interest at APPA!
Purpose: The group will explore, analyze, and advise on differentiating initiatives that enhance APPA's value proposition in the eyes of its members in an effort to gain and retain members within the education facilities community.
Charge(s): Utilizing volunteer ambassadors, APPA, and the region's resources, the group will implement strategies designed to promote greater understanding of APPA's community, brand, and value proposition. Ensure APPA products and services are increasingly differentiating and valued by its members. Continuously work to recruit and re-engage new and current members.
Appointment time period: 3 years
Commitment and expectations: Timely communications; attend monthly virtual meetings and possible in-person meetings 1-2 times per year; willingness to prepare various communiques as needed by the team.
Qualifications:
Virtual meeting once a month; In-person 1-2 times a year
Responsiveness to region/ committee and commitment to working on renewals and generate new members
Incumbent will share previous reports, data, access to prior membership information with their respective region and ultimately their replacement (when that time occurs)
Minimum reporting items from each regional representative to be posted to the online community group. Standard reporting items to be determined
Community Engagement – Promote community participation among their regions, regional boards, etc., brainstorm ways for members to participate and offer feedback on initiatives
'Membership Matters' column/article in Facilities Manager magazine.
Coordination of efforts within their region (and chapters) to ensure the members are personally contacted during the membership renewal period, and follow up with all members with outstanding membership balances
Each committee member should also stay in close communication with their regional board, regional director and regional president and relevant chapters
____________________________________________________________________________
Interested in volunteering?
Thank you for your interest. Submission period is now closed. Please consider volunteering for one of APPA other opportunities!