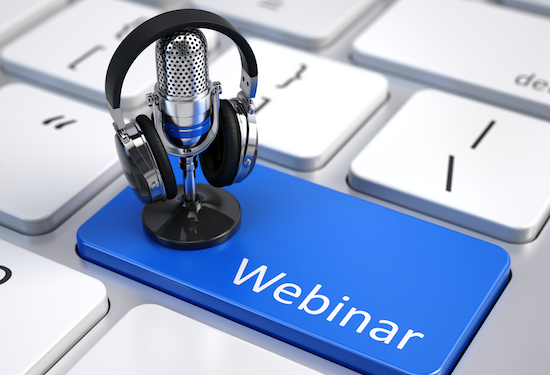 2019 Webinars
---
Click here to be taken to the "Events" page to see upcoming webinars.
Thursday, October 10, 2019
APPA Operational Guidelines for Educational Facilities Maintenance
1:00 PM – 2:00 PM (ET)
Presenters:
Ted Weidner, Purdue University
J. Thomas Becker, Thomas Jefferson University
Thursday, September 26, 2019
Aftershocks: Lessons from the 7.1 quake in Alaska
1:00 PM – 2:00 PM (ET)
Presenter: Ryan Buchholt, University of Alaska – Anchorage
Z358.1 – Emergency Shower and Eye Wash Station Requirements
Thursday, September 19, 2019
1:00 PM – 2:00 PM (ET)
Mike Adkins, Regional Sales Manager, Guardian Equipment, Chicago, IL
Ryan Pfund, Sr. Product Manager, Bradley Corporation, Menomonee Falls, WI
Cristine Z. Fargo, CAE Vice President, Operations and Technical Services, International Safety Equipment Association, Arlington, VA

Carbon Monoxide Detection: Frequent Questions and Code Updates
Tuesday, September 10, 2019
2:00 PM – 3:00 PM (ET)
Presenter: Richard Roberts, Industry Affairs Manager, Honeywell Fire Safety
IICRC S500 Standard / Water Damage Principles & Recovery
Thursday, August 29, 2019
1:00 PM – 2:00 PM (ET)
Presenter: Darren Foote CR, WLS, MWR, AMRT, CMRS,
Head of Technical Training, BELFOR Property Restoration
Next Gen FDD: FM Thriving in the Age of Change
Thursday, July 25, 2019
12:00 noon – 1:00 PM (ET)
Presenter: Alex Grace, KGS Buildings
Proactive vs. Reactive – Building Envelope Maintenance
Thursday, July 11, 2019
2:00PM – 3:00PM (ET)
Presenters:
Jessica Gitto, National Account Manager
John Meyer, Denver Branch Manager
Western Construction Group, Inc.

How will the 4th Industrial Revolution affect campus operations?
Thursday, June 29, 2019
12:00 noon – 1:00PM (ET)
Presenter: Henry Johnstone PE President GLHN Architects and Engineers
Total Cost of Ownership and APPA TCO 1000™ Part 2 – Implementation and Data Elements
Thursday, June 6, 2019
1:00PM – 2:00PM (ET)
Presenters:
Ana Thiemer, University of Texas at Austin
Deke Smith, DKS Consulting LLC
Managing Risks & Taking Advantage of Opportunities in the Volatile Natural Gas Market
Thursday, May 30, 2019
12:00 noon – 1:00PM (ET)
Presenter: Andy Huenefeld, Director Price Risk Management, Kinect Energy Group
OSHA's Top 10: An Analysis of the Most Cited Workplace Safety Violations in 2018
Thursday, May 9, 2019
1:00PM – 2:00PM (ET)
Presenter: Mark Liffers, Practice Director, EHS Consulting, Triumvirate Environmental
Faster Closeouts: Improving the Handoff Process
Thursday, April 25, 2019
12:00 (noon) – 1:00PM (ET)
Presenter:
David Trask, National Director, ARC Facilities

Eclipse VOLTTRON Platform Enables Successful Integration of Photovoltaic and Battery Energy Storage Systems on University Campus
Thursday, April 17, 2019
1:00 PM – 2:00 PM (ET)
Presenters: David M. Raker, University of Toledo
Andrew Rodgers, Ace IoT Solutions
Michael Green, P.E. Director, Energy Management, University of Toledo
Michael Heben, Ph.D., Managing Director, PVIC, and Prof. of Physics, University of Toledo

Smart Door Tagging The Future of Maintaining Door Openings
Thursday, March 28, 2019
3:00 PM – 4:00 PM (ET)
Moderator:
Christopher M. Kopach, CEP, AVP, FM UA, APPA Immediate Past President
Presenters:
Jeremy Saline, Director Business Development, ASSA ABLOY
Jeff Rindlisbacher, CSI, CDT, CM-BIM, CFDAI Openings Studio Building Technologies Consultant

Hurricane Harvey – Catastrophic Climate Preparation and Recovery – What University of Houston – Downtown Experienced
Thursday, March 7, 2019
1:00 PM – 2:00 PM (ET)
Presenter:
Kris Zimmerman, M.S., C.E.F.P., LEED AP
O&M Director – Mechanical, Electrical, Plumbing Facilities Management
University of Houston Downtown
Opportunities for Recycling Campus Water through Water Recycling – Case Study: Emory University
Thursday, February 28, 2019
Moderator: Chris Kopach, CEFP; Assistant Vice-President FM University of Arizona
Presenters:
Bob Salvatelli, Director of Sales Sustainable Water Consultants
Henry Johnstone, President GLHN Architects & Engineers, Inc.

High-Performance Standing Seam Metal Roofing System (AIA accredited)
Thursday, February 14, 2019
1:00 PM – 2:00PM (ET)
Presenter:
Phil Chmieleski, National Sales Manager, Merchant & Evans, Inc.
A Holistic Approach to Asset Management Through Operations
Thursday, January 31, 2019
2:00pm – 3:00pm (ET)
Presenter:
Randy Walsh, Director of Solution Engineering, AssetWorks
Moderator:
Christopher M. Kopach, CEFP
Variations in State Code Updates Reveal Neglect of Electrical Safety
Thursday, January 10, 2019
1:00 PM – 2:00PM (ET)
Presenters:
Meghan Housewright, NFPA Fire & Life Safety Policy Institute Director
Jeff Sargent, NFPA National Electrical Code Specialist
---
Presentation File Request
Copies of presentation slides available by contacting Billie Zidek, Standards & Codes Administrator.