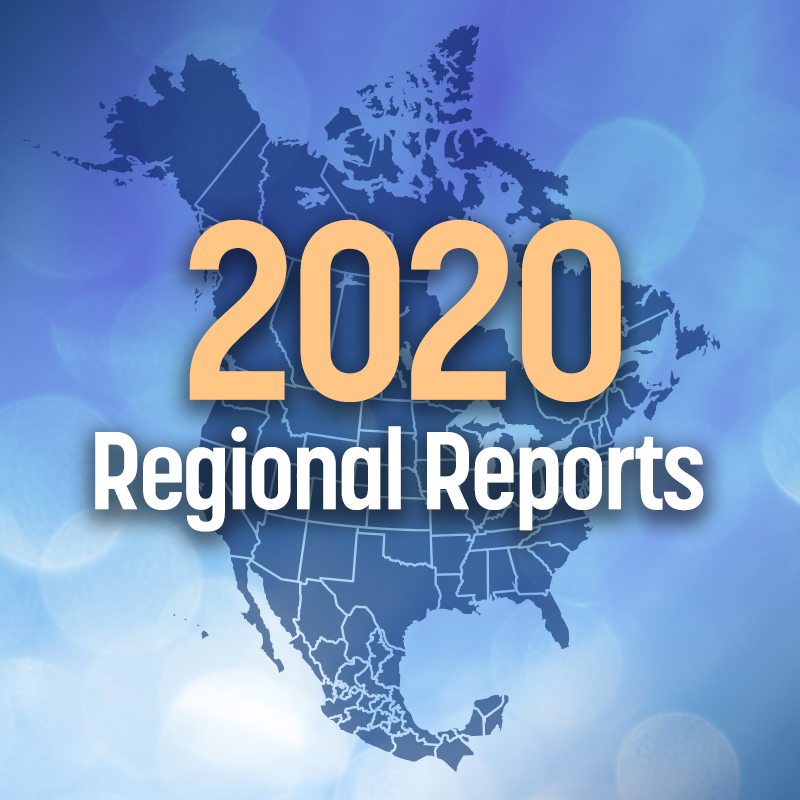 ERAPPA—Eastern Region
By Jessica Abbott
ERAPPA President
Wolcott Public Schools
2020 started off like any other year—I had three months under my belt as ERAPPA President, and I was very excited for the year ahead. As we were gearing up for our Mid-Year Meeting in March 2020, where our ERAPPA committees meet face-to-face and get to enjoy a preview of the amazing venue selected for our annual meeting, life as we knew it began to rapidly change. Institutions were extending spring breaks, moving coursework to online, and banning nonessential travel. The decision was made to cancel the Mid-Year Meeting, but we were still cautiously optimistic that we could look forward to a successful annual meeting in the fall. As we moved closer to the time when registration would have typically opened, the Board worked closely with the 2020 Host Committee Chairs and Conference Planner about the potential success of the annual conference and the safety of our members. As a result, we made the incredibly difficult decision to cancel our 2020 Annual Meeting.
ERAPPA strives to be a key resource for the professional development of our members. With no annual meeting offered in 2020, the Board sought alternative ways to provide education and value. One way we did this was to sponsor the opportunity for 20 institutional members to attend APPA's Virtual Facilities Summit, which took place in early August. Under the esteemed leadership of Amy Baker and Mary Grube and with the support of APPA, we were also able to offer additional Lunch and Learn webinars, which are free to ERAPPA members. APPA now has virtual offerings of the Supervisor's Toolkit and Leadership Academy, and we are pleased to be able to offer educational scholarships to more institutional members than usual due to the lower cost of these virtual programs.
With so much uncertainty still in the months ahead, we have decided to cancel our 2021 Annual Meeting as well. The ERAPPA Board will be working on additional ways for our regional members to remain engaged until we can safely gather in person again!
2020 APPA AWARDS
Meritorious Service Award: Michelle Frederick (American University)
Effective and Innovative Practices Award: University of Massachusetts Lowell, UMass Lowell's Campus Viewer
Sustainability Innovation Award: Brown University
Sustainability Innovation Award: Penn State University
THE 2020-2021 ERAPPA OFFICERS
President/Senior Representative—Jessica Abbott, Wolcott Public Schools
President-Elect/Junior Representative—Sheri Vucci, Smithsonian Institution
Secretary—Jonathan Terry, Quinnipiac University
Treasurer—Phillip Melnick, Penn State University
APPA Liaison—Lander Medlin
To view ERAPPA's website and find a complete listing of the board of directors, please go to https://www.erappa.org/board/.
2021 CONFERENCE: Cancelled at this time. More information TBA.
---
SRAPPA—Southeastern Region
By Katie McFarland
SRAPPA VP for Communications
College of Charleston
Like many events that took place in 2020, SRAPPA's annual conference, originally scheduled for Tampa, Florida, went from being held in-person to being conducted virtually. The SRAPPA Board decided early in the pandemic that holding a face-to-face conference would not only be unwise but unsafe for our members. The Board recognized the need for a networking and education offering event and shifted gears quickly to begin planning to host a virtual conference in September 2020. Conference Chair and past SRAPPA President Tom Jones and his team put together a momentous conference in an incredibly short timeframe.
The SRAPPA 2020 Conference, "Clear Beginnings: Maintaining Our Future," kicked off on September 28 with keynote speaker United States Air Force (Retired) Major General Brian T. Bishop. Major General Bishop, who commanded at all levels, including the United States Air Force Air Demonstration Squadron "Thunderbirds," spoke about building a foundation for successful high-performance teams. SRAPPA also welcomed back renowned speaker, author, and coach Richard Flint, who gave the keynote address on how to maintain our future, a relevant topic in these trying times. Prerecorded sessions on topics related to sustainability, technology, leadership and communication, and facilities planning and construction were included on the conference website and remain available to attendees for a year.
SRAPPA's conference website features numerous business sponsors who participated in our virtual conference. We were able to provide information to our members and connect them with businesses who could help with their needs. The region remains grateful to our business partners and knows that without their support, events like these would not be possible.
Outgoing president Bill Moulton, Northern Kentucky University, spoke at the SRAPPA Town Hall on the challenges the region has faced in 2020 and reflected on the successes achieved during an extraordinary year before passing the reins to incoming SRAPPA President Mike Steger of Berkeley Preparatory School in Tampa. Bill presented the President's Award to APPA Senior Representative David Smith and recognized outgoing Board members, Treasurer Becky Griffith and APPA Membership Liaison Mark Duclos, for their dedication and years of service.
THE 2020-2021 SRAPPA OFFICERS
President—Mike Steger, Berkeley Preparatory School
President-Elect—Dan Whatley, Auburn University
Treasurer—David Maharrey, Mississippi State University
VP of Education—Andy Maddox, University of Alabama
VP for Communications—Katie McFarland, College of Charleston
VP of Chapter Affairs—Rosalba Ledezma, Wake Forest University
Conference Chair—Tom Jones, Clemson University
APPA Liaison—Steve Glazner
To view SRAPPA's website and find a complete listing of the board of directors, please go to http://srappa.org.
2021 CONFERENCE: October 9-13, 2021 * Mobile, Alabama
---
MAPPA—Midwest Region
By Jeremy P. Johnson
MAPPA Communications Chair
Cleveland State University
Facilities leaders are no strangers to facing difficult situations and creating a plan step-by-step, cleaning it up, fixing it, and putting the pieces back together. This is true whether we are facing building damage, a flood, or a global pandemic.
MAPPA planned a joint conference with MiAPPA, the Michigan state chapter of APPA, in Grand Rapids for 2020. The theme was "Bridging the Gap." Due to the impacts of COVID-19, this conference had to be canceled. We missed gathering in person to be encouraged by the voices, insights, passion, and humor of our members. There are unfolding plans for a Chicago 2021 conference. MAPPA is planning to return the conference to Grand Rapids next year with MiAPPA as its partner.
MAPPA worked on rebuilding and preparing for the future in 2020. We made the difficult decision to suspend annual elections and freeze board positions for the year in response to the crisis.
Dawn Aguilera (University of Wisconsin Milwaukee) accepted an appointment as the new Information and Communication Chair after Myriam Weaver (formerly of the University of Chicago) left the MAPPA Board.
MAPPA Past President and APPA Junior Representative Steve Gilsdorf was selected as the inaugural MAPPA Regional Director in line with APPA's structural changes.
Thanks to the leadership of Awards and Recognition Chair Becky Barnes (University of Wisconsin Madison), MAPPA founded the Diversity & Inclusion Committee to advance the important work of improving diversity and inclusion throughout our region within our profession.
To preserve the record of this challenging historical time, MAPPA Historian Becky Hines (retiree from The Ohio State University) is capturing the history of how COVID-19 affected the facilities profession.
MAPPA recognized the need for our members to connect online until we could connect again in person. We also set up a LinkedIn group for our members. Professional Development Co-Chairs Ron Pond (Mukwonago Area School District) and Brandon Dugan (Cleveland State University) are working on web-based, moderated roundtable discussions to share information more personally than is done in typical webinars. They also organized a virtual Supervisor's Toolkit with scholarships provided. The positive response to the Toolkit was overwhelming. All 20 slots were filled within three hours of its announcement.
THE 2020-2021 MAPPA OFFICERS
President—George Hakim, University of Michigan Flint
President-Elect—Doug Laditka, Albion College
Secretary—Nicole Corll, Kent State University
Treasurer—Art Chonko, Member Guest from Breezio
Senior Representative—Jim Bogan, University of Wisconsin Madison
Junior Representative—Steve Gilsdorf, Wayne State University
APPA Liaison—Christina Hills
To view MAPPA's website and find a complete listing of the board of directors, please go to http://mappa.appa.org.
2021 CONFERENCE: Virtual format with MiAPPA, Grand Rapids, Michigan * Date TBA
---
CAPPA—Central Region
By Markus Hogue
Senior GIS Analyst – Location Information Services
CAPPA Region
The University of Texas at Austin
Last year was unique, unlike any year we have gone through. CAPPA, along with its membership, adapted to the changes that were required. One of the changes was the cancelation of the annual CAPPA Regional Conference due to safety.
Moving the conference to an online format was not possible due to timing, so the Board moved to cancel the 2020 conference that was to be held in Tulsa, Oklahoma. I would like to personally thank Angie Mitchell for the years of planning that she put into this conference. Due to her efforts, the conference was ready and set to be one of CAPPA's biggest, if COVID had not occurred.
CAPPA is working with APPA on providing online Supervisor's Toolkits to ensure its membership stays current with trainings and has Certified Educational Facilities Professional (CEFP) coupons available; check www.cappaedu.com for more information.
2020 has taught us how to creatively change the processes we use to manage business. We are now holding online meetings using Zoom/Teams, creating virtual walkthroughs for outside entities to bid on projects, updating custodial staff procedures to increase safety, and much more. APPA has been hosting webinars discussing the impact of COVID, and CAPPA wants to ensure its membership knows of and is able to participate in these meetings.
THE 2020-2021 CAPPA OFFICERS
President—Markus Hogue, University of Texas at Austin
First Vice President—Sheila Awalt, University of Texas at El Paso
Second Vice President—Lalit Agarwal, University of Nebraska Lincoln
Secretary—Virginia Smith, University of Texas at Dallas
Treasurer—Jennifer Kindt, South Dakota State University
APPA Liaison—Christina Hills
To view CAPPA's website and find a complete listing of the board of directors, please go to https://www.cappaedu.org.
2021 CONFERENCE: October 9-12 * Tulsa, Oklahoma
---
RMA—Rocky Mountain Region
By Timothy P. Dobson, CEFP
Executive Director of Operations
New Mexico State University
Greeting from the Rocky Mountain region. 2020 was a very challenging year for RMA, and we canceled our annual conference due to the pandemic. Unexpected vacancies on the board created both challenges and opportunities for the board. We had to say farewell to Wayne Clark, Senior Representative, past RMA President and active RMA member, who passed away last year. He was a great person and we will all miss him. Additionally, we had two Board members who had to step down due to increased responsibilities at their institutions and suspension from participating in RMA due to the pandemic. Currently, the RMA Board is committed to delivering a virtual conference in 2021, and we will be sending communications to our membership in the coming months.
The board is committed to providing professional development opportunities to our membership. Giving back to our members is a strategic goal for RMA, and members can expect to see more opportunities in the future. We are participating in the virtual Academy on Campus, and 24 members will be able to attend for free. We are finalizing the details and will be sharing with our members in the near future. RMA has a scholarship program for members to attend the Institute for Facilities Management or Leadership Academy. This year's recipients are:
Kalilou Fofana, Utah State University—Institute for Facilities Management
Sam Merrick, BYU Idaho—Institute for Facilities Management
Jon Padilla, New Mexico State University—Leadership Academy
Michael Vigil, University of Colorado Denver—Institute for Facilities Management
Lisa Gerspacher, University of Regina—Leadership Academy
Patrick Chavez, New Mexico State University—Leadership Academy
Additionally, our 14ers mentoring program welcomed two new mentors as 14ers, and seven new climbers as mentees.
THE 2020-2021 RMA OFFICERS
President—Tim Dobson, New Mexico State University
President-Elect—John Gleason, University of Colorado Boulder
Senior Representative—Luis Rocha, University of Arizona
Junior Representative—Vacant
Secretary—Wim Chalmet, University of Lethbridge
Treasurer—Marie Wells, Brigham Young University Idaho
APPA Liaison—Kristin Witters
To view RMA's website and find a complete listing of the board of directors, please go
to http://rma.appa.org.
2021 CONFERENCE: Virtual Conference * Details TBA
---
PCAPPA—Pacific Coast Region
By Winnie Kwofie
Associate Vice President, Facilities Development & Operations
California State University East Bay
PCAPPA launched its first Virtual Summit in 2020, which was attended by over 260 participants. The panel-style discussions included key topics such as managing disruptions in your higher education workforce during the COVID-19 pandemic and reimaging campus safety in our new normal, as well as two keynotes on self-care and humor. Panelists made up of campus leaders and students provided key insights, sharing their experience and ideas on these relevant topics.
2019-2020 ACCOMPLISHMENTS
Over 260 participants at PCAPPA 2020 Virtual Summit.
Promotion of diversity, equity, and inclusive practices in board administration and PCAPPA professional development offerings.
Provided highlights of innovative measures, projects, and programs to recognize members within PCAPPA. Additionally, six individuals were recognized by APPA for their contributions.
Designed and implemented a social media strategy to increase online engagement by adding LinkedIn and Facebook.
Publication in APPA's Facilities Manager magazine featured Salvador Rodriguez at San Joaquin Delta College on how APPA has helped his career.
Implemented an APPA Business Partner-sponsored campaign to provide free registration to gain new or renewed members and recruited three new members in this two-week campaign.
Provided written feedback on the APPA Governance Study.
Our chapters continue to advance the success of our region. NWAPPA (Northwest Chapter of APPA) continues to deliver consistent educational events, BAYAPPA (Bay Area Chapter of APPA) has a new board and has received its tax-exempt status from the state of California, and an effort is underway to create a Southern California chapter.
THE 2020-2021 PCAPPA OFFICERS
President—Victor Pesiri, Brentwood School
President-Elect/Chair, Conference—Nicole Sanderson, University of Washington Bothell
APPA Junior Representative/Secretary—Eric Johnson, University of Southern California
APPA Senior Representative—Winnie Kwofie, California State University East Bay
Treasurer—Kate Kamerrer, Washington State University
APPA Liaison—Kristin Witters
To view PCAPPA's website and find a complete listing of the board of directors, please go to http://www.pcappa.org.
2021 CONFERENCE: Virtual in October 2021 * Details TBA.