ERAPPA—Eastern Region
By Sheri Vucci
ERAPPA President
Smithsonian Institution
A total of 409 participants, including 95 first-timers, attended the 2022 ERAPPA Annual Meeting, themed "What's Next?," in Verona, New York. This year's annual conference was hosted by the New York Chapter of APPA (NYAPPA), under the leadership of John Moore and Rex Giardine, and featured 24 educational sessions for attendees to choose from. Delegates enjoyed a thought-provoking and inspiring educational program that included a Keynote Address and a panel of Higher Education Leaders from the across the Northeast US and Canada for a town hall type discussion to give us their perspective on "What's Next?" for facilities leaders. The panel was moderated by Lander Medlin, the President and CEO of APPA, and plenary speaker Will Bowen, a global futurist, who educated the conference delegates on how to stop living with all the negativity; thousands of companies worldwide have used Will's Complaint Free Business program to increase productivity, improve communication, and raise morale. The Monday night networking event took place at the Exit 33 where delegates enjoyed food, entertainment, and dancing.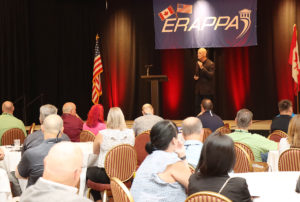 Outgoing President Jessica Abbott presided over a robust awards banquet while Past President Keith Woodward emceed and entertained the crowd. ERAPPA Outgoing Board, Arthur Walsh installed the 2022–2023 ERAPPA Board.
APPA AWARDS
Pacesetter Award:
Sheri Vucci (Smithsonian Institution)
ERAPPA AWARDS
Rising Star Award:
Brian Richards (KAPPA), Melissa Bergeron (SNEAPPA), Bobby Aldrich (NYAPPA), and Christopher Anderozzi (DVAPPA)
Chapter Champion Award:
Todd Miller (NJAPPA), Mary Grube (MD/DC APPA), Phillip Melnick (KAPPA), Nathan Splinter (OAPPA), Doug Michael (SNEAPPA), George Stooks (NYAPPA), Greg Clayton (AAPPA), William Gagnon (NNECERAPPA), Amber Donato (DVAPPA), and Rich McEvoy (OCFMA)
President's Award:
Sheri Vucci (Smithsonian Institution), Arthur Walsh (Dalhousie University), and Doug Michael (University of Rhode Island)
Norman H. Bedell Award:
Keith Woodward (Quinnipiac University)
Emeritus Status:
Kevin Mann (Retired, Salisbury University), Andy Wilson (Retired, Slippery Rock University), J. Thomas Becker (Retired, Thomas Jefferson University), Paul Martin (Retired, Western University)
Outgoing:
Chapter Presidents, Committee Members, 2022 Host Committee Members, Liaisons to APPA Committees, and Board Members were recognized and thanked for this significant service and contribution.
THE 2022-2023 ERAPPA OFFICERS
President—Sheri Vucci, Smithsonian Institution
President-Elect—Patty Smith, Cabrini University
Past-President and ERAPPA Director to APPA Board—Jessica Abbott, Wolcott (CT) Public Schools
Secretary—Jon Terry, Quinnipiac University
Treasurer—Phillip Melnick, Penn State University
APPA Liaison—Lander Medlin
To view ERAPPA's website and find a complete listing of the board of directors, please go to https://www.erappa.org/board/.
2023 CONFERENCE: September 27-30 • Saint John, New Brunswick, Canada
---
SRAPPA—Southeastern Region
By Solomon T. Franklin
SRAPPA Vice President of Communications
University of North Carolina at Charlotte
SRAPPA's 2022 Conference, "Upgrade & Reboot: Maintaining For Our Future," held in Tampa Bay, Florida, demonstrated the resiliency and impact of SRAPPA. Dealing with the lingering effects of the pandemic, the state of Florida also faced the threat of hurricane Ian at the time of the conference. Thankfully, the SRAPPA team overcame the challenges to create a remarkable experience for all attendees.
The conference opened with Titus O'Neil, WWE athlete, global entertainer, philanthropist, and author, giving an exhilarating opening address entitled "Service to Others: How We Can Impact the World Through Those We Serve." Keynote speaker Jeff Butler engaged attendees with his presentation, "Building an Effective Multigenerational Workplace." During the plenary session, Andrew Wright, a leader and innovator in real estate, spoke about "Facilities as an Asset."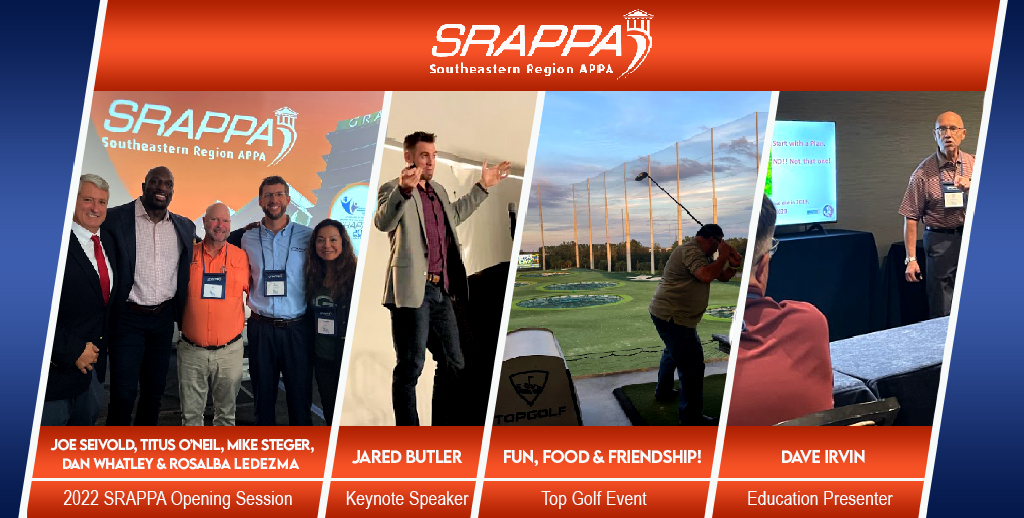 There were 29 educational breakout classes for members to attend. The educational sessions continued to be a big draw, and this year's presenters provided excellent content. The conference also provided opportunities for the attendees to take a tour of the Berkeley Preparatory School campus, play golf and enjoy a dinner excursion at Top Golf, and take a cigar factory tour at J.C. Newman Cigars. The meaningful connections made between business partners and attendees was a key component of the SRAPPA conference. SRAPPA is grateful to our business partners and knows that their involvement makes the conference possible and creates a dynamic experience for those in attendance.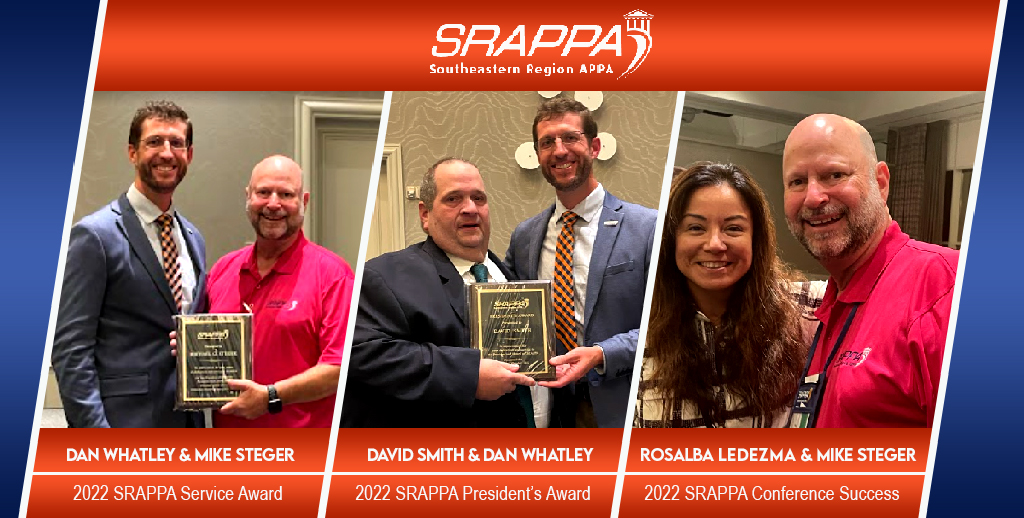 Following the installation of incoming officers by APPA Board Chair, Dave Irvin, outgoing president Dan Whatley of Auburn University spoke on successes achieved this year and passed the reins to incoming SRAPPA President Rosalba Ledezma of Virginia Tech. Dan presented Mike Steger, outgoing Immediate Past President, with a Service Award for his years of service with the SRAPPA Board (2018–2022). David Smith, CEFP, was awarded the SRAPPA President's Award in recognition of his years of service to the SRAPPA and APPA Boards.
THE 2022-2023 SRAPPA OFFICERS
President—Rosalba Ledezma, Virginia Tech
Immediate Past President—Dan Whatley, Auburn University
President-Elect—Gregg Clarke, University of Florida
Treasurer—David Maharrey, Mississippi State University
Vice President of Conferences—Tom Jones, Clemson University
Vice President of Communications—Solomon T. Franklin, University of North Carolina at Charlotte
SRAPPA Director to APPA Board—David Smith, University of North Carolina at Charlotte
APPA Liaison—Steve Glazner
To view SRAPPA's website and find a complete listing of the board of directors, please go to http://srappa.org.
2023 CONFERENCE: October 29-November 2 • Roanoke, Virginia
---
MAPPA—Midwest Region
By Michelle Holstege
Conference Coordinator
Grand Valley State University
The Bridging the Gap Conference held in Grand Rapids, Michigan, was hosted by Grand Valley State University and Ferris State University. This was the first MAPPA in-person conference since 2019. We had a solid attendance consisting of more than 350 educational members and business partners. We had 55 business sponsors and exhibitors and conducted a speed networking session for the sponsors as well as vendor show.
We kicked off the event Monday night with a welcome reception for all the attendees in the vendor show area with a large selection of food and beverages to encourage networking. Tuesday morning started with Janine Stange, the National Anthem Girl, as our keynote speaker.
After her keynote, we moved to the educational sessions which consisted of four educational tracks dealing with various topics from the change in technology, budgetary concerns, and adapting educational spaces post pandemic. Tuesday night we had a great event at the venue 20 Monroe, which allowed us to continue networking with the business partners and educational members across the Midwest region and enjoy the great band Brena!
Our final day of the conference had us begin with the second motivational keynote by Tim Selgo, former Athletic Director at Grand Valley State University. When our educational sessions concluded we closed the conference with tours of various academic buildings and projects around the Grand Rapids campuses of Ferris and Grand Valley.
THE 2021-2022 MAPPA OFFICERS
President—Jack Mumma, Michigan State University
President-Elect—Jeremiah Swetel, John Carroll University
Secretary: Nicole Corll, Kent State
Treasurer—Jim Klaiber, Oberlin College
MAPPA Director to APPA Board—Steve Gilsdorf, Wayne State University
APPA Liaison—Christina Hills
To view MAPPA's website and find a complete listing of the board of directors, please go to http://mappa.appa.org.
2023 MAPPA CONFERENCE: Chicago, Illinois • September, date TBA
---
CAPPA—Central Region
By Sheila Awalt
CAPPA First Vice President
University of Texas at El Paso
The 2022 CAPPA Annual Conference drew 270 attendees to Lincoln, Nebraska from October 9 through October 11. Our theme for 2022 was "Every Interaction Matters." There were 36 educational sessions presented covering a gamut of facilities management topics. The Academy on Campus hosted 19 participants, and the Supervisors Toolkit hosted 15 participants.
This year's conference began with Committee and Executive Board meetings on Saturday. Sunday included a Top Golf outing, the First-Timers Reception with an impressive 136 First-Time attendees, and dinner with the Business Partners.
There were 105 Business Partners representing 49 businesses. Our Business Partners sponsored many of our special activities and shared pertinent information for the benefit of our CAPPA Region facilities administrators.
CAPPA President, Sheila Awalt, welcomed attendees to the conference Monday morning. Jim Jackson, APPA Immediate Past President, introduced Dr. Marco Barker, our keynote speaker, who spoke on "Building an Inclusive Excellence Mindset: Leading from Diversity through Excellence." Monday evening wrapped up with a trip to the Strategic Air Command Museum sponsored by Energy Solutions Professionals.
The CAPPA business meeting took place Tuesday morning with a round-robin campus tour of the University of Nebraska at Lincoln in the afternoon.
The conference closed with the Awards Banquet and the installation of the board of directors by APPA Vice Chair, Margaret Tennessen. Entertainment was provided by comedic impersonator Matt Kissane.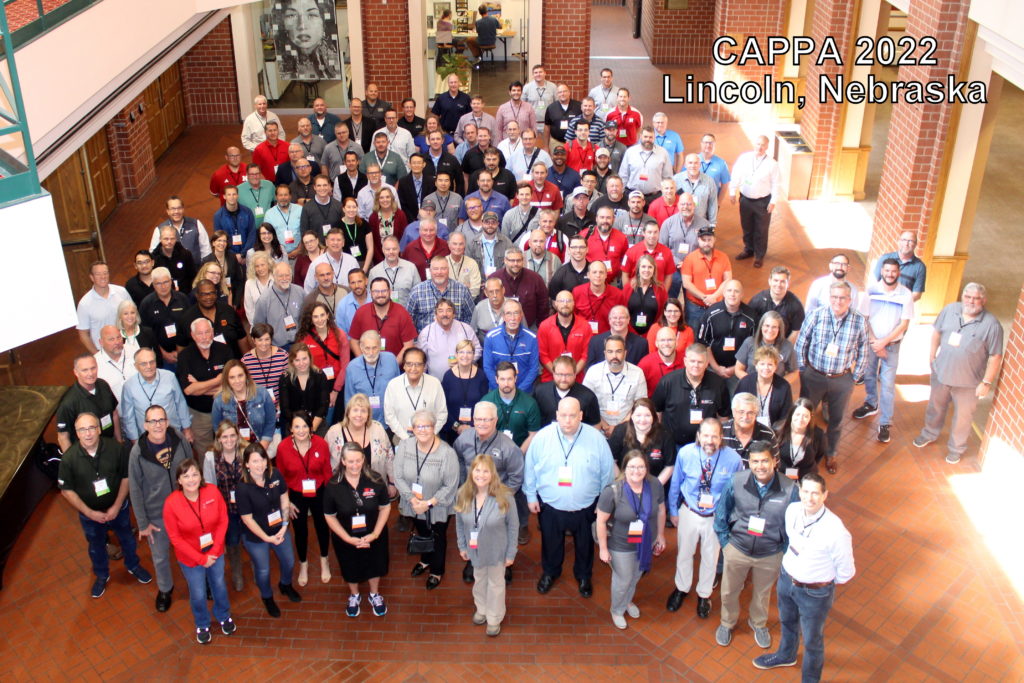 THE 2022 ANNUAL BANQUET AWARDS
CAPPA Meritorious Service Award:
Markus Hogue, University of Texas at Austin
Steve McClain, University of Arkansas
CAPPA Distinguished Member Award:
Angela Meyer, Southeast Missouri State University
CAPPA President's Awards:
Christina Hills, APPA Liaison
Angie Mitchell, Southeast Missouri State University
CAPPA Newsletter Awards:
Ben Boslaugh, Missouri State University
"My CAPPA Story"
Joe Martin, SpawGlass
"SpawGlass Overcomes Challenges at UNT's Discovery Park"
THE 2022-2023 CAPPA OFFICERS
President–Brian Lasey, Arkansas State University
First Vice President–Mathew Rom, University of Oklahoma
2nd Vice President–Randy Stapleton, University of Tulsa
3rd Vice President–Luis Morales, University of Texas at El Paso
Secretary–Virginia Smith, University of Texas at Dallas
Treasurer–Jennifer Kindt, South Dakota State University
CAPPA Director to APPA Board–Angela Meyer, Southeast Missouri State University
APPA Liaison—Christina Hills
To view CAPPA's website and find a complete listing of the board of directors, please go to https://www.cappaedu.com.
2023 CONFERENCE: October 8-11 • Dallas, Texas
---
RMA—Rocky Mountain Region
By Timm Lyons
Communications Coordinator
Brigham Young University Idaho
This year the RMA Region was privileged to join with PCAPPA for our annual conference, Envisioning the Future. We spent three wonderful days in Portland, Oregon joining old friends and making new ones. Keynote speakers included Tim Wise and Stephanie Wang. The highlight of the conference was Stephanie Wang's presentation on "True Colors," which was more of a seminar than a keynote, where the attendees were participants, not just listeners.
President—John Gleason, University of Colorado Boulder
President-Elect—Marie Wells, Brigham Young University – Idaho
Secretary—Wim Chalmet, University of Lethbridge
Treasurer—Marie Wells, Brigham Young University Idaho
RMA Director to APPA Board—Luis Rocha, University of Arizona
APPA Liaison—TBD
To view RMA's website and find a complete listing of the board of directors, please go to http://rma.appa.org.
2023 Conference: September 12-14 • Laramie, Wyoming
---
PCAPPA—Pacific Coast Region
By Nicole Sanderson
PCAPPA President
University of Washington Bothell Campus
PCAPPA had a highly productive and ambitious year with member outreach activities through social media, monthly webinars, and member and Business Partner Spotlight campaigns. The Spotlight campaigns highlighted individuals and team projects and institution success across our region. We are proud of this initiative and response received in recognizing our members and sharing industry knowledge and successful business cases. We have also improved our website presence focusing on digital accessibility. Additionally, we implemented quarterly financial and member reports to track and measure performance.
Our in-person annual conference was held jointly with our friends of the Rocky Mountain (RMA) region on October 9–11, 2022. Our theme, Envisioning the Future, was a great success as we immersed our members with interpersonal activities such as speed networking and hot-topic round tables. To demonstrate our commitment to celebrating diversity, equity, and inclusion, PCAPPA proudly launched our inaugural Excellence in Diversity, Equity, and Inclusion Award. We celebrated the winner, Kari Dom from California State University Northridge at the PCAPPA-RMA conference in Portland. Our conferences would not be as successful without the partnership of our vendor, Event Producers. We gladly presented the Event Producers an award that recognizes their contribution to PCAPPA and the value they bring in creative Business Partner sponsorships, member outreach, and diverse program engagement. Investing in subject matter experts ensured our member outreach and content and program delivery were successful in meeting the expectations of our PCAPPA business model.
This year, we expanded and added the SoCal Chapter supporting our members in southern California. This initiative was led by Tom Polanksky, The Huntington; Eric Johnson, University of Southern California; and Jason Wang, California State University Northridge. PCAPPA now has a network of three chapters including BayAPPA and NWAPPA. While we demonstrated we are resilient, agile, and committed to embracing change, we are focused on strengthening our strategic framework and being a significant resource to our 200 members today and into the future.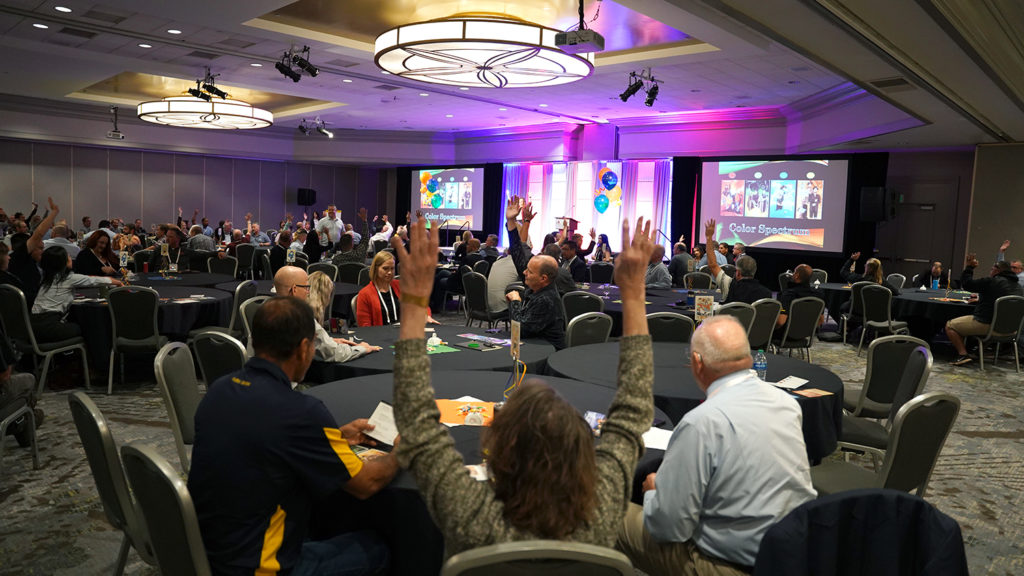 2021-2022 PCAPPA OFFICERS
President—Kimberly Case-Nichols, University of Nevada Las Vegas
President-Elect—Ayo Akinola, Truckee Meadows Community College
Past President/Secretary–Nicole Sanderson, University of Washington Bothell
Treasurer–Kate Kamerrer, Washington State University
PCAPPA Director to APPA Board–Eric Johnson, University of Southern California
APPA Liaison–TBD
To view PCAPPA's website and find a complete listing of the board of directors, please go to http://www.pcappa.org.
2023 CONFERENCE: September 24-26 • San Diego, California
---