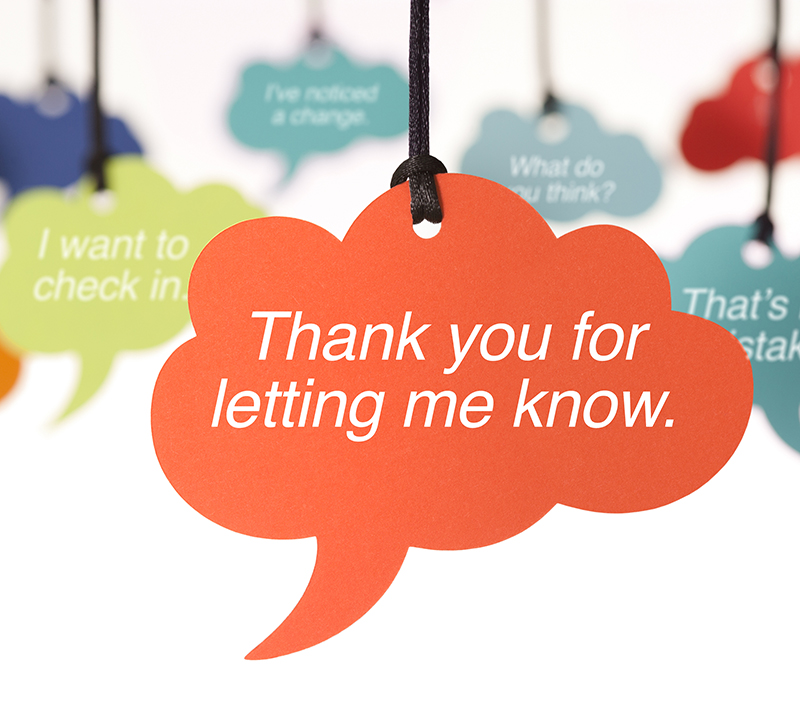 Building a culture of trust starts with a shared vocabulary of simple—yet powerful—phrases that leaders use to say thanks, show empathy, and provide support. Relationships of trust are rooted in understanding. Leaders who engage team members with compassion and gratitude encourage them to mutually invest in the teams and the clients they collectively serve. When team members trust one another and rally around each other and their leader to achieve desired outcomes, amazing things can happen.
To start creating that shared vocabulary, share this guide with leaders throughout your organization.
1.  "I've noticed a change."
Use it: When a typical behavior or pattern presents itself. This phrase signals you're present, perceptive, and paying attention. Team members appreciate such connectedness and caring. They feel seen as individuals and not just cogs in a machine. They know you're the kind of leader who won't let important things go unsaid. 
Be specific about what you see, and invite team members to respond. You'll discover whether your team members agree with your perception or think you're off target.
2. "Thank you for letting me know."
Use it: Whenever someone shares bad news or criticism with you. Why would anyone want to share hard news with you if you react with volatility or blame? Accept feedback as an opportunity to grow and an opportunity to support your team members in their growth.
Consistently respond with thanks. Doing so builds trust. And it gives team members space to feel confident and comfortable in leveling with you about issues you need to hear and trust that you'll be a partner in generating solutions. Specificity and sincerity matter, and open-ended questions will facilitate problem solving.
3. "I want to check in."
Use it: To follow up on a previously discussed issue. Few things erode trust more quickly than not doing what you say you're going to do or hearing an issue is important to someone and then promptly forgetting about it. When you follow up, you're not only communicating that you're paying attention, but also that you care.
You care about others' needs and are committed to helping them improve. You will provide the support needed to impact growth and improve future outcomes for the team—and you will do so generously and graciously. It means you will check in on things that matter to your team members, not just things that matter to you. Check in with wisdom and tact. Repeatedly checking on projects you're worried about can feel like nagging. Trust rapidly disappears when direct reports feel doubted or micromanaged, even if that's not your intent.
So approach checking in with care and clarity, and give team members opportunities to respond.
 4. "What do you think?"
Use it: To invite someone to open up with their point of view—and when you want input. You know the answer to "How are you?" You also know when you're being asked as a matter of polite conversation and when a trusted colleague sincerely wants to know. So do your team members.
Seeking others' viewpoints is a hallmark of trusted leaders. Trust isn't accrued by simply asking. You show that you value your team members' perspectives and desire them to share when you ask sincerely. You genuinely want their input and consider their feedback indispensable.
Few things torpedo trust faster than a manager asking team members to share their opinions—only to ignore their advice and do exactly as previously intended. Value team members' viewpoints, ideas, and expertise. Thoughtfully invite others to share their point of view.
5. "I've been there, too."
Use it: To help a team member understand that you've faced a similar struggle or made a similar mistake in the past. When you help someone understand they're not alone in their challenges, they often become more open to sharing details about their troubles. They'll see you as a resource for generating solutions and as someone who views challenges as opportunities.
As a leader, you can create these moments of connection by focusing on your team members' experiences, not your own. The goal is to help team members understand—and feel—they are not alone. Avoid claiming, "I know exactly how you feel." That's unlikely. Instead, acknowledge similarities: "I've been there, too."
Managers who are willing to share their own imperfections build trust.
6. "Let me share what I know and don't know at this point."
Use it: When you're conveying information relevant to your team's work and well-being. As a leader, you're often the best—or only—conduit of information between your team and your company's leadership. Hide or hoard information, and you'll leave your team uncertain, in the dark, and hesitant to trust you.

Provide as much information as possible, and you'll foster a reputation as a trustworthy, transparent leader. You'll also raise your team's collective intelligence, enabling them to do better work. Don't hesitate to admit when you don't know. Empower your team by sharing what you do know and communicate that you'll promptly share when you know more.
When transparency exists, team members are more likely to extend their trust.
7. "How can I help you make progress?"
Use it: When you're genuinely interested in helping a direct report succeed. Great leaders care about what's important to their direct reports because when individuals do well, so does the team and the organization. They also understand that few things are as motivating as feeling supported by a boss who celebrates progress.

Brainstorming is powerful, especially in a collaborative 1-on-1 setting. Ask specific questions to hone your direct reports' focus. Offer suggestions if a team member can't think of anything.
Asking how you can help means nothing if you don't follow through and provide support. Genuine offers of support are not only heard, but they're also more likely to be accepted.
8. "I need your help."
Use it: When you genuinely need support or feedback. Even leaders need help sometimes—asking for it shows you're human and that you trust your direct reports to deliver. Asking builds a culture of teamwork and openness, sending the signal to your direct reports that it's good to ask for what you need to get the job done well.

Always be respectful when asking for help. Sounding the alarm too often—or asking for too much because you've failed to plan—erodes trust and morale. Where possible, shout for help sooner rather than later, and consider a pool of possible assistants, not just one team member.
Modeling asking for help respectfully and professionally creates opportunities for success.
9. "This is a challenge for all of us."
Use it: When your team faces a tough task or big change. As a leader, you're not one of the gang. But you can help rally a concerned or demotivated person or team by demonstrating that you're going through a similar experience and that they can rely on you to lead the way—by rolling up your sleeves and pitching in, if necessary.

Lead with specificity: "This is hard, but we can do it by organizing individual tasks, and applying an assembly-line approach."Compliment team members in real time for their contributions.
10. "That's my mistake."
Use it: To admit an error or lapse in judgment. You may feel like crawling under a rock when you make a mistake. But admitting it out loud shows courage, integrity, and that you recognize the impact of what you did and are willing to accept responsibility. It also models to your team that owning up to errors is okay— even desirable—which can help your team feel more open to trying new ways of doing things.

Inevitably, we all make mistakes. We're human. Admitting it gives us the freedom to take risks and learn from our failures. And, it makes room for our direct reports to do the same.
Leaders who own their mistakes create an environment in which people are willing to experiment and can pivot quickly as needed.
---
Many thanks to FranklinCovey for permission to adapt and share this article. Visit FranklinCovey for more information.