DLR Group is fortunate to design educational environments for some of the most innovative, forward-thinking institutions across the globe. Working collaboratively with colleges and universities and their stakeholders, we approach each project with a holistic mindset, focusing on solutions that positively impact the campus and local community, and contribute to a healthier world.
By embracing this approach, our clients think beyond one space or one building. They look at campus-wide initiatives and how each decision universally impacts the greater community and environment. They seek to create educational moments through sustainable building elements, and they lead by example.
Below, I share three projects that highlight various strategies and solutions from California to Florida to Pennsylvania. Although these stories represent different building types with distinct purposes and user groups, one consistent theme unites the three projects—a holistic approach for campus, community, and planet.
Delivering a Sustainable Performance
The new performing arts center at Crafton Hills College in California replaces an outdated, cast-in-place concrete structure with limited daylight and antiquated infrastructure and technology. The design better meets the needs of music and theater students and faculty with a modern venue that celebrates the arts inside and out. On the interior, primary education spaces are placed to encourage a collaborative teaching and learning environment and to promote intellectual exchange between disciplines.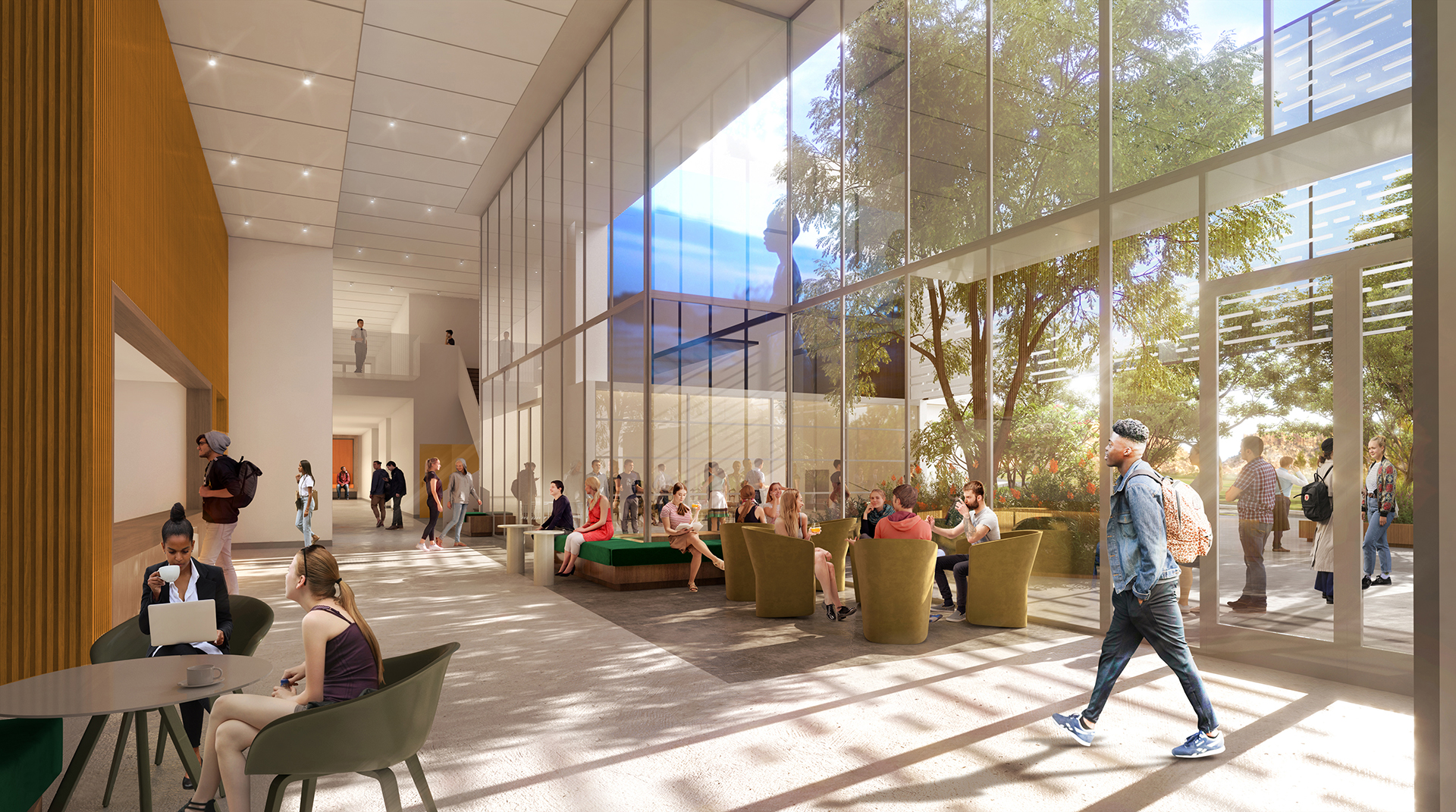 Outside, decorative screens evoke the vibrancy of the arts and create shaded courtyard spaces, while an open plaza accommodates informal outdoor performances. The facility's prominent location on Campus Drive exposes the arts to the surrounding community and connects with the main campus quad.
"This state-of-the-art building will create and cultivate dynamic experiences and will help students develop skills and knowledge in the different aspects of theater performance," says Farrah Farzaneh, CCM, LEED AP BD+C, director of facilities planning, emergency management and construction for the San Bernardino Community College District. "From day one we tasked the design team to identify innovative active and passive sustainable design strategies that will differentiate this building."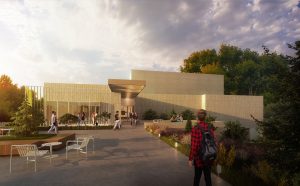 Through our process, designers helped Farzaneh and her team define the most important elements related to sustainability. The designers explored the project from a micro to macro scale and determined that LEED v4.1 captured many of the categories the team aspired to pursue, including energy, water, materials, indoor air quality, and location. While LEED (Leadership in Energy and Environmental Design) certification is the standard for new construction within the San Bernardino Community College District, this project is on track to achieve results beyond certification. The team is targeting net-zero energy use to become an innovative case study for sustainability in arts facilities.
"The end goal is to motivate and encourage other community colleges to follow a similar pathway to achieve their sustainability goals. Crafton Hills College and San Bernardino CCD are using this opportunity to develop lessons learned and identify improvements for future sustainable design solutions," says Farzaneh.
The college and design team are approaching sustainability on this project, currently in design, from the top of the building to the bottom while also exploring options in between.
Emotional well-being: The health and well-being of students, faculty, staff, and community members who use the building is a top priority for this project. The interior design—inspired by biophilia (defined as "the innate human instinct to connect with nature and other living beings") and inherent connections to the campus' natural landscape—will enhance the artist, performer, and audience experience. Materiality, form, and texture will seamlessly blend from exterior to interior spaces, creating an environment that is bright, open, and peaceful. The design integrates well-daylit spaces with views of nature, shaded outdoor spaces to provide connections to outdoor landscape, and an acoustically comfortable environment highly regarded in performing arts venues.
Powering through solar: To support the energy needs of the net-zero-ready building, a renewable energy budget of 25 Kbtu/sq. ft. has been established. Renewable energy will be generated by roof-mounted photovoltaic panels covering approximately 7,500-10,000 sq. ft. of roof space depending on the rack density and module power output. As the design progresses, the location for the required solar array will be identified from potential sources such as the building's rooftop, onsite parking canopies, or building integrated shade canopies.
Earth berming: The building orientation will use the site's natural topography to create an earth berm with the east/southeast façade falling below the natural grade line. Designers will use earth berming to passively heat and cool the building, resulting in a reduction of heating and cooling energy and improved thermal comfort inside the facility. By engaging with the site topography, designers are also researching the potential to use earth tubes to precool or preheat the intake air for mechanical systems, for added efficiency.
Reconsidering water sources: The team is exploring opportunities to eliminate the need for potable water for all water needs within the building and the site. Alternative water sources such as well water and swimming pool backwash water are being examined to replace potable water needs for irrigation and indoor flush fixtures. Condensing moisture in the air for water use in drinking fountains and indoor flow fixtures is a measure that is also being studied to achieve zero-mass water.
Dining Naturally
Sharples Dining Hall is a campus landmark that has played a significant role in shaping the student experience at Swarthmore College, a small liberal arts college in Pennsylvania. Although this beloved facility is a community hub where students eat, study, socialize, and gather, it has become too small to comfortably house the growing student body and does not currently support the staff's ability to provide the myriad platforms necessary for today's diverse community and dietary requirements.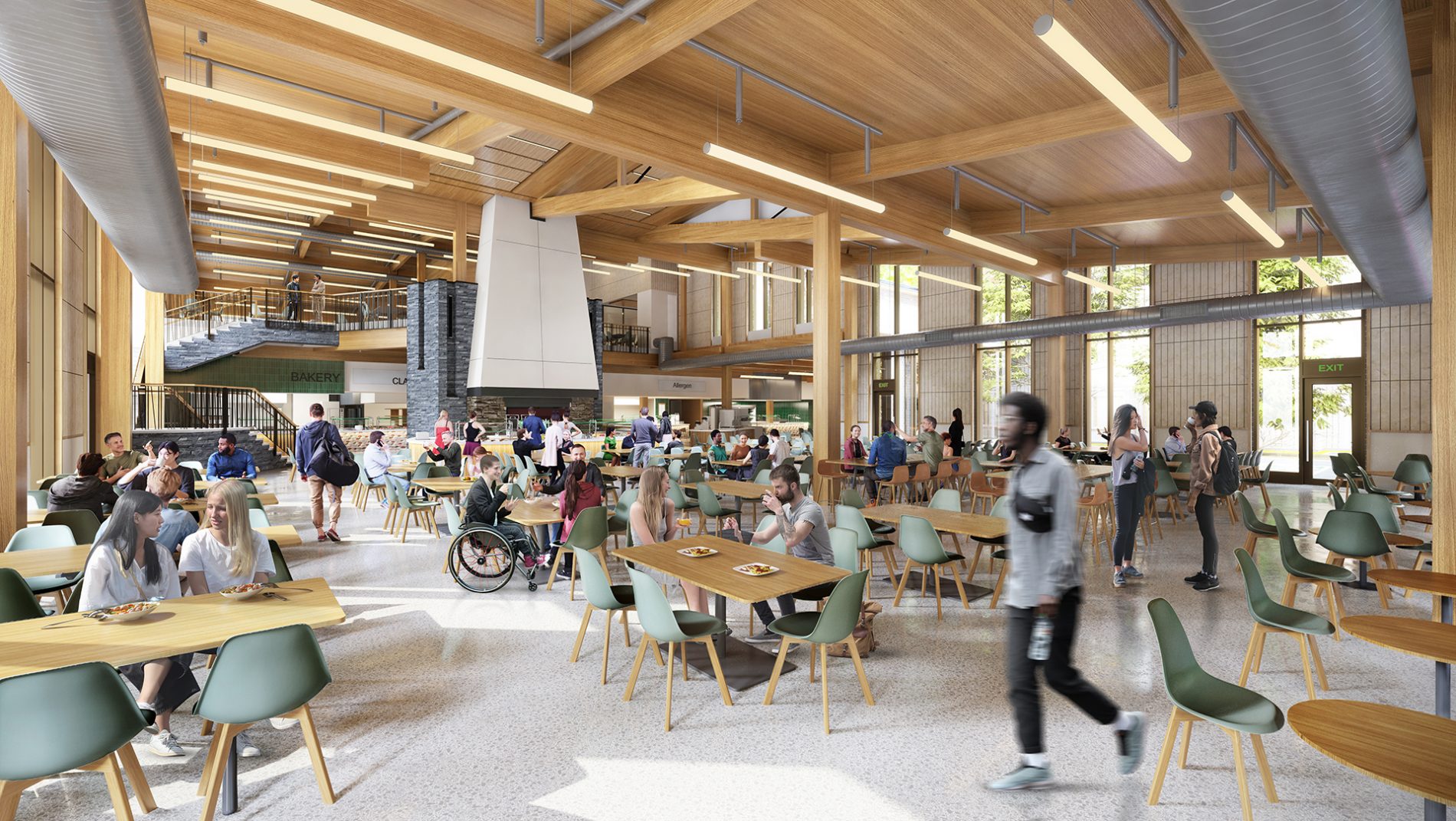 In search of a solution that reflects the college's student life and food service values, the planned design features a new dining hall and transforms the old dining facility into a community commons, nearly doubling the space available to students, faculty, and staff.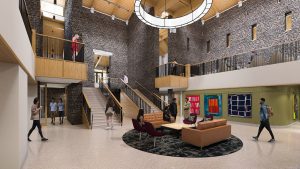 "A new, state-of-the-art, all-electric dining facility connected to the community commons will exponentially improve the holistic student and community experience," says Andrew Feick, associate vice president for sustainable facilities operations and capital planning at Swarthmore. "Not only will the dining experience be enhanced, but the community commons will be a place for students to rejuvenate themselves and interact with the Office of Student Engagement, which will relocate to the facility. It also will provide space for cocurricular and extracurricular activities and new educational opportunities like a teaching kitchen."
One of Swarthmore College's core values is a commitment to sustainability, especially related to justice, teaching, and learning, and advocating for radical societal transformation to solve the climate crisis. Feick says the college is "committed to modeling this through reducing environmental impacts, decarbonizing college operations, and stewarding college resources."
Swarthmore's college and design team stakeholders are exploring avenues that contribute to the college's goal of achieving carbon neutrality by 2035.
Integrating geoexchange: While planning the dining and community commons, the college also performed a comprehensive energy and utility master planning effort to create a roadmap to transition from its legacy district steam system to a combustion-free district heating and cooling system through geoexchange. Through these simultaneous planning efforts, DLR Group and Swarthmore College agreed that the new dining facility site offered a perfect location for a district geoexchange plant, due to its proximity to the future geoexchange well field and its central location on campus for distribution. The solution is a deep basement in the dining facility to house the central plant—a decision that is critical for the college to achieve its 2035 carbon neutrality goal.
Eliminating waste: The building is designed to support Swarthmore College's zero-waste goals, which aim to reduce the amount of waste sent to a nearby incinerator by facilitating effective composting of pre- and postconsumer food waste streams. Replacing the traditional tray system with smaller, individual plate sizes outlined in the Living Building Challenge, coupled with an increased use of reusables and non-single-use products for takeaway items, will reduce the overall amount of waste produced in the dining hall. In addition, the installation of highly efficient dishwashers will result in water savings. These efforts are a collaborative way to engage students in conversations around community and stewardship in the management of resources.
Resolving the power supply: Achieving net-zero energy for an all-electric dining facility presents challenges, especially on a limited site where a large solar array is not possible and in a climate that is not ideal for wind energy production. To remedy this situation, the college opted to enter a virtual power purchase agreement (VPPA) with a third-party developer who will build, own, and operate a new offsite renewable energy facility. The benefit of the VPPA is twofold; it supports both net-zero energy and carbon neutrality initiatives.
Sourcing food locally: The new dining facility will offer abundant opportunities for dining staff to source locally produced food and buy directly from local producers. In addition, campus-based food clubs, academic courses, and permaculture gardens that thrive on natural resources available onsite will allow students to experience the process of growing, harvesting, and cooking nutritious meals. Many landscaping materials will consist of edible plants and shrubs, which further contribute to a holistic approach to gardening and food sourcing on campus.
"Swarthmore College is fortunate to have resources to pursue the ambitious venture of a net-zero energy dining facility, and inclusive of a central geoexchange plant to provide carbon and combustion-free campus heating and cooling for the next century," says Feick. "These goals are important for the college to live its commitments and values. Furthermore, through taking a leadership role in these efforts, we can demonstrate the possibilities and encourage others to embark on similar efforts to benefit the larger community and world."
Preserving Cultural Heritage
Embarking on a new journey for the Multicultural and Diversity Affairs department, whose mission is to preserve the cultural histories represented on campus, the University of Florida (UF) made plans for a new Institute of Black Culture (IBC) and Institute of Hispanic-Latino Cultures (IHLC). The two houses share a site situated along the primary artery that connects the campus to downtown Gainesville. The IBC and IHLC were created to serve underrepresented minorities at the university after students advocated for their rights and petitioned for dedicated facilities in 1971 and 1994, respectively. However, severe deterioration had occurred, leading to the decision to demolish the historic structures and build new houses.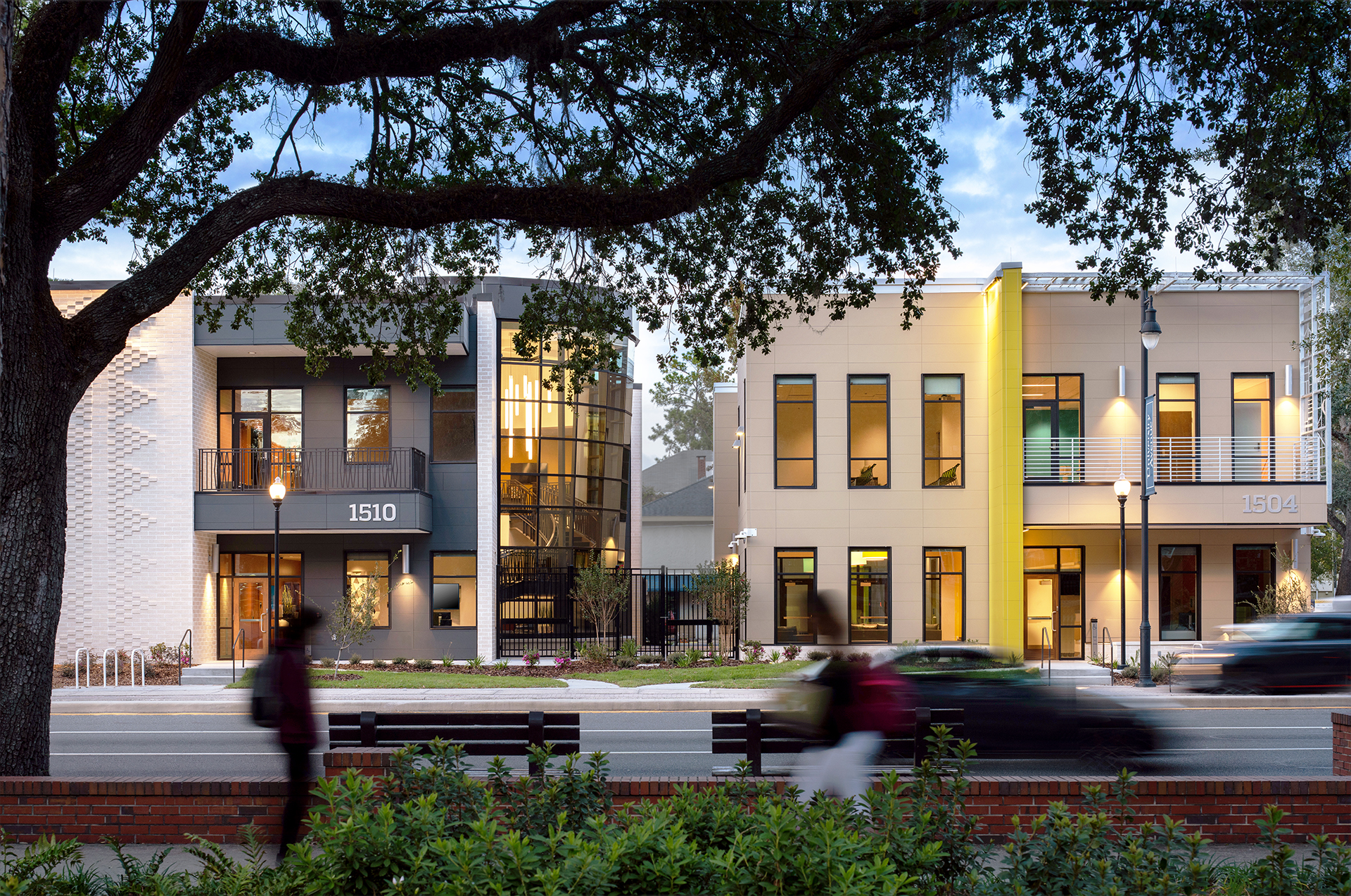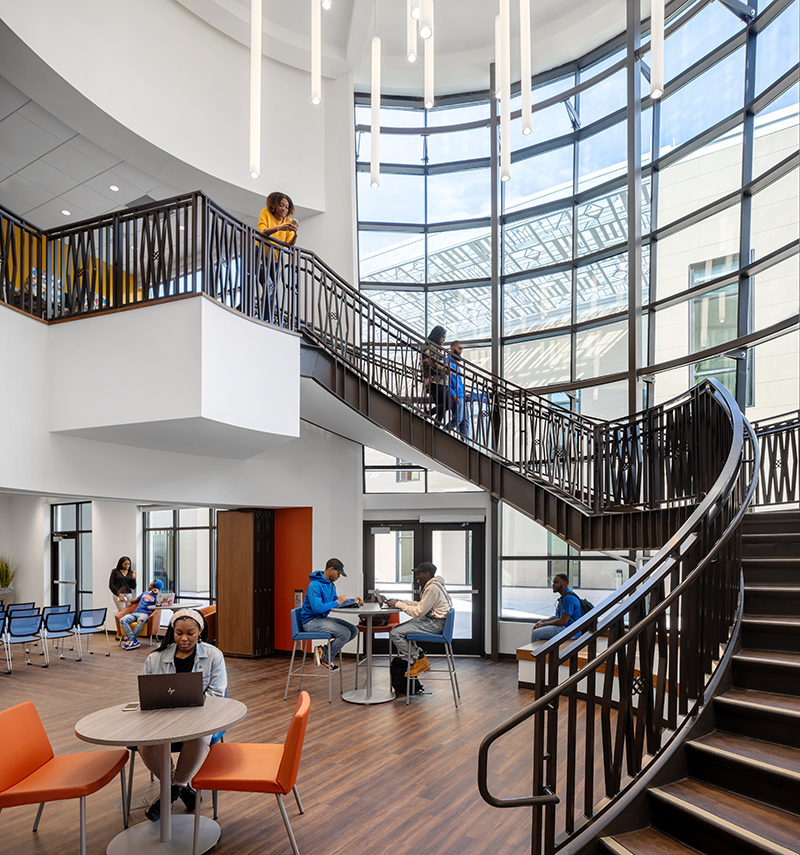 "The decision to demolish the buildings introduced a clean slate for these institutions to further meet the needs of students today, while also preserving and celebrating the culture and history each institution represents," says Dustin Stephany, sustainable building coordinator at UF. "The primary focus is people and preserving culture, making this project a prime candidate for incorporating sustainability in the design and construction."
According to Stephany, the university opted to pursue LEED v4 due to the flexibility of the program, which allowed the two detached houses to be certified as one project. LEED certification on this project, which opened in 2019, is pending. "Sustainability is very important to UF and to our students. We understand that obtaining LEED certification is [about] more than a plaque; it is about planning, designing, and constructing better," says Stephany.
Through creative and collaborative means, the team achieved specific goals set by the stakeholders.
Deterring bird strikes: One unique component of the design saves lives—literally. According to the U.S. Fish and Wildlife Service, bird–window collisions cause between 365 and 988 million bird deaths annually in the United States, and UF sits in the center of the Atlantic flyway during the spring and fall migratory seasons. To mitigate bird collisions, the university has incorporated bird-friendly glazing requirements, including the use of various patterns, UV window films, and reducing window reflectiveness to help birds see windows with ease. Daylighting and view goals are met with a low window-to-wall ratio, as well as through glazing and shading devices used to deter birds from striking the glass.
Adopting irrigation alternatives: The UF campus has reclaimed water devoted for irrigation. Being mere steps away from and outside the campus boundary, the IBC and IHLC did not qualify for this university-supplied resource. Early discussions between the design team and university officials uncovered the fact that reclaimed water was available from the city, which proved to be more cost effective than irrigating with potable water. In addition to saving thousands of gallons of water annually, the financial payback occurred in a few short months.
Identifying better products: As the university continues to evolve its carbon neutrality approach, the planning and design team has identified an opportunity to conduct a life-cycle assessment of various building components, systems, and assemblies for this project. Through this process, the team has found a more environmentally friendly insulation product (rockwool) to reduce UF's impact in areas such as global warming potential, eutrophication, and renewable energy.
"From the bird deterrence to water resources to the life-cycle assessment findings, this project is inspiring creative solutions and considerations for other projects on campus," says Stephany.
Expanding the Definition
The definition of sustainable design has evolved significantly over the past several decades. It has expanded beyond simple resource conservation to an all-encompassing approach that focuses on the health of people, communities, and the planet. I'm excited for the future of the industry and am humbled to work with colleges and universities that are on the leading edge to design, construct, and operate responsibly.
---
Stu Rothenberger is senior principal of DLR Group in Denver, CO, and can be reached at [email protected]. This is his first article for Facilities Manager. Many thanks to Penny Ramsey of DLR Group for her assistance with this article.