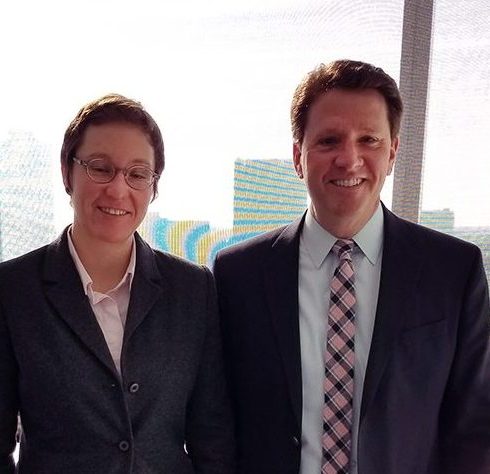 [Ed. Note: Matt Adams, president of Adams FM2 and creator of and longtime contributor to this column, passed away on November 27, 2020.]
Dear Matt:
For me, one of the hardest parts of losing someone is being left with unspoken words. You were an amazing mentor, but I never told you. I never said "thank you" or explained why I loved working with you. Unsure of what to do with these unspoken words, it occurred to me that writing them and making them available to the Facilities Manager readers may inspire others to be great mentors like you.
First, I want to thank you for accepting me for me. If you judge based on the cover, I do not fit on the facilities management shelf, but you did not judge me based on my cover. You judged my contents. You cared deeply about my contents, and not just the facilities management contents. You cared about all of my contents.
When you would call to check in on how things were going at the University of Chicago, we would often talk about how things were going in life first. I appreciated that. You would ask about Sarah, Eli, Otis, and Bat. I would listen to your stories about the gym and adventures you had been on with your son Nick. I would listen to your concerns about your mom. At some point one of us would bring the conversation back around to work, but by that time the stress of work had been alleviated. We had gotten so deep into our contents that work somehow became superficial and easy. Thank you for caring deeply about knowing and understanding my contents. You made me feel seen and understood in the professional world. You made me feel safe.
We had our share of conflict, and I would like to thank you for that too. You and I were equally stubborn, and equally sensitive. Post-conflict, I would retreat and think for a few days, and I assume you did the same. More often than not you ended the silence. I looked forward to those calls. We would both explain what we felt, what we learned about ourselves, and what we learned about each other. You were one of the only people I have ever met willing to admit fault and discuss feelings in a professional relationship. I am better because of those conversations. Thank you for always ending the silence.
You were open to change and had a drive to always be better. Mentors are not always this way. Often, they simply want to pass on their ways to the next generation. You were never satisfied with your way. You let me be a part of continually improving the processes we used. You listened and were willing to implement my ideas. You appreciated my critiques. You had a love and passion for your work that was contagious. You ignited a fire in me. You made me believe in myself and in endless possibilities for the future.
Most importantly you had my back, and I had yours. I will never forget the first time we were in a big meeting with important clients. The head of the organization asked you a question about something we had proposed, and you answered by redirecting the question to me, stating that I had been responsible for the proposal. I nearly fell off my chair. I had never been given credit by a superior in a situation like that. They always took the credit. You never did. You always made sure my work was recognized as mine. You provided space for me to have a voice. You publicly praised and provided critical and constructive feedback in private. I trusted you. I trusted that you had my back when I was present and when I was not. Thank you for always having my back.
I wish we could have just one more call. I wish I could have spoken these words directly to you, but since I cannot, I hope all who read this letter will be inspired and work to be better mentors. I hope they see the importance of caring deeply about contents. I hope they become willing to engage in conflict, walk away and think, and return with a better understanding of themselves and their feelings and emotions. I hope they consider what being a mentor means and realize that it is not about passing on their way of doing things, but about being willing to collaborate to create a better way.
Most importantly I hope they see the importance of trust and having their mentee's back both when they are present and when they are not. I know that you will always have my back, and I will always have yours.
Regards—Lindsay
---
Lindsay Wagner is an APPA training facilitator and owner of The Knowledge Collaborative, based in Lake Havasu City, AZ. She can be reached at lindsayevawagner@gmail.com.