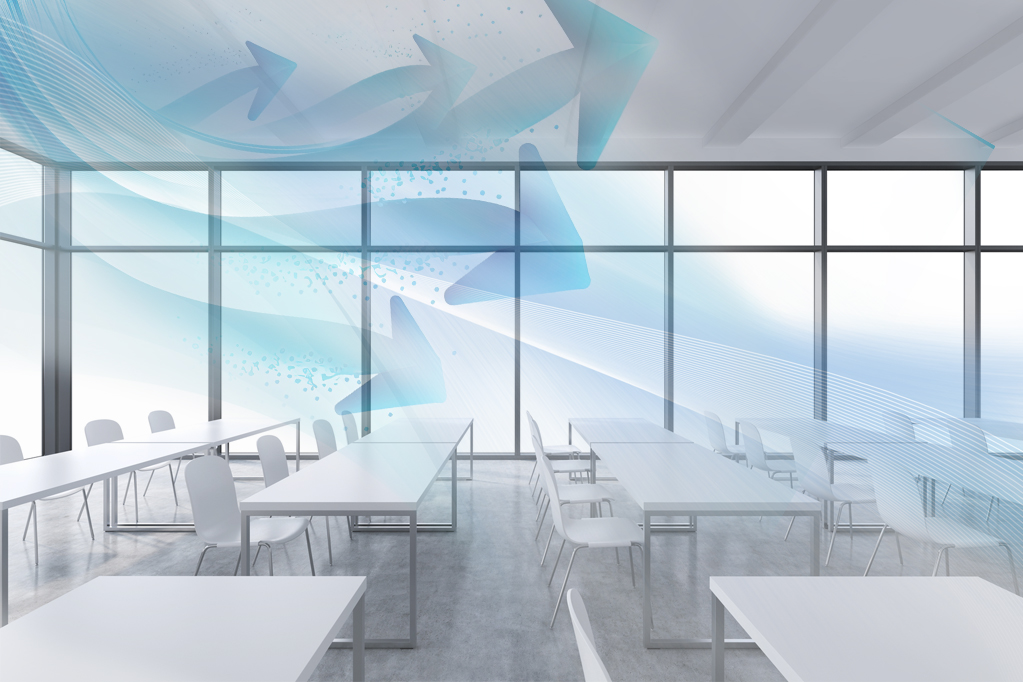 Maintaining optimal air quality in educational facilities is crucial for fostering a conducive learning environment as clean fresh air enhances cognitive function and concentration among students and staff. Poor air quality can lead to health issues and reduced productivity, underscoring the necessity of ensuring proper systems within these spaces.
The design of an HVAC (heating, ventilation, and air conditioning) system is of utmost importance in ensuring a healthy indoor environment. Indoor air quality (IAQ) is significantly influenced by proper airflow and ventilation, making these components crucial considerations. By understanding and effectively implementing these factors, custom air diffusers can be designed to optimize HVAC system performance and further elevate IAQ.
Efficient airflow is vital to evenly distribute conditioned air throughout a building, preventing the buildup of pollutants in stagnant areas. While metal air diffusers have traditionally been popular, there is a growing trend toward non-metal, composite-made, air diffusers. These non-metal diffusers offer several advantages, notably their exceptional durability, resistance to wear and tear over time, and reducing maintenance needs and replacement costs for building owners and managers.
Using composite-made air diffusers offers several key advantages, the first being their exceptional durability. Unlike metal diffusers, which are prone to corrosion over time, non-metal diffusers are highly resistant to wear and tear, resulting in reduced maintenance needs and less frequent replacements. This durability makes them a cost-effective option for building owners and managers.
Reduced Condensation and Mold Prevention
Perhaps the most critical advantage of composite-made air diffusers is their ability to effectively combat condensation and mold growth on and around the diffuser. Mold growth in and around air diffusers can pose a significant health risk. Condensation can lead to mold, releasing spores into the air you breathe. Exposure to these spores can cause various health issues, including allergies, respiratory problems, and infections.
Non-metal composite-made diffusers have been shown to dramatically reduce condensation levels on and around the diffuser due to their lower susceptibility to temperature changes. This characteristic helps prevent condensation formation and subsequent mold growth, ensuring a healthier indoor environment.
Condensation on air conditioning metal (steel or aluminum) air diffusers can be attributed to various factors. First, weather-based heat and humidity play a significant role. When warm and humid air enters the air-conditioned space, it comes into contact with the cold metal surface of the diffusers, leading to the formation of condensation. Additionally, overcrowded rooms with human activity, such as gyms, can release additional heat and humidity into the air, increasing the likelihood of condensation on the diffusers.
Air diffusers made with a composite material reduce the chance of condensation on and around the diffuser occurring compared to metal diffusers. In fact, composite-made diffusers have up to a 95% less chance of experiencing condensation. This means they are highly resistant to any kind of dampness damage, including water droplets, cracks, and mold growth.
Quieting the Noise
Noise disturbance caused by air conditioning (AC) systems can have detrimental effects on human health and well-being, both in the short and long term. Besides reducing the quality of life and enjoyment of the environment, constant sounds like white noise, humming, and whistling from AC systems, at home or in the workplace, can lead to annoyance, stress, and sleep disturbances.
To mitigate the damaging effects of AC noise pollution, it is crucial to prioritize noise reduction during the design and maintenance of these systems. One effective approach is the use of sound-absorbing materials to minimize noise production.
Compared to the rattling and whistling of a metal diffuser, using a composite material can actually absorb sound, significantly reducing ambient noise levels by up to 50% compared to standard metal grilles and vents. The goal is to design air diffusers with a noise criteria rating of less than 15, ensuring a quieter and more comfortable environment for occupants.
Optimize Performance
Custom air diffusers, specifically designed for an HVAC system, can further optimize its performance and enhance IAQ. These tailored diffusers ensure proper air distribution, minimize turbulence, and maximize airflow efficiency, ultimately enhancing comfort and IAQ within the space. Composite-made linear diffusers stand out by accommodating up to twice the airflow per cubic feet per minute per linear foot compared to metal air diffusers. This remarkable capability not only results in a cleaner and less cluttered appearance on the ceiling or wall, but also leads to significant advantages in terms of installation efficiency, reduced HVAC contractor visits, and lower ductwork expenses when the system is appropriately designed. By choosing composite-made linear diffusers, you can achieve optimal airflow performance and cost-effectiveness without compromising on aesthetics.
Conclusion
In conclusion, the benefits of using composite-made diffusers in HVAC systems are evident. They offer superior durability, ease of maintenance, noise reduction, and most importantly, a significant reduction in the risk of condensation and mold growth on and around the air diffuser. As a preferred option for building owners and managers, these custom diffusers play a critical role in creating a healthier and more comfortable indoor environment.
---
Marc Mascarello is the head of design and production at InviAir in Brooklyn, NY. He can be reached at [email protected]. This is his first article for Facilities Manager.