Enabling the 21st century workforce with access to information critical to daily decision making requires more than the latest smart phone technology or Wi-Fi connection. It requires a facilities-driven technology strategy or "roadmap" to identify not only your current technology-enabled practices, but also opportunities to advance that technology for what you hope your team can achieve in the future. It's about creating a technology ecosystem for both information technology and operational technology consisting of software, applications, data inventory, and security while utilizing front-end user devices to improve productivity and help each employee achieve their best selves. Do you have a strategy?
Within Infrastructure Planning and Facilities (IPF) at Michigan State University, we are doing our best to keep up with the challenges to design, construct, and maintain the "fabric of the physical campus." We leverage technology to augment our workforce capability and capacity so we can achieve more productive work with less waste-in-process and at a quality and standard of care that is both professional and acceptable to our students, faculty, and staff.
In 2016, we began with a small pilot within the Landscape Services department and deployed over 100 iOS phones and iPads along with a technology ecosystem built on GIS platforms to better connect our employees with the assets (e.g., trees, planting beds, equipment, pathways) they take care of every day. The unforeseen benefit was the creation of a culture that felt trusted, empowered, and capable to better plan, locate, and implement high-level, daily maintenance. Check out this quick video to learn more.
As a result of the successful pilot, we scaled up the mobile device deployment strategy in 2018 to the rest of the facilities organization, deploying around 1,100 mobile devices. This helped to create a technology ecosystem focused on improving access to information—in the field—where our team members make decisions every day. Check out this quick overview to learn more.
As the time progressed, we began developing pockets of innovation through work crews who stopped into the office and asked, "Could the application do this?" or "I use this app for personal use but really like how easy it is to navigate through menus, could we alter the work application to make it easy like this?" We knew we were onto something by engaging our team members to improve not only what they do daily, but also, and more importantly, how they do it.
We also built relationships with technology vendors that allowed us to provide actionable feedback on how their software or application was being used by the workforce. This, in turn, allowed for greater product innovation that had a direct benefit for our workforce. One of the best examples of this is with the ESRI ArcGIS Indoors application. For those of you who may not be familiar with Indoors, it essentially is a mobile application that provides turn-by-turn navigation outside and inside facilities. We use Indoors extensively to route our workforce to the assets they need to maintain. Additionally, the tool can integrate the user experience into the work-order management software so our teams can start their work order/tasks lists then click a link that will navigate them to the nearest parking space, closest to the door entrance, closest to the asset they need to perform their work.
This tool has come in very handy for new employees who are unfamiliar with campus and even more unfamiliar with the mechanical rooms inside of the 500+ facilities we have spread across the large University. If we can shave off five minutes of waste-in-process through more efficient navigation spread across 500+ employees who perform work within facilities, we gain back 41 hours of time per day that our staff are doing productive tasks. The screen shots below from left to right show how our teams use a similar application, ArcGIS Field Maps, to add new assets to the GIS system in the field.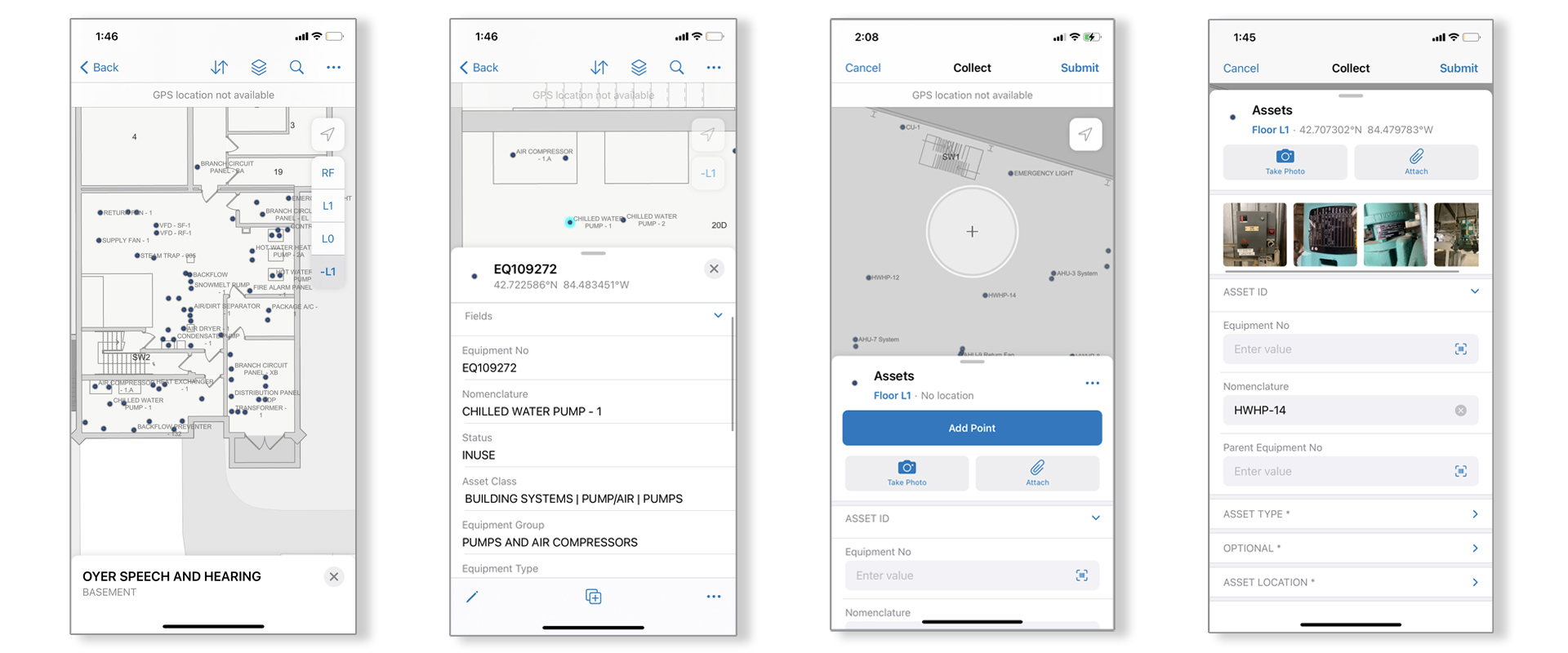 The image below shows just one building on campus one floor with all the assets we have mapped, and the integration of the data systems and information that our crews can access in the field from their mobile devices.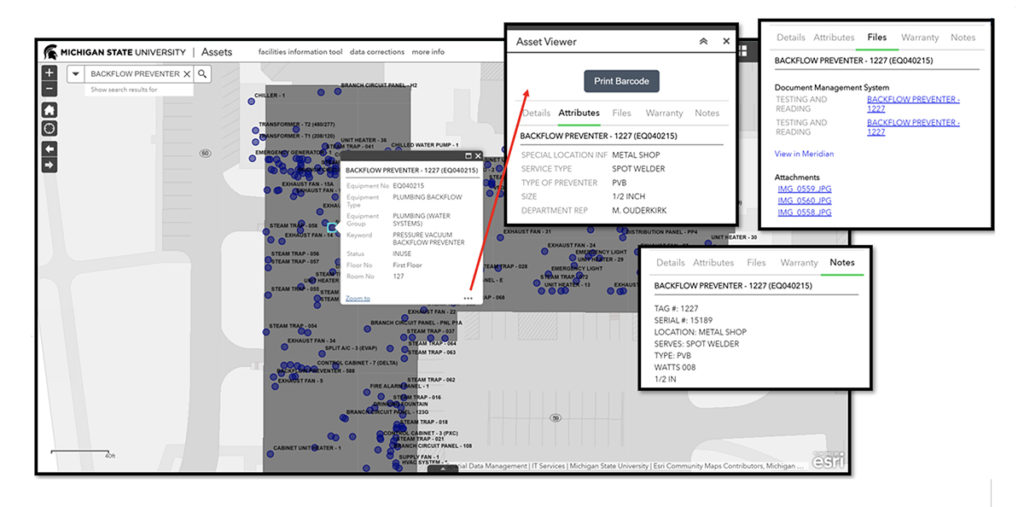 Here is a short video of one of our mechanical employees in his words for how he uses the mobile technology.
At the end of the day, technology is simply a tool to help solve a problem. When you identify the problem, consider the cultural implications of how that technology may not only mitigate the problem, but also positively impact the lives of your employees each and every day. Mobile devices can become the backbone of a facilities technological ecosystem that can improve your culture and enable your digital strategy to be deployed at scale.
---
Dan Bollman is vice president for strategic infrastructure planning & facilities at Michigan State University, East Lansing, MI; he can be reached at bollman@msu.edu. Adam Lawver is MSU's campus services director and can be reached at lawverad@msu.edu.
To purchase Adam Lawver and Sean O'Connor's digital book, Deploying Disruptive Technologies with a Disruptive Approach to Leadership, visit the APPA Bookstore.