The focus of the features in this issue of Facilities Manager is on Space & All Its Entanglements, based on the March 2023 workshop seminar of the same name as part of APPA's Targeted Technical Topics series. The authors of these features were also the presenters, and they provide a varied and thoughtful view of campus space management and utilization from both traditional and nontraditional perspectives.
They look not only at the use, cost, and assignment of physical space, but they also address the use of technology to alter our space and work processes, as well as introduce new perspectives that demonstrate commitment to student success and a diverse and welcoming environment for students, faculty, and staff.
One speaker, Andy Brantley, president and CEO of the College and University Professional Association for Human Resources (CUPA-HR), discussed recruiting, retaining, and engaging the facilities workforce. He provided a deep dive into recent CUPA-HR surveys that looked at job satisfaction, pay scales, and whether staff were looking for other employment opportunities.
One report looked at Workforce Pay Increases. The following is excerpted from CUPA-HR, and the full report can be found at https://www.cupahr.org/surveys/workforce-data/workforce-pay-increases/.
2022-23 Key Findings
Median pay for employees across the higher education workforce increased substantially from 2021-22.
Raises were the largest seen in the past seven years, and all position types experienced an increase of at least 1.11 percentage points compared to the previous year.
Staff (generally non-exempt positions) received the largest increase in pay across all facets of the workforce.
Tenure-track and non-tenure-track teaching faculty continued to receive the smallest pay increases.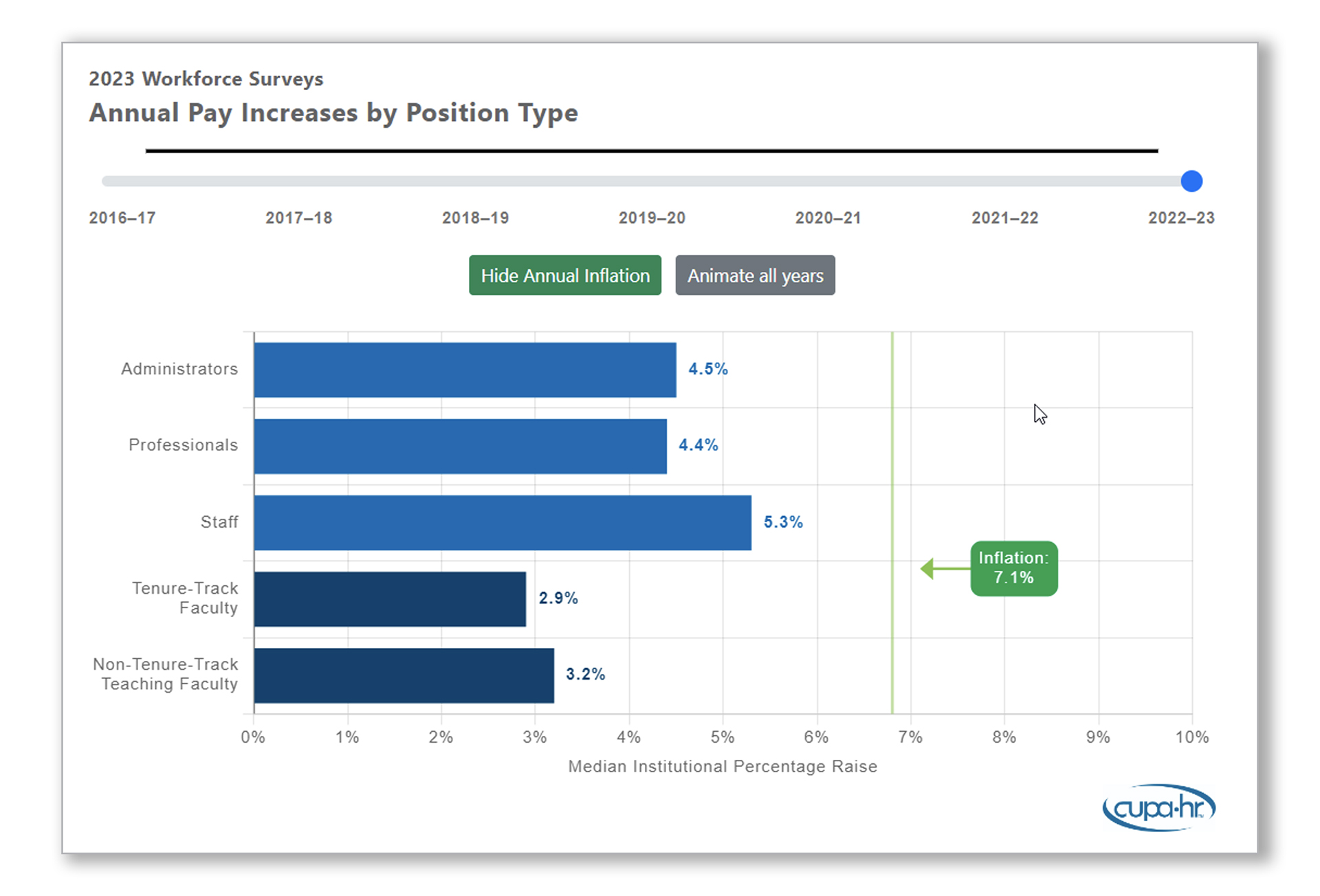 APPA Resources on Campus Space
BOK: Space Planning and Administration
Thought Leaders 2021: Connections, Space & Place
Thought Leaders 2012: Campus Space…An Asset and a Burden
---
Steve Glazner is APPA's director of knowledge management and editor of Facilities Manager. You can reach him at steve@appa.org.
---
Coming in September/October 2023
Higher Education Leadership in a Post-Pandemic World
University of Chicago's FM Pre-Apprentice Program
Energy Conservation Strategies