From a new chiller plant, natatorium, and centers of innovation, to renovated teaching laboratories, student centers, and campus support facilities, APPA member colleges and universities are exhibiting an exciting array of construction styles, designs, and purposes.
The following compilation — 26 new and recent projects from 15 campuses across the U.S. — shows a tremendous breadth and depth of the quality and innovation that contribute to an effective built environment that supports the educational mission and vision.
Tallahassee, Florida
Submitted by Mary Jo Spector, Director of Research Facilities Design, Construction, and Maintenance
Biomedical Research Lab Renovation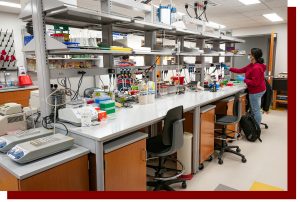 The recently completed renovation of the third floor of Biology Unit One Building at Florida State University (FSU) took a 50-year-old building sorely in need of an upgrade and converted it to ten new state-of-the-art biomedical research labs. Labs were designed to be interdisciplinary and not meant for any particular department or individual. Also included in the project were shared core labs, support labs, offices, collaboration areas, and conference rooms. Infrastructure throughout the three-story building, including emergency power, HVAC, fire suppression, and the roof, was upgraded to service the new labs now and into the foreseeable future. Each of the 660-sq.-ft. labs features fixed benches around the perimeter and flexible island units with their services tethered to the ceiling. Finishes were selected for cleanability and longevity. Colors and furnishings were picked to reflect the midcentury modern origin of the building. Design of the project began in October 2017 and was completed in September 2021. Cost of the project was approximately $18 million. The floor measures ~27,000 sq. ft. Project delivery was via design-build with Childers Construction as the construction manager and Hicks Nation providing design services along with Affiliated Engineers.
---
Submitted by Britney White, Communications Coordinator, Facilities
The Jim Moran Building
Sr. Project Manager: Biff Quarles
Dedicated to cultivating entrepreneurial growth, the Jim Moran Building is both a downtown extension of FSU and an urban hub for connecting students and entrepreneurs with professionals, business mentors, university faculty, and entrepreneurial resources. Originally constructed in 1969, this 20,000-sq.-ft. building is located in the heart of Tallahassee's downtown district and state capital. This former bank building underwent a full interior and exterior new-use remodel that effectively turned a nineteenth-century commercial building into a world-class academic and research facility. Completed in November 2017 with a cost of $5.9 million, the interior and building envelope were designed to maximize transparency, enhance views, and allow natural light to permeate throughout. Providing street-level views into the space, the front and back facades incorporate a glass curtainwall over three stories high. The ground floor has a shared gallery entry, an event space, and a flexible catering kitchen/lounge. The second floor is home to the Jim Moran College of Entrepreneurship, the nation's first stand-alone college of entrepreneurship at a public university, and accommodates a pitch room, startup incubator, and staff offices. The third floor houses the Jim Moran Institute and features offices, study rooms, and meeting rooms.
---
Hoffman Teaching Labs Renovations
Sr. Project Manager: Mary Jo Spector
FSU's Hoffman Building is home to the university's chemistry teaching labs, some of which had not been renovated since the building opened in 1969. The project's main goal was to increase the number of chemistry teaching labs on the third, fourth, and fifth floors to accommodate additional students. All of the infrastructure, including the mechanical systems, power, and piping, were gutted to bring the labs up to date, including the addition of fire sprinklers. The project also provided upgraded technology for the present and the near future. The design included additional teaching labs, offices, preparation space, and other support areas for the labs. One of the unique features are the "California" hoods. These are chemical fume hoods with glass on four sides, enabling the instructors and students to have greater visibility of the entire space. Total project cost was $16.8 million. Design work began November 1, 2017. Construction began April 1, 2019. Completion of the final phase took place March 24, 2021. The project had multiple phases with the fifth-floor labs opening first.
---
The Environmental Ocean Atmospheric Sciences Building (EOAS)
Sr. Project Manager: Kim Ball
Marking the north entry to campus with its iconic torches, the FSU Earth, Ocean, and Atmospheric Science Building has six levels plus two mezzanines designed to house academic, office, and research activities that focus on environmental sciences and their interrelations. Constructed of concrete structure and enclosed with concrete masonry unit (CMU), brick, and curtainwall, the design incorporates 4 teaching labs, 16 computational labs, and 19 wet labs in open modules, including specialized computational and wet research labs for geology, oceanography, and meteorology. Unique features include an open-air research roof, real-time electronic weather map wall, weather broadcast studio, Science on a Sphere Lobby, rock-crushing lab, active seismometer, and metal-free geology lab. Student and instructor/researcher spaces were positioned to maximize hands-on science and promote the coincidental discussions that prompt new research initiatives. Classrooms/auditorium spaces have been designed and fitted with the latest AV equipment to accommodate flexible and evolving pedagogy. Building systems support the academic mission by employing energy-efficient strategies, including chilled beams and occupancy sensor controls. Incongruous research activities are managed with zoning and appropriate adjacencies. The 14,390-sq.-ft. building was completed in December 2019 and cost $63.7 million.
  Kalamazoo College
Kalamazoo, Michigan
Submitted by Susan Lindemann, Associate Vice President for Facilities Management
Constructing a New Natatorium
In October 2021, Kalamazoo College dedicated its beautiful new 29,606-sq.-ft. natatorium, complete with eight competition swim lanes, three warm-up lanes, and an attached diving well. Designed by TowerPinkster and constructed by Miller-Davis with pool construction by Baruzzini Aquatics, the project is anticipated to achieve LEED (Leadership in Energy and Environmental Design) Certification. The project took roughly two-and-a-half years to construct, including the demolition of the previous natatorium on the same site, and cost just over $17 million. The structure is precast concrete construction, and the pool body was excavated, poured, and then refilled with sand to facilitate erecting the massive panels within a small site. The new pool is equipped with a Dectron pool dehumidification system with heat recovery, and includes a Paddock chloramine evacuator providing exceptional indoor air quality. A separate air handling unit services the elevated spectator area for better comfort control during events. The facilities technical staff includes four certified pool operators who handle all day-to-day water treatment and operation of pool equipment, with the help of an advanced pool controller that monitors water quality and controls chemical injection. The opening of this exciting new facility represents a major leap forward for the college's aquatics program.
  Miami Dade College
Miami, Florida
Submitted by Leo Bobadilla, Vice Provost, Chief Facilities Management and Operations Officer
Tesla START Automotive Training Program, West Campus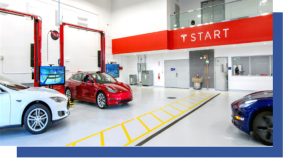 Tesla's first institutional partnership, in the southeastern United States for its Tesla START program, is with Miami Dade College (MDC). Designed by Tesla, the 6,000-sq.-ft., $2.4 million project opened in late 2019. This remodel of a previous warehouse space includes a hands-on multicar garage space. This is a double-height facility that also includes a classroom area. The program trains students to become Tesla automotive technicians at a new state-of-the-art facility at the college's West Campus. START is a 12-week program that pays students while they train to become electric vehicle (EV) technicians. Tesla provides the vehicles, equipment, instructor, tools, and curriculum for hands-on learning. After completing the program, students are eligible for employment with Tesla at one of their service locations. Tesla collaborates with graduates to place them at Tesla service centers from Coral Gables to Tampa and across North America. Design Firm: Via Design Studio; Contractor: Pirtle Construction.
---
Student Services Center Refresh & Science Labs, Padron Campus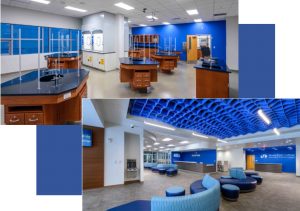 The $9+ million project was completed in March 2021 and covers approximately 28,000 sq. ft. The new science lab allows students to perform experiments and participate in faculty-led research projects in chemistry, biology, and physics with purposefully designed areas for collaborative work. At the new student services space, students have access to financial aid, admissions, registration, and advising reconfigured for "One Stop" access. Complete remodeling of existing spaces on the first and third floors of Building 1000 included chemistry laboratories, research laboratories, student testing centers, student services areas, meeting rooms, faculty offices, bursar offices, storage spaces, student lounges, and circulation space. The work took place at an active occupied campus where the users were able to continuously occupy all surrounding spaces and rooms above and below floors that were being remodeled. Existing mechanical air handler units were replaced with new units to facilitate the remodeled spaces for their new purposes. New exhaust fans and hoods were installed for the new chemistry, organic, and research laboratories. New life safety equipment and devices were successfully added and incorporated into the existing systems. Design Firm: Bermello Ajamil & Partners; Contractor: Pirtle Construction.
---
Build-Out, Floors 11-15, in Building 6000, Padron Campus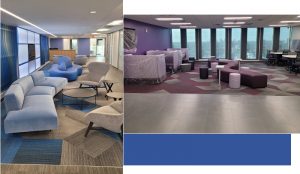 This $16+ million project was completed in November 2021. The interior build-out finishes were chosen to match the previously completed floors 7 through 9. The new spaces consist of networking labs, makerspace, multiuse spaces, small meeting rooms, large classrooms, offices, reception, study rooms, printing/cut room, and other related spaces. Additionally, the four floors (11,709 sq. ft. each) have fully equipped restrooms and all necessary services to include mechanical, electrical, and plumbing; fire protection/sprinklers; and data systems. Design Firm: Gurri Matute; Contractor: Thornton Construction.
---
Business Innovation and Technology Center, Wolfson Campus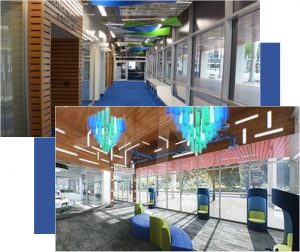 The Business Innovation and Technology (BIT) Center is a state-of-the-art hub to explore the role of technology in digital transformation, process automation, and analytics in the ever-changing business landscape. This $4.6 million project was completed in June 2020 and covers 4,634 sq. ft. The BIT Center, an initiative of MDC's Miguel B. Fernandez Family School of Global Business, Trade and Transportation, focuses on financial services, digital, and social media industries. The center is offering an array of courses, webinars, and other learning opportunities, including Digital Marketing Analytics, Introduction to Email Marketing, Introduction to Business Analytics and Visualization, Basics of Technical Analysis for Financial Trading or Ecommerce, and the Future of Supply Chains. Classes also integrate theory with hands-on lab experiences that expose students to the latest technology and software needs, including Tableau for data visualization, Bloomberg for investment management, Salesforce for sales automation, and digital media and advertising platforms such as Facebook and Google. It took a year and a half to remodel and transform what used to be a bookstore into the new BIT Center, which serves about 10,000 enrolled business students and any MDC student who wishes to utilize it. Design Firm: Bermello Ajamil & Partners; Contractor: T&G Construction, LLC.
---
Center for Learning, Innovation, and Simulation, Medical Campus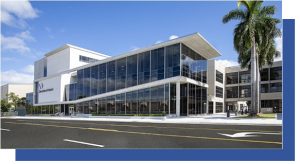 This project was completed in mid-2019. It is a new five-story construction building and contains ten exam rooms, a home health care apartment, and simulated patient rooms. The project encompasses 132,000 sq. ft. at a cost of $42 million. The building's exterior is a modern structure with cast-in-place panels and beams as well as an impact-resistant storefront and curtain wall system. This state-of-the-art facility was designed to provide students with the training needed to excel in today's fast-changing healthcare industry. The five-floor center features an entire floor dedicated to advanced medical simulation that facilitates the practice of working in real-world clinical environments such as operating and emergency rooms. With the help of innovative technology, students can recreate various medical scenarios, helping to reduce errors while improving safety and elevating the quality of patient care. The building also houses fully equipped medical labs for nursing, respiratory care, physician assistants, histology, medical laboratory science, and student collaboration areas. It also contains a large, state-of-the-art physical therapy facility. The center allows for the expansion of some of the college's most in-demand programs, including emergency medical services and nuclear medicine technology, and makes room for new programs such as central sterile processing and surgical technology. Design Firm: Harvard Jolly Architecture; Contractor: OHL Arellano.
---
Cloud Computing Center, Padron Campus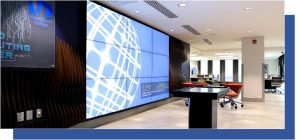 The design for this tenth-floor build-out began in August 2018 and was substantially completed by May 2019. This $3.2 million, 11,300-sq.-ft. project was built above existing occupied classrooms. It serves as a cloud computing hub where technology leaders, industry experts, and students can engage and collaborate, houses the only college credit certificate and associate of science degrees in enterprise cloud computing in the State of Florida, and exposes students and existing IT professionals to industry-leading cloud platforms and industry certifications needed to fill the increasing demand of IT cloud jobs in the workplace. The center also hosts cloud computing accelerated training programs; summer camps; forums; and TED Talks with all required screens, podiums, and speakers; and is set up in a lounge-like atmosphere. Design Firm: Via Design Studio; Contractor: Lee Construction.
  Nova Southeastern University
Fort Lauderdale, Florida
Submitted by Rebekah Fried, Project Manager, Facilities Management, Design & Construction
Alan B. Levan | NSU Broward Center of Innovation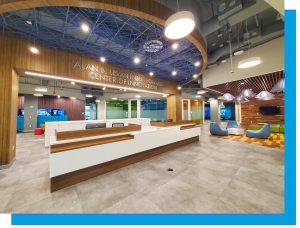 The Center of Innovation is a public-private partnership between Nova Southeastern University (NSU) and Broward County, acting as an economic and education development engine linking the South Florida innovation ecosystem. Designed by P2 Interiors and ACAI Associates, the Levan Center project consisted of building out 54,000 sq. ft. of shell space on the existing fifth floor of NSU's Alvin Sherman Library building. Construction was completed in nine months by JWR Construction Services. The total project costs were $12 million. This unique facility features fun and bold spaces that are designed to celebrate creativity, innovation, and technology, including:
A 6,500-sq.-ft. event space equipped with Skyfold vertical-folding acoustical partitions
A pitch room featuring a 9-ft. × 16-ft. video wall, custom maple step-style seating, and Fabritrak custom-graphic acoustical panels
A 1,400-sq.-ft. military-grade cybersecurity training facility with a dedicated server room
An 1,820-sq.-ft. makerspace equipped with 3D printers and scanners, augmented reality/virtual reality (AR/VR) headsets, drones, and Pepper robots
A 440-sq.-ft. media production studio
A 1,460-sq.-ft. demonstration kitchen
A self-serve market/café that includes a beer tap for special events
A game lounge that offers a pool table, shuffleboard table, and foosball table
A quiet reading lounge with touchdown workstations and high-back lounge seating
  Ohio University
Athens, Ohio
Submitted by Jane Weinzapfel, FAIA, Principal, Leers Weinzapfel Associates
Ohio University Chilled Water Plant #3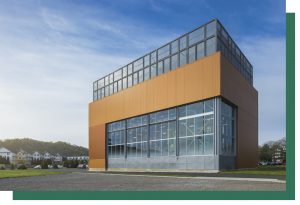 Located on a prominent site between its campus and athletic fields, Ohio University's new Chilled Water Plant #3 meets several vital needs. An attractive, economical building, it is aesthetically synergistic with its grounds and the surrounding neighborhood. It supplements current facilities with an additional 7,500-ton capacity of chilled water through rerouted piping connected directly to student residences. It delivers electrical resiliency with circuitry and switchgear for a new looped electric service and feed point. The plant's rectangular form and copper-colored, insulated metal panel system meld with its context in height, color, and alignment, and the panels' texture animates its exterior. Inset ceramic frit glass relieves the panel system's flatness, giving natural light for workplace safety and well-being. Rooftop perforated screening provides dimensional interest and proportional balance. The main equipment floor is raised 9 ft. above the floodplain for resiliency, also allowing an efficient ventilation system for its elevated main floor. A ramp provides vehicular access to the main floor, where glazed bifold doors permit maintenance service now and the installation of large equipment in the future. An acoustical sound wall with a screened enclosure at the roof provides noise protection for nearby residential complexes, and rooftop cooling towers minimize plume issues.
  Pima Community College
Tucson, Arizona
Submitted by Esther Leon Federico, Support Coordinator, Facilities
Automotive Technology and Innovation Center, Downtown Campus
Pima Community College's new Automotive Technology and Innovation Center is the first completed building project at the Downtown Campus, part of the new Center of Excellence (CoE) in Applied Technology. The CoE is a collection of academic and technical buildings that offer transportation, advanced manufacturing, building construction trades, workforce development, and computer-aided design (CAD) design studies focusing on degree and certificate programs, as well as tailored industry and community training courses. The 43,000-sq.-ft. LEED Silver Automotive Technology and Innovation Center includes 27 vehicle bays, 10 EV-ready bays, 3 heavy transportation bays, 3 original equipment manufacturer (OEM) labs, and a dynamometer room. A large terrace surrounding the entrance provides an inviting shaded area to host industry events, while also connecting the new building to the primary campus walk. Visitors are welcomed to the center with a large, showroom-style lobby and can enjoy expansive views of the bays from the second level, which includes conference rooms, classrooms, offices, and collaboration spaces. Throughout the shop space, translucent wall panels provide daylighting for the work bays and an exterior blue glow at night. The overall building massing and orientation encourages natural ventilation. This design marks a movement in educational pedagogy to adapt a more collaborative learning model for students and the local community.
  Richland Community College
Decatur, Illinois
Submitted by Greg Florian, Vice President of Finance & Administration, Richland Community College, and Alida Duff Sullivan, Director of Marketing, BLDD Architects
Master Plan Phase 1 Renovations
Several of Richland Community College's high-performing programs needed renovated spaces to refocus the emphasis of learning to a student-centered model. As part of the $11.6 million first phase of a multiphase master plan, two exterior spaces were updated and 45,000 sq. ft. of interior renovations were made to facilitate critical thinking and allow experiential learning through real-world problem solving in flexible spaces. New active-learning spaces include biology, microbiology, anatomy, physiology, chemistry, health science, and earth science labs. Each lab is now fitted with the latest technology paired with environments that encourage collaboration, provide natural light, offer ample storage, and prioritize safety. Several student-support spaces and informal collaboration spaces have been added or renovated to enhance the overall experience of students. The environment is visually connected by furnishings and finishes that complement a bright color palette and welcoming feel. Small collaboration areas are found throughout the renovated areas and are equipped with soft seating and writable surfaces to encourage individual and small-group study environments. To reduce the impact of construction activities and keep the college operational during renovations, a DIRTT (Doing It Right This Time) prefabricated interior wall system was used to complete this complex project in a tight timeline, with minimal loss of instructional time.
  Stephen F. Austin State University
Nacogdoches, Texas
Submitted by Debbie Rossler, RID, NCIDQ, WELL AP, Construction Project Manager
Culinary Café, School of Human Sciences, Hospitality and Culinary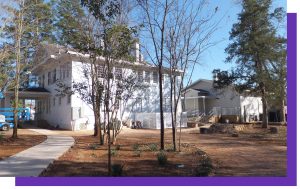 This is a unique project for Stephen F. Austin State University. The university purchased a historic home previously owned by U.S. senator Kay Bailey Hutchison to be the new location for the Culinary Café, a student-run restaurant that serves meals to guests two days a week. The project would include the construction of a commercial kitchen onsite, and renovations to the home. With a budget of $1.5 million, construction began in September 2020 and is expected to conclude in March 2022. The downstairs rooms of the home are being partially renovated and will become a public café where the culinary students can hone their skills. The renovations include making the historic property universally accessible through the construction of a new concrete pathway from the parking area to a new accessible ramp to the house, as well as a renovated bathroom that meets Americans with Disabilities Act (ADA) standards. Minor construction was done to create a back-of-house serving area. Electrical, plumbing, and IT updates were also made, and life safety devices were installed. Connected to the home is a new state-of-the-art commercial grade kitchen. The kitchen will function as a working restaurant kitchen, as well as a classroom with virtual class capabilities.
  University of California San Francisco
San Francisco, California
Submitted by Sean Aloise, Facilities Services Assistant Director
Two Facilities Investment Needs (FIN) Projects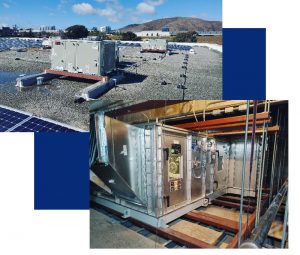 FIN projects are submitted on an annual basis and ranked based on two scoring categories—likelihood of failure and risk impacts. The projects are then reviewed by a governance committee and voted upon for approval. The two recent projects below are examples of the work delivered by the Facilities Services Infrastructure Programs FIN team. The Oyster Point Air Handling Unit (AHU) Replacement project replaced four natural gas air handling units. The AHUs chosen for replacement were high-efficiency heat pump units. By switching to heat pump units, we are able to reduce greenhouse gas output by 10 metric tons of CO2 annually. This saves $2,400 a year in energy costs and utilizes electricity produced by the roof-based solar system. The project added controls monitored via the network and tied the units into the building's fire life safety system. The Parnassus Heights Campus Millberry Union Gym Supply Fan Replacement project replaced two single-speed, low-efficiency fans with two high-efficiency fan wall units. The installation of the fan wall units provides an annual utility savings of $5,000 and increases air filtration for the gym. The units are controlled by four variable frequency drives, connected and controlled via the campus network, and tied into the building's fire life safety system.
  University of Houston
Houston, Texas
Submitted by Nicole Glynn, Marketing & Communications Manager, Shepley Bulfinch
New Law Center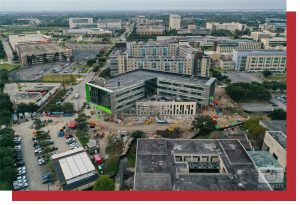 The new 188,600-gsf John M. O'Quinn Law Center, estimated to complete construction by summer 2022, will support the Law Center's mission as a top-tier law school. The new building will promote community engagement and provide a modern, interdisciplinary legal education in a student-focused environment. As the heart of the building, the law library will include a variety of study spaces with city views and design features that foster a sense of community. Dispersed over three top floors, an abundance of natural light will shine through the student study spaces and faculty offices, framing views of downtown. A series of double-height spaces connected by communicating stairs provide flexible collaboration areas. On the ground floor, public spaces such as an event room, courtroom, and clinics welcome the Houston community. As the design phase took place during the early phases of COVID-19, the team strategized implementing new safety protocols. Specifically, the design implemented a new standard by incorporating ultraviolet germicidal irradiation (UVGI) lighting and MERV-13 filtration in the air handling units that will sanitize the building air in occupied spaces. As the project progressed, supply-chain challenges evolved as the major threat to project delivery and were overcome by constant engagement and strategic material procurement management.
  University of Iowa
Iowa City, Iowa
Submitted by Sylvia Clubb, FM Strategic Communications Intern
Psychological and Brain Sciences Building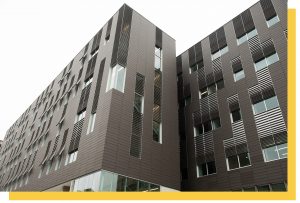 Giving a new home and life to the nation's seventh-oldest psychology department, construction on the University of Iowa's (UI) Psychological and Brain Sciences Building began in October 2017. Spanning 66,470 sq. ft., this $33.5 million building is the first centralized home for the department since its inception in 1887. Prior to construction, the largest department in the university's College of Liberal Arts and Sciences was dispersed between three buildings and no longer met educational standards. No major updates had been made to its previous home and former hospital, Seashore Hall (constructed in 1899 and razed in 2019), since the department was assigned space there in 1930. The new building establishes a renewed campus presence for the department and includes the department office suite; two general assignment classrooms; student learning commons on each floor; 14 state-of-the-art laboratories for human research; faculty offices, conference rooms, and graduate student/postdoc offices; and a dock to serve the neighboring Spence Laboratories of Psychology and the new building. The new space allows for more collaboration between professors, researchers, and students. It reached substantial completion on November 21, 2019. The building received an American Institute of Architects (AIA) Iowa Excellence in Design Award in September 2021.
---
College of Pharmacy Building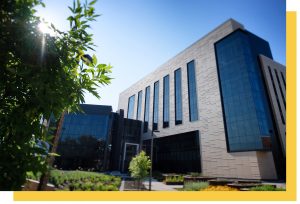 Home to one of the most highly regarded pharmacy programs in the country, the new UI Pharmacy Building takes the place of the previous 150,000 sq.-ft. pharmacy building that no longer met university educational and medical standards. This 228,000 sq.-ft. health sciences building commemorates the world-class contemporary pharmacy education the college provides. It is the first of its kind in the United States to abide by universal design concepts since its inception and surpasses standard ADA requirements to prioritize accessibility and inclusivity for all people regardless of age, size, ability, or disability. On top of its universal design features, the new seven-floor building includes 23 learning spaces; 16 collaborative laboratory science research spaces; the Pharmacy Practice Learning Center, including a mock hospital and community pharmacy; a 128-seat, team-based lecture hall equipped with three 220-in. screens; community gathering spaces; a UI Pharmaceuticals sterile products facilities expansion housed in the lower level of the building; and a pharmaceutical garden. Construction began on the $96 million facility in spring 2017 and reached substantial completion on December 3, 2019. While the building has been occupied since January 2020, the ribbon-cutting ceremony was postponed until October 2021 due to COVID-19.
---
Stanley Museum of Art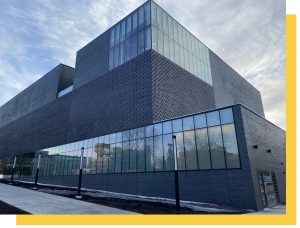 UI's new Stanley Museum of Art will soon be home to the university's nearly $500 million art collection, including Jackson Pollock's Mural, valued at $150 million. The $48 million, 60,4000-sq.-ft. building facility reached substantial completion on January 31, 2022, and replaces the former building damaged in the 2008 flood. The new building is designed to accommodate flooding of the nearby Iowa River with a first floor elevated seven feet above grade and underground parking below. The building features a secured and tempered truck loading bay, a 400-sq.-ft., three-story lightwell, two third-floor terraces, custom handmade bricks, triple-pane glass, and perforated metal panels, as well as galleries, teaching studios, student spaces, administrative offices, and art storage. Construction teams 3D-modeled building systems to facilitate installation and allow for maintenance access to the building. The university's 17,000-piece art collection has been on traveling display for the last 14 years and will return to the university permanently in August 2022 when the building publicly opens. UI looks forward to bringing Pollock's iconic piece back to campus and to once again having a home for all art at the university.
  University of Michigan Dearborn
Dearborn, Michigan
Submitted by Michelle Martin, Higher Education Marketing Strategist, SmithGroup
Engineering Lab Building
University of Michigan-Dearborn selected SmithGroup to evolve their Engineering Lab Building (ELB) into a more tech-enabled, collaborative learning environment.  The design transforms the dim and compartmentalized lab building into an exciting, engaging space that is the new nexus of the College of Engineering and Computer Science. The 123,000-sq.-ft., $77 million renovation, completed in February 2021, took the structure back to its shell, slicing out and exposing portions of the original building, a new three-story wing, and a light-filled glass atrium connecting the two. Now an expressive, illuminated space, it projects a sense of lively engagement inside and out.  The building's hallmark is the exceptional amount of space dedicated to student interaction and shared learning, which is evident as you walk through the building entrance into the two-story, 2,400-sq.-ft. Weiser Family Atrium—which features a 29-ft. digital display screen. Open stairs on both ends lead to glass-walled perches where students study, relax, and gather in small groups.  With its lab capabilities and large, flexible spaces, the ELB is an ideal hub for industry collaboration, demonstrations, and events. It enhances the important industry relationships the college was built upon and carries those strengths into a new generation of engineering excellence.
  University of Southern Mississippi
Hattiesburg, Mississippi
Submitted by Michelle Shinall, Assistant Director for Marketing & Campus Relations
Quinlan-Hammond Hall of Honor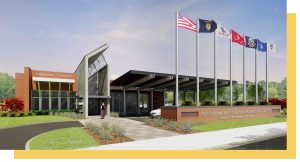 Having outgrown its current space, Quinlan-Hammond Hall of Honor will offer a uniquely defined space for the nearly 1,800 military students at Southern Miss. Construction of Quinlan-Hammond Hall of Honor, the future home of the Center for Military Veterans, Service Members and Families, is nearing completion. The 5,500-sq.-ft. facility is located on the Hattiesburg campus of the University of Southern Mississippi (USM), which is ranked third in the nation by Military Times for providing support to military veterans, service members, and their families. The central focal point of the unique building is a vertical ingress angled like a salute, welcoming veterans and service members each time they enter. The space was also designed to reveal the stars and stripes of the American flag, with the preamble to the Declaration of Independence embedded in the stripes. The center features the True Faith and Allegiance Corridor, which pays homage to all six branches of the armed forces. Privately funded by more than 110 USM alumni and friends, the facility will also include a conference room, study space for small groups or individual work, a library, and staff office spaces and other meeting areas.
  University of Virginia
Charlottesville, Virginia
Submitted by Jane D. Centofante, Communications Senior Generalist, Facilities Management
Student Health and Wellness Center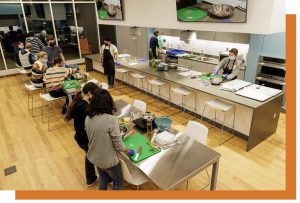 The new $100 million Student Health and Wellness Center—completed in late August 2021—is designed to support the "whole health" of students, with the hope of attracting a large population of student visitors for purposes beyond traditional health care services. The building features upgraded space for clinical functions and a wide variety of health-promoting programs. This includes multipurpose instructional spaces for offerings such as meditation and art therapy, a teaching kitchen, and several lobby lounge areas to accommodate a variety of flexible, nonscheduled activities. The 165,000-sq.-ft. building's design was guided by student feedback sessions gathering input about desired programming, colors, lighting, furniture, and layout. In 2020, some aspects of the building's mechanical design were adjusted to support pandemic prevention, including the creation of additional negative pressure rooms, installation of MERV-16 air filtration, and modifications to building-automation controls. The building's sustainable materials and high-efficiency HVAC systems will contribute to an estimated 45% energy reduction and 20% water reduction compared to buildings of similar size and function. The project team included UVA Capital Construction & Renovations Senior Project Manager Amy Eichenberger and the late Senior Construction Administration Manager Richard Sergi (who passed away in September 2021), as well as VMDO Architects and Duda|Paine Architects, and Barton Malow as the construction manager.
  Western Michigan University
Kalamazoo, Michigan
Submitted by Paul Terzino, Director, Bernhard Center
University Student Center
In September 2019, Western Michigan University broke ground on the new Student Center, partnering with Walbridge as construction manager. The 165,000-sq.-ft. multipurpose facility will open in July 2022 and include five restaurants, the campus bookstore, unique "gathering stairs," a variety of meeting and event spaces, eight lounges and study areas, a dynamic game room, an admissions welcome center, resources for student organizations, dedicated affinity-group meeting space, and a residential dining hall. The architectural team from CannonDesign pulled inspiration from universal symbols and nature. The first level, partially buried, emerges clad in a stone-like material inspired by the Coldwater Shale found in Michigan. The second and third floors rise above the stone foundations clad in glass, and the third floor is wrapped in sun shading that mimics the nature of light shining through a tree canopy. The building form follows the natural contour of the site, allowing for important site features and pathways to remain, and creates circular or curved spaces reminiscent of gathering circles.
Diversity, equity, and inclusion was a key factor in design and program development.
All meeting and conference rooms have built-in hybrid meeting technology.
$99 million total project budget with no state funding.
The facility will be managed, cleaned, and maintained collaboratively by student affairs and facilities management.
Tracking LEED Silver
Replaces the aging and outdated Bernhard Center (1957)
---
Steve Glazner is APPA's director of knowledge management and editor of Facilities Manager; he can be reached at [email protected]. Many thanks to the authors, photographers, admins, architects, project managers, and directors who contributed to this compilation.