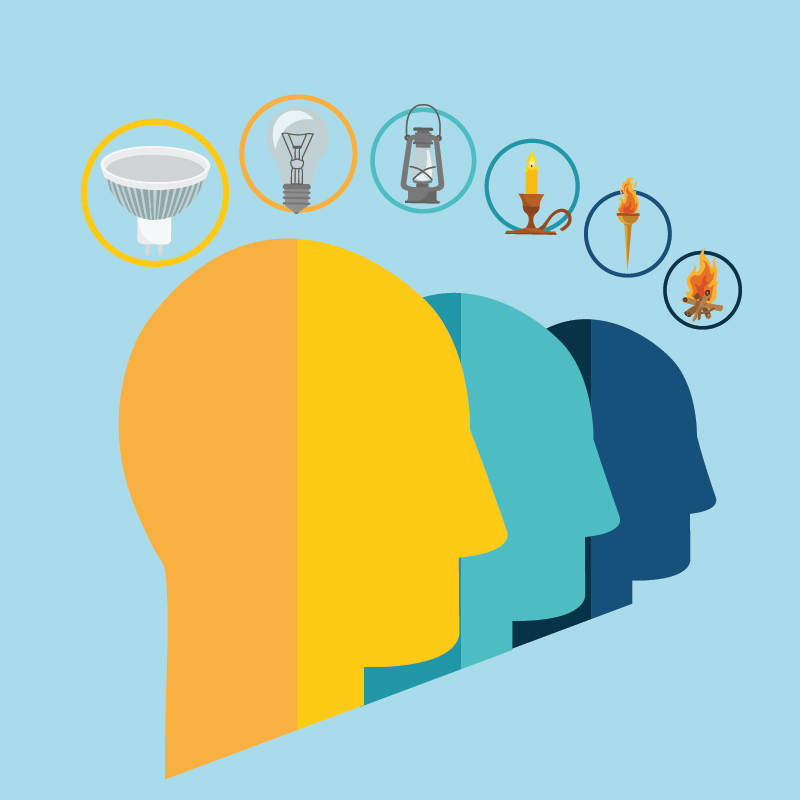 An ancient proverb states that it is better to "light one candle than to curse the darkness." And humanity found a means to conquer the darkness, evolving from a burning stick to a candle, to a gas light, to an electric lightbulb, and finally, electroluminescence: the light-emitting diode (LED).
The LED, with its high efficiency, long life, granular color control, small size, and compatible digital controls, has been transformational for many campus applications.
Lighting for Control Freaks
LED luminaires now support digital control-signal protocols distributed on the enterprise network, allowing for very fine adjustment of the light output for each individual luminaire. Thus, in a classroom using projected images, the lighting must be sufficiently bright to see and hear (since our natural instinct for lip reading helps with communication) the presenter but dim enough at the projection screen to preserve contrast ratio for the projected image.
With older technologies, it was cost prohibitive to provide dimming for each luminaire, so groups of luminaires were dimmed in a single control zone over the screen, the instructor, and the first row or two of seated students. This is good for the projected image, but bad for seeing the instructor, and terrible for video cameras, which play an increasingly important role in the age of pandemic-inspired remote learning.
With individually controlled LED luminaires, the instructor can be illuminated precisely, adjacent to but separate from the dimmed screen area, and lighting on the student seating is preserved.
Or, consider study areas where some students are reading or making handwritten notes while others are working on a laptop. These activities require two different lighting requirements: Reading and handwriting require a bright working area, while the electronic display works much better in a lower light level. The LED luminaires can provide precise local control at individual workstations that can be adjusted by the student.
LED lighting has improved lighting for the video camera. In classrooms where video cameras capture the presentation, LED luminaires provide broadcast-quality illumination of the presenter and the audience. In addition to the precision of individual luminaire control for intensity, tunable white units allow adjustments of the correlated color temperature (CCT) from warm to cool white lighting that make white-balancing the camera a snap.
The LED luminaire's native compatibility with network-based digital control has led to a broad development of other network devices to control lighting. Sensors at each luminaire produce data on occupancy/vacancy, energy use, and CCT that can inform and be integrated with monitoring and controls. Network-based controls can learn usage patterns and modulate illumination accordingly. As such, LED lighting systems and sensors become an important element on the Building Internet of Things (BIoT) or intelligent building system.
The IT Department: Lighting's New Best Friend
Lighting is becoming a part of information technology. LED luminaires can be powered by network switches over structured cabling along with transmission of the control signal for a Power over Ethernet (PoE) lighting system. This means that wiring to the luminaire is low voltage, eliminating costs for line-voltage conduits, boxes, and conductor installation. System commissioning is simplified with controls that are preconfigured for the space.
PoE lighting systems are ideal for spaces with changing configurations. When a room configuration changes, the lighting presets may be easily reprogrammed, or if necessary, luminaires relocated without having to open up walls, ceilings, or floors to revise line-voltage infrastructure. Since most of the work installing or modifying PoE lighting systems can be provided by a low-voltage contractor, the lighting may be installed in conjunction with installation of technology systems by your audiovisual, IT, or security contractor.
LED luminaires can also support Li-Fi (light fidelity), an optical wireless form of communication similar to Wi-Fi. Li-Fi uses the LED's capability for rapid switching to transmit data wirelessly by modulating light intensity at switching rates too fast to be detected by the human eye. This approach requires line-of-sight to the luminaire, which can be a limiting factor, but this limitation also protects Li-Fi transmissions from being hacked or shared between rooms. Li-Fi is still under development and early implementation, but it is highly likely to become a viable alternative. Hybrid systems using both Wi-Fi and Li-Fi may be the future of high-speed data transmission.
Lighting and Our Health
Researchers are just beginning to develop an understanding of the role light plays in our health, well-being, and learning. Light has a powerful influence on biology as humans are intimately interwoven with light—its dominant cycle of daylight and darkness, its intensities, and its shades of gray and color.
There is a marked shift in the lighting world toward human-centric lighting that focuses on the well-being of humans. To a large extent, the cycle of daylight and darkness forms the core of human behavior. The intensity, quality, CCT, direction, and progression of daylight becomes a daily ritual and is the basis for our understanding of circadian rhythm. Daylight within the 24-hour cycle is dynamic, with ever-changing direction, intensity, and CCT. Those who work inside most days may not be experiencing the circadian rhythm, as their exposure is a nonvariable general illumination.
The challenge is to provide a replication of the daylight cycle, and the LED source is a great tool. An array of LED luminaires can produce both vertical and horizontal illuminance with specific intensities and CCT values for a precise amount of time, and fade between segments throughout the 24-hour cycle, replicating the natural circadian rhythm.
No Longer Cursing the Darkness
Research shows that the quality of lighting has a direct influence on comfort and learning outcomes. The LED luminaire, along with well-developed power and control technologies, make it possible to illuminate our campus spaces for healthy, comfortable, productive human activity as never before. Campuses should embrace LED rather than curse the darkness.
---
Norm Russell is a principal with NV5 (formerly The Sextant Group) in the Santa Barbara, CA area. He can be reached at [email protected]. This is his first article for Facilities Manager.