Invasive species are a threat to our managed and preserved spaces. According to the U.S. Department of the Interior, invasive species are "non-native species whose introduction does or is likely to cause ecological or economic harm, or is a threat to human health."¹ Invasive species can drive native species onto the Endangered Species list, resulting in associated regulatory costs, exacerbate the threat of wildland fire that destroys property and threatens lives, increase the cost of delivering water and power, damage infrastructure, degrade recreation opportunities, and discourage tourism.² The forests and natural spaces we strive to protect cannot sustain themselves sufficiently when they are facing stresses including invasive species, urbanization, land development, and the impacts of climate disruption.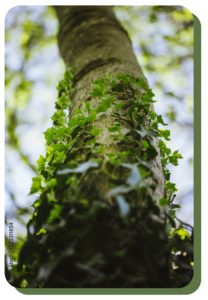 When invasive plants kill trees, these trees can fall onto people, infrastructure, roadways, and property. We need to preserve these natural resources to continue to live in a safe and functional environment with adequate infrastructure. Through the use and implementation of a management plan, invasive species can be prevented from introduction and spread and can be removed, managed, and controlled so that they cannot further harm our natural resources and, ultimately, us.
Everyone is going to be impacted by climate change in varying degrees. Depending on the area, it is recommended to look into future prediction models to understand what the weather and climate will look like soon. We will expect more growth of invasive species due to higher carbon dioxide levels, and changing weather and climate patterns may suit the growing requirements for those invasive species as well. Growing zones will continue to shift so it will be necessary to adapt to a changing climate. Trees and native plants will continue to experience stress from climate change impacts and invasive species infestations. With more frequent natural hazards occurring and unpredictable weather patterns, trees that are infested with invasive species can topple and potentially damage infrastructure. Research has shown that approximately 40% of all forested land in the United States is under threat from invasive species. About 6 million tons of carbon are released into the atmosphere each year from trees killed by forest pests and invasive species.³ Implementing a management plan that considers climate change will be beneficial to Facilities Management and Landscape and Grounds departments to ensure that the maintained spaces are healthy and resilient and pose a minimal threat to infrastructure and safety.
Creating a Management Plan and Additional Considerations
To create a management plan and implement it effectively, it is important to first understand the land use history of the property. This can help Facilities Management understand the severity of land disturbance on the property. A history of agricultural and urban development can correlate with invasive species introductions. It's important to understand past land use history in order to make management decisions for the current site conditions. However, in the face of climate change, management also needs to focus on preparing for future changes and natural hazards related to invasive species.
It's important to network and collaborate with staff, faculty, and students on campus. Make sure important stakeholders from Facilities, Landscape and Grounds, Environmental Health and Safety, and Climate/Sustainability departments are actively involved in implementing the management plan. These departments can provide guidance, cost estimates, and connections with experts to assist with developing campus-specific best management practices. Additionally, these plans are also opportunities for professional staff to engage and collaborate with students and faculty on implementing environmental conservation plans on campus. Coordinating with faculty and students on invasive species research can provide educational opportunities that can assist with the implementation of monitoring practices, research, the management plan, and any alternative solutions to invasive species infestations.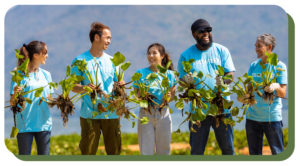 Invasive species removal events can be an opportunity for students to get exposure to environmental initiatives on campus. There may already be student organizations interested in these activities; maintaining working relationships with these organizations is important. Additionally, many student organizations have volunteer requirements that could be leveraged for some targeted invasive species removal on campus. However, it is important to note that many campuses will require efforts greater than periodic volunteers to effectively mitigate invasive species.
Budgeting is crucial for determining resources needed and limits imposed on invasive species management efforts. The staffing needs , time to monitor and remove invasive species, and equipment should all be factored into a budget. Facilities Management and Finance departments on campus can help provide more information on budgeting.
Monitoring Practices
It is necessary to identify and continuously monitor what invasive species are on the property when evaluating the site conditions. Utilizing maps of the property will be helpful in navigating the land to conduct field surveys of invasive plant species. Campuses could also use technological solutions, like geographic information system mapping software, to assist with monitoring efforts. State and Federal government organizations (including the U.S. Forest Service) and educational institutions can provide extensive resources including connections to subject matter experts on invasive plant species found in the region. This will help with providing basic information to staff on plant identification and control methods.
It is likely that there will be a significant number of invasive species on campus. This can be due to intentional or unintentional introductions. Intentional introductions usually happen from bringing in nonnative plants for ornamental and horticultural purposes. These plants can sometimes escape their original site of introduction, which makes them invasive. Invasive species introductions are highly likely to occur near major roadways and vectors. If there are a significant number of invasive species on your property, it is important to narrow down the list of invasive species to prioritize those that directly harm trees and tree canopy, spread easily (by vegetation, roots, rhizomes, seeds, etc.), and cause the most environmental disturbance.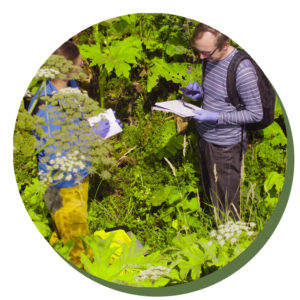 A key component to include in an invasive species management plan is Early Detection Rapid Response (EDRR) practices. According to the U.S. Department of the Interior, EDRR is "where 'detection' is the process of observing and documenting an invasive species, and 'response' is the process of reacting to the detection once the organism has been authoritatively identified and response options have been assessed."4 This would also mean implementing a consistent monitoring schedule to look for newly introduced invasive species on the property. When any new invasive species are detected, these should be of top priority to remove, manage, and/or control. It is also important to consider looking into common invasive species found in neighboring states and regions with climate change in mind. These are species that could be introduced in the near future considering shifts in grow zones.
Integrated Pest Management Practices
Including an Integrated Pest Management plan is crucial in an Invasive Species Management plan. A Pest Management Plan is a combination of cultural, manual, mechanical, biological, and chemical methods to remove and control invasive species. The U.S. Department of Agriculture states that Integrated Pest Management is "a sustainable approach to managing pests by combining biological, cultural, physical, and chemical tools in a way that minimizes economic, health, and environmental risks."5 Prioritizing cultural, manual, mechanical, and biological control methods in combination with chemical methods will produce effective results in invasive species management. Below is a list of each type of control method.
Prevention methods would include monitoring for invasive species. Depending on the site conditions, this may not be feasible if there is already a significant amount of invasive species already present.
Cultural control methods are preventive practices including choosing healthy and resilient native plant species that are appropriate for the site's environment and ensuring those plants have adequate nutrition.
Manual and mechanical control methods include pulling, cutting, digging, mowing, mulching, tarping, and burning invasive species.
Biological control methods include the introduction of insects and specific species that are native to the area where the target invasive species originated onto the target invasive species. Animals, especially managed grazers and/or browsers, such as goats, can be introduced to eat invasive plants as another form of biological control.
Chemical control methods typically include synthetic and naturally derived herbicides. Herbicides can be applied via cut-stem injections, foliar sprays, and basal bark sprays. Chemical methods should be used according to state laws. It is also important to make sure that the herbicides are aquatically approved to avoid contamination of nearby water bodies. It is recommended to reduce spraying herbicides to prevent drift and runoff unless that is the only effective method for the target invasive species. This method should not be solely relied upon; instead it should be used when all other methods have been exhausted.
Prioritizing Areas
A Pest Management Plan is a combination of cultural, manual, mechanical, biological, and chemical methods to remove and control invasive species.
Invasive species cannot be entirely eradicated from the land. That is why it is important to prioritize the type of plants as well as specific areas on the property. As a safety reason, it is important to consider managing any invasive species that are near roadways, buildings, and infrastructure that could be damaged if these species were to spread or cause trees to fall onto people, roadways, and/or property. Any forest conservation easements should be top priority for management purposes. Areas of special historical importance could also be something to protect from invasive species infestations depending on the site.
Riparian forest zones create about a 100-foot buffer around streams and creeks. These are important areas of natural spaces that provide many ecosystem services and need to be protected. These areas are also eligible to be prioritized for invasive species management.
Conclusion
Developing an effective Invasive Species Management plan requires collaboration across many disciplines and relevant departments and stakeholders. Executing consistent monitoring practices and applying EDDR methods can prevent the introduction of new invasive species and give a better idea of current site conditions. Invasive species that are a direct threat to trees, have the capability of spreading easily, and cause the most environmental disturbance should be of top priority as target species to manage and control.
Prioritizing any areas that could become safety hazards due to the spread of invasive species; important infrastructure including roadways, conservation areas; and any environmentally sensitive areas can help focus management efforts on areas that need the most attention. Including an Integrated Pest Management plan and exploring alternative control options can produce an effective combination of control methods to manage the spread of invasive species. An effective management plan requires a careful examination of the past influences, present site conditions, and careful planning for future conditions in the face of climate change.
---
Endnotes
1 Definitions Subcommittee of the Invasive Species Advisory Committee, "Invasive Species Definition Clarification and Guidance," U.S. Department of the Interior Office of the Secretary. https://www.doi.gov/sites/doi.gov/files/uploads/isac_definitions_white_paper_rev.pdf.
2 USGS, "Explore USGS Invasive Species Research," U.S. Geological Survey. https://www.usgs.gov/tools/explore-usgs-invasive-species-research-0.
3 Songlin Fei, Randall S. Morin, Christopher M. Oswalt, and Andrew M. Liebhold, "Biomass Losses Resulting from Insect and Disease Invasions in U.S. Forests," Proceedings of the National Academy of Sciences 116, no. 35 (2019): 17371–76, https://doi.org/10.1073/pnas.1820601116.
4 "Early Detection and Rapid Response," U.S. Department of the Interior. https://www.doi.gov/invasivespecies/early-detection-and-rapid-response.
5 USDA, "Integrated Pest Management," U.S. Department of Agriculture. https://www.usda.gov/oce/pest/integrated-pest-management.

---
Isabel Dastvan is SEI Climate Corps Sustainability Fellow at the University of Maryland Baltimore County Office of Sustainability, Baltimore, MD. She can be reached at isadas821@gmail.com. This is her first article for Facilities Manager.