Editor's Note: Since 2006, APPA's Thought Leaders Series (TLS) has conducted dedicated discussions on the future of higher education and the impact of that future on educational facilities. In March 2023, a group of higher education presidents, other senior campus leaders, consultants, association executives, and educational facilities leaders attended the annual Thought Leaders symposium to engage with one another on the status and future of higher education leadership.
The following excerpt comprises the executive summary of the 2023 Thought Leaders report.
---
Ordinary life has returned on most college and universities campuses, but it would be wrong to say things are back to normal. People call it "The New Normal," but that phrase fails to capture how unsettled many people feel. A recent New Yorker humor column proposed several suggestions for alternatives to The New Normal. These included: The Continuing Uncertainty, The New Highly Abnormal, Daily Dread, and Everything Is Different Every Day, Which Is Actually the Exact Opposite of Normal.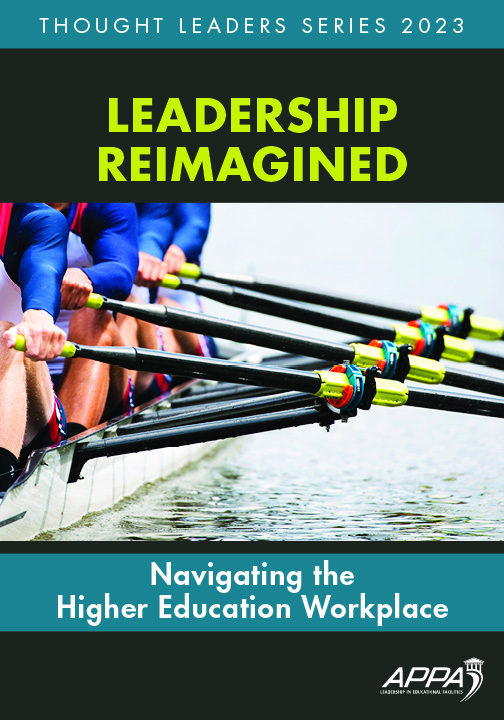 The Continuing Uncertainty seems apt for an industry experiencing declining enrollment, struggling to find a sustainable financial model, and fighting to defend itself against the charge that it isn't worth the cost. Even Comedy Central's The Daily Show recently ran a segment called "The Problem with Modern-Day College" that slammed higher education for being too expensive and not preparing students for careers. Meanwhile, colleges and universities are struggling with the same challenges as other industry sectors' employers in 2023: an exhausted workforce demanding higher pay, more flexible working conditions, and a greater voice in the workplace.
In the past we could throw money or human capital at technical problems and achieve a solution. We now face what is called "adaptive challenges," where the solutions lie in our collective engagement.
These require building long-term relationships and developing strategic partnerships that span the enterprise and even seeking assistance externally (e.g., business partners, the surrounding community, other institutions through peer-to-peer collaboration). We cannot do this alone! In addition, this collective engagement takes a new kind of leadership, a leadership that, first and foremost, requires a significant shift in mindset. We are at a critical juncture, and we cannot—must not—shrink from the tasks and opportunities before us.
Executive Summary
The goal of the 2023 Thought Leaders symposium was to provide higher education and campus facilities leaders with information and tools to help them lead their employees through The Continuing Uncertainty with a focus on the workforce. We recognize that workforce issues are incredibly challenging and understand that an engaged and empowered workforce can find solutions to these overwhelming campus problems. This is truly an opportunity to shape the institution's future and cement our role as well. A major theme throughout the symposium and this report is the significance of leadership that now requires a shift in mindset.
Understanding the Higher Education Work Environment Today
To develop a clear picture of the situation confronting leaders at colleges and universities, the Thought Leaders symposium began with a SWOT analysis, looking at the strengths, weaknesses, opportunities, and threats facing campus leaders.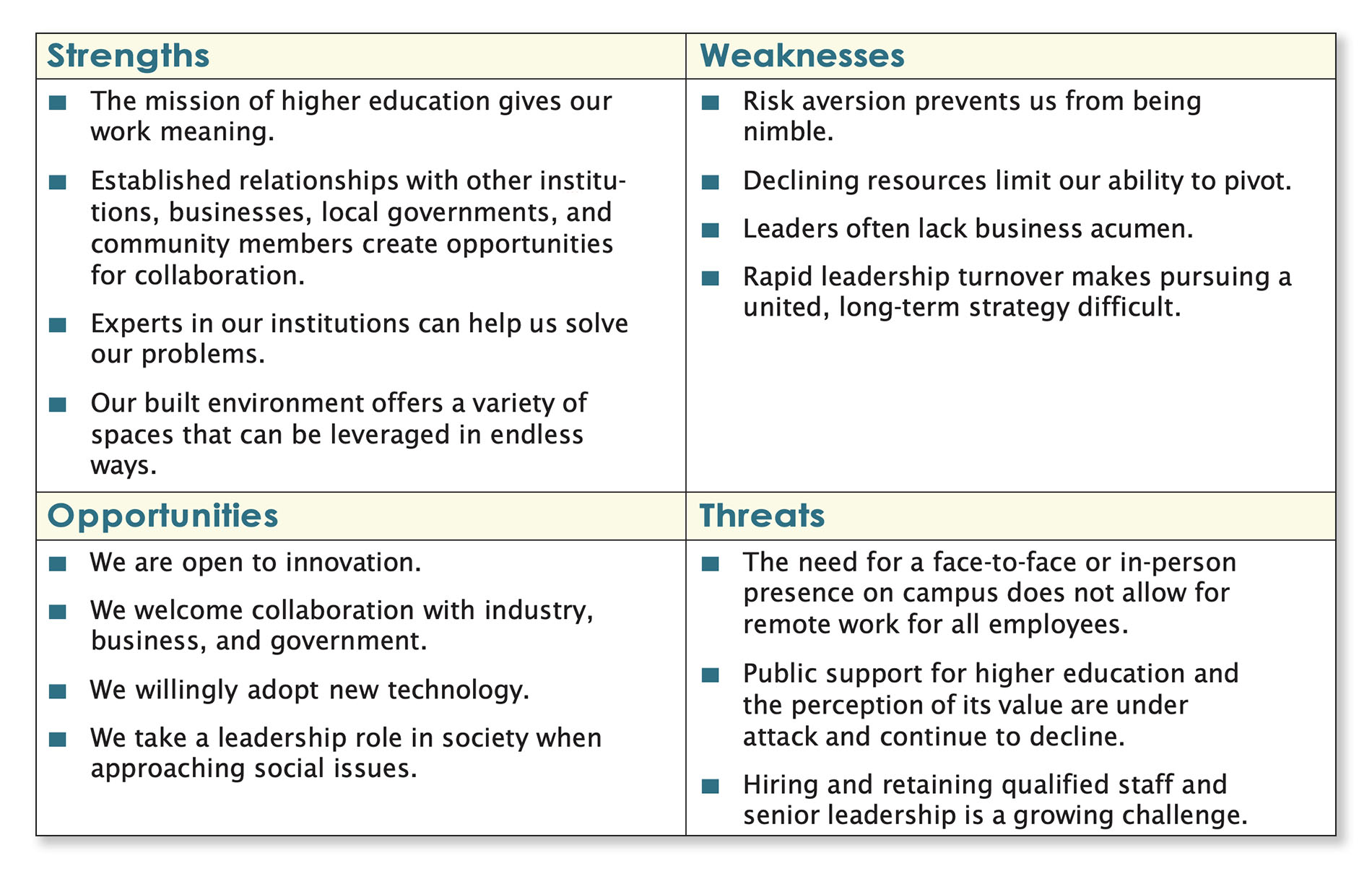 By way of adding a bit more context, it's helpful to understand the value of recognizing the intersection of trends, challenges, and opportunities: Trends lead us. Challenges threaten us; But we can lead opportunities. Therefore, in strategizing, planning, and aligning our priorities, these trends, challenges, and opportunities can help focus our actions.
The SWOT analysis led participants to consider, in more detail, how campuses can address the challenges we face by leveraging opportunities. Thus, they identified and further considered the following challenges:
Ensure continuity despite leadership turnover by investing in leadership development and succession planning.
Recruit and retain a qualified workforce by engaging campus HR (human resources) in this new reality, taking seriously why employees consider leaving, and making fair offers to current and new staff.
Improve morale by providing options and flexibility; developing clear paths to promotion and salary increases; creating an inviting, welcoming environment; and ensuring employees feel heard in the workplace.
Confront the broken financial model of higher education by making hard choices about low-performing and/or low-priority programs, making better use of space, prioritizing sustainable investments, and where possible, creating new programs that meet real needs.
Create an engaging campus climate by defining success for your campus, designing human-centered spaces and services, and prioritizing inclusivity in the built environment.
Maintain institutional autonomy by involving the entire campus community in efforts to tell the story about higher education and the institution's brand.
As a result, our Thought Leaders highlighted several strategies that include the following:
Promote our mission by working with other institutions and associations to explain how higher education helps students, the community, and the world, thus changing the perception of higher education's value.
Strengthen the commitment to student success by defining success for your institution and emphasizing the role of all members of the community in promoting that success.
Build on current relationships and increase collaboration by reaching across operational units and departments within the college or university.
Increase relationships by entering new ones, joining forces with peer institutions, and reaching out to businesses and the surrounding community.
Improve the effectiveness of leaders by investing in leadership development, employing benchmarking tools, and making hard decisions about staffing issues and concerns.
Make the most of available spaces by aligning space policy with new work patterns; focusing on creating inviting, welcoming environments; making sustainability a factor in space management; and rightsizing the campus to match the institution's ability to financially sustain it.
Consider the Facilities Management Work Environment
Thought Leaders next assessed the unique challenges of the facilities management work environment. They suggested the following strategies for addressing those challenges:
Attract and retain a qualified workforce by building a pipeline, growing talent internally, and strengthening your culture.
Collaborate both within and beyond the institution by reaching out to members of other departments and programs, suppliers, peer institutions, and professional organizations.
Make your space work for you by improving data collection, understanding what the institution needs, and centralizing and streamlining space allocation.
Shape the campus around student success by clarifying the role of facilities management in student success and looking for opportunities to create iconic spaces that tell the story of your college or university.
Thought Leaders then proposed ways facilities management could leverage available opportunities:
Keep planning for an uncertain future by assessing liabilities and risks, tracking assets, and thinking long term.
Better align your strategic plan with your budget by prioritizing your institution's needs then aligning the budget to those needs.
Promote and sustain an elevated position for facilities management in the organization by improving presentation and communication skills and demonstrating the value of the facilities organization to the campus.
Deploy technology to enhance workforce effectiveness by making systems smarter, consolidating data, employing sensors to improve user health and comfort, using drones to assess difficult-to-reach spaces (e.g., roofs), and considering the emerging benefits of artificial intelligence (AI) as a tool to improve facilities management.
Questions for Institutional Dialogue
As always, the Thought Leaders symposium ended with participants developing a list of questions for discussion on college and university campuses. APPA invites campus leaders at all levels to use these questions to assess their specific workforce challenges and create their own opportunities.
What are the greatest workforce challenges facing your college or university?
How can your college or university leverage the advantages of working in higher education to attract and retain talent?
How is your institution investing in current staff?
How well does your institution align its operations with the goal of student success?
What steps can your institution take to rebuild the reputation of higher education and the value of a degree? How can the facilities organization assist?
How can new or expanded collaborations and partnerships—both within and beyond the organization—help the institution?
What steps are your college or university taking to update space-management policies and processes post-pandemic?
Courageous Leadership in Difficult Times
The overarching theme of the 2023 Thought Leaders symposium was leadership. Only through the work of committed, creative, innovative, and courageous leaders will educational institutions face these current challenges head-on and emerge with greater resilience to better serve their students.
Author and professor of social work Brené Brown conducted years of research to understand what makes leaders effective, interviewing hundreds of leaders from CEOs to community organizers, Pixar executives to Special Forces operatives. One theme emerged from these interviews: courage. True leaders, Brown says, are those who operate from a place of authenticity and empathy rather than from anxiety and fear of failure—and that takes real courage. In her book Dare to Lead: Brave Work. Tough Conversations. Full Hearts., Brown says, "We desperately need more leaders who are committed to courageous, wholehearted leadership and who are self-aware enough to lead from their hearts, rather than unevolved leaders who lead from hurt and fear." That takes a real shift in leadership mindset. In fact, the Center for Creative Leadership (CCL) describes the ultimate goal of that type of mindset as "a shift from leading the business and hoping people will follow to leading people who, in turn, will drive the [college or university] forward."
Reimagining Leadership
The 2023 Thought Leaders report contains many recommendations for leaders. Some of the recommendations concern purely technical or managerial tasks, such as measuring space utilization or assessing the value of a building. But most of this report involves dealing with people, and people can be difficult, entrenched. They fight change, and they aren't always rational. The challenges of recruiting staff, aligning budgets with campus priorities, reallocating space, and rebuilding the reputation of higher education—these are all difficult because they require convincing other people to change their thinking, take risks, give up control and let go of cherished traditions.
There's a saying, "To change the way you think, change the way you see." Put yourself in the other person's shoes and seek to see the world, the situation through their lens, their eyes. Failure is a real possibility, not because you haven't made a good case or put in the effort but because other people dug in their heels and refused to change. That's to be expected, says Brené Brown: "If you're going to dare greatly, you're going to get your ass kicked at some point. If you choose courage, you will absolutely know failure, disappointment, setback, even heartbreak. That's why we call it courage. That's why it's so rare."
But if people are the challenge, people are also the solution. When leaders succeed in channeling the energy of their teams around a shared goal, the results can be extraordinary. People may just surprise you.
We encourage all readers to embrace the challenge of leadership we've described. We are confident the courage and commitment of higher education leaders will move colleges and universities out of The Continuing Uncertainty to a place of certainty, confidence, and ultimately, success.
---
Writer Elizabeth Lunday, based in Austin, TX, is the primary author of the 2023 Thought Leaders report, Leadership Reimagined: Navigating the Higher Education Workplace. She can be reached at [email protected].