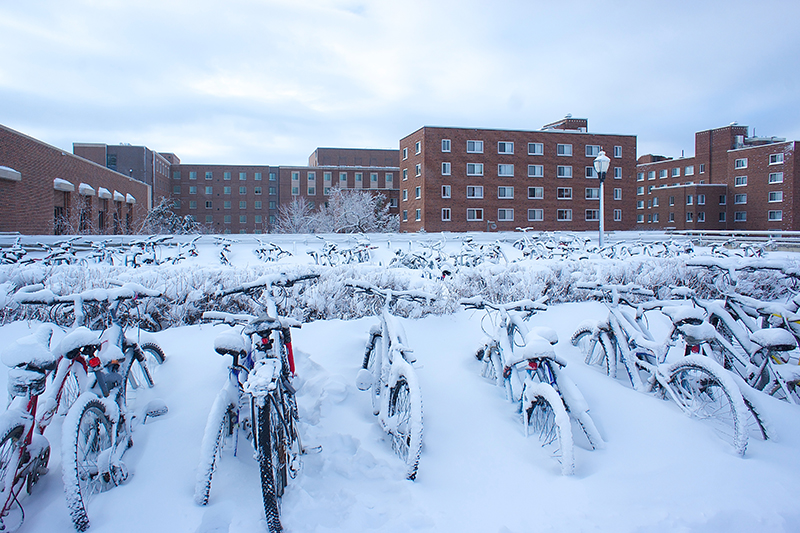 Remember yesterday when the roofer you brought in was working on the new Science Center roof? They did a great repair—and neglected to close the roof hatch when they left. And nobody followed up.
Damage to the building from the heavy snow that came down last night won't be noticed for a long time, as the building is not currently occupied because classes are called off and everyone in the physical plant and public safety departments is involved in snow cleanup.
If you are lucky, only a stairway will need to be cleaned. Not so lucky? Bring on carpet extractors, cases of ceiling tiles, IT staff shaking out waterlogged computers, and so much more. Many of us have been in similar situations. Can it be avoided? Not entirely, but the possibility of an unfortunate occurrence of damage from extreme weather can certainly be lessened. How?
Check It Out!
Call it a checklist, standard operating procedure (SOP), or something else–an established directive created for the purpose of eliminating unforeseen occurrences that may arise in our daily facilities management operations can make life easier by ensuring that some potentially detrimental details are not overlooked.
Understandably, each list will differ, having its own list of ingredients to fulfill the recipe at hand. But remember that the goal is always the same: to avoid the avoidable when possible.
Simple Checklists for Snow/Winter Weather
Here are some simple and admittedly incomplete lists for those facilities managers who deal with wintery weather. They are mostly common sense. The idea, however, is to not overlook or forget about something that can unexpectedly bite us later.
Cold and Snow Preparation Checklist
Establish Plans Early
Schedule meetings with plant direct reports. Issue clear area of responsibility instructions between grounds, custodial, motor pool, and other areas. Ensure that supervisors understand what their group needs to do and the goals that must be accomplished for a snow event.
Meet with involved campus stakeholders such as public safety, residential life, dining services, and IT. Define snow-mitigation priorities, such as moving vehicles to specified areas to keep lots clear for plows. Ensure clearing of loading docks for deliveries. Prioritize walkway clearing from residence halls to dining facilities and occupational health offices.
Contact snow removal contractors and ensure that details such as areas to be cleared and arrival times are set.
Plan to ensure access to critical areas such as fuel tanks, buildings that house ongoing experiments, animal housing, etc.
Check that critical systems, cooling towers, and pipes are winterized.
Verify that antifreeze systems, glycol, heat wire, freeze pumps, and freeze stats are operational.
Snow Operation Center
Establish who will be the point of contact (POC) and point of communication during a snow event. Create a snow ops command center/network that is run by physical plant/facilities.
Determine who will decide if the facility is closed or a late opening is scheduled.
Determine who will contact the campus and local community regarding closures, late openings, etc. How will this be done? By email, website, social media?
Determine who makes the call to bring staff in to begin clearing operations.
Contact local authorities, municipality as necessary.
Decide where the command center will be located.
Preparation
Make sure mechanical equipment is in good working order early in the snow season—before it is needed! Check for enough motor oil, fuel, and hydraulic fluid.
Be sure that a full supply of snow-melting material is on hand. Brine, salt, and SnoMelt will be used up quickly in a big storm.
Check that personal protective equipment (PPE) is available and that adequate stock is on hand.
Make sure that snow shovels, brooms, scrapers, and manual salt spreaders are in workable condition and available in proper quantities.
Top off generator fuel tanks if applicable. Test generators and service if needed.
Recap the duties and areas of responsibility for custodial, trades, vehicle mechanics, grounds. If applicable, check with union reps.
Real-Time Checklist—When a Snow Event Is Certain
Meet with direct reports. Ensure that they have a clear understanding of duties assigned.
Contact public safety to see that established parking directives are in place and carried out. Begin snow ops command center tasks, such as communication updates to the designated community.
Contact snow removal contractors. Set a probable start time for them.
Distribute PPE to staff.
Recheck all snow removal equipment operation.
Recheck that roof drains are clear and that roof access points are secured. Clear storm-drainage piping also.
Check operation of critical equipment such as pumps, HVAC systems.
Make sure that access will be provided to critical buildings and main boiler plant.
Ensure that staff understand they will be called in if and when necessary. "All hands-on deck" may become a reality.
Provide overnight accommodations and food and water for staff. Check for any union directives regarding work times, breaks, and meals. You should have access to all union collective bargaining agreement (CBA) literature pertaining to physical plant ops.
Distribute snow blowers, shovels, brooms, and other hand-used snow removal equipment when staff arrives for the snow event.
Vehicle and equipment mechanics must be present for the entire time that staff is present.
During the event, it is important to require progress reports from supervisors and contractors and to communicate updates to community stakeholders.
Check generators; contact IT for last-minute data center requirements.
Place floor runners inside building entrance points.
Brine should be applied to roadways and other designated areas in advance of the event.
To avoid plow and other vehicle mishaps, mark road obstructions, curbs, speed bumps, and gate posts. Do this as early as possible.
Alert authorities if parked vehicles or other obstructions such as trailers and pallets will prevent proper area snow clearing.
Prepare yourself! As the facilities manager or POC, you need to be "on" for this snow event. If you are onsite, make sure you bring food and water if necessary and have a means of support in the event you are onsite for a long period of time.
Distribute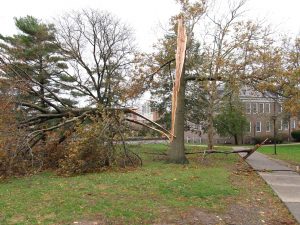 Our lists and preparations will come to naught if we don't put them into play. That means you need to ensure that the lists are distributed to direct reports and involved stakeholders, such as vendors and contractors. Be certain that when using the checklist or SOP, everyone understands what is expected of them.
Although this checklist is about winter weather, there are facilities managers who deal with other climate extremes, such as hurricanes, heat, flood, earthquake, event handling, and more.
In each instance of weather or situational extremes, think fire drill, building evacuation, etc.; you should have a list documented to aid operations in the event of an anticipated extreme.
So… What's in It for You?
Why take the time and make the effort to do this? Reread the first paragraphs over again. Instead of a snow event, substitute thunderstorm, tornado, flood, critical HVAC system failure, traffic gridlock at a sports event, or whatever you like that may make for a good disaster.
Remember, at takeoff and landing of every flight, pilots use a checklist to see that all flight details are accounted for to ensure a safe trip. Be like them—check for safety. And make sure you don't forget to lower the landing gear.
---
Tony Rago is a facility management professional, currently retired. He has previously worked at Rutgers University, New Jersey City University, William Paterson University, and the Department of Defense. Tony is an APPA CEFP recipient and can be reached at tony.j.rago@gmail.com. This is his first article for Facilities Manager.