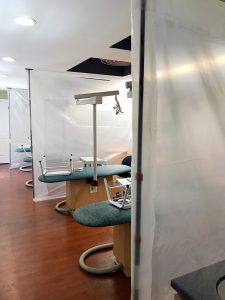 ZipWall is helping schools, health facilities, and other businesses reopen and stay open during the COVID-19 pandemic. ZipWall's suite of products are used to set up cost-effective, temporary physical barriers to provide separation in open areas for customers, patients, employees, and students. Using plastic sheeting and spring-loaded telescoping poles, the barriers are quick to install, reposition, and remove without damaging walls, ceilings, or floors. For additional detailed information on ZipWall visit zipwall.com.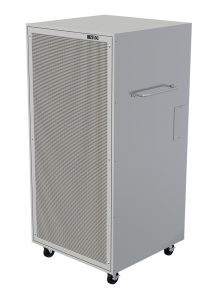 AJ MANUFACTURING has introduced two new options to its industry-leading Criti-Clean Ultra HEPA filtration units in order to more effectively combat airborne viruses such as SARS-CoV-2, as well as bacteria, mold, and other pathogens. The new built-in modules include ultraviolet-C (UV-C) radiation and needlepoint bipolar ionization. The Criti-Clean Ultra is a fan-powered, laminar-flow, high-efficiency particulate air (HEPA) filter diffuser that delivers a steady stream of purified air into a room. It is available as a traditional ceiling-mounted unit as well as a completely portable model that comes on wheels and plugs into a standard wall outlet. For more information on AJ Manufacturing visit ajmfg.com.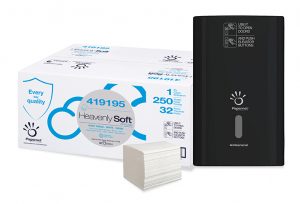 SOFIDEL launches its Papernet Heavenly Soft Door Tissue and Defend Tech hand towel dispensers. With heightened concerns around hygiene in public facilities—particularly in restrooms—the Door Tissue promotes cleanliness by turning restroom doors into touchless exits and eliminating contact with other high-traffic touchpoints, such as elevator buttons. The Defend Tech dispensers feature unique silver-ion technology that repels germs and helps further reduce the risk of contaminated hands and surfaces. Paired with a waste receptacle, the Door Tissue can reduce touchpoints in a variety of environments. Strategically place Door Tissue dispensers in restrooms, kitchens, breakrooms, or next to elevators, entrances, and exits. In addition to limiting the number of people touching common surfaces, Door Tissue enhances peace of mind for customers and building occupants. Pathogens can spread via contaminated surfaces, so Defend Tech dispensers act as another hygienic barrier between clean hands and touchpoints. For additional information on Sofidel visit www.sofidel.com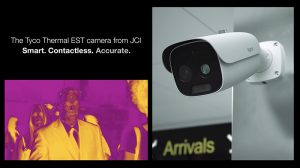 JOHNSON CONTROLS creates smart buildings and is helping to reopen buildings as part of the "new normal." With the launch of its smart elevated skin temperature scanning solution, the Tyco Illustra Pro Thermal EST camera, the company is providing the ideal solution for deployment at controlled entrances to areas and facilities where initial skin temperature measurement is needed for staff and visitors. A healthy and safe environment starts with a holistic approach that encompasses not only a building's heating, ventilation, and air conditioning (HVAC) infrastructure, but adds temperature screening among protocols including contact tracing, frictionless entry and exits, and the practice of social distancing. This contactless, highly accurate solution will be another tool in the first line of defense for building owners and managers as part of their pandemic safety measures. To learn more, contact Johnson Controls at www.johnsoncontrols.com.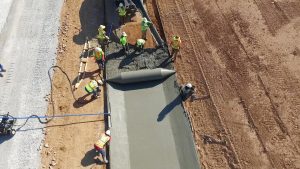 CURB ROLLER MANUFACTURING makes concrete flatwork and shapework easy with the Hydra-Screed HS3000. This hydraulically powered machine reduces backbreaking labor and accommodates varying lengths of pipe, custom V-flume, crowned roller screed, and numerous other profiles. The Hydra-Screed HS3000 is a two-operator machine that has the weight and strength to move more than 6 in. of concrete along the pour while allowing operators to remain in a standing position. Eliminating much of the labor required to screed and shape concrete, the HS3000 allows contractors to do flatwork, flumes, and more in half the time required with alternative methods while allowing a continuous pour approach. For more information, contact Curb Roller Manufacturing at www.curbroller.com.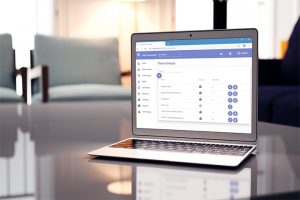 braXos announces LiftOff, a touchless solution for elevators that enables safe, secure, and convenient vertical transportation. LiftOff works with destination dispatch elevator systems from nearly all major manufacturers and does not require users to scan a device or card at the elevator kiosk, minimizing crowds that can congregate in front of elevators during peak periods. LiftOff recognizes users' locations as they enter a building and automatically retrieves the next available elevator based on the floor selected in the app. The LiftOff user can then go directly to the waiting elevator and be transported to their destination quickly, without contacting any building surface. Building managers control the floors individuals or groups can access through LiftOff administrative functions. For detailed information please visit braXos at www.braXos.com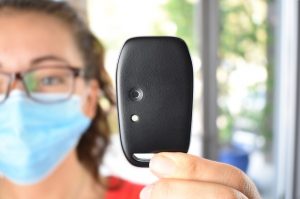 POWERCAST CORPORATION, a manufacturer of radio-frequency (RF)-based, over-the-air wireless power technology, announces the launch of its new wirelessly powered RFID Temperature Scanning System. The RFID Temperature Scanning System enables businesses to easily and safely monitor employee temperatures as businesses work to reopen and get back to normal. The new system consists of a wirelessly powered temperature-scanning fob for each employee, an RFID reader, and a TV monitor. Employees receive a fob small enough to fit onto their keychain that is personalized to them. The fob quickly charges when held near an RFID reader at the entrance to the business using Powercast's patented power-harvesting technology. Employees scan their own forehead using the fob to read their temperature, and are permitted to enter or are denied entry based on the reading, which appears on the monitor. For greater detail visit Powercast Corporation at www.powercastco.com.
---
 New Products listings are provided by the manufacturers and suppliers and selected by the editors for variety and innovation. For more information or to submit a New Products listing, email Gerry Van Treeck at [email protected].