VIDEOTEL DIGITAL produces industrial-grade digital signage media players, looping DVD players, innovative touch and touchless interactive solutions, and directional sound speakers, and continues to enhance its touchless interactive product line to enable broader use and immediate application. Videotel Digital's Touchless SENSE Motion Detector is designed with a smart sensor that detects viewer distance from a display and can trigger selected content beyond the "attract loop" that responds to a person's approach, presence, and departure with appropriately preselected content. The Touchless SENSE Motion Detector seamlessly integrates not only with Videotel Digital's VP71XD and VP90 4K HD interactive media players, but also with most digital signage media players, making it a quick and easy fix as COVID cases continue to rise along with concerns about contamination. For additional detailed information about Videotel Digital visit www.videoteldigital.com.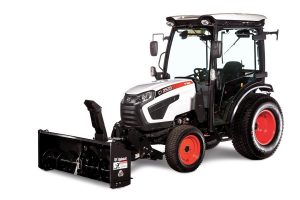 BOBCAT COMPANY is expanding its compact tractor attachment offering with a new front-mount snowblower. The front-mount snowblower—available in 49-in. and 62-in. widths—is positioned in front of the machine, rather than behind on a 3-point hitch. The front-mounted attachment provides customers a more comfortable way to clear snow around acreages or buildings, as they do not need to turn around in their seat to monitor the performance of the attachment. Features include a two-stage blower design and hydraulic rotating chute to direct snow wherever operators want it. Adjustable skid shoes help scrape the pavements clean or can be set higher to remove snow from gravel lots or driveways. A bolt-on reversible cutting edge is included for added durability. For more information visit Bobcat Company at bobcat.com.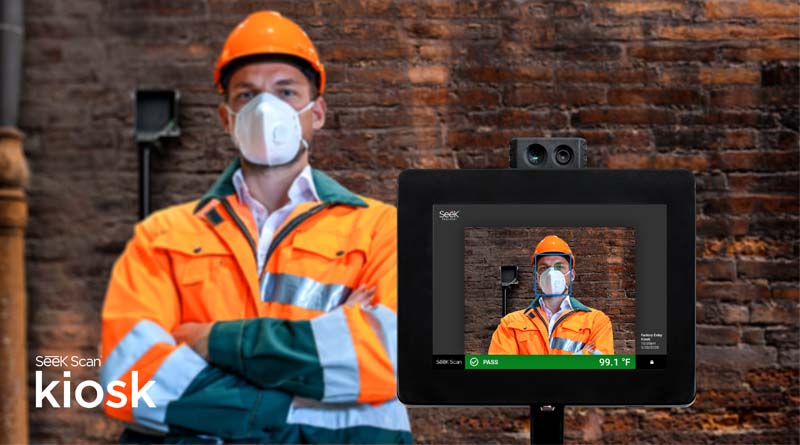 SEEK THERMAL announces the launch of its Seek Scan Kiosk, an all-in-one contactless thermal-scanning solution that provides everything institutions, venues, and businesses need to start temperature screening in minutes. Though the Seek Scan process has always provided an additional layer of preventive screening, the new Seek Scan Kiosk takes it a step further by including a Seek Scan Camera and Reference Heat Source, a 10-in. tablet, durable aluminum stands, and all required cables for the complete package right out of the box. This is one of the most affordable thermal imaging systems to meet FDA guidelines for initial body temperature assessment during the COVID-19 public health emergency. For additional information visit www.thermal.com.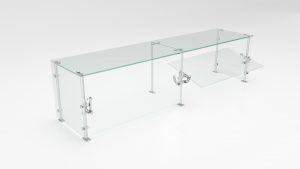 LTI, INC. has introduced a new line of modern, tempered glass food shields that pair with its industry-leading counters. CrystalClear food shields are made of tempered 3/8-in. glass with penciled edges and bumped corners. These durable shields are available for self-serve single or double buffets or as full-serve counter protectors. The counter protector models feature front-tilting glass for cleaning or additional serving options. Available with heat lamps or lights to enhance food appearance, CrystalClear food shields are assembled and installed on the counters at LTI's Georgia manufacturing facility. They arrive at their destination facility ready for use. To learn more, contact LTI, Inc. at www.lowtempind.com.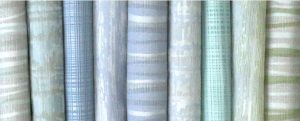 CONSTRUCTION SPECIALTIES has designed its first exclusive fabric line—CSelect fabrics. The CSelect fabric line brings the outside in, evoking tranquility yet delivering a reenergizing feel to a space. The CSelect fabrics' material heft and stitching detail bring a high-end, home-inspired design aesthetic to a commercial space. This designer-centric curtain fabric solution embodies soft and vibrant hues that reflect the earth's natural elements—helping create peaceful, healing environments with a home vibe. CSelect fabrics bring an air of sophistication and calm with their nature-inspired design. For more information, contact Construction Specialties at www.c-sgroup.com.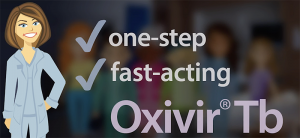 DIVERSEY, INC. announces it has received EPA approval for use of Oxivir Tb through electrostatic spray applications. Oxivir Tb is effective against a broad spectrum of pathogens commonly found on surfaces and implicated in infections, including human coronavirus, influenza, methicillin-resistant Staphylococcus aureus (MRSA), and small, nonenveloped viruses, such as norovirus and rhinovirus, in just 1 minute; and this new approval allows its use with electrostatic spray applications. Oxivir Tb is also on the EPA's List N: Disinfectants for Coronavirus (COVID-19), with a contact time of 1 minute. It is important to follow product-label use instructions. Oxivir Tb is effective against viruses and bacteria listed on the label with a 1-minute contact time. For detailed information please visit Diversey, Inc. at www.diversey.com.
---
New Products listings are provided by the manufacturers and suppliers and selected by the editors for variety and innovation. For more information or to submit a New Products listing, email Gerry Van Treeck at gvtgvt@earthlink.net.