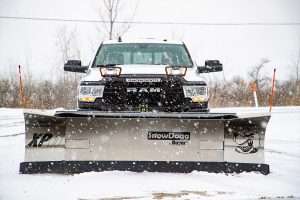 BUYERS PRODUCTS now offers a 10-1/2-ft. V-plow designed for heavy-duty use. The new SnowDogg VXXII plow mounts to Class 4–6 trucks, with wings that ascend from 35 in. in the middle to 45 in. on either end. The plow is the result of increasing market demand for such a large V-plow. With its wide wingspan and heavy-duty build, the VXXII specializes in clearing large amounts of heavy, wet snow. The plow features a genuine 304 stainless-steel blade with aggressive, flared wings and a robust frame built to absorb heavy impacts. The VXXII also includes popular SnowDogg features such as the RapidLink Attachment System and Floating A-frame. For additional information contact Buyers Products by visiting www.buyersproducts.com.
---

MICROBAN INTERNATIONAL & SCAPA INDUSTRIAL announce the relaunch of the Scapa Pro Trim Tack Sticky Mats and Sticky Rollers, which now offer built-in antimicrobial product protection. This upgrade means that these products will stay cleaner for longer, with added resistance against the growth of bacteria, mold and, fungus to give customers greater peace of mind. Microban technology is integrated during manufacturing and becomes part of the product's structure, meaning it is active 24/7 and will not wash off, wear away, or fade with time. This antimicrobial product protection acts on the cell wall of each microbe to inhibit its ability to grow and reproduce, helping the product fight the degrading effects of microbial activity. For more information about WINT, visit www.microban.com.
---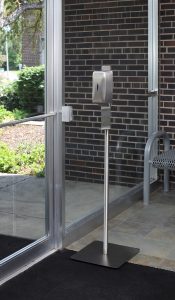 BRADLEY's new hand sanitizer solutions improve hand hygiene and save costs, while offering convenient and easy access to hand hygiene anywhere in facilities. Touchless, durable, and cost-effective, these stainless-steel dispensers provide reliable access to hand sanitizer within high interaction areas. With its sleek, professional design, Bradley's commercial-grade sanitizer dispensers are perfect for locations throughout buildings and workplaces, outside of restrooms, near doorways and stairwells, lobbies, cafeterias, and more. In areas where a wall or counter is not present, Bradley's 6A20 dispenser stand delivers a sturdy, freestanding solution. It is ADA-compliant with a square base made of 11-gauge stainless steel. The stand is easy to assemble and transport, and features an integral drip tray to catch drips and keep floors clean. For additional information on Bradley visit https://www.bradleycorp.com/hand-sanitizer-solutions.
---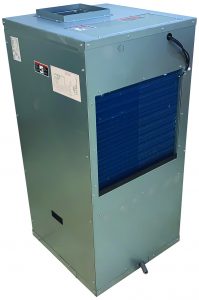 ICE AIR has introduced a new line of cold-climate, vertical packaged heat pumps used to serve multiple spaces through concealed ductwork, to efficiently provide space heating down to −5°F and below. The SPXC Series offers the performance of a variable refrigerant flow (VRF) system within the convenience of single-package air-conditioner space requirements. The SPXC units, in addition to featuring laboratory-tested heating performance and certification to −5°F, offer a theoretical lower limit for heating operation of −25°F ambient and cooling down to 38°F. The units exceed US Department of Energy (DOE) performance requirements. The SPXC uses a sustainable R-410a refrigerant and is available in 12,000, 18,000, and 24,000 nominal Btu/h cooling capacities. These energy-efficient characteristics produce superior energy savings in building applications seeking to satisfy the new laws being passed in New York and elsewhere in the country. To learn more, contact IceAir at www.ice-air.com.
---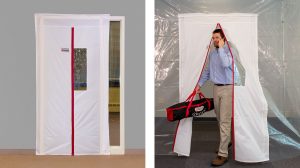 ZIPWALL introduces the ZipDoor Magnetic Door, its most versatile door kit. The new magnetic door can be used for sealing a doorway or creating a self-closing entry in a plastic barrier. It is quick and easy to set up with ZipWall double-sided tape, specially designed not to damage the doorframe. Powerful magnets ensure the door maintains a tight seal while providing easy access. The magnetic door panel is flame retardant and fully reusable. The ZipWall Dust Barrier System is a fast, efficient dust-protection solution. Used with plastic sheeting, ZipWall spring-loaded poles create temporary dust barrier walls up to 20 ft. high in minutes without ladders, tape, or damage. Ecofriendly ZipFast panels may be used as an alternative to plastic sheeting on barriers up to 12 ft. high. The system includes accessories to create entries in the barrier, seal off doorways, form a tight seal along the edges, and prevent tracking of dust out of the work area. For more information, contact ZipWall at https://www.zipwall.com.
---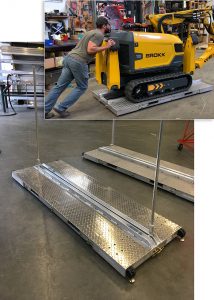 BRICKING SOLUTIONS, a provider of refractory installation equipment, is partnering with parent company Brokk, a manufacturer of remote-controlled demolition machines, to offer the Brokk Cart. The wheeled cart improves efficiency when moving remote-controlled demolition robots across hard, level surfaces, such as those in a maintenance shop. The Brokk Cart provides operators and technicians with a sturdy transportation and storage solution, allowing them to push select Brokk machines and smaller demolition robots without engaging the robot's power. Engaging the robot's power to reposition it in a shop puts an unnecessary drain on productivity and resources. With diesel robots, using a Brokk Cart allows for quick transportation from one location to another while limiting emissions and fuel consumption. For electric units, the cart means crews don't have to unroll power cables or have immediate access to a generator or high-voltage outlet just to move short distances. For detailed information please visit www.brickingsolutions.com.
---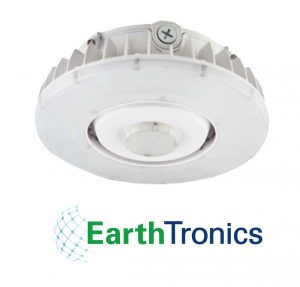 EARTHTRONICS, dedicated to developing innovative, energy-saving lighting products that provide a positive economic and environmental impact, introduces its new versatile LED Canopy Color Selectable Series, available in three colors and three wattage options to deliver brilliant illumination. Ideal for entry ways, parking garages, low bay areas, and perimeter lighting, LED Canopy Color Selectable Series lights can easily be switched to provide 3,000K, 4,000K, or 5,000K correlated color temperature (CCT) during installation. All offer a high 80+ color rendering index (CRI) for improved visual acuity. The color-selectable temperatures enable facility and building managers to match existing high-intensity discharge (HID) lamps, while reducing the blue light spectrum often associated with higher color temperatures. The LED Canopy Color Selectable Series is available in 40-, 60-, and 100-W models delivering 5,400, 8,100, and 13,750 lumens. These fixtures operate on 100–347-volt AC power supply and provide a wide pattern light distribution to enhance security. In addition, the LEDs can be easily programmed by remote for daylight harvesting, hold time, and dim to off. An easy, twist-installed microwave sensor accessory is also available. For more information contact EarthTronics at www.earthtronics.com.
---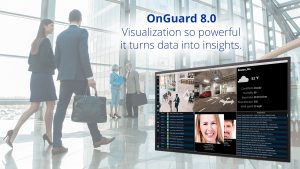 LENELS2 announces the release of the OnGuard security management system version 8.0, empowering security teams with enhanced situational awareness through unified views of the security environment, as well as powerful visualization for data-based insights. Version 8.0 provides major updates, including integration with the Magic Monitor unified client, rich interactive maps, a new modern reporting engine, cybersecurity enhancements, and more. The OnGuard security management system is an advanced solution in Carrier's Healthy Buildings Program, and offers critical features such as occupancy management, enhanced access control, and proactive screening solutions to better protect people and assets and optimize building health and efficiency. LenelS2, a global leader in advanced security systems and services, is a part of Carrier Global Corporation, a leading global provider of healthy, safe, and sustainable building and cold-chain solutions. For additional details contact LenelS2 at https://www.lenels2.com/en/us.
---
New Products listings are provided by the manufacturers and suppliers and selected by the editors for variety and innovation. For more information or to submit a New Products listing, email Gerry Van Treeck at [email protected].