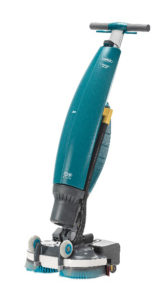 TENNANT COMPANY announced the addition of i-mop® Lite to its portfolio of small space cleaning solutions. In addition to being lightweight and easy to use, the i-mop Lite provides outstanding maneuverability, with the performance of a scrubber and the mobility of a mop. With the i-mop Lite, it is faster and easier to clean around people and obstacles and under furniture. The i-mop Lite is well-suited for both commercial and industrial facilities that want to maintain high cleaning standards—even in small and occupied spaces like bathrooms, lobby areas, cafeterias, offices, classrooms, clinics, hotels, restaurants, employee break rooms, and more. For additional information about Tennant Company visit www.tennantco.com.
---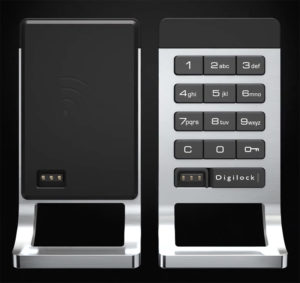 DIGILOCK unveiled its latest design-forward innovation, Curve. Inspired by the company's bestselling and industry-favored classic model, this next-generation lock has all the modern advantages featuring basic, advanced, or networked cloud management capabilities for anytime, anywhere control. Curve also offers wireless connectivity through Bluetooth Low Energy (LE), and customer choice of keypad, RFID, or Mobile ID access, to further simplify deployment options. In corporate, healthcare, gym, and dozens of other settings, Curve ushers in a new era of commercial lock technology. For more than four decades, Digilock has been at the forefront of lock technology and continues to push the envelope of features, design, and function. Curve is not only elegant and seamless but also packed full of the latest technology. For additional information, contact Digilock by visiting digilock.com.
---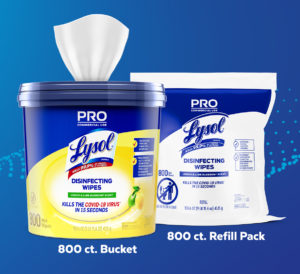 RECKITT'S LYSOL PRO SOLUTIONS has launched Lysol® Disinfecting Wipes in an 800-count bucket—a high-capacity solution for high-volume disinfection. The 800-count wipes format will help empower cleaning teams to deliver heightened expectations around hygiene, enable businesses to realize cost savings, optimize resource use, and help reduce packaging waste. With 10x more Lysol Disinfecting Wipes in each bucket or refill, the 800-count format offers businesses a more cost-effective wipe that yields operational efficiencies including the reduction in restock and refill occasions and improvement in productivity. The versatile format can help drive efficiencies across industries such as hospitality, maintenance and repair, workspaces, and more. The wipes are suitable for use on a broad range of surfaces such as door handles, railings, desks, tables, and even electronics. For additional information on Reckitt's Lysol Pro Solutions visit www.reckitt.com/us.
---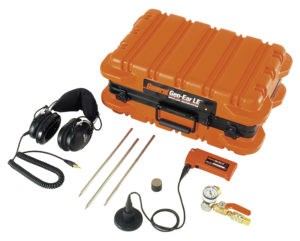 GENERAL PIPE CLEANERS introduces The Gen-Ear LE® providing a simple, more economical water leak locator with stronger sound amplification. Gen-Ear LE can pinpoint water leaks in residential and commercial water lines—including problems in walls and under concrete slabs, swimming pools, and hot tubs. General's compact amplifier fits easily in the palm of your hand and provides noise-free amplification with built-in, preset audio filters to eliminate settings guesswork. Gen-Ear LE's advanced acoustic ground sensor accurately detects the gurgling or hammering of water escaping from cracked pipes under concrete, asphalt, or tile. Probe rods pinpoint problems beneath soft surfaces like grass or carpet. And the magnetic attachment locates above-ground pipe or hydrant leaks. To learn more, contact General Pipe Cleaners at www.drainbrain.com.
---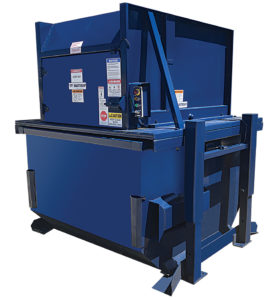 WASTEQUIP now offers the OptiPak Series of compactors. Offering toughness in compact sizes, the new OptiPak brings efficiency and ease of use to this line of versatile compactors. Available with 3-yard front- and rear-load containers and 4-, 6-, or 8-yard front-load containers, the OptiPak features a nimble 4-in-1 head with 90-degree rotation, allowing for a full 360-degree pack in just 30 seconds. Designed to navigate tight spaces the new 4-in-1 head can freely arrange the direction the top faces, allowing for an orientation that perfectly fits the space it occupies. In addition, the new OptiPak features an updated control panel and a new motor. The control panel has been streamlined from its previous design, providing a better user experience, while adding operational settings that can be tailored to meet individual user preferences. For more information, contact Wastequip at www.wastequip.com.
---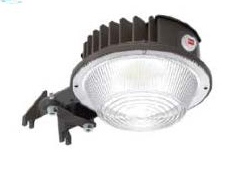 EARTHTRONICS has developed an energy-saving lighting product that provides a positive economic and environmental impact, the Color & Wattage Selectable LED Yard Light. With three color temperatures and three wattages, it provides optimal area lighting for entryways, pathways, parking lots, industrial and building perimeters, as well as enhanced security. The yard light comes with a photocell for dusk-to-dawn operation. Designed to efficiently replace 100- to 250-watt H.I.D. lamps for general purpose outdoor lighting applications, the Color & Wattage Selectable LED Yard Light offers the flexibility of switching between three temperatures and three lumen levels at the time of installation for proper illumination. Suitable for wall and pole mount, the Color & Wattage Selectable LED Adjustable Yard Light is IP65-rated and UL approved for wet applications. For detailed information about EarthTronics visit www.earthtronics.com.
---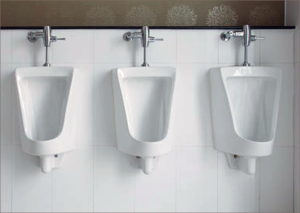 BOBRICK WASHROOM EQUIPMENT, INC.'s Falcon Urinal Conversion System, available now, will not only save water but also enhance a facility's hygiene efforts. In restrooms with traditional urinals, facility managers are flushing water and money down the drain. For a small investment, the Falcon Urinal Conversion System will immediately deliver benefits and can be fully installed in less than 30 minutes for qualified urinals. Bobrick's Falcon Urinal Conversion System uses only 156 gallons of water per urinal per year, compared to between 3,000 – 25,000 gallons of water per year that a typical urinal uses. In commercial structures with multiple urinals, water savings increase exponentially. Upgrading qualified existing urinals with the virtually water-free, touch-free, and hassle-free Bobrick Falcon Urinal Conversion System can be done quickly and easily by facility maintenance staff. For more information on this product, contact Bobrick at www.bobrick.com.
---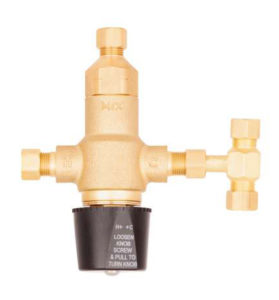 T&S BRASS AND BRONZE WORKS announced the addition of a compression thermostatic mixing valve to its parts and accessories options. The new 3/8" compression thermostatic mixing valve ensures water is delivered at the ideal temperature and helps prevent scalding accidents. The valve features solid, low-lead brass construction and integral check valves to prevent backflow and crossflow. Built with a vandal-resistant locking temperature adjustment knob, the compression thermostatic mixing valve can be ordered with or without a cold-water bypass tee. The tee can also be purchased separately. It meets all U.S. and Canada certification requirements. For more, additional details contact T&S Brass and Bronze Works at www.tsbrass.com.
---
New Products listings are provided by the manufacturers and suppliers and selected by the editors for variety and innovation. For more information or to submit a New Products listing, email Gerry Van Treeck at gvtgvt@earthlink.net.