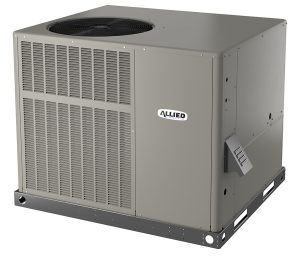 ALLIED COMMERCIAL recently launched its new Q-Series line of 3-Phase Packaged Rooftop Units to meet the high-performance demands of light commercial operations. The new line, consisting of the QGA Gas/Electric, QCA Electric/Electric HVAC Systems, and QHA Heat Pump, was specifically engineered to accommodate both horizontal and downflow applications with plug-and-play designs that install quickly and easily even when replacing different brands. With efficiency ratings of 14 SEER (seasonal energy efficiency ratio) and 11.5 EER, and sizes ranging from 3 to 5 tons and 1,200–2,000 CFM, the entire Q-Series product line is designed with side and bottom connections, quick-connect electric connections, and a factory-installed float switch to facilitate smooth installations without the need for special brackets. For additional information about Allied Commercial visit www.allied-commercial.com.
---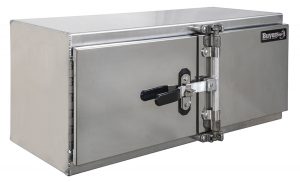 BUYERS PRODUCTS, a manufacturer of work truck equipment, unveiled its new line of Camlock Underbody Truck Tool Boxes at the 2022 Work Truck Show. Buyers produces the aluminum boxes in its state-of-the-art manufacturing plant in Northeast Ohio. The boxes are built with heavy-duty, 0.125-in. thick, smooth aluminum, and come equipped with either smooth aluminum or polished stainless-steel doors. A multiposition hasp allows the boxes to be installed on either the driver or passenger side of the trailer, which can help reduce upfitter inventory requirements. For additional information, contact Buyers Products by visiting www.buyersproducts.com.
---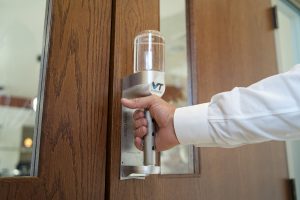 VITATOUCH has launched an innovative door handle that eliminates 99.9% of germs and viruses on contact. The VitaTouch Self-Sanitizing Door Handle automatically dispenses hand sanitizer into the palm of your hand with every pull. And before you think, "yuck!" the handle is highly engineered to deliver a silky smooth, luxurious feel that scored 8 out of 10 points when rated by an independent consumer research firm. The VitaTouch Self-Sanitizing Door Handle delivers a new level of hand hygiene for public-facing entities, and it clearly demonstrates the high level of safety and protection that you are providing. The handle has stainless steel components and is durable for high-traffic areas such as entrance doors, hallways, and bathrooms in public buildings. For additional information on VitaTouch visit https://vita-touch.com.
---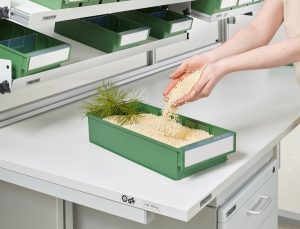 TRESTON, a supplier of smart, ergonomic industrial workstations and storage solutions, launches their wood-based bioplastic bins for industrial use. Customers can now easily make an environmentally conscious storage choice and significantly reduce their use of nonrenewable resources and their carbon footprint. The carbon-neutral material of Treston BiOX bins consists of over 90% wood-based renewable material, residue from the pulp production process, and cellulose fibers from sustainably managed forests. The quality as well as the look and feel of the bins remains the same as for traditional plastic bins. The material for Treston BiOX bins comes from UPM, a global forest industry company and leading fiber-based composite manufacturer. The material for the transparent label shields and cross-dividers comes from the innovative Finnish startup Woodly. For both companies, the joint development work marks a first in creating wood-based bioplastic products for industrial use. To learn more, contact Treston at www.treston.us.
---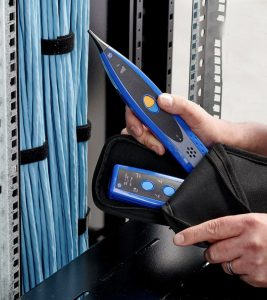 TREND NETWORKS introduces a new Tone and Probe Kit for easy and dependable tracing of all types of copper cables, including data, telephone, electrical, and coax. The new Tone Generator features an industry-leading power output of 13 dBm, providing reliable cable tracing even over long distances. Easy to use, with no training needed, it is equipped with comprehensive line-testing features for troubleshooting and service verification. With 70 hours of battery life and a shielded button to prevent accident battery drain, it is available whenever the job demands it. The Probe features a visual signal-strength light that grows brighter the stronger the signal, as well as an audible indicator with volume control. Headphones can be plugged into the probe so users can easily hear the sound, even in noisy environments, while an LED torch at the tip makes it easier to work in dark conditions. For more information, contact TREND Networks at www.trend-networks.com.
---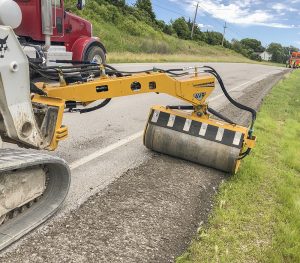 ROAD WIDENER, LLC now offers a spray bar system that increases the versatility of their patented Offset Vibratory Roller attachment. This accessory fits on all Offset Vibratory Roller attachments and aids in suppressing dust particles, compacting aggregates, and preventing clumping when rolling hot mix asphalt. It can be easily attached to the Offset Vibratory Roller, a compaction attachment that allows the host machine to drive safely on flat ground while compacting shoulders, ditches, trenches, and other hard-to-reach areas alongside the road. The spray bar system will allow for increased efficiency and versatility when compacting a variety of materials including asphalt, stone, gravel and topsoil. The Offset Vibratory Roller offers unparalleled safety as compared with self-propelled compaction machines that have a greater risk of tipping. These are tasks that have traditionally put road crews in danger of rollover accidents, increased workers' comp costs, and led to poor safety ratings. For detailed information please visit Road Widener LLC at www.roadwidenerllc.com.
---

SENSAPHONE introduces the next-generation IMS-4000 Data Center Infrastructure Monitoring System. The redesigned Infrastructure Monitoring System tracks critical environmental conditions across data center infrastructures in multiple locations. The new IMS-4000E features a single-pane view of environmental and network equipment monitoring on an upgraded web-based user interface, increased security, and boosted processing power. The new easy-to-use interface enables programming, data logging, and access from any network-connected computer. Users can see data from the IMS-4000E host and nodes from one screen on any smartphone, tablet, or computer. The IMS-4000E makes it simple to quickly view status, make program changes, and review data history. Ideal for large or small server rooms, the IMS-4000E safeguards uptime by identifying potential problems before they become disasters. The system monitors conditions such as temperature, humidity, line voltage, water leaks, server response, UPS system, smoke, sound level, motion, room break-in, airflow, power outage, and more. For more information, contact Sensaphone at www.sensaphone.com.
---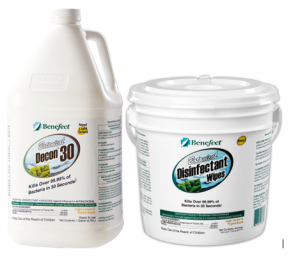 INNOVATIVE CHEMICAL PRODUCTS, maker of the Benefect line of botanical disinfectant technologies for restoration and remediation, announced that it has achieved the U.S. Department of Agriculture's (USDA) BioPreferred status for its Decon 30 Disinfectant and Botanical Disinfectant Wipes. As part of the certification process, these Benefect products were submitted for USDA testing, which revealed that both could be certified as 100% Biobased. The USDA BioPreferred program provides information to consumers about the biobased content of a product. Some products labeled "botanical" might contain as little as 25% biobased content, which is measured by how much new organic carbon from plants is used compared to old organic carbon found in coal and petroleum. Benefect Decon 30 Disinfectant and Botanical Disinfectant Wipes are made with plant-derived essential oils that are proven to kill 99.99% of bacteria, and surpass the U.S. Environmental Protection Agency (EPA) efficacy requirements for broad-spectrum hospital disinfectants. They also boast the highest safety rating allowable by the EPA, meaning less liability for restoration professionals and facility managers. For additional detail contact Innovative Chemical Products at www.benefect.com.
---
New Products listings are provided by the manufacturers and suppliers and selected by the editors for variety and innovation. For more information or to submit a New Products listing, email Gerry Van Treeck at gvtgvt@earthlink.net.