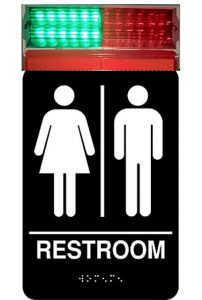 The HEADS UP LOCK COMPANY knows if there's one problem that sours someone's day, it's having to stand and wait in front of a locked door to the restroom. In a COVID world a common problem is what to do if you get to the restroom and it is locked. Up until now there have been few alternatives for restroom users. But now there is a choice for reducing COVID transmission and increasing productivity at the same time. The Heads Up Lock Company has taken an innovative, affordable approach to visibly showing whether restrooms are in use from a distance. They have all but eliminated the guesswork by using a simple light that is visible for everyone to see. How does it work? A smart lock in the door triggers a sensor that talks to receiving lights mounted in a noticeable place (all included in the kit). When the eye-pleasing light is green, the restroom is vacant. When it is red, it is in use. It's that simple. This affordable and ADA-approved device is low maintenance. For more information visit The Heads Up Lock Company at www.headsuplock.com.
---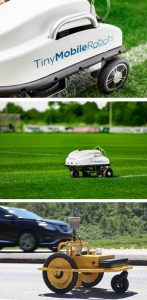 STIHL, the German industrial group, announces a significant investment in the Danish robotics company TinyMobileRobots and its line marking robots. In just five years, TinyMobileRobots has become the leading supplier of line marking robots, capturing more than half the market in the United States alone. TinyMobileRobots' line marking robots meet a high customer demand for more sustainable products, since they are powered by batteries instead of diesel, and use significantly lower amounts of line paint compared to competing solutions. Sports clubs, park owners, schools and universities worldwide are realizing what robotic technology can do for them. Once their sports fields are measured and stored on an iPad, marking or retracing them is as easy as pressing a button. For additional detailed information on STIHL visit www.stihl.com.
---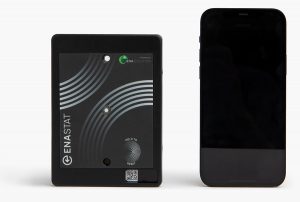 ENA SOLUTION launches a smart thermostat designed specifically for commercial building operators. Its ENASTAT thermostat combines the simple, user-friendly features of smart home thermostats with the industrial design required to stand up to the harshest environments. ENASTAT includes familiar thermostat features such as app-based controls, smart scheduling, and zone setup. In addition to its ruggedized industrial design, ENASTAT also features universal voltage compatibility, internal backup batteries, both Wi-Fi and cellular connectivity, and an array of sensors that measure both temperature and humidity for the most precise climate control. Its app-based software allows maintenance managers to easily authorize additional users and offers advanced HVAC analytics for effortless maintenance. For additional information on ENA Solution visit https://enasolution.com.
---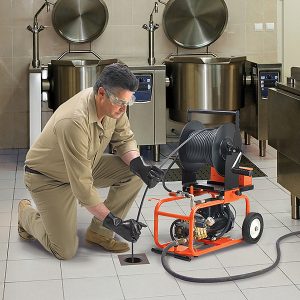 GENERAL PIPE CLEANERS introduces the compact yet powerful JM-1450 Electric Water Jet. Using high- pressure water to clear drain lines clogged with grease, sand, sludge, and ice, the JM-1450 is powered by a 1-1/2 hp (13-amp) sealed motor with a ground-fault circuit interrupter (GFCI) that drives a 1,500-psi, 1.7-gpm triplex pump. On-demand Vibra-pulse technology helps propel hoses down long runs and around tight bends—even in small lines. General's unique feature ensures a constant flow rate whether Vibra-pulse is on or off. Wheel the trim JM-1450 right to your trouble spots! The heavy-duty frame rides on two 8-in. semi-pneumatic tires. And the telescoping handle and removable hose reel make maneuvering easy. The JM-1450 has an overall height of 34 in., and when the easily detachable hose reel is removed, the height drops to just 14-1/2 in. Safety features include a thermal relief valve to protect the pump from heat damage, as well as a backflow check valve and inlet filter. An optional spray wand is also available. For more information, contact the Drain Brains at www.drainbrain.com/jets.
---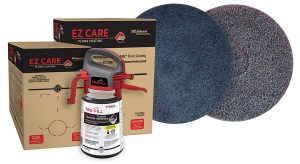 SC JOHNSON PROFESSIONAL'S EZ CARE Floor Care System includes two chemistries: a floor coating and a floor-coating remover, which when used along with the high-speed EZ Care Conditioning and Polish Pad, will achieve a durable, high-gloss shine on a variety of substrates. Because the remover can be used with an autoscrubber, the system saves time and reduces labor costs in comparison to conventional floor stripping using a mop and bucket. Starting with a bare floor, the high-speed conditioning and polish pad is utilized to smooth and prepare the floor. Once the floor is prepared, the EZ Care Floor Coating is applied, requiring no more than four coats to achieve a durable, high-gloss shine. Then users can clean and maintain the floor with the EZ Care Heavy-Duty Scrub Pad used along with the SC Johnson Professional Heavy-Duty Neutral Floor Cleaner. To easily remove the EZ CARE Floor Care Coating, apply the EZ CARE Floor Coating Remover using an autoscrubber. The EZ CARE Floor Care System is ideal for high-traffic areas and large facilities. For more information about the EZ CARE Floor Care System, visit scjp.com/ezcareoverview.
---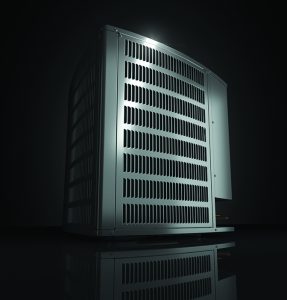 LENNOX INTERNATIONAL'S ALLIED AIR ENTERPRISES serves residential and commercial marketplaces in the United States and Canada with heating and cooling solutions. Allied Air Enterprises features the LYNX 18 Inverter Heat Pump, a smart choice as a replacement or upgrade with greater versatility and performance. Quickly adaptable with a wide range of AHRI-rated system matches and powered by intelligent algorithms, the LYNX 18 works with most conventional 24-V thermostats. QuickLink Inverter Technology uses intelligent algorithms to deliver a performance fit and fine-tuned temperature control. With ratings up to 18 SEER (seasonal energy efficiency rating) and 10 HSPF (heating seasonal performance factor) and matches that go beyond, it offers superior performance and quiet operation, with less than half the sound you typically hear from a 14 SEER single-stage heat pump. For detailed information please visit Allied Air Enterprises at https://alliedair.com.
---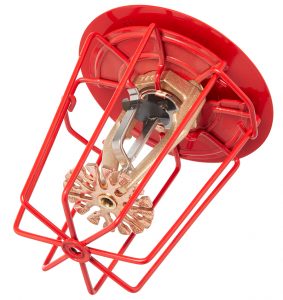 JOHNSON CONTROLS introduces the Tyco Model ES-1 and ES-2 Sprinkler Shields for the protection of in-rack early suppression fast response (ESFR) sprinklers in storage facilities and warehouses. The all-metal shields work to protect sprinkler elements from cold soldering, which occurs when cascading water from ceiling-mounted and high-mounted in-rack sprinklers cool down and inhibit the operation of in-rack sprinklers mounted at lower heights. As storage ceiling and rack heights continue to trend higher and hold higher-hazard materials such as nonexpanded and expanded plastics, the need for in-rack sprinklers has increased. When used in conjunction with ceiling protection, in-rack ESFRs have become an integral component in an overall fire protection solution. For additional information about the Tyco Sprinkler Shields visit www.tyco-fire.com.
---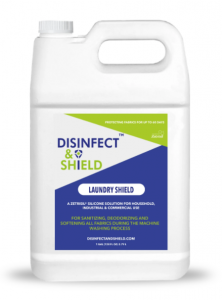 DISINFECT & SHIELD reminds customers that according to a study from researchers at De Montfort University in Leicester, United Kingdom, SARS-CoV-2—the virus which causes COVID-19—lingers on fabric such as clothing or upholstery for up to three days. The study researched three popular fabric types—polyester, polycotton, and 100% cotton—highlighting the importance of preventive and immediate disinfection of clothing to prevent further transmission of COVID-19. A preventive, safe way to protect clothing is with Disinfect & Shield Laundry Shield, which is proven to kill 99.99% of COVID-19 in one wash cycle, and will keep all fabrics protected for more than 60 days after the initial wash. Disinfect & Shield Laundry is a convenient, ready-to-use formula that sanitizes, softens, and deodorizes any machine-washable fabric from a single application, without risk to clothing. For more information about Disinfect & Shield Laundry Shield visit disinfectandshield.com.
---
New Products listings are provided by the manufacturers and suppliers and selected by the editors for variety and innovation. For more information or to submit a New Products listing, email Gerry Van Treeck at gvtgvt@earthlink.net.