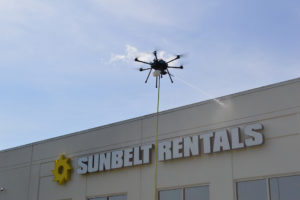 SUNBELT RENTALS and LUCID DRONE TECHNOLOGIES , a supplier of purpose-built spray drones, have partnered to bring Lucid C1 spraying drones to rental customers nationwide. The drone technology is designed for cleaning the durable surfaces and windows of building exteriors, while the drones are being operated safely from the ground. The Lucid C1 spraying drones require a Part 107 license from the FAA and aviation insurance, both of which Sunbelt Rentals can help coordinate. The drones use low pressure—less than 300 pounds per square inch—and operate by tethering to an on-ground, soft wash pump system on a trailer or in a truck bed. The drones operate using GPS and feature urban flight capabilities, allowing operators to use them safely in urban environments where the signal may be weak. They also feature intelligent batteries that have an LED indicator that displays the current charge state, along with an avoid distance quick-select switch. This switch allows operators to choose options to keep the drone at a set distance from the building for safe use. For additional information about Sunbelt Rentals visit www.sunbeltrentals.com
---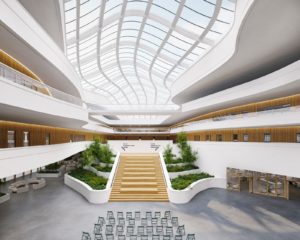 SERGE FERRARI GROUP is pleased to launch STFE—a new flexible composite membrane—in the North American market to support expansive, light-filled interior spaces such as malls, airports, botanical gardens, greenhouses, and stadiums. Made from lightweight polyarylate mesh, STFE is 10 times lighter than glass and provides structural strength for large free-span designs, minimizing the need for additional supporting structure and steel cables. STFE's light weight and structural strength make it easy to install and reduces environmental impact. As a building skin, STFE provides 50% light transmission, creating a glass-like effect with minimal glare and optimal daylighting performance to improve occupant comfort and support plant growth. Guaranteed to last for more than 30 years, STFE offers an outdoor feel with indoor protection. For additional information, contact Serge Ferrari Group by visiting https://www.sergeferrari.com.
---
FRANKLIN ELECTRIC CO., INC. brand Pioneer Pump® announces the launch of the ElectricPAK™, a modular offering of electric-driven pump packages that helps users get a pump and motor configuration onsite more quickly and efficiently than custom-built units. The new line of pump packages has been engineered from the ground up to offer a fully streamlined experience for both owners and operators. Each configured assembly includes a high-performance pump and electric motor that provides better flow, higher head, and greater efficiency. The robust design also features a rigid motor stool that keeps the pump and motor permanently aligned. This unique feature eliminates the need for time-consuming alignment work or special tools upon delivery or when the unit is moved. This modular system can also be disassembled quickly and simply, for reduced service and maintenance hours. For additional information on Franklin Electric Co., Inc. visit https://franklin-electric.com/.
---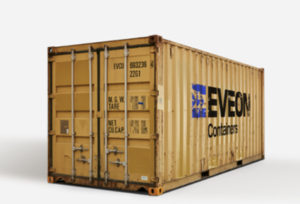 EVEON CONTAINERS is proud to announce they have expanded North American operations. And Eveon's convenient online webshop provides 24/7 purchasing options for used 20ft standard, 40ft standard, and 40ft high cube shipping containers. They proudly offer a 30-Day money back guarantee, upfront pricing, volume and military discounts, and convenient delivery within 5–10 business days. The privately held e-commerce start-up looks to modernize the way consumers purchase containers by automating the buying and delivery processes to make the products affordable. Generally ignored as they rumble down the highway, Eveon's wish is for North America to give decommissioned shipping containers a second life on land. Eveon is not just selling containers; they are selling opportunities to launch a business, start a pop-up restaurant, or simply save money on storage. With 45 million TEU (twenty-foot equivalent units) of containers in the world, the goal is to recycle, repurpose, and reduce emissions one container at a time. To learn more, contact Eveon Containers Inc. at www.eveoncontainers.com.
---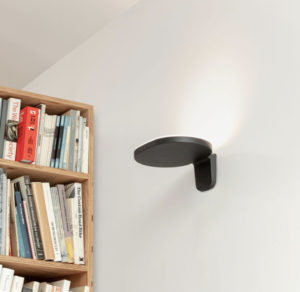 FIOS is officially launching Jasper Morrison's latest design: Oplight, a study in simplicity, sustainability, and innovation. A future-proof wall lamp, Oplight doesn't use any glues and is conceptualized specifically to last for as long as imaginable. A wall lamp that illuminates a whole room, the specially-designed clear ridged panel snaps on and off of the body to allow for replacing the LED board, which is highly efficient and built specifically to be swapped out if needed. Oplight is a wall lamp at the service of architecture and space. Oplight looks like a musical note on a pentagram, or, as the designer describes it, "the most obvious, definitive shape a wall light could be." The light source is a board of LEDs that are covered with a clear but ridged panel that deflects the light out at an angle away from the wall. For more information, contact Flos at usa.flos.com.
---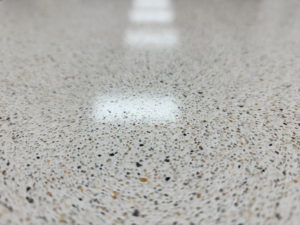 COVAL TECHNOLOGIES introduces Coval Polished Concrete Sealer (PCS), a product that won't change the natural beauty of polished concrete while protecting the surface from stains, acids, and oils. Highly polished concrete is in demand in schools, retail stores, dining areas, and event venues, but concrete is porous. Traditional guards have been applied to keep it from staining when inevitable spills happen. The problem with a traditional guard is that for it to form an effective barrier against liquid stains, it must be of a thick consistency that takes away the natural look of the concrete. It also creates a costly maintenance loop for floor owners that includes burnishing the floor then reapplying a guard. For these reasons, polished concrete floor installers often will not use a guard and owners take their chances with potential stains. Coval created a solution for these problems using covalent technology. For additional, detailed information about Coval Technologies visit www.covaltechnologies.com.
---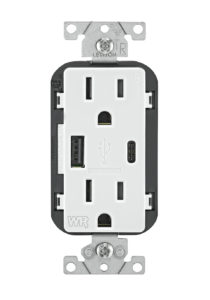 LEVITON announced the introduction of its Type A/C USB Weather-Resistant Charger/Receptacle. The receptacle is the first outdoor addition to Leviton's line of In-Wall USB Chargers and can be installed on any GFCI-protected circuit to enhance outdoor living. Made for residential and commercial applications, Leviton's Type A/C USB Weather-Resistant Charger/Receptacle is a Weather-Resistant USB that utilizes an innovative process that provides added protection to electrical components for long-lasting durability. The device features easy-to-install wire lead termination and can be paired with Leviton's durable horizontal or vertical While-In-Use (WIU) Outdoor Covers to meet the requirements of NEC® 406.9B. The two USB ports deliver a combined total of 5.1A charging current and 25+ watts of power; the USB Type-C™ port provides faster charging. A smart chip recognizes and optimizes the charging requirements of individual devices. For more information on this product, contact Leviton at www.leviton.com.
---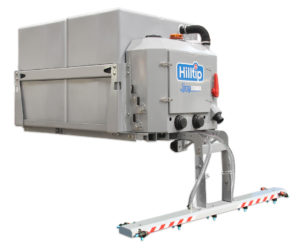 HILLTIP offers the SprayStriker™ 2600 sprayer for de-icing and anti-icing applications. The SprayStriker 2600 has a 265-gallon capacity with a polyethylene tank and powder-coated stainless-steel frame, making the unit durable yet lightweight. It is equipped with a 6' 7" wide spray bar with 14 nozzles for excellent coverage. The spray bar can be flipped up when needed. Dual 12V pumps apply liquid at rates up to 20 gallons per lane mile at a maximum speed of 20 miles per hour. GPS speed control automatically adjusts the flow according to the vehicle speed to consistently achieve the desired rate across the treated area. A color screen controller offers easy adjustment of application rates and other sprayer functions from the cab. Like all SprayStriker sprayers, the 2600 includes Hilltip's exclusive HTrack™ tracking software. This system offers two-way GPRS capability, allowing users to create work sites, set customized application rates, monitor drivers, and document all activities remotely using a computer, smartphone or tablet. For more, additional details contact Hilltip at www.hilltipna.com.
---
New Products listings are provided by the manufacturers and suppliers and selected by the editors for variety and innovation. For more information or to submit a New Products listing, email Gerry Van Treeck at [email protected].