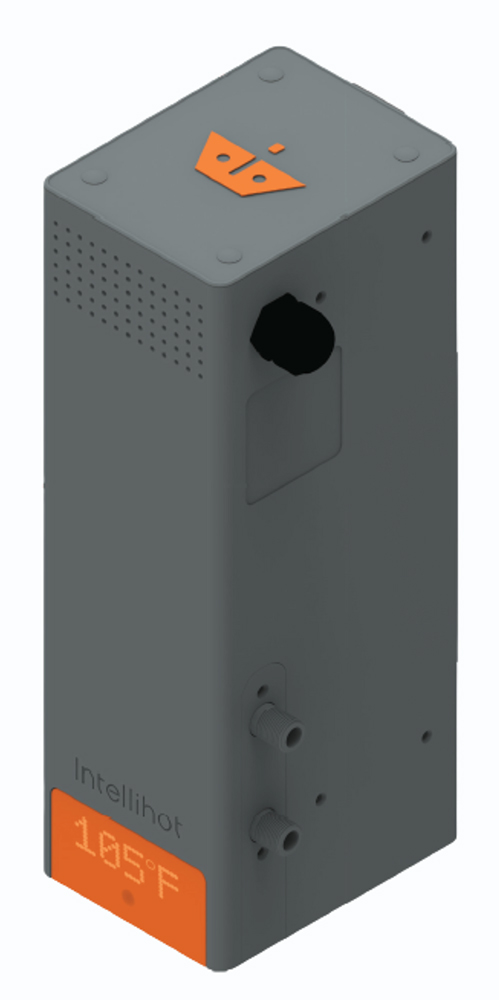 INTELLIHOT introduces the Legionator, a point-of-use disinfection tankless water heater. The most common breeding pool for legionella is stagnant, lukewarm water found in cooling towers, spas/hot tubs, fountains, and traditional tank-type water heaters. But, depending on a building's water system usage, legionella can also grow in faucets, valve seats, and showerheads. Hard water scale in such locations exacerbates the problem. Once colonization occurs it is extremely difficult to eliminate legionella. The Legionator significantly reduces the potential for legionella at the point-of-use using water heating technology developed by Intellihot, which includes a built-in ozone generator and quartz scale-free heating. Here is how it works: A set of high-quality quartz tubes heats water to a comfortable temperature when there is water demand. As the water is exiting the unit, ozone gas is injected into the water. This has two effects: 1) It kills the bacteria in water, and 2) the ozone is also carried in the water to the faucets and kills the bacteria present within the faucet valve seats and aerators. The result is good, clean, safe, and efficiently heated water ensuring a building and its occupants are protected from water-borne bacteria illnesses. For additional information about Intellihot visit www.intellihot.com.
---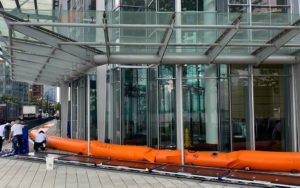 FLOODPROOFING.COM shows us how their product, Tiger Dam™ forms a barrier to protect buildings, properties and any other structures prior to a flood. Each tube can be filled in minutes with a 2-inch pump, a fire hydrant, or a garden hose. The tubes are stackable to various heights and can be linked seamlessly for miles. They can be virtually any length and take any shape. The dams are filled individually and secured with straps and anchors if needed. The Tiger Dam™ flood protection system has been thoroughly tested at the University of British Columbia and is Platinum Certified by the U.S. Army Corp of Engineers, the Association of State Floodplain Managers, and FM Approvals. For additional information, contact Floodproofing.com by visiting https://www.floodproofing.com/.
---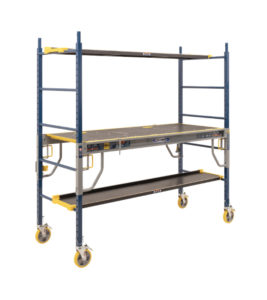 WERNER introduces the new Multi-Purpose Pro Scaffold. The commercial-grade rolling scaffold features Werner's innovative QuickLink technology, allowing for multiple scaffolds to easily link together for jobsites that need added platform space for more people. The model NSRS-72MP 6' Werner Multi-Purpose Pro Scaffold supplies pro-grade performance for professionals that need convenience and reach over 11'. It is equipped with smooth-rolling, heavy-duty 6" casters that provide easy maneuverability on unfinished floors. The built-in innovative QuickLink Technology allows for two or more scaffolds to be easily locked together for those jobs that require an extra-large work area. Jobsite crews can now stay organized and easily collaborate at the built-in plans table when impromptu plans or discussions are needed. The new Multi-Purpose Scaffold boasts a pro-grade 1,250 lb. distributed load capacity that creates a perfect work bench or adjustable storage shelves that keeps the jobsite clean and organized at the end of the day. Designed for versatility and mobility, it can easily fit through 30" doorways to quickly move across a jobsite for the next task at hand. For additional information on Werner visit www.wernerladder.com.
---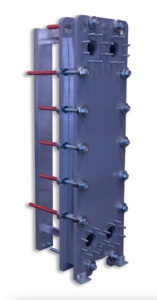 BELL & GOSSETT announce the addition of advanced, high-efficiency "X" plates that enhance Bell & Gossett's new gasketed plate and frame heat exchanger GPX P45, P55, P86, and P110. Engineered for efficiency, "X" plate technology increases heat transfer thermal performance up to 20%, reduces surface area up to 20%, and reduces materials up to 15%. Through advanced plate design and superior heat transfer characteristics, this new offering meets a critical need for the growing demand in modern HVAC applications. Standard options include a variety of high-efficiency plate corrugations, material options of 304SS, 316SS or titanium plates, and nitrile or EPDM gaskets. GPX models have higher surface area to volume ratios than conventional shell and tube heat exchangers. Application flexibility allows for maximum efficiency in less space, and the "true" countercurrent flow maximizes the mean temperature difference between fluids. Additionally, the unique plate design generates high turbulence resulting in high heat transfer coefficients. To learn more, contact Bell & Gossett at https://bellgossett.com/.
---
GENERAL PIPE CLEANERS rugged, reliable Jet-Set® Water Jets slice through grease, sludge, sand, ice, and other "soft" stoppages that many cable drain cleaners can't clear. Water jets unleash high-pressure water streams that pulverize clogs—and flush them away. Nozzle thrust drives the hose down lines and gives wall-to-wall pipe cleaning action. General's rugged, reliable water jets are excellent for blockages in hospitals, schools, sports arenas, care facilities, waste treatment plants, septic systems, and more. Compact and economical, they're superb for clearing smaller and inside 1½"– 4" lines, like sinks and laundry drains. Hand-carry 23-lb JM-1000 Mini-Jet™ right to problems in its rugged metal diamond plate case. Or wheel the trim JM-1450 right to troubles. Its telescoping handle and detachable hose reel make maneuvering easy. And both pack 1500 psi of cleaning power. For more details of models, contact General Pipe Cleaners by visiting www.drainbrain.com/jets.

---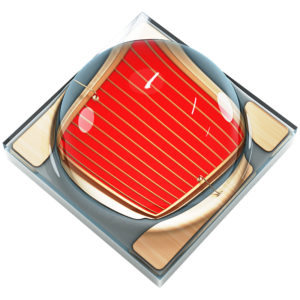 LUMILEDS has introduced LUXEON HL2Z, an un-domed, CSP, single-sided, high-power LED that significantly reduces system costs while delivering high flux density, high luminance, and precise beam control. It delivers more than 315 lumens and more than 160 lumens per Watt from a compact 2.3mm square package that is just 0.36mm high. Adopters of the new package include M3 Innovation, whose MAKO Sports Lighting Solution uses the LUXEON HL2Z to deliver 150,000 lumens from each of its modules designed to illuminate athletic fields, parks, stadium fields, and other outdoor facilities. Lumileds' focus on quality, reliability, and long-term stability for all LUXEON LEDs holds true for LUXEON HL2Z. In addition to the available LM80 data, rayset data and visual inspection prove the excellence of LUXEON HL2Z's color consistency across the beam enabling it to support high quality illumination indoors or outdoors. For additional, detailed information about Lumileds visit https://lumileds.com.
---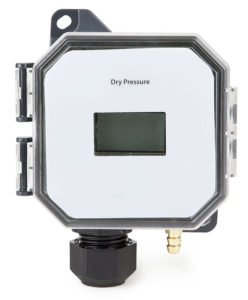 SENSAPHONE® offers specialized sensors to enhance remote monitoring of HVAC operations. To help facility managers ensure HVAC conditions stay within necessary parameters and equipment is functioning properly, Sensaphone offers specialized sensors that monitor vibration, pressure, airflow, and differential pressure. These sensors provide constant real-time data to an accompanying monitoring device, which sends an immediate alert to designated personnel when readings fall out of the designated range. Operators can use these sensors with any monitoring device that accepts a 4–20 mA input signal. Sensaphone offers a comprehensive line of remote monitoring products that safeguard valuable assets by tracking equipment and environmental data such as temperature, humidity, and power failures. Sensaphone products provide alerts and proactive monitoring data to facility managers in many areas including telecommunications, oil and gas, water and wastewater, HVACR, agriculture, healthcare, data centers and greenhouses. For more information contact Sensaphone at www.sensaphone.com.
---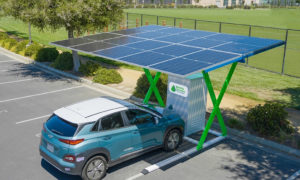 PAIRED POWER is a provider of solar-powered EV charging products, including its pop-up solar canopies. With recent reports indicating the United States needs 20 times more electric vehicle (EV) charging stations than are available today, Paired Power announced the launch of its new, transportable solar canopy, PairTree, with built-in EV charging capabilities. With its modular, fast-install design, PairTree can be utilized with or without grid connection and gives customers quick and convenient access to the infinite renewable energy of the sun without the costly construction and infrastructure requirements of traditional solar canopy installations. PairTree can be installed in a single workday with just two workers using standard hand tools and without lengthy permit approvals or heavy equipment. That is faster than conventional solar canopies, which require an extensive permitting and construction process. The solution is designed to fit a variety of applications, including EV charging access in locations that have either maxed out their local grid capacity or that lease their property and don't want to invest in permanent infrastructure, such as workplaces and retail locations. PairTree also can provide emergency backup power and temporary power for events. For more details, contact Paired Power by visiting www.PairedPower.com.
---
New Products listings are provided by the manufacturers and suppliers and selected by the editors for variety and innovation. For more information or to submit a New Products listing, email Gerry Van Treeck at gvtgvt@earthlink.net.