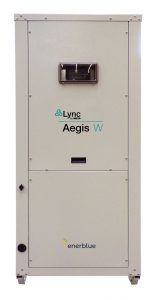 R.P. FEDDER INDUSTRIAL, LLC is an exclusive distributor of the first commercial carbon dioxide heat pump water heaters in North America to use natural refrigerant. The newly introduced Aegis heat pumps by Lync, a Watts brand, are high-efficiency, environmentally friendly hot water systems for facilities holding themselves to the highest sustainability standards. Aegis heat pumps are well-suited to frigid winters because, unlike electric heat pumps developed to date, they can operate efficiently with ambient temperatures of −4°F and above. Until now, the only real, economically viable option for commercial-scale domestic hot water in the northern United States has been fossil fuel. For facilities that have switched their electricity generation to a renewable, sustainable source, this means lasting reliance on fossil fuels simply to heat water. As an electric heat pump, Aegis can derive energy from the same renewable source as other building systems. For more information about Aegis heat pump water heaters visit R.P. Fedder Industrial at www.rpfedder.com.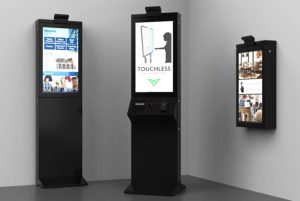 ---
imageHOLDERS launches a hygienic gesture-controlled touchless kiosk. Touchless self-service solutions avoid hand-to-kiosk contact and eliminate any hygiene concerns. With many companies now turning to no-touch tech and contactless devices, imageHOLDERS is on a mission to be at the forefront of self-service kiosk technology, innovating digital kiosks based on what's most important for customers and end users. This futuristic interaction is hugely engaging for students in an education environment. Hands-on learning becomes both hygienic and memorable. Touchless kiosks can also be used for booking equipment, wayfinding on campus, booking rooms, and library book rentals. For additional detailed information on imageHOLDERS visit www.imageholders.com.

---
U.S. TAPE offers Duramark's ChalkShot, providing a unique, high-visibility, nonpermanent marking solution when working on greasy, dirty, rust-covered, and other hard-to-mark surfaces, as well as for drilling blind holes to affix brackets, handles, and other items. The easy-to-use ChalkShot shoots chalk with high-visibility green nonpermanent pigment to mark on drywall, concrete, metal, and dirty surfaces. The marking dye is environmentally friendly and can wipe off easily if a mark needs to be moved, yet it is also long lasting. By reaching where pencils can't reach, the ChalkShot can mark up to a 2-in. thick template and can be used at every angle. One ChalkShot unit can mark over 250 locations. Since there's no tip or pen nib, the ChalkShot cannot be damaged or clogged and won't dry out over time. For additional information on U.S. Tape visit www.ustape.com.
---
NOVA TECHNOLOGY announces the reinvented rotating hook for our Lock & Load vehicle restraint to accommodate the recent changes in rear impact guard (RIG) bar designs. NOVA's all-new, Triple Range Hook is designed specifically to secure new RIG bars that are pentagonal or feature a 41/2-in. vertical center plate, along with standard rectangular RIG bars. Along with added versatility, our new hook is upward-biased to ensure continual engagement during trailer float or any truck movement, even after repeated impacts. Instead of a traditional barb, the Triple Range Hook features an elongated surface to capture RIGs with center plates, and the interior surface of the hook is multifaceted with multiple RIG capture zones for rectangular, pentagonal, and reinforced RIGs. For added safety and convenience, its elevated hook shank maintains engagement and eliminates false-negative RIG bar sensing from gaps created by carriage movement. To learn more contact NOVA Technology at www.novalocks.com.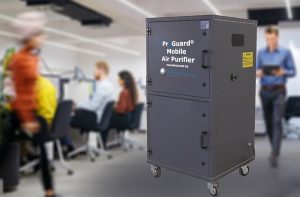 ---
PROMARK ASSOCIATES, known for engineering clean-air solutions for large commercial businesses and buildings worldwide, introduces its newest clean-air product, the ProGuard Mobile Air Purifier. Not to be confused with small portable air filters that are better suited to filtering residential-size rooms, this industrial-grade system can remove particles, volatile organic compounds (VOCs), and pathogens. It can deliver six air changes per hour (recommended by the American Society of Heating, Refrigeration, and Air Conditioning Engineers [ASHRAE] trade group) in a room of up to 1,500 sq. ft. The ProGuard Mobile Air Purifier is powerful, quiet, and can be easily rolled into place on its casters. It uses a centrifugal fan to circulate air through five stages of protection for an unprecedented attack on airborne viruses, bacteria, mold, and even foul odors. This capability, combined with its 1,200-cfm fan capability, is a key difference from other portable air-filtration systems. Instead of relying exclusively on mechanical air filtration, UV-C light and chemical-media filters are used to kill pathogens and remove odors. For more information contact ProMark Associates at www.promarkassociates.com.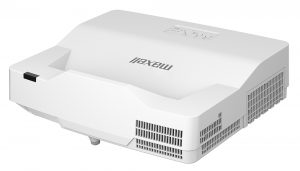 ---
MAXELL LTD. enhances conference room safety and productivity with its Ultra Short Throw Projectors. Facilities are beginning to wrap up their year with a work from home and asynchronous models still in place, however, as we look toward 2022 and eventually getting back to the office and classroom full time, proper safety measures must be put in place. Much of the traditional office space will look different with more space between desks, but collaborative working and meeting spaces are still essential to the success of many organizations. Integration of ultra short throw projectors is beneficial in the short term for safety concerns, while also being a lasting solution. Ultra short throw projectors facilitate safe and effective meetings in mid- to large-size conference rooms with social-distancing protocols. The projector's expansive 130-in. display makes it easy to see presentations and stay engaged, especially when compared to the traditional 65- to 75-in. display size for flat panels. While interactive features on ultra short throw projectors may not be used in the near future, the up-to-40,000 hours light source for laser projectors provides years of use from projectors installed for current safety needs. For detailed information visit Maxell Ltd. at support.maxellproav.com.
---
JET-VAC Venturi Desuperheaters reduce steam temperature by bringing superheated steam into direct contact with water, eliminating the need for heavy insulation of steam lines. JET-VAC Technologies' Venturi Desuperheaters reduce the temperature of vapors flowing in a pipeline by heat transfer through evaporation. Liquid injected at the throat of the Venturi is atomized into small droplets by high vapor velocity. Superheated vapor is cooled by evaporation of the droplets as they flow downstream. A major feature of this desuperheater is that it obtains a stable, conditioned desuperheated-steam flow temperature that handles a high amount of cooling water injection in the shortest time possible. For additional information visit JET-VAC Technologies at www.jetvactechnologies.com.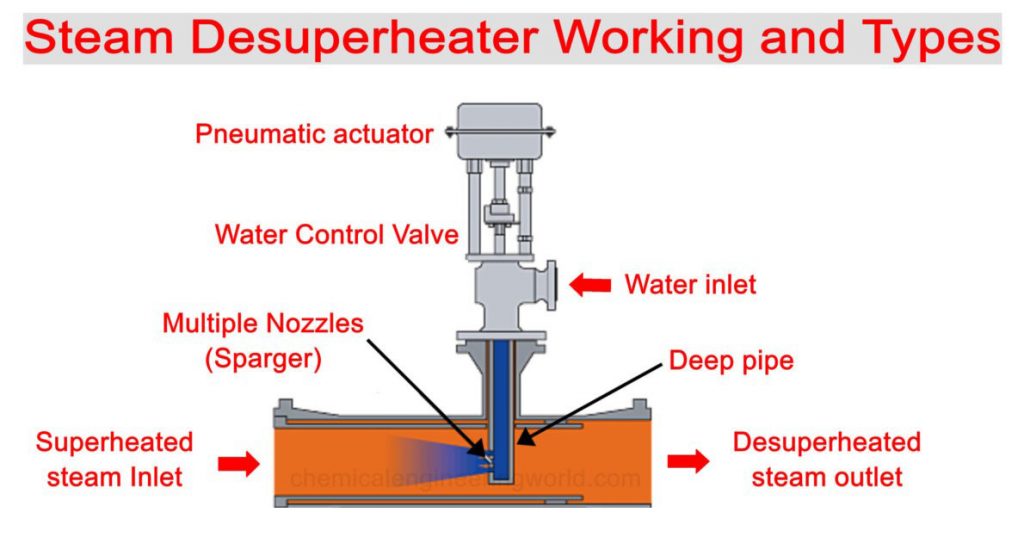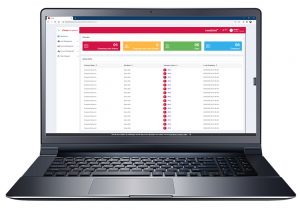 ---
KIDDE FIRE SYSTEMS announces the launch of its new IntelliSite remote monitoring system, a remote monitoring solution for gaseous fire-suppression systems. The IntelliSite system allows users to monitor the status of a portfolio of fire control units in real time across multiple locations. Kidde Fire Systems is a part of Carrier Global Corporation (New York Stock Exchange: CARR), a leading global provider of innovative heating, ventilation, and air conditioning (HVAC); refrigeration; fire, security; and building automation technologies. The IntelliSite system allows users to monitor Kidde Fire Systems addressable fire-suppression control units via computer, tablet, or smartphone. Using secure cellular connectivity, control unit status is at the user's fingertips, along with the status of all associated detection devices and supervised suppression systems, providing information-based decision making. For more information about Kidde Fire Systems visit kiddefiresystems.com.
---
New Products listings are provided by the manufacturers and suppliers and selected by the editors for variety and innovation. For more information or to submit a New Products listing, email Gerry Van Treeck at gvtgvt@earthlink.net.