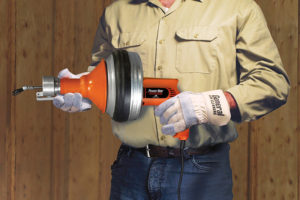 GENERAL PIPE CLEANERS' hand-held Power-Vee® drain cleaner with automatic feed makes clearing small drain lines fast and easy. The simplified feeding system gives plumbing, drain cleaning, maintenance, and rehab pros an "extra hand" in tight and awkward spaces. Just squeeze the lever—and cable feeds at up to 16 feet per minute. Rugged, reliable Power-Vee easily unclogs sinks, tubs, and laundry drains from 1-1/4″ to 3″ in diameter, up to 50-feet long. General's automatic feed quickly adjusts to Flexicore® cable diameters from 1/4″ to 3/8″ without special tools or additional parts. The compact Power-Vee features quick-change cable cartridges for fast cable changing or cleaning. And the Dyna-Thrust™ bearing system helps extend tool life by reducing bearing wear. Flexicore cable from General offers superior kinking resistance and unequaled strength with the right amount of flexibility. For more information, visit www.drainbrain.com/pv.
---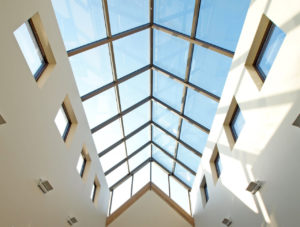 KINGSPAN LIGHT + AIR announces a new addition to its lineup of daylighting solutions. The new KlearSky™ metal framed glass skylights are set to revolutionize the way natural daylight integrates into buildings to create stunning visual aesthetics while still achieving high levels of building performance. KlearSky metal framed glass skylights offer a wide range of options to suit diverse architectural needs. These options include standard configurations like pyramids, polygons, segmented barrel vaults, single slopes (which can span up to 22 feet) and ridges (which can span up to 40 feet), in addition to fully customizable shapes for complete freedom of design. A varied array of UV-stable (non-yellowing) glass glazing options are also available to meet the most stringent energy code performance requirements, including high-performance insulating glass and laminated glass. Designs can further be enhanced by choosing from an extensive range of frame finish options, including powder coat, anodized finishes, or fluoropolymer paint, offered in both standard and custom colors. Installers will benefit from the quick and easy installation process facilitated by KlearSky's QuickLink™ technology, which requires 75% fewer fasteners. For additional information, contact Kingspan Group PLC by visiting www.kingspan.com.
---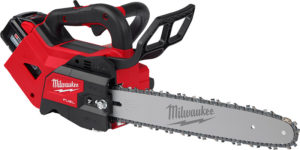 MILWAUKEE TOOL introduces the M18 FUEL™ Top Handle Chainsaw, a fundamental expansion to their industry-leading battery-powered chainsaw lineup. Available in both 12-inch and 14-inch sizes, this battery-powered top handle chainsaw is faster than 35cc gas and maintains the power to cut hardwoods while eliminating gas headaches. Driving up to 20% faster cutting speeds than the leading gas competitor, Milwaukee's M18 FUEL Top Handle Chainsaw delivers the fastest solution in the professional industry. Harnessing the power of M18 FUEL technology, the saw can reach full throttle in under one second, increasing productivity for users on the job. The M18 FUEL Top Handle Chainsaw provides professional users with the torque required to complete cuts in demanding materials, improving productivity and efficiency in application. Additionally, this cordless battery-powered chainsaw provides users with industry-leading performance while eliminating gas headaches such as pull starts, high noise levels, emissions, and regular engine maintenance. For additional information visit www.milwaukeetool.com.
---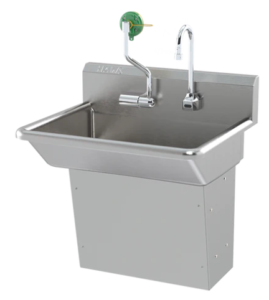 HAWS CORPORATION introduces the isolated, turnkey Hand Wash Sink with AXION Eye/Face Wash designed for superior worksite hygiene, safety, and ANSI/Joint Commission compliance. The Hand Wash Sink with AXION Eye/Face Wash, 7660 Hand Wash Sink, is a space-saving solution for areas where the eyes or face may be exposed to hazardous materials—and hand washing hygiene is of critical importance. Haws designed the Hand Wash Sink with AXION Eye/Face Wash to provide a high-quality safety solution that is easy to install and fits in locations with spatial limitations. The wall-mounted, barrier-free design combines durability and ease-of-maintenance without sacrificing day-to-day hygienic and emergency functionality in worksites such as medical isolation rooms and sterilization areas. Integrated with Haws AXION eye/face wash, the Hand Wash Sink offers the only eye/face wash system with inverted streams as well as simultaneous, non-injurious controlled flow. This results in effective, medically superior injury reduction that addresses the victim's comfort while successfully sweeping contaminants away from the interior of the eye for a full 15 minutes. When activated, the water is fully contained in the basin, which is available in two widths: 24 and 30 inches. To learn more, contact Haws Corporation at www.hawsco.com.
---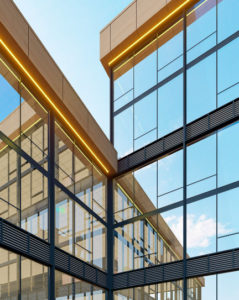 KOVA's Window Wall System has an innovative installation process in which the system can be fully installed from the interior of the building—making it easier and safer than others on the market. The Window Wall is 100% recyclable due to its intuitive, non-strutted system, making it easy to take apart the product at the end of its life cycle so that each piece can be fully recycled. STFE (Structural, Transparent, Fluorinated Envelope) is a new flexible composite membrane that supports expansive, light-filled interior applications such as atriums, walkways, and skylights in malls, airports, botanical gardens, greenhouses, stadiums, and more. As the first flexible, long-lasting membrane to achieve transparency levels rivaled only by glass or polycarbonate, STFE is made from lightweight polyarylate mesh and is 10-times lighter than glass while providing structural strength for large free-span designs, minimizing the need for additional supporting structure and steel cables. STFE's light weight and structural strength make it easy to install and give it a reduced environmental impact. As a building skin, STFE provides 50% light transmission, creating a glass-like effect with minimal glare and optimal daylighting performance to improve occupant comfort and support plant growth. Guaranteed to last for more than 30 years, STFE offers an outdoor feel with indoor protection. For more details of options, contact KOVA by visiting https://kovaproducts.com/.
---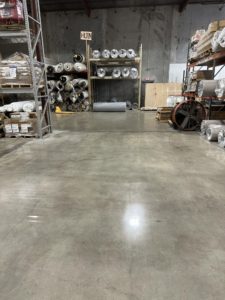 COVAL TECHNOLOGIES introduces the Coval Polished Concrete Sealer (PCS). The distinguishing characteristic of the sealer is that it protects against acid etching, moisture, and stain damage without changing the natural sheen of the substrate. It has shown excellent performance in warehouses and commercial and event spaces. ASTM D-3363 test results demonstrate that Coval PCS has the highest hardness on the pencil scale of 9H, and in ASTM D-4060 Taber abrasion tests after 1000 cycles, product removal was less than 1 mg. It resists citric acid and balsamic vinegar for 12 hours; coffee, tea, and wine for 48 hours, with removal by a dry cloth; and spray paint and permanent marker graffiti can be removed with acetone over 48 hours later. Coval PCS provides a sustainable solution by making the surface easier to clean, enabling the use of only water or a biofriendly cleaning liquid. Acidic and oily foods, staining drinks, gasoline, acetone, and other chemicals do not attach to the coating and are effortlessly wiped or mopped away. As a single component application, it is easily applied with an acetone pump sprayer and a microfiber mop. The transparent, penetrating sealer creates an extremely hard covalent bond with polished and densified concrete, concrete overlays, precast concrete, and polymer-modified and concrete Terrazzo. Typical coverage with UV stable Coval PCS provides 800–1,000 square feet per gallon. Its deep penetration results in a floor that is dry to the touch in 2–4 hours, can be walked on in 5–6 hours, and reaches a full cure in seven days. For additional, detailed information about COVAL Technologies visit https://covaltechnologies.com/.
---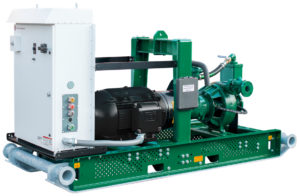 FRANKLIN ELECTRIC CO., INC. brand Pioneer Pump® introduces the ElectricPAK™ VFD, a rugged, packaged, variable frequency drive (VFD) solution designed to withstand the demands of mobile dewatering applications. The platform is engineered to deliver a more intuitive operation experience via a new touchscreen interface, known as SmartPrime™. The VFD platform will be available in two portable packages. The ElectricPAK VFD can be mounted to the pump skid to simplify transport and ensure that pump, motor, and VFD are always ready to set up and go on the jobsite. Or the VFD can be mounted in its own standalone skid for maximum setup versatility and use with different pumping systems. The standalone skid features a metal cage design that keeps the VFD protected and secure. The drive's SmartPrime control interface features an industry-leading user experience that's as intuitive to use as a mobile app. Users can handle all aspects of operation from a streamlined central hub with easy-to-navigate graphics. SmartPrime creates a fast startup and simple monitoring experience, eliminating the need for complex keypad setup, advanced programming skills and specialized training. To learn more, visit Franklin Electric Co., Inc. at https://goto.franklinwater.com/.
---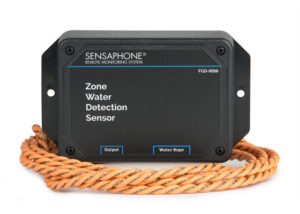 SENSAPHONE® offers a comprehensive line of remote monitoring products that safeguard valuable assets by tracking critical equipment and environmental data such as temperature, humidity, and power failures. Sensaphone products provide alerts and proactive monitoring data to facility managers in many areas. Discovering water leaks immediately is key to preventing costly damage to business facilities, equipment, inventory, and other assets. To help personnel catch leaks before they become emergencies, Sensaphone offers cost-effective water detection sensors designed for use with its remote monitoring systems. When the sensor detects water, the system sends alerts via phone call, text, or email to designated staff, so they can take fast corrective action. For more details, visit Sensaphone's remote monitoring sensors and accessories information page at https://www.sensaphone.com/sensor-accessories.
---
New Products listings are provided by the manufacturers and suppliers and selected by the editors for variety and innovation. For more information or to submit a New Products listing, email Gerry Van Treeck at [email protected].
---
Descriptions and claims of the products featured in this column (whether explicit or implied) were provided by the manufacturers. APPA does not certify the products' effectiveness, safety, reliability, durability, or performance. Products are chosen on the basis of perceived usefulness to the educational facilities community, and APPA receives no compensation for featuring them.