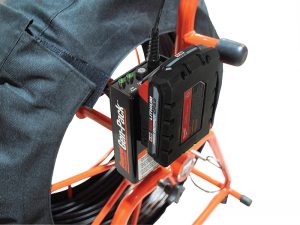 GENERAL PIPE CLEANERS lets you operate your sewer inspection camera system in remote locations where access to power is limited with the new Gen-Pack™ Battery Adapter. Depending on battery type and system settings, you can run General's Gen-Eye POD® or Gen-Eye X-POD® camera systems up to 12 hours with the Gen-Pack. The battery adapter is fuse-protected to safeguard your investment. The Gen-Pack battery adapter easily mounts to General's Gen-Eye POD and X-POD – both full size and mini-reel versions. Just clamp it to the frame – and plug the cord into the camera power input. You're ready for remote operation in minutes. For additional information, contact the Drain Brains® at General Pipe Cleaners by visiting https://drainbrain.com/en/products/genpack/.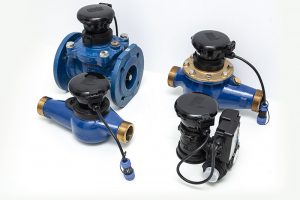 WINT Water Intelligence announces that their technology is now available and ready to be directly integrated into fire sprinkler systems. The new solution helps owners and facilities managers prevent water damage from the accidental discharge of water from fire suppression sprinkler systems. Sprinkler systems can release up to 24 gallons per minute, potentially unleashing hundreds of gallons of water in just a few minutes if they're accidentally activated. Similar to other plumbing systems, they are also vulnerable to equipment, pipe, and fitting breakdown and deterioration, which can increase the risk of unwarranted leaks. WINT's devices are installed along the sprinkler supply and can detect exceptionally low drip rates. The A.I. technology and machine learning capabilities provide intelligent monitoring and alert in real-time when the tiniest leaks start so that corrective action can be taken before catastrophe strikes. For more information about WINT, visit https://wint.ai.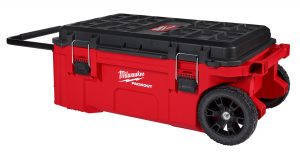 MILWAUKEE TOOL expands the popular PACKOUT Modular Storage System with the new PACKOUT Rolling Tool Chest. This newest addition enables users to store larger tools and equipment, while providing the ability to transport two PACKOUT stacks onto the site with the new Dual Stack Top. Featuring an industrial-grade handle and 9-in. all-terrain wheels, this tool chest can be rolled anywhere on the jobsite. An impact-resistant body and metal reinforced locking points provide maximum strength and durability. This 35-gal. tool chest has a 250-lb. weight capacity and an interior organization tray, making it ideal for storing and keeping large tools and jobsite materials organized. A Locking Lid Support feature keeps the top securely open, which prevents sudden lid closure while working with tools and accessories. For additional information on Milwaukee Tool visit https://www.milwaukeetool.com/Products/Storage-Solutions/PACKOUT.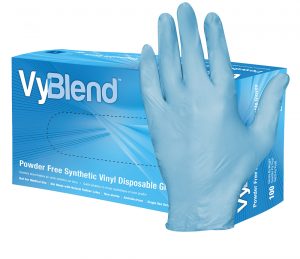 HOSPECO BRANDS GROUP's VyBlend™ Synthetic Vinyl Gloves, available in industrial and exam grade, are the "just right" disposable glove solution. They have the fit and feel of latex. They are softer and more durable than standard vinyl gloves, with finer dexterity and comfort. Plus, they are better for the environment because they are phthalate-free (no DINP, DOP, or DEHP are used in the plasticizing softening process). VyBlend arrives as demand for quality, multi-purpose disposable gloves is at an all-time high. These latex-free disposables are available in industrial general purpose — ideal for foodservice and food processing (complies with CFR Title 21 Indirect Food Additive Regulations Part 177 for use in contact with food) and are durable enough for jan/san, safety, and other industrial applications. Exam-grade VyBlend meets ASTM D5250 and is ideally suited for dental, healthcare, long-term and nursing care, and veterinary. The gloves are made from a blend of advanced synthetic elastomer and PVC, with a beaded cuff, smooth external finish, PU coating in interior surface, and powder-free. To learn more, contact Hospeco Brands at www.hospecobrands.com.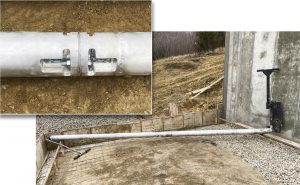 CURB ROLLER MANUFACTURING introduces its first modular screed system, the patent pending Lynx Screed. This versatile alternative to completing flatwork provides a series of linkable screed pipes to accommodate concrete pours in varying widths from 3 to 22 feet. Unlike traditional roller screeds, the Lynx modular system removes the need for purchasing dedicated pipe lengths to offer easy adaptability for a multitude of pours. Its aluminum design decreases strenuous set up, shipping costs, and transportation requirements for jobs that call for longer pipes. The Lynx modular screed system, compatible with the manufacturer's Eel and Batt screeds, is available in two packages. Package one consists of three 7-foot pipes, and package two contains a 5-, 7-, and 9-foot pipe. The system can also be customized to include any 3-, 5-, 7-, and 9-foot length combinations up to 22 feet. For more information, contact Curb Roller Manufacturing at www.curbroller.com.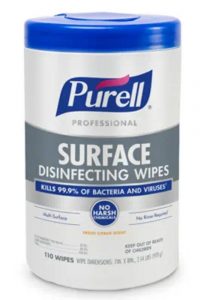 GOJO INDUSTRIES, the makers of PURELL products, announces the launch of its latest surface hygiene innovation—PURELL Professional Surface Disinfecting Wipes and PURELL Foodservice Surface Sanitizing Wipes. The new offering delivers on the unprecedented combination of powerful efficacy and peace of mind. PURELL Surface Wipes quickly eliminate 99.9% of bacteria and viruses of concern, including cold and flu, norovirus, strep, Salmonella, Listeria, E. coli, whooping cough, methicillin-resistant Staphylococcus aureus (MRSA), and vancomycin-resistant enterococci (VRE). They also kill the virus that causes COVID-19 (SARS-CoV-2) in only 30 seconds. Additionally, they have earned the EPA's lowest allowable toxicity rating (Category IV), meaning they don't require gloves, handwashing, or rinsing after use—even on food-contact surfaces. For detailed information please visit GOJO Industries at https://www.gojo.com/.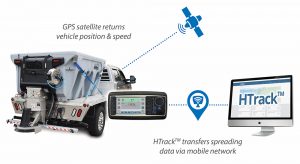 HILLTIP has announced that their patented technology, the HTrack™ online tracking software, will be standard on all IceStriker™ and SprayStriker™ models, including truck, UTV, tractor, and tailgate-mounted units. HTrack allows winter service professionals to track and manage all of their Hilltip equipment via computer, tablet, or smartphone. This innovative technology helps minimize environmental impacts, track expenses, document services, and more. The HTrack system uses HillTip's easy-to-use StrikeSmart™ controller, which is placed in the cab and connects to IceStriker and SprayStriker products. Through two-way GPRS transmission, users can have remote control over an entire fleet of equipment, create geofenced work sites for client areas with custom application rates, and track route data including speed, GPS location, and material used. For more information, contact Hilltip at https://www.hilltipna.com/en/.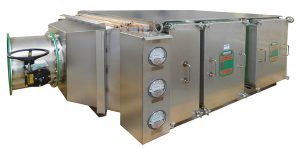 HEMCO introduces its CleanAire HEPA and Carbon Filter Paks. The CleanAire HEPA and Carbon Filter Paks are designed to be mounted inline in the exhaust ducting from a fume hood or contaminant source up to 1500 cfm. The filter pak includes a galvanized steel housing with hinged and gasketed access door for filter change-out and molded composite resin inlet and outlet plenums with duct connection collars sized to meet specification. Both filters include a 30% pleated prefilter and can be paired together for applications that require particulate and fume removal. For more additional detail contact HEMCO at www.hemcocorp.com/cafs.html.
---
New Products listings are provided by the manufacturers and suppliers and selected by the editors for variety and innovation. For more information or to submit a New Products listing, email Gerry Van Treeck at [email protected].