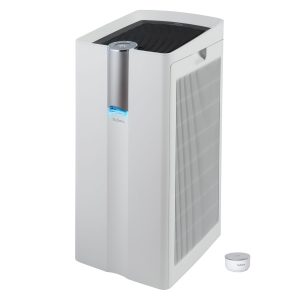 TRUSENS continues to expand the clean-air marketplace with the introduction of the TruSens Performance Series Air Purifiers with Remote SensorPod Technology. The new Performance Series Z-7000 and Z-6000 are designed to eliminate 99.99% of airborne viruses and bacteria, including coronavirus in larger commercial spaces up to 2,000 sq. ft. The Performance Series helps capture air pollutants and volatile organic compounds (VOCs) with long-lasting, dual-sided True HEPA and activated carbon filters. With powerful clean air delivery rate (CADR) performance, this portable new product line improves indoor air quality in professional spaces and provides a better value than competitors in the commercial sector. For additional information about TruSens visit www.trusens.com.
---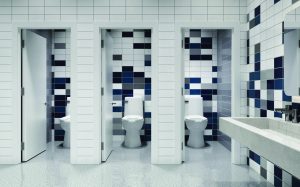 SLOAN, a manufacturer of commercial plumbing systems, has launched its new line of Gravity Toilets. The Gravity Toilet features a sleek one-piece look with the benefits of a two-piece toilet that makes maneuvering parts easier for installation while delivering improvements that increase efficiency, aesthetics, and hygiene for a wide variety of commercial applications. Facility managers, designers, and others will appreciate the unique style of the new Gravity Toilet. The innovative tank design features a slightly inverted taper for a modern aesthetic and a raised deck that eliminates rocking. The lid fits perfectly on the tank with no overhang, creating a monolithic, sleek appearance. The new design brings water savings, enhanced hygiene, and durability to a wide range of commercial space. For additional information, contact Sloan by visiting www.sloan.com.
---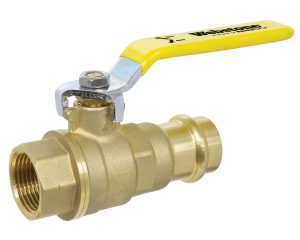 WEBSTONE a brand of NIBCO, announces new Pro-Pal Products, including ball valves with reversible handles, elbows, and couplings. Choose between male iron pipe (MIP) or female iron pipe (FIP) ends to easily transition from iron to copper or from appliances to system piping. Also available is the new press ball valve with bleeder and reversible handle and large Pro-Pal Union Ball (sizes 1¼ in. and 1½ in.) in FIP, sweat, and press. All products feature lead-free dezincification-resistant brass. Founded in 1954, Webstone now operates as a brand of NIBCO and is recognized for innovative design of residential and commercial valves used in plumbing, hydronic, radiant, solar and geothermal applications. These designs focus on time- and space-saving concepts that simplify future maintenance and upkeep of all piping systems. For additional information on Webstone visit www.webstonevalves.com.
---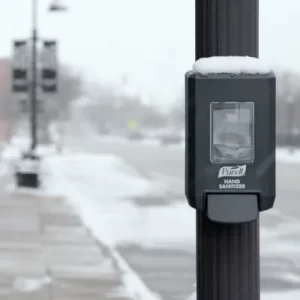 GOJO INDUSTRIES , the makers of PURELL products, announces the launch of the PURELL CS4 All-Weather Dispensing System. Traditional dispensing solutions are generally designed for indoor settings. This cutting-edge dispenser enables commercial facilities to confidently offer hand sanitizer and hand soap in outdoor or high-traffic areas. The PURELL CS4 All-Weather Dispensing System is made of engineered resin that is over three times stronger than materials used in most dispensers. Its innovative design is water-resistant to help keep the rain out and deter vandalism or refill theft, and its special graphite paint makes it resistant to UV fading so that it will maintain its performance and appearance in a wide range of extreme conditions and temperatures (−40°F–122°F). It has a large and durable sight window to make it easier to see when a refill is needed and helps reduce labor and maintenance costs. To learn more, contact GOJO Industries at GOJO.com.
---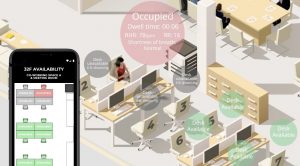 ORION ENTRANCE CONTROL, INC. provides the Constellation occupancy sensor. Orion Constellation offers 100% private people counting and can deliver contactless heart and breathing rates. Security and commercial real estate companies have long searched for solutions to safely monitor private areas where cameras, as well as other technologies, cannot be used. This includes conference rooms, bathrooms, sensitive intellectual property areas, and many others. Competitive people counters have notorious accuracy weaknesses, which is why Orion sought out a better solution featuring radar, because it identifies presence detection through micromovement such as heart rate and breathing. Constellation provides data analytics in real time and historical statistics for companies to make data-driven decisions. Our occupancy sensors feature customizable alerts that alert you when certain areas should be cleaned due to usage, tell you which conference rooms are empty, indicate which virtual office desks are available as more people work within flexible office spaces, and create energy sustainability saving opportunities when connected to lighting/HVAC systems. For more information, contact Orion Entrance Control, Inc. at https://orioneci.com. [**website address not working]
---
AMERIPOLISH introduces the SmartFloor Maintenance System, which makes it easy to clean and maintain polished concrete floors. Featuring innovative diamond polishing pads and a rejuvenating cleaner, the daily maintenance system helps to protect and improve the appearance of concrete floors. Our SmartFloor Maintenance System is designed specifically for daily concrete floor maintenance and is faster, easier, and more cost effective than traditional methods and systems. The SmartFloor Maintenance System includes the Blue Daily Maintenance Pad and the Ameripolish Rejuvenating Cleaner. The Blue Daily Maintenance Pad features an innovative composite resin abrasive technology that when combined with an automatic scrubber improves or maintains the distinctness of image (DOI), or shine, of concrete floors. For detailed information about Ameripolish, visit www.ameripolish.com. [*need image]
---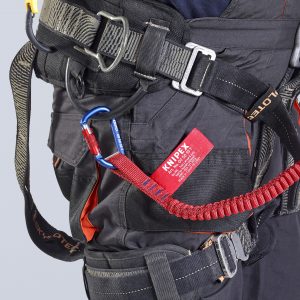 KNIPEX TOOLS offers an American National Standards Institute (ANSI)-compliant tethering system and 1000-V insulated tools for its tethered tools and attachments line. The additions include one ANSI-rated lanyard, two adapter straps, and seven 1000-V insulated tools. The KNIPEX tethering system includes a captive eye to keep the ANSI-compliant lanyard (38 in. in length) secured to the carabiner as well as a self-locking gate to prevent any unintentional opening. The ANSI-compliant adapter straps (13 in. in length) provide multiple ways to attach to personnel, including from a belt, wrist, or harness. The tethered tool system furnishes effective protection against accidents and damage caused by falling tools. The tether attachment is welded onto the multigrip handles for stable mounting and can hold a maximum tool load of 3.3 lbs. The lanyards are made of gathered fabric that expands to 5 ft. when under strain. For more information, contact KNIPEX Tools at knipex-tools.com.
---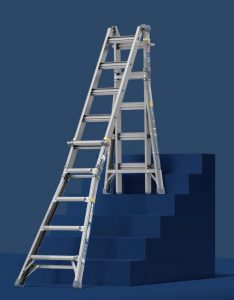 WERNER , a manufacturer of climbing products and fall protection equipment, introduces the new Multi-Max Pro, an ultraflexible multiposition ladder that sets a new standard in worksite versatility. Werner has combined many innovative features into the new Multi-Max Pro to create the ultimate multiposition ladder that can replace five common ladder types on the jobsite. While the Multi-Max Pro is fully loaded with pro-focused design elements, it makes no compromises when it comes to Werner's legendary build quality. With a load capacity of 375 lbs., the Multi-Max Pro delivers maximum versatility made easy. Werner's Multi-Max Pro combines the functions of five ladders into one: It can be used as a twin step ladder, stairway step ladder, wall ladder, extension ladder, and leaning ladder. Accessing those functions with the Multi-Max Pro multiposition ladder is easier than ever thanks to one-step simplicity offering one-handed adjustment for quick setup. Users can adjust the hinge at the Multi-Max Pro's central pivot point, making it easy to change positions. For additional details contact Werner at www.wernerladder.com.
---
New Products listings are provided by the manufacturers and suppliers and selected by the editors for variety and innovation. For more information or to submit a New Products listing, email Gerry Van Treeck at [email protected].