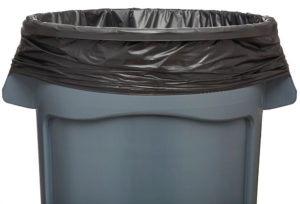 CINTAS Corporation, in partnership with Rubbermaid Commercial Products, is proud to announce new trash can liner options, called "Perfect Fit," to help facilities minimize litter and stay clean. Cintas' by-the-roll service allows facility operators to purchase fitted trash can liners, in both black and clear, that can support various trash can sizes, ranging from desk-sized all the way up to 55-gallon cans. Pairing the proper trash can with a Perfect Fit liner can help reduce plastic waste and provide cost-savings. This exclusive partnership is an exciting opportunity to offer facility operators with a sustainable and economical solution. Many businesses have the wrong sized liners for their cans, and most often the issue is having liners that are too large. This means business leaders and facility managers are paying for plastic they don't use. Perfect Fit liners help reduce that waste while making it easier to dispose of trash by no longer having to tie off liners. For more information, Contact Cintas Corporation by visiting cintas.com/facilityservices/trash-can-liners/.
---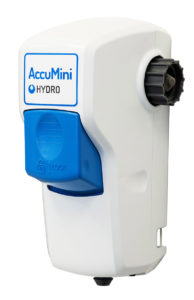 HYDRO™ is pleased to announce the development of its new AccuMini dispenser. The AccuMini is available in low-flow (LF) and high-flow (HF) models, and its capabilities are targeted to meet the needs of space-conscious facility owners and those who favor eco-friendly products. Building off the design and multi-market success of Hydro's highly regarded AccuMax ™ dispenser, the AccuMini offers similar operational benefits but in a smaller size. At only 4.3″ wide by 8.0″ long, the AccuMini is among the smallest dispensers currently available on the market. An optional plug add-on narrows it to 3.9″ wide, making it the slimmest of all top-choice dispenser models. The size reduction makes it ideal for use in a wide range of applications and reduces its environmental footprint, given the 46% less material required for production. For additional information, contact Hydro by visiting www.hydrosystemsco.com.
---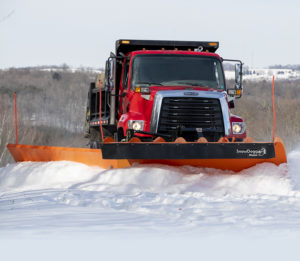 BUYERS PRODUCTS announces the release of a municipal wing plow designed to clear heavy wet snow in high-volume conditions. With a focus on flexibility, the new SnowDogg SuperWing Plow offers moldboard width options from 8′ to 11′. The SuperWing Plow specializes in clearing large amounts of heavy wet snow utilizing the flared ends of the tapered moldboard. The integral top channel of the plow incorporates a drain and provisions for wire routing. The SuperWing is built with 10-gauge, 304 stainless steel with a black powder-coated rear or 7-gauge carbon steel and orange TUFF-KOTE™. Front, mid, and rear mount configurations are available. Customized to fit specific needs promptly with each order, the SnowDogg SuperWing Plow is manufactured at Buyers' state-of-the-art facility in Northeast Ohio. Call for a consultation ahead of the 2023–2024 winter season. For additional information on Buyers Products Company visit www.buyersproducts.com.
---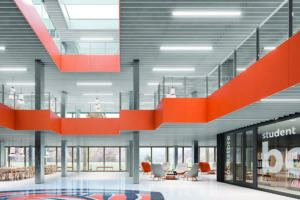 ARMSTRONG CEILING & WALL SOLUTIONS has introduced two new panelized torsion spring ceiling systems— MetalWorks™ Immix™ Linear Blades panels that feature a monolithic or open reveal linear look and MetalWorks Immix Blades panels with an open reveal linear look. Both lines install up to twice as quickly as single-blade or plank linear systems and provide 100% downward accessibility. Immix Linear panels measure 24″ x 96″ and include multiple planks per panel. Standard configurations include nominal 4″, 6″, 8″,10″, and 12″ wide planks with 1″, 2″, 4″, 6″, and 8″ heights. Immix Blades panels also measure 24″ x 96″ and include multiple blades per panel. Standard configurations include 1″ and 2″ wide blades with 4″, 6″, and 8″ heights. Eleven designs with 70% or more open area are available to minimize sprinkler installation/material costs while achieving a less cluttered finished ceiling with an open aesthetic. In both cases, mixing and matching panels with alternating plank or blade heights or widths produces a custom look without the custom process. All Immix panels have a consistent 1/8″ reveal end-to-end. Reveals between blades and planks are equidistant panel-to-panel when using the same configuration. To learn more, contact Armstrong Ceiling & Wall Solutions at armstrongceilings.com.
---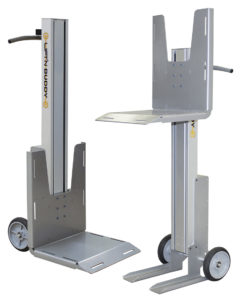 PRESTO ECOA LIFTS offers Lift'n Buddy LNB-2 two-wheel hand trucks, combining the convenience, versatility, and ease-of-use of a two-wheeler with the lifting and lowering capabilities of a compact powered stacker. At the touch of a button, the LNB-2 platform raises loads up to 200 lbs. from floor level to over three feet high. This vertical load positioning capability dramatically simplifies the task of transferring items from floors to shelves, workbenches, conveyors, processing equipment, and vice-versa. They are also ideal for loading and unloading delivery trucks and work vehicles. The unique design of the LNB-2 allows it to be completely free-standing, even when fully loaded and raised, allowing workers to easily slide loads onto or off of the platform. The Lift'n Buddy lift mechanism comprises a timing belt drive that is quiet, quick, and responsive. Power is provided by two 12-volt batteries that are easily recharged with a built-in 110V charger. For more details of options, contact Presto ECOA Lifts by visiting www.prestolifts.com.
---

HEMCO CORPORATION delivers chemical-resistant, stainless steel, island canopy hoods. Designed to collect and exhaust corrosive vapors, soldering operations, heat, steam, and odors when mounted over areas with water baths, hot plates, or portable equipment, the manufactured stainless steel island canopy hoods are lightweight and can be suspended from the ceiling over island locations using steel pipes. The canopy fume hood's smooth surfaces provide superior chemical, corrosion, and heat resistance. Optional side panels prevent cross drafts and further improve airflow while providing a way to contain chemical spills. Stainless steel canopy hoods are available in custom sizes including, 168″ wide X 60″ deep, and are available with optional baffles. For additional, detailed information about HEMCO Corporation visit www.HEMCOcorp.com.
---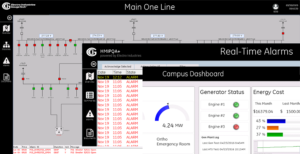 ELECTRO INDUSTRIES/GAUGETECH (EIG) has launched its latest SCADA solution—HMIPQA+™. This application improves upon the earlier HMIPQA™ SCADA system by simplifying the user interface and making it even more user-friendly. The HMIPQA+™ solution is easily scalable to fit customer requirements, with highly customizable and intuitive graphical displays of both energy metering and other commodity data. It seamlessly puts the right tools at the operator's fingertips for informed energy management decisions. The advanced SCADA solution's capabilities and features highlight its effectiveness in specific industries' data centers, commercial buildings, healthcare facilities, and industrial locations. Detailing the customized and flexible reporting options, power quality features, multiple protocol support, and open connectivity with third-party systems that the HMIPQA+™ solution offers. To learn more, visit Electro Industries/GaugeTech at www.electroind.com.
---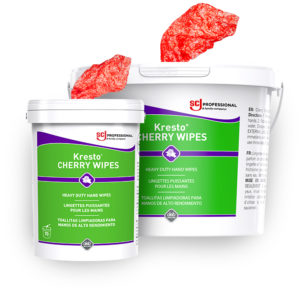 SC JOHNSON PROFESSIONAL® presents its Kresto® Cherry Wipes, which are heavy-duty hand wipes that work to remove the toughest contaminants like oil grease, paints, sealants, and resins. The wipes are designed with a skin conditioner to prevent skin from drying and leave it feeling smooth after use. Kresto Cherry Wipes contain no VOC-regulated ingredients and include a pleasant cherry fragrance that fights tough odors. They're made with dual-sided extra-large 10×12 inch wipes that work effectively to keep arms, hands, and tools clean. In addition to the strong base-cloth fabric, the wipes contain polypropylene scrubbers and heavy-duty cleaning ingredients to ensure a thorough job is done every time with no need for rinsing with water. Kresto Cherry Wipes are available in handy, easy-to-use, 70-count and 130-count containers. For additional details, contact SC Johnson Professional by visiting www.scjp.com/en-us/products/kresto-cherry-wipes.
---
New Products listings are provided by the manufacturers and suppliers and selected by the editors for variety and innovation. For more information or to submit a New Products listing, email Gerry Van Treeck at [email protected].