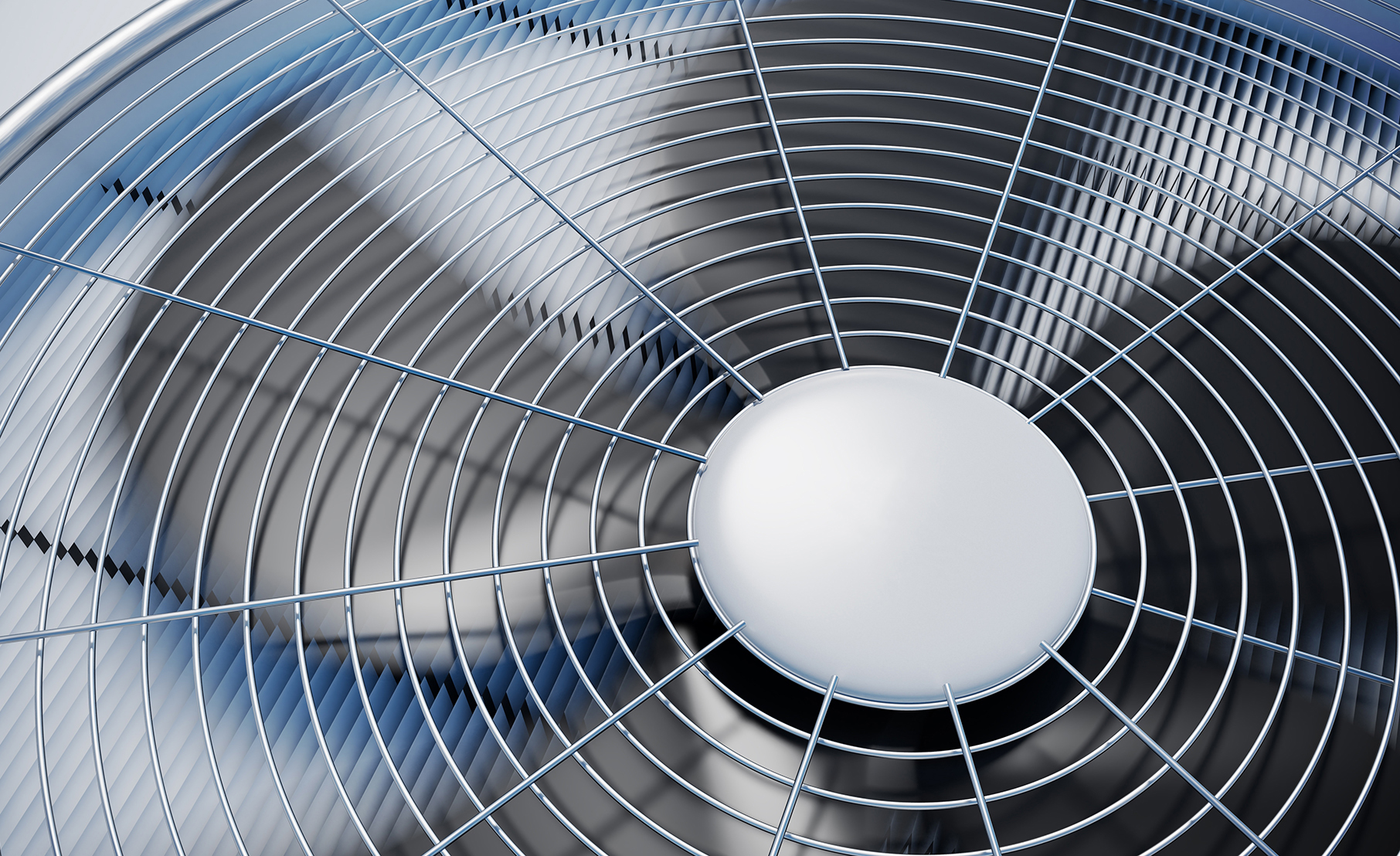 It is no secret that indoor air quality (IAQ) is a primary concern for K-12 facilities. The COVID-19 pandemic brought heightened awareness to the importance of IAQ three years ago. In addition, there was an increased amount respiratory illness, including RSV and flu, that created problems for schools near the latter part of 2022. These illnesses caused several school districts across the U.S. to close temporarily. The issues have carried over into 2023. In January, WNDU in Michigan reported that Constantine Public Schools closed because too many bus drivers were ill, showcasing school sickness is a problem both inside and outside K–12 facilities.
With IAQ continuing to be a topic of conversation, it is important for facility managers and school leaders to provide proper solutions to ease IAQ concerns. Mechanical HVAC solutions continue to be one of the best instruments to create and sustain excellent IAQ. From filtering out particulates to maintaining proper humidity levels, these machines can provide healthy air for students and faculty alike. When properly serviced, these pieces of equipment can create great school environments for many years.
Optimal HVAC IAQ Solutions
When buying or retrofitting your current HVAC unit, there are three main components to focus on: ventilation, filtration, and dehumidification. Each of these areas plays a specific role in providing optimal IAQ. Through controlled ventilation, facility managers can determine how much fresh, clean outside air is circulated within an interior space. At the same time, dirty air is pushed outside the facility. However, it is important for facility managers to find the right ventilation rate to avoid over-venting a space and creating negative effects on IAQ. According to the Environmental Protection Agency, the rate at which outdoor air must be supplied to each room within a facility range from 15 to 60 cubic feet per minute.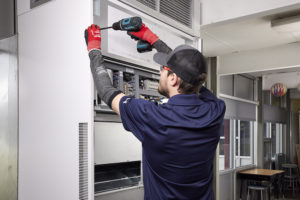 Once outside air is introduced into a new space, it is vital for airborne pathogens to be filtered out. These filtration solutions were designed to keep the number of particulates to a minimum. The American Society of Heating, Refrigerating and Air Conditioning Engineers (ASHRAE) recommends the use of MERV 13 filters but prefers MERV 14 or better if the HVAC unit is compatible. For an added layer of protection, schools can also install upgrades such as needlepoint bipolar ionization technology.
Dehumidification solutions bring both IAQ and indoor environmental quality benefits. When new outside air is brought into a space, it is paramount for facility managers to ensure that relative humidity levels are at a rate that is comfortable for students. If there is too much moisture in a room, the air may feel muggy and promote organic growth. If there is too little moisture, the air will be dry and uncomfortable. Facility managers need to maintain a relative humidity level between 40% and 60% to create the best atmosphere for students.
Utilize Maintenance Agreements
Just as important as using mechanical HVAC equipment to create excellent IAQ for K–12 facilities is maintaining the equipment. Far too often, regular maintenance is prolonged or ignored. If the units are not maintained, facilities will not get the product's maximum benefits. Failure to have the unit regularly serviced could end up in higher maintenance costs due to repairs or the system failing entirely. This is why it is important to utilize service agreements to ensure your unit gets the support it needs so it can continue providing your students and faculty with optimal IAQ year-round.
There are a few things you can expect a trained professional to do when inspecting your unit:
Brush and vacuum all coils
Clean and vacuum inside the cabinet
Clean external cabinet surfaces
Check the condensate drain line, all electrical connections and all mechanical connections
Check belts and pulleys (if applicable)
Install new filters
Check and record operational data for cooling and/or heating operation.
By performing these preventive maintenance measures, the HVAC technician is ensuring your HVAC unit is operating at maximum levels and providing your students and faculty with the IAQ they deserve.
Maintain Maximum Efficiency Through Aftermarket Coil Coatings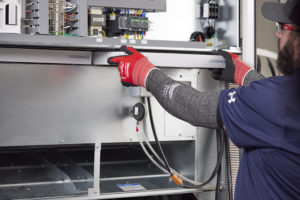 While providing clean, fresh air for students is of the utmost importance, it is just as important to protect your HVAC investment providing that IAQ. According to Daniel Fisher, sales director for Modine Coatings Aftermarket, corrosion can be a primary opponent to IAQ solutions in areas along the coastline and in heavy industrial areas. He states that when corrosive agents attack unprotected coils, they can substantially damage the HVAC needed to create optimal IAQ. This is why it is important to protect your HVAC unit with aftermarket coil coatings.
"With many schools already having an existing HVAC system, aftermarket coil coatings allow schools to protect their investment using a spray-on method. With the help of a licensed professional, these coatings are applied on-site and are an excellent alternative to e-coats," Fisher says. "Aftermarket coatings provide a protective barrier against corrosive agents and are designed to withstand harsh environments. "There are also options available that provide long-lasting, anti-microbial protection to help inhibit the growth of bacteria, mold, fungi and other microbes, which would be beneficial to K–12 schools looking to minimize organic growth."
Be Proactive
Taking the necessary steps to ensure your K–12 facility has the IAQ it needs is the best way to create a healthy learning environment for students. With fallout from the COVID-19 pandemic and other airborne pathogens being a mainstay in the environment, it is important for facility managers and school leaders to equip their schools with the proper and most effective solutions. With Elementary and Secondary School Emergency Relief funds available, schools have access to money that can be used for HVAC and IAQ upgrades. Be proactive and make the necessary changes to ensure your students have healthy air to breathe.
---
Emily Wright is the business development manager of IAQ for Modine Manufacturing Company in Racine, WI. She can be reached at technicalservice@na.modine.com. This is her first article for Facilities Manager.