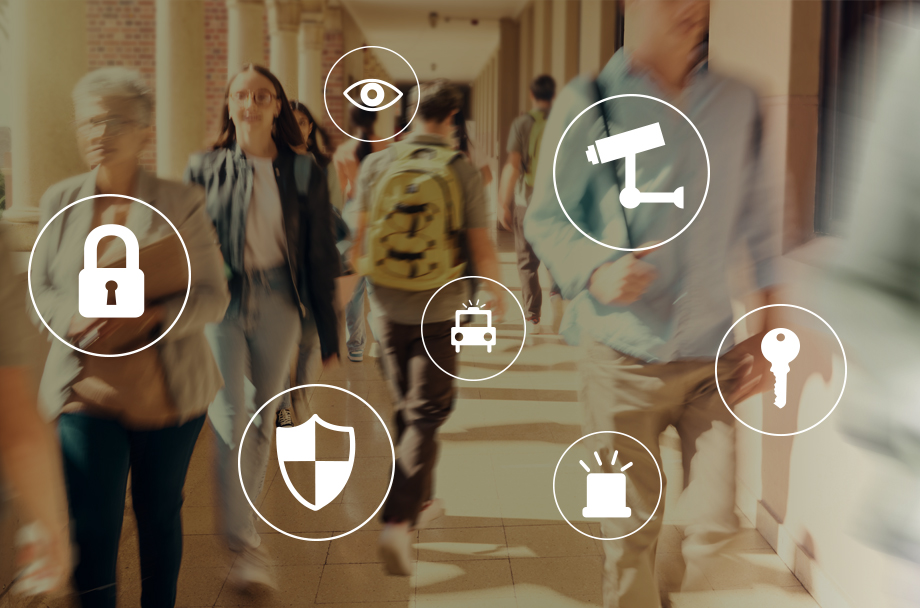 Security management is necessary in higher education to address physical security threats, protect data, comply with regulations, mitigate cyber-attacks, prevent disruptions to academic activities, and manage reputation. Of course, these requirements must be balanced against the desire of many institutions to provide an open, welcoming, and nurturing campus environment. Institutions should develop and maintain a Security Management Plan addressing appropriate security principles and practices to ensure the safety and security of staff, students, and the institution's assets in the context of their particular campus.
When planned comprehensively and implemented correctly, key elements of a Security Management Plan, including physical security, cybersecurity and the whole "people" side of security—security staff, policies and procedures, emergency response and communications, on-going messaging, training, and so on, can help create a healthy culture of security, reduce risks, and protect an institution's assets including its cyber assets. Each component of the Security Management Plan is important; this article, however, will focus on the physical security component.
Physical security measures may include electronic systems such as access control, surveillance cameras, and intrusion alarms. Non-electronic elements include fences, bollards, landscaping, and other physical barriers. These measures should be planned in alignment with the principles of Crime Prevention Through Environment Design.
Elements of a Responsible Security Management Plan
While there is no perfect model to follow, the physical security portion of a campus Security Management Plan typically seeks to:
Protect students, faculty, and staff: The primary goal of physical security in higher education is to protect the safety and well-being of students, staff, and visitors. The Security Management Plan, therefore, should cover physical security measures such as video surveillance systems, access control systems, intrusion detection, emergency phones (often called "blue phones"), and emergency response plans. Efforts to help protect students, faculty, and staff from physical harm, theft, and other forms of violence should be at the heart of the plan.
Protect assets and resources: Higher education institutions have significant assets and resources, including expensive equipment, valuable research, and sensitive data. The plan should address measures to help safeguard these assets and resources from theft, damage, or destruction.
Define security awareness training: This includes educating students, faculty, and staff about potential security threats and how to respond in case of an emergency. By promoting a culture of security and vigilance, institutions can help prevent security breaches and protect their campus community.
Ensure Compliance with regulations and standards: Many higher education institutions are subject to regulations and standards related to physical security. The plan should include steps to ensure compliance with these regulations to ensure the safety and security of the campus community and to avoid legal and financial penalties.
Mitigate liability risks: Higher education institutions have a duty of care to provide a safe and secure environment for their students, faculty, and staff. Campuses that fail to meet this duty of care may possibly result in legal liability and damage their reputation. A well-developed physical security plan can help mitigate these risks.
Prevent disruptions to academic activities: Incidents of violence, theft, or other forms of disruption can negatively impact the academic mission of a higher education institution. The plan should cover strategies to help prevent these disruptions and ensure that academic activities can proceed as planned.
Invest in physical security: Of course, installing and maintaining the proper security systems and associated support structure requires significant investment. The plan should include capital expenditures and operating costs, including refreshing the technology systems.
Refresh, Refresh, Refresh
Though often overlooked or undervalued, the proactive planning and scheduling of on-going review, reevaluation and refresh of the various elements covered in the Security Management Plan is critical to maintaining a culture of safety and security. This refresh should help to:
Identify changes and security weaknesses: Recurring facility assessments help to identify potential security weakness and vulnerabilities in the physical infrastructure resulting from the ever-changing threats facing Higher Education. This includes assessing the adequacy and effectiveness of perimeter security, access control measures, lighting, video surveillance systems, and procedures for security personnel.
Monitor the development of new technologies: An organized and intentional scan of new developments and options in the physical security market will help a campus take advantage of new products and the associated performance improvements.
Identify new and changed security risks: A regular review of the risk environment enables an institution to take appropriate steps to mitigate any new or changed risks and improve security. This may involve making physical changes to the facility, implementing new security policies and procedures, or investing in new security technologies.
Adjust compliance requirements: Many higher education institutions are required to comply with regulations and standards that may fall outside the security realm. However, regular re-evaluation of security measures may be a critical part of compliance with these requirements.
Protect students, staff, and visitors: The primary goal of physical security in higher education is to protect the safety and well-being of students, staff, and visitors. Regularly scheduled evaluations of the security measures in place help to ensure that the physical security will continue to provide the necessary protection against potential threats.
Allocate resources effectively: Recurring assessments of the security measures in place are a means to evaluate the effectiveness of those security measures and help institutions allocate resources effectively to improve security. By identifying areas of weakness, institutions can prioritize investments in security measures and identify product end-of-life cycles that will have the greatest impact on safety and security.
In summary, security management in higher education is a critical aspect that requires continuous attention and strategic investment from institutions. A Security Management Plan, with regular review and refresh, should help institutions implement robust physical security measures and protocols, deliver training and awareness programs, and provide the optimal security posture most appropriate for the unique needs of the campus community.
---
Bobby Krecker is a Senior Systems Designer at NV5 (formerly The Sextant Group) in Washington, DC, and can be reached at bobby.krecker@NV5.com. This is his first article for Facilities Manager.