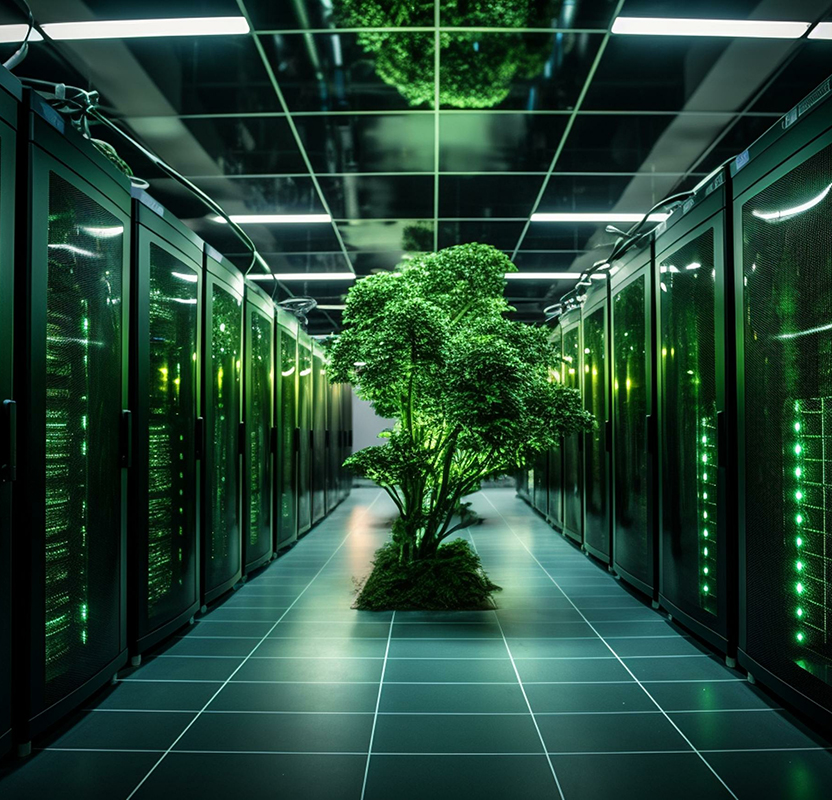 Reimagining data center infrastructure in the age of AI can help campuses balance innovation with carbon reduction initiatives.
Demand for data centers is soaring as the world continues to embrace digitalization and greater interconnectivity, and high-performance computing systems supporting the rise of generative AI transform the data center landscape. These facilities, crucial to many institutions, require vast amounts of energy to operate effectively to provide essential services in the connected learning environment. Besides accelerating demand for more data centers, this need for more computing, storage, and data also increases demand for reliable energy to support them.
At the same time, university campus leaders are realizing, with greater urgency, the need to integrate sustainability into every aspect of campus life as they seek to align with federal and state carbon-reduction goals and students' expectations for institutions that "walk the walk." As they identify opportunities to reduce their campus facilities' environmental footprints, they're working toward better stewardship of resources, more energy efficiency, and the integration of renewables.
In this article, I'll look at an innovative approach to rethinking power management in campus data centers in a way that balances resiliency with sustainability in a time of rapid innovation.
Reimagining the Role of the Data Center
Campus data centers use uninterruptible power supplies (UPSs) to provide essential battery backup in the event of power outages, a need that will become even greater as more universities look to harness AI innovation. The emergence of lithium-ion batteries in recent years as an attractive backup power source for UPSs creates new opportunities to leverage the batteries' inherent energy storage capabilities. Data center operators can more effectively integrate renewable energy by connecting their systems to enhance data centers' resilience and offset their reliance on utility grid power. Because UPSs already exist in the data center, the need for costly investment in new infrastructure is minimized.
By combining energy storage capabilities in UPSs with intelligent energy management, data analytics, and sophisticated controls, campus data center operators can create a bidirectional flow of energy to and from the electrical grid. In doing so, they can then better support renewable resources and offset the cost of pricey infrastructure upgrades by earning revenue through participation in utility programs. This grid-interactive approach can empower facilities professionals to more efficiently and effectively coordinate multiple energy sources and meet increasing energy demands.
This approach offers significant benefits for both campus data centers and local utilities. As utilities look to increase the grid's resiliency and sustainability, they can leverage data centers as distributed energy resources to provide essential electrical grid stabilization services. And, by enabling this bi-directional power flow, data centers can become active participants in the energy transition with infrastructure that increases sustainability, provides essential backup, and reduces operating costs.
Universities, in turn, can use the approach to work with students and faculty to design grant-funded research projects that enable learning about designing, building, and maintaining more resilient, sustainable, and revenue-generating data center power systems. Universities can also partner with local utilities and use grid programs to pioneer new community initiatives, such as case studies on commercializing technologies in local markets. Finally, universities can showcase the projects' community benefits, provide demonstrations and tours, and garner media attention that may serve to help recruit new students and faculty.
The Smarter Campus Data Center
In conjunction with a grid-interactive approach, campus data center operators should look to digital tools to become smarter users of energy. Data center performance management software, electrical power monitoring system software, distributed IT performance management software, and remote monitoring services help professionals gain insights into energy consumption, both within a centralized data center and across the distributed infrastructure, to better understand and manage power needs in real time.
With the right investments in intelligent power management tools, campus data center operators can have a full view of assets within the data center environment, leveraging sophisticated controls and analytics to improve decision-making around energy usage, particularly as energy demands grow amid AI adoption. Additionally, they can optimize performance and reduce costs while fulfilling important sustainability goals and helping students better understand how to create more sustainable energy systems. Federal funding and tax incentives aimed at promoting renewable energy and energy-efficient practices can help facilities professionals fully embrace these solutions.
Strategic deployment of intelligent power management technology such as grid-interactive UPSs and digital power management tools is crucial to staying ahead in the race toward smarter, more sustainable campus data centers. With generative AI technologies sparking an exponential upsurge in power requirements, facility managers and IT professionals are wise to rethink the power infrastructure required to meet consumption needs. The right approach can help them transform their data centers into hallmarks of campus sustainability while offsetting rising energy usage and costs.
---
Forrest Secosky is commercial marketing manager at Eaton in Raleigh, NC. He can be reached at [email protected]. This is his first article for Facilities Manager.