W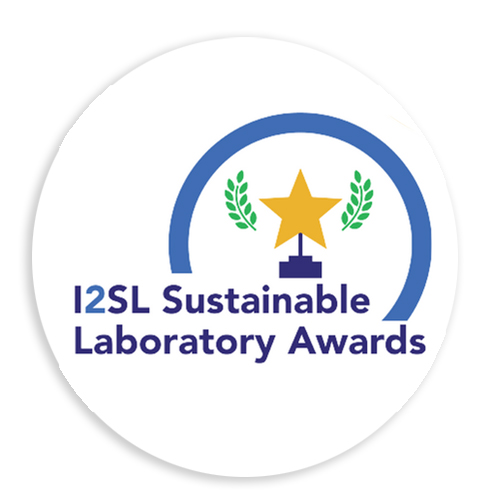 hile laboratories and other high-tech facilities are at the forefront of groundbreaking scientific, medical, and technological advancements, they are also far more energy- and resource-intensive than other campus facilities, due to their need for clean, outside air and more frequent air changes to ensure the safety and integrity of researchers and their work. The International Institute for Sustainable Laboratories (I2SL) is a nonprofit organization formed to help labs around the world increase energy efficiency, reduce emissions, and ensure safe, sustainable buildings and operations across the research enterprise. I2SL's Sustainable Laboratory Awards Program recognizes outstanding projects, programs, and people that demonstrate innovation and success in reducing labs' energy and environmental footprint.
The 2023 winners in the Buildings and Projects category offer inspiration and ideas to improve operations and design of university labs to reduce their environmental and carbon footprint. Buildings and projects are considered for awards in new construction, renovation, and adaptive reuse, and they are scored on a dozen sustainability features, including energy efficiency, decarbonization, water efficiency, waste diversion, indoor environments, climate resiliency, and sustainable materials.
---
The overall Lab Buildings or Project Award winner, which excelled in all the criteria, was a new construction project, Harvard University's Science and Engineering Complex (SEC) in Cambridge, Massachusetts.
SEC is a nine-story, 544,400 gross-square-foot (GSF) facility that took a whole-building approach to efficiency and sustainability. Completed in 2021, the complex is LEED® Platinum certified and "Petal" certified by the International Living Future Institute's (ILFI) Living Building Challenge, one of the first certified lab buildings focused on the ILFI Materials, Beauty, and Equity performance areas. With design and engineering by van Zelm Engineers and Behnisch Architekten, the complex incorporated myriad sustainable features, from an energy-efficient building envelope and careful site planning to water reuse and stormwater management.
The complex's unique custom-designed façade optimizes solar heat, increasing heat gain during New England's cold temperatures and reducing it during cooling periods. Additionally, triple-glazed windows and skylights dramatically decrease the need for electrical lighting within the building. To enhance indoor environmental quality, 54% of regularly occupied areas are daylit, and 50% of that area has access to operable windows. Thanks to these and other energy-efficient measures, the complex has an energy use intensity (EUI) of 83.3 kBtu (thousand British thermal units) per square foot (SF) per year.
Additionally, the complex includes significant water reuse and stormwater management efforts, including green roofs, bioretention basins, and constructed wetlands. These measures ensure all precipitation falling on the site is collected, treated, and stored for reuse and reduces pollution from stormwater runoff. Condensate from cooling coils is also collected and discharged into storage tanks for later use. Thanks to these efforts, 71% of the water used in the complex's labs and 73% of toilet-flushing water comes from collected rainwater.
The surrounding community benefits from the project as well. Due to years of industrial and manufacturing operations, the land on which the complex is built was a brownfield, contaminated by lead, cadmium, petroleum hydrocarbons, and volatile organic compounds. During the construction process, the team removed and properly disposed of more than 150,000 tons of soil and replaced it with a regenerative landscape. Outdoor green spaces are now open to the public and connect the university to the communities around it.
Research with a Reduced Energy and Water Footprint
During its recognition ceremony on October 23, 2023, I2SL also honored four universities and a research center with Sustainable Laboratory Excellence Awards for projects that stood out in specific criteria areas for their innovative approaches to sustainability and significant energy, water, emissions, and waste reduction.
Recognizing that the building with the lowest carbon footprint is the one that never gets built, I2SL gave an Excellence in Decarbonization Award to an adaptive reuse project, Michigan State University's STEM Teaching and Learning Complex in East Lansing, Michigan. The 174,700 GSF project, supported by Ellenzweig and IDS, was completed in 2021 and includes the adaptive reuse of a decommissioned power plant, two new STEM teaching lab wings, and a classroom addition with an entry atrium. The team turned an old, unused space into a new, dynamic hub for science education for both STEM and non-STEM students to gather and learn.
The project adapted a coal-fired power station that served the university from the mid-1940s until 1976; legacy coal-fired boilers were transformed into collaborative teaching areas. Reusing a structure and incorporating mass timber (strong panels, posts, or beams created from glued or nailed layers of wood products) contributed to the complex's carbon-efficient design. The project incorporated over 3,000 cubic meters of mass timber, storing an estimated 1,856 metric tons of carbon dioxide equivalents (CO2e); that's comparable to reducing CO2 emissions from more than 4.6 million vehicle miles driven. By incorporating several energy-efficient design features, the MSU team has achieved an EUI of 96 kBtu/sf/year.
---
Recognizing that energy-efficient design features can help reduce the use of fossil fuel for heating and cooling and contribute to lab decarbonization, I2SL honored a newly constructed lab at Boston College's 245 Beacon Street property with an Excellence Award in Energy Efficiency. The 157,500 SF facility for interdisciplinary research and liberal arts programs features operable windows in individual offices and an indicator light to notify occupants when the outdoor air conditions are ideal for natural ventilation. Window sensors then shut off space conditioning when windows are open. The building also includes chilled beams to decouple the heating and cooling loads of the building and provides the outdoor air only for ventilation or fume hood make-up. A water-based cooling system and a heat recovery chiller shift building heating to an electric source and provide simultaneous heating and cooling while reducing fossil fuel use and saving water.
The project team from BR+A Consulting Engineers found creative ways to save energy in the Beacon Street building's clean rooms by monitoring and operating its heating and cooling systems based on actual cleanliness as detected by particle counters, instead of a prescriptive air change rate. This provides a repeatable and measurable level of clean operation while simultaneously reducing fan power and overall energy use. The building's EUI of 89 kBtu/sf/year is a 76% reduction in onsite energy usage compared to the average laboratory building in the Boston and Cambridge area.
---
The indoor environmental quality of a lab facility not only affects occupant comfort, but also building energy efficiency. The Promega Corporation Kornberg Center—a new 280,000 SF research and development facility in Madison, Wisconsin—received I2SL's Excellence Award for Indoor Environment. Designed by SmithGroup, the center includes many sustainable features to improve indoor air quality and efficiency. The space includes interior plantings and water features, operable windows in the atrium and offices, and natural daylighting that reaches 75% of interior space.
To ensure indoor air quality for research work, the Kornberg Center provides 100% outside air to the entire building and incorporates energy recovery. The center features a double-skin façade on all sides, which extends the natural ventilation cycle from two to three months to nine to ten months. The double skin also allows maintenance to occur without closing labs, increasing energy efficiency, and stabilizing the effect of outside temperatures on the labs. Twenty-two miles of in-floor tubing and a geo-exchange system provide radiant heating and cooling that both enhances occupant comfort and increases energy savings.
---
In recognizing efforts to reclaim water, I2SL gave an Award for Excellence in Water Efficiency to the Lehigh University Health|Science|Technology (HST) Building in Bethlehem, Pennsylvania. HST supports research on public health, chemistry, materials science, and biology and houses the administrative offices of Lehigh's College of Health. Completed in 2022, the 190,000 GSF building, supported by Hammel, Green and Abrahamson (HGA), earned LEED Gold certification for a variety of sustainable features.
HST's reclaimed water system collects HVAC condensate and roof rainwater that is treated for reuse in indoor and outdoor irrigation and toilet flushing. An air-cooled chiller also eliminates cooling tower make-up water demand. Overall, the building saves an estimated 688,000 gallons of potable water annually, which is 76% higher than similar facilities and enough water to fill Lehigh's varsity pool 2.5 times.
---
Renovating or retrofitting existing lab spaces with more efficient systems and features is an excellent way to improve building performance. Florida State University's King Life Sciences Building in Tallahassee, Florida, earned an Excellence Award in Continuous Improvement for a major retrocommissioning project on FSU's research laboratories in 2019. This effort was part of a large-scale program, led by FSU Utilities and Engineering Services and supported by Affiliated Engineers, Inc., to increase safety and improve efficiency in the university's lab facilities.
At the start of the retrocommissioning process, the team identified 311 issues in the King Life Sciences Building, including unoccupied air flow rates that exceeded occupied air flow rates, incorrect air balance and pressurization, and incorrect control system graphic display. By addressing more than 200 of those issues, the building's EUI decreased from 477 kBtu/sf/year to 379 kBtu/sf/year, a 20% energy savings, and the university is continuing to address the remaining issues. Retrocommissioning also helped the building decrease steam consumption by 30% and achieve an estimated average yearly emissions reduction of nearly 1,800 tons of CO2.
These award-winning projects illustrate the many ways adaptive reuse, retrofits, and new lab construction projects can incorporate cutting-edge sustainability, innovation, and best practices into the design process and commissioning of the systems within labs. Winners were recognized for their achievements at the 2023 I2SL Annual Conference in Anaheim, California, and will be featured in I2SL's upcoming webinars and virtual Education Week planned for spring 2024.
---
Making Research Smarter and More Efficient, One Lab at a Time
After decades of commitment to educating—and improving—the sustainable laboratory community, Wendell Brase received I2SL's Phil Wirdzek Leadership Award for 2023. Named for I2SL's late founder and first president, the award recognizes leaders in the field who exemplify Phil's dedication to improving labs through innovation and continue his legacy of collaboration.
Wendell joined the University of California Irvine (UCI) in 1991 and, as vice chancellor, took a hands-on approach to implementing a cutting-edge program to reduce lab energy use by at least 50%. UCI's "Smart Labs" initiative, created in 2008, employs a systems-based management approach of energy audits, functional testing, and energy-saving measures for existing facilities, but it can also be implemented during design and construction of new lab space to improve building performance.
Under his leadership, facility staff identified aggressive lab efficiency opportunities across the campus then developed a formal process for retrofits, identified resources, and developed training materials. Lab electricity use has dropped by 57% and gas used has decreased by 72%, yielding a total of 61% energy savings across 10 academic labs. Since then, the Smart Labs Initiative has become an example for other campuses and lab facility managers around the world; a Smart Labs toolkit is available on I2SL's website.
Much like I2SL Founder Phil Wirdzek, Wendell has used his leadership position to support and educate others in the lab community about energy-efficient lab design and practices. He gives frequent Smart Labs presentations and workshops at UCI, cosponsored by the U.S. Department of Energy, to help others plan, implement, and maintain the program and realize significant financial savings.
---
Star Scott is the Green Labs program manager at the University of Georgia, Athens, GA, and serves on the I2SL Board of Directors. She received the Phil Wirdzek Emerging Leaders Award from I2SL in 2022, and UGA received I2SL's Green Labs Award for Programs and Initiatives in 2023. She can be reached at [email protected]. Kathleen Brady is executive director of I2SL and a vice president at ERG, Arlington, VA, a consulting firm supporting sustainable facilities. She can be reached at [email protected].
In addition to Sustainable Laboratory Awards, I2SL sponsors a variety of educational programs for lab designers, engineers, and facility managers, including conferences, webinars, local chapters, a lab energy benchmarking tool, and the new Labs2Zero program to help decarbonize laboratories. Visit www.i2sl.org for more information or to get involved.