We know we can't do it alone, whatever "it" may be in our campus sustainability efforts. The facilities department is responsible for building, operating, and maintaining the built environment for educational and research purposes and generally has a large staff with which to do it. But you can be most effective when you are working with others on campus—EH&S, student affairs, IT, the engineering or biology department, housing, and more—as well as business partners with their highly specialized technologies and expertise.
In the world of nonprofit associations, APPA benefits and gains knowledge from our own connections with fellow associations, federal agencies, business partners, and others in our quest for valuable content, professional development programs, networking opportunities, and applicable case studies and best practices to share with our member facilities professionals. In this article, we feature two organizations with whom APPA collaborates, and you can work with them too. We urge you to visit their websites and contact them for additional information and assistance.
—Steve Glazner, editor
---
The International Institute for Sustainable Laboratories, by Philip J. Wirdzek
Improving Campus Efficiency Through DOE's Better Buildings Alliance, by Hannah Debelius
---
The International Institute for Sustainable Laboratories
by Philip J. Wirdzek
Today's research and education facilities face a variety of challenges: limited resources, energy security concerns, environmental justice issues, and climate change effects such as extreme weather events that can seriously harm the continuity of research. In addition, research labs use up to eight times more energy than offices, making efficiency and sustainability critical. That's where the International Institute for Sustainable Laboratories (I²SL) comes in.
Founded in 2005, I²SL is a 501(c)(3) nonprofit organization with an educational mission to engage a wide variety of stakeholders in advancing the safety and sustainability of laboratories and other high-technology facilities. I²SL is a membership organization with 12 active chapters across the United States, as well as chapters in China, India, Singapore, and partnerships with similar organizations in Canada, Germany, Australia, and the United Kingdom. By partnering with the Higher Education Associations Sustainability Consortium (HEASC), My Green Lab, and the U.S. Department of Energy's Federal Energy Management Program, I²SL ensures that lab users have a forum for sharing ways to make their facilities more sustainable.
I²SL is not a standard- or code-setting organization; rather, it educates lab designers, engineers, builders, owners, and operators through annual conferences, monthly educational webinars, best practice guides, a website with other technical resources, social media, and similar offerings provided regionally by each of its chapters. I²SL welcomes experts from around the world to engage in furthering its mission to improve the performance of these ever-changing and dynamic built environments.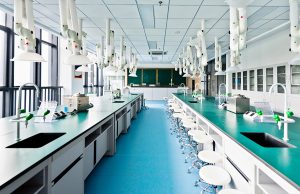 I²SL maintains a rich set of educational workshops and training courses that have been developed by subject matter experts within the I2SL community. I²SL's working groups also create a variety of tools and guides:
University Alliance Group. Led by Dr. Kathryn Ramirez-Aguilar of the University of Colorado Boulder, the group is focused on the connections between funding of research and sustainability and working in a collaborative and cooperative manner with stakeholders, including federal agencies. Visit https://www.i2sl.org/working/university_alliance.html.
DOZN Tool for Green Chemistry. Led by Dr. Samy Ponnusamy of MilliporeSigma, the purpose of this working group is to promote awareness of green chemistry and the MilliporeSigma DOZN tool and what role they can play in furthering the planning, design, construction, and operation of energy-efficient and sustainable laboratories. Learn more about the tool at https://www.i2sl.org/working/dozn.html.
Electric Utility Support to Labs. Led by Steve Miller of Eversource, a New England utility, this working group facilitates nationwide electric utilities developing energy-efficient solutions through incentives and power management strategies in their service areas. More information can be found at https://www.i2sl.org/working/utility.html.
Laboratory Benchmarking Tool. Led by Dr. Alison Farmer of kW Engineering, the group evaluates the current state of energy benchmarking for labs and investigates and implements useful enhancements or supplements to the Laboratory Benchmarking Tool, found at https://lbt.i2sl.org/.
Laboratory Waste Landfill Diversion. Led by Kelly Weisinger of Emory University and Ilyssa Gordon, MD, of the Cleveland Clinic, the group is addressing barriers and sharing best practices related to laboratory waste diversion, with a focus on reducing waste from suppliers and manufacturers. Learn more at https://www.i2sl.org/working/labwaste.html.
Sustainable Laboratory User Manual. Led by Adana Johns, Christopher Kleingartner, Maria Montgomery, and Jacob Werner of Perkins+Will, the group is pioneering a tool provided by volunteers for owners and users that describes a facility's purpose, functions, infrastructure, operations, and intended uses, enabling them to intelligently use, maintain, and renovate their laboratory over time. Learn more about the group's progress at https://www.i2sl.org/working/labusermanual.html.
Ventilation Effectiveness for Laboratories. Led by Dr. Kishor Khankari of AnSight LLC, this working group is elevating awareness for ventilation effectiveness for laboratories (VEL) design among architects, engineers, and others who are involved in the design, operation, and maintenance of laboratories. Visit https://www.i2sl.org/working/vel.html for the latest on this working group.
I2SL Best Practices. I²SL is also updating its electronic library, led by Dan Doyle of Grumman/Butkus. This effort is benefiting from the volunteer work of many experts addressing efficiency projects, principal investigators, low pressure drop, benchmarking, predictive analytics, and laboratory modeling guidelines. Best practices in the pipeline include exhaust manifolding, resilient design, onsite power, commissioning, case studies, and more. Check out the latest best practices for sustainable labs at https://www.i2sl.org/resources/bpg.html.
Annual Conference. The I²SL Annual Conference and Technology Fair brings together over 500 sustainable laboratory professionals for three days of workshops, technical sessions, exhibits, and local facility tours. The conference highlights recent advancements in laboratory efficiency and performance, allows the I²SL community to share their latest projects, and showcases technologies and services in an exhibit hall. The 2021 conference will be held September 26-29 in Atlanta; learn more at https://www.i2sl.org/conference/2021/index.html.
Through its active membership, corporate sponsors, and chapters, I2SL expands its mission across the U.S. and internationally. I²SL welcomes individual members from any related fields, as well as institutional organizations, where group membership benefits extend to employees at a campus. Learn more at www.i2sl.org.
---
Phil Wirdzek is founding president and executive director of the International Institute for Sustainable Laboratories, based in Arlington, VA; he can be reached at philwirdzek@i2sl.org. This is his first article for Facilities Manager.  Many thanks to Kathleen Brady for her assistance.
---
Improving Campus Efficiency Through DOE's Better Buildings Initiative
By Hannah Debelius, ORAU Fellow
The commercial building sector—including colleges and universities—accounted for nearly 20% of all U.S. energy consumption, $200 billion in energy expenditures, and 16% of U.S. CO2 emissions in 2020.¹ ² Meanwhile, the COVID-19 pandemic has reinforced the need for healthy, efficient buildings, especially given that Americans spend 90% of their lives indoors.³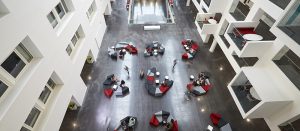 How can institutions prioritize health and efficiency in buildings, especially in a time of slim budgets? The Better Buildings Initiative of the U.S. Department of Energy (DOE) can be a powerful ally, bringing tools, resources, and technological expertise to help campuses meet their energy, carbon, and health goals. More than 50 partners in higher education and nearly 1,000 industry partners across Better Buildings have shared building showcase projects, successes in building technology, and creative energy management efforts that can help reduce carbon and energy on your campus.
Smart Labs
A typical laboratory is three to four times more energy intensive than an average commercial building and can account for up to 70% of a given campus's energy footprint. Opportunities for efficiency exist across design, engineering, equipment, and space-sharing, and in the grant-making process itself.
A key goal of the Better Buildings Smart Labs Accelerator was to help organizations optimize the performance of their laboratories by mitigating safety and health risks, reducing energy, and improving ventilation. Based on real-world experience and insights from partners, the DOE has compiled the Smart Labs Accelerator Toolkit. This step-by-step guide features resources, plans, and deliverables that guide your organization through a systems-based management approach.
Renewable Energy
DOE's Renewable Energy Resource Hub helps buildings owners and operators navigate alternative energy solutions and future energy options, answering questions such as "What can I do to overcome technical limitations when deploying onsite renewable energy?" and "Who do I contact to work with my utility?"
Alongside energy efficiency, renewable energy—such as solar or wind—is key to meeting your campus carbon and sustainability goals. Onsite renewable energy, when paired with energy storage and configured appropriately, can also increase a site's resilience during a grid outage.
Financing Navigator
Over the past year, the COVID-19 pandemic has commanded staff resources and budgets. As a result, many energy-efficiency and building maintenance projects are delayed or canceled. Energy solutions that are low- or no-cost need to be at the forefront of options for higher education as well as financing options that minimize upfront payments.
The Better Buildings Financing Navigator is an online tool developed by DOE to help organizations find financing solutions for energy-efficiency and renewable-energy projects. The tool helps users understand the array of financing options for energy projects and explore which option may be best for them. Users include building owners, facility and energy managers, sustainability directors, executives, contractors, consultants, brokers, researchers, and other decision makers.
The higher education work of Better Buildings is made possible through the guidance and dedication of the Higher Education Sector Steering Committee:
Greg Farley, George Mason University (Chair)
Amy Butler, Michigan State University
Steve Glazner, APPA – Leadership in Educational Facilities
Tina Jones, Chesapeake College
Stephen Kolb, Towson University
Elaine Sadowski, Community College of Allegheny County
Justin Thomas, Emory University
Andrea Trimble, University of Virginia
Phil Valko, Washington University in St. Louis
Moira Zbella, Stanford University
For more information on the DOE's Higher Education Alliance, visit https://betterbuildingssolutioncenter.energy.gov/alliance/sector/higher-education.
---
References
¹ U.S. Department of Energy—Energy Information Administration. Annual Energy Outlook 2021. Table 2. Energy Consumption by Sector and Source. https://www.eia.gov/outlooks/aeo/data/browser/#/?id=2-AEO2021&sourcekey=1.
² U.S. Department of Energy—Energy Information Administration. Annual Energy Outlook 2020. Table 18. Energy-Related Carbon Dioxide Emissions by Sector and Source. https://www.eia.gov/outlooks/aeo/data/browser/#/?id=17-AEO2021&cases=ref2021~aeo2020ref&sourcekey=1.
³ U.S. Environmental Protection Agency. 1989. Report to Congress on Indoor Air Quality: Volume II. EPA/400/1-89/001C. Washington, DC.
---
Hannah Debelius is an ORAU Fellow and works with the U.S. Department of Energy; she is the higher education lead for the Better Buildings Alliance and can be reached at hannah.debelius@ee.doe.gov. This is her first article for Facilities Manager.