College and university campuses have always been a cauldron of innovation in research, development, and application of practical and beneficial technologies. Those innovations carry from the engineering departments to information technology to agricultural sciences and throughout virtually all other academic disciplines. Facilities management has also experimented with, designed, programmed, adopted, and incorporated technology throughout their operations. Several examples follow.
Many thanks to the members who contributed to this article. They share only a small sampling of the technology innovations being introduced and used everyday at our colleges, universities, and schools.
---
  Community College of Allegheny County
  Pittsburgh, PA
Creating a Smart Connected Campus for the Future
By Lynn Boyce Campbell
Communications Manager, Siemens Industry, Inc. – Smart Infrastructure
lynn.campbell@siemens.com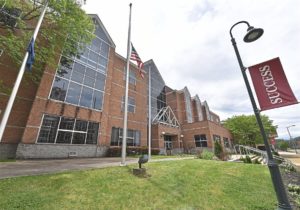 The Community College of Allegheny County (CCAC) is a multi-campus institution serving 42,000 students located in Allegheny County, PA. The pandemic put a spotlight on transforming environments to meet new state and local requirements and safety protocols and to achieve other benefits including energy efficiency and sustainability.
CCAC embarked on a campus modernization and COVID-19 mitigation project with Siemens and Enlighted that redesigned the building management system to increase airflow and minimize COVID-19 exposure in line with Centers for Disease Control and Prevention guidelines. The project covered 13 buildings across four campuses and more than 1.8 million square feet. The wireless lighting sensors attached to new LED fixtures are the baseline for CCAC. With this smart technology, CCAC can source occupancy and utilization data to automate heating, ventilation, and air conditioning and lighting for spaces that are being used to optimize power consumption and reduce costs.
"Our goal is to reinvent and transform our campus into the most innovative, safe, and sustainable campus of the future to create new research and innovation opportunities for our faculty and students," stated Carlo Vazquez, vice president and chief facilities officer. "We recognized the importance of a strategic partner in supporting our COVID mitigation efforts while meeting our ambitious sustainability goals."
---
  Michigan State University
  East Lansing, MI
IPF Deploys New ArcGIS Indoors Asset and Room Navigation App
By Adam S. Lawver, Director of Campus Services (lawverad@msu.edu), and
Fred Woodhams, IPF Communications Manager (woodham4@msu.edu)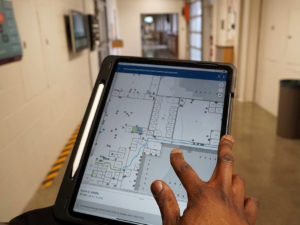 At 24.7 million square feet spread across more than 550 MSU buildings, it's not hard to lose a few minutes finding your way to a room in an unfamiliar part of campus. That's something maintenance staff in Infrastructure Planning and Facilities (IPF) can experience when they're called on to service building assets such as pumps, steam traps, and other critical equipment that are intentionally placed out of sight. To help personnel more easily find their next job site and better serve our campus customers, IPF introduced a new application for their mobile devices that provides staff with turn-by-turn navigation. Called ArcGIS Indoors, the app on their work-provided mobile device guides staff across campus by vehicle, bike, or by foot to the university vehicle parking space closest to the right facility entryway and then directly to the room or building asset leveraging floor plan awareness up, down, and throughout our facilities.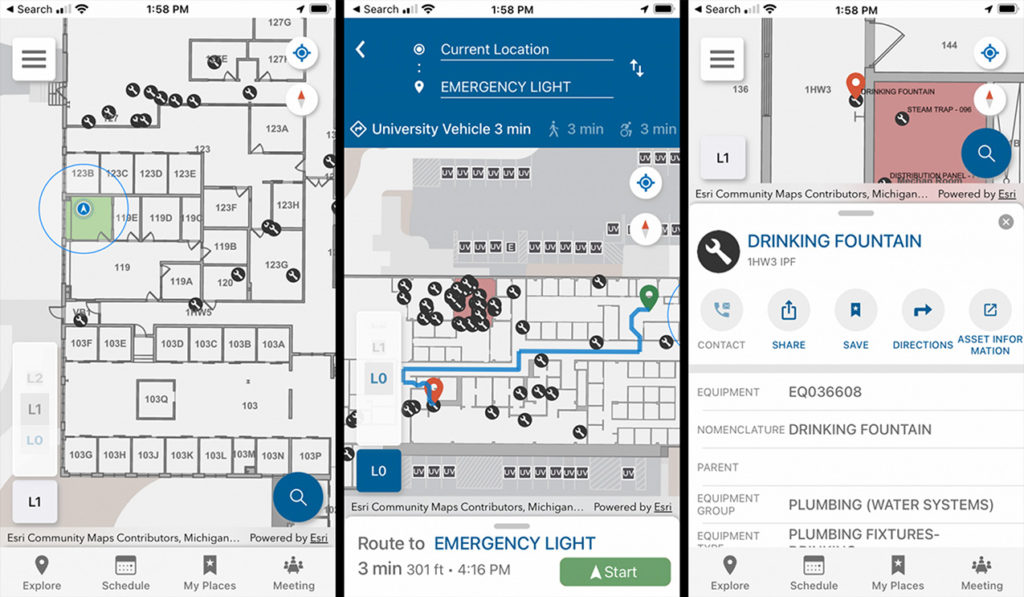 The app is integrated into IPF's integrated work management system (IWMS) mobile interface called APPTREE, that allows staff to enter labor and equipment, issue parts, and view and update job assignments creating a seamless user experience. Even if the app saves just a minute or two during a job helping staff navigate a new workspace, over time that savings will add up to thousands of work hours.
---
  Middle Tennessee State University
  Murfreesboro, TN
FM Technology: Big Power for a Small Price Tag
By Donald Turner, MSA-PA
Director – Building Services
don.turner@mtsu.edu
With facilities budgets stretched thin, every dollar saved is a dollar that can be reallocated to service delivery. The right technology can help. However, that technology cannot cost more than the resources it saves. About five years ago, MTSU's Facilities Services Department was seeking software to help identify areas where resources could be saved. Research showed that MS PowerBI provided unique opportunities to solve MTSU's work order data mining needs at a bargain price.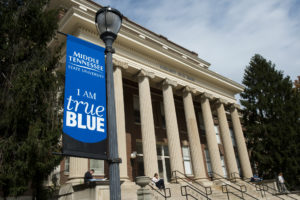 MTSU uses Main Saver as our primary work order software, and PowerBI uses the work order data collected in Main Saver to create customized reports. At just $12.95 per-year per-authorized-user, PowerBI provides the framework to create thousands of customized reports to meet a variety of needs of the data's consumers. An authorized user is any person given direct access to PowerBI by their organization. For less than $2,000 per year you can provide user access to more than 150 individuals.
PowerBI can be set up to import all the data from an organization's work order software. A computer software technician's services is needed to set up PowerBI to display the data according to the user's preferences. The user might want to see the work orders or projects arranged according to the building, originator, origination date, number of days the work order has been open, total cost of the work order, total in-house workhours consumed by the work order, or in hundreds of other ways. Additional fields can be added to the screen for notes, tracking comments, work order status, to whom the work order was assigned or other desired metrics. The app can generate a printable report directly from PowerBI by exporting the data display to an Excel spreadsheet.
---
  Montclair State University
  Montclair, NJ
Full steam ahead! And I am out of steam…
By Rajendra Shah, P.E., MBA, CHC, BSME, CHFM, FASHE
Director of Mechanical Services
shahr@montclair.edu
Each phrase explains energy, either plenty or hardly any. Many commercial facilities use steam as an inexpensive medium to create air temperature comfort for humans and lab animals, for cooking, and for pot washers. Steam is also being used to sterilize surgery supply and to heat up domestic hot water for sinks, showers, and cooking in some campus commercial kitchens.
Power plant steam generators, commonly known as boilers, heat water above the boiling point (212°F) to a gas form of water. Steam is generated at different temperatures and pressures (low, medium, high, wet, dry, superheated) for specific usage. Steam generation has to meet stringent local, state, national, and international codes and standards.
The pressure of the steam, as in a pressure cooker in the kitchen, gives energy to operate chillers to produce chilled water for summer cooling or run a generator to produce electricity. There are two types of boilers, fire tube boiler and water tube boilers. Once the steam has given up the heat and pressure, it cools down to a liquid form, called condensate. Condensate is pumped back to the boiler for the regeneration of steam. Loss of condensation or steam is compensated by "make up" water at the boiler.
The circle of water's life in a power plant is water, steam, condensate, and back to the beginning.
Wish your day is full steam ahead!
---
  South Dakota State University
  Brookings, SD
Missing Packages = Lost Time
By Jennifer Kindt
Director, Facilities Business Operations
jennifer.kindt@sdstate.edu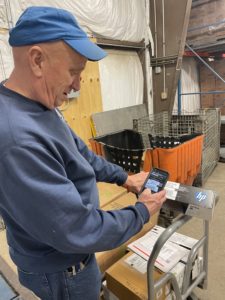 As with many universities, when the pandemic hit, we were forced to make changes to our operations. One of the changes SDSU made was to centralize our campus shipping and receiving. Prior to the pandemic, many packages were being delivered directly by couriers to the department offices across our campus. Not only was this a security concern but it was highly inefficient when our staff were also out delivering mail. With fewer staff on campus monitoring the shared mailrooms during the pandemic, the issue of missing packages was amplified. Our mail center team was spending hours tracking missing packages with little information about the package once it was dropped off.
Our solution to this tracking issue was QTrak, an easy-to-use app compatible with our existing mobile devices. QR codes are used to identify locations and bar codes are used to identify packages for routing to their destination. We take pictures and gain signatures for proof. Not only do we use QTrak for tracking and searching packages, we use it to track assets moving between departments, such as sending a computer to IT for repairs. This app has paid for itself in no time at all!
---
  Truckee Meadows Community College
  Reno, NV
Disinfection for Safety and Sustainability
By Dr. Ayodele Akinola
Executive Director, Facilities Design, Construction, Operation,
Capital Planning & Auxiliary Service
aakinola@tmcc.edu
Truckee Meadows Community College is committed to environmental sustainably from architecture to infrastructure. At TMCC, we contribute to the responsible management of a healthy environment. Aspects of our sustainability initiatives are practical, with visible impacts and environmental relationships. Our sustainability efforts are delivered through the commitment to reduce greenhouse gas emissions. The commitments are crucial to the achievement of global climate goals in the mitigation of climate change. They are deployed through various strategies that focus on practices, partnerships, and initiatives to confront the 21st century climate challenges. These strategies are holistic and collaborative, yet measurable, giving many benefits to students and the entire community.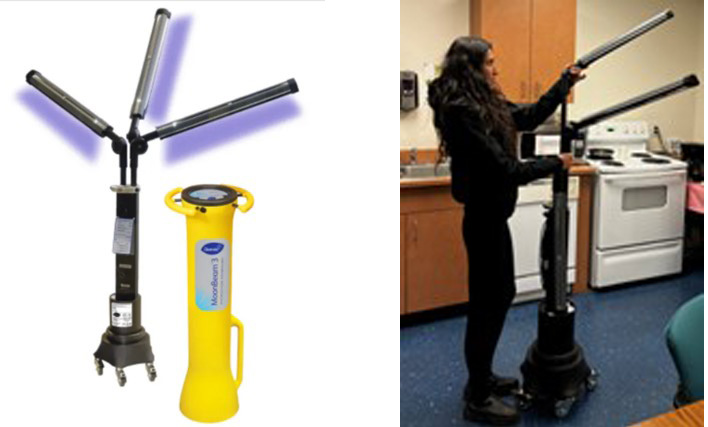 The latest technology in action at the custodial department is the Moonbeam Ultra Violet – C (UVC) disinfection machine. The Moonbeam UVC disinfection solution optimizes the ultraviolet C light for fast, non-toxic, effective, reliable, and responsible disinfection in classrooms, offices, common areas, and touch points. This is disinfection with light, reducing the workforce exertion associated with manual cleaning, wiping with toxic chemicals, the many labor hours, and operating costs. The Moonbeam UVC disinfection solution reduces the risks of employee, faculty, or student contact with toxic cleaning chemicals. It is highly effective, cost effective, compatible with all surfaces, portable, and covers hard-to-reach areas.
---
  University of California Davis
  Davis, CA
Harvesting Light to Grow Food and Clean Energy Together
By Kat Kerlin
UC Davis News and Media Relations
kekerlin@ucdavis.edu
Scientists from UC Davis are investigating how to better harvest the sun—and its optimal light spectrum—to make agrivoltaic systems more efficient in arid agricultural regions like California. Agrivoltaics involve crops that are grown under the shade of solar panels, ideally with less water. Their study, published in Earth's Future, a journal of the American Geophysical Union, found that the red part of the light spectrum is more efficient for growing plants, while the blue part of the spectrum is better used for solar production. The study's results could help guide global interest in agrivoltaics and identify potential applications for those systems.
Said corresponding author Majdi Abou Najm, an associate professor at the Department of Land, Air and Water Resources, "Today's solar panels take all the light and try to make the best of it. But what if a new generation of photovoltaics could take the blue light for clean energy and pass the red light onto the crops where it is most efficient for photosynthesis?"
For the study, the scientists developed a photosynthesis and transpiration model to account for different light spectra. The model reproduced the response of various plants, including lettuce, basil, and strawberry, to different light spectra in controlled lab conditions. This work was further tested this past summer on tomato plants at UC Davis agricultural research fields.
---
  Gainesville, FL
LiDAR Improves Asset Location Process
By Jordan Benton
Assistant Director, Business Operations
jbenton@ufl.edu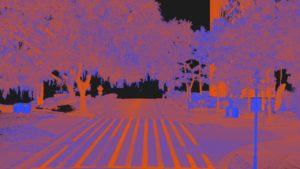 The University of Florida has employed Light Detection and Ranging (LiDAR) and unmanned aerial vehicles (UAVs) for the enhancement of geospatial information collection on campus. The initial focus of the technology implementation incorporates campus exteriors where the scans, which use a pulsed laser to measure distance, are used to document, correct, or collect visible features on campus including utility poles and manholes, roadways, and signage. This provides a more accurate placement than GPS or manual location tagging conducted through other methods. In addition to LiDAR, UAVs have been utilized to capture high-definition and thermal imagery, which can be processed to 3D geocoded images and integrated into GIS. These processes are currently being used to document construction stages for underground utility infrastructure projects to ensure the accuracy of line placement in the campus GIS system.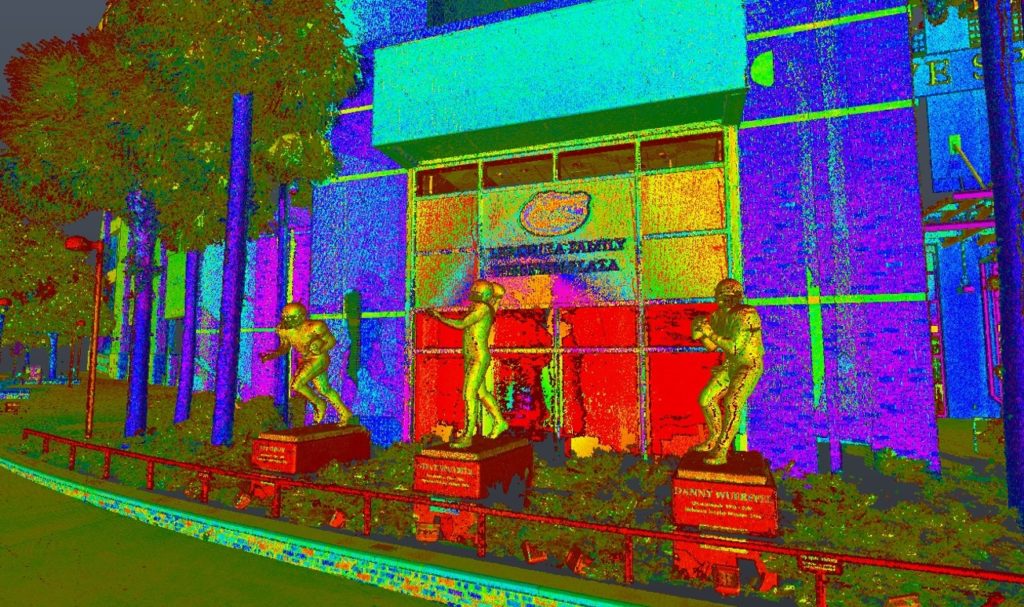 Long-term, this practice of pre-concealment scans will also be implemented using LiDAR in building interiors to provide situational awareness for what lies behind the walls. While conducting these scans, assets can be tagged in the field and linked to asset records in the computerized maintenance management system (CMMS) and building document systems that provides a comprehensive set of reference data for technicians working within the buildings.
---
  University of North Carolina Charlotte
  Charlotte, NC
Increase Efficiency the Robotic Way
By Pamela Erickson
Program Development & Education Manager
pamela.erickson@uncc.edu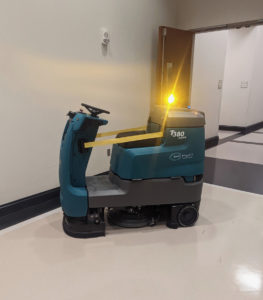 UNC Charlotte's Building Environmental Services & Recycling (BES&R) makes investments in technology that positively impact the student experience. The T380AMR, a compact robotic floor cleaning machine, was recently incorporated into our cleaning program to increase productivity, maintain a high standard of cleaning, and effectively clean narrow aisles and spaces.
UNC Charlotte began using the Tenant T380AMR robotic scrubber in August 2022. This robotic floor scrubber is specifically designed for autonomous cleaning, working safely alongside employees and customers, while independently navigating around obstacles. The T380AMR is powered by BrainOS®, an advanced artificial intelligence and robotic technology platform, from Tennant partner Brain Corporation. With a cleaning path of 20″ and a solution tank capacity of 20 gallons, the T380AMR robotic scrubber effectively scrubs an average of 35,549 s.f. in just over three hours. This scrubber allows our operators to confidently operate and maintain the T380AMR robotic floor cleaner with ease. UNC Charlotte has had great success with our robotic scrubber. This innovation has allowed for a more effective, hands-free cleaning of floors on the UNC Charlotte campus.
---
  Blacksburg, VA
New Interactive Map Prioritizes Accessible Navigation Across Campus
By Kit Hayes
Communications Specialist, Division of Information Technology
hayeskw@vt.edu
Virginia Tech launched a new interactive campus map in 2022. In addition to a cleaner layout, one of the map's most notable features is a navigation tool that helps users identify routes that utilize accessible pathways, entryways, and elevators. The tool automatically checks for pathway closures, construction sites, or other potential obstacles and routes users around those elements.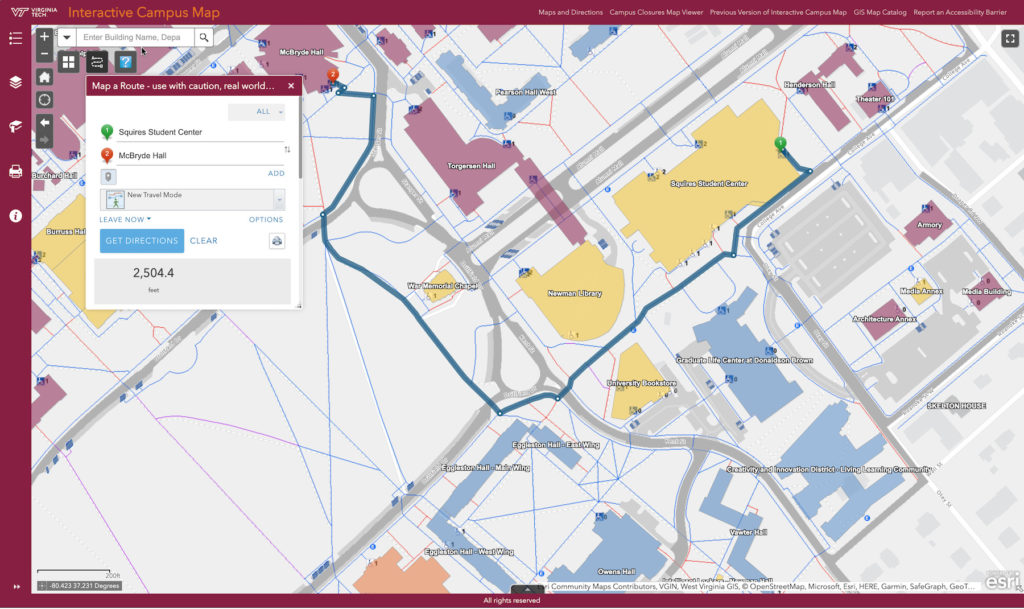 The project team also changed how the map is set up on the back end, allowing most updates to be made directly by the Division of Campus Planning, Infrastructure, and Facilities GIS team, who are among the first to become aware of closures, reported barriers, and other circumstances that affect travel across campus. The result is a map that better reflects campus conditions in real time. The new map is a result of a two-year collaboration between Virginia Tech's Division of Information Technology Enterprise GIS group; Division of Campus Planning, Infrastructure, and Facilities GIS; the Office for Equity and Accessibility; Communications & Marketing; and the Disability Alliance and Caucus.