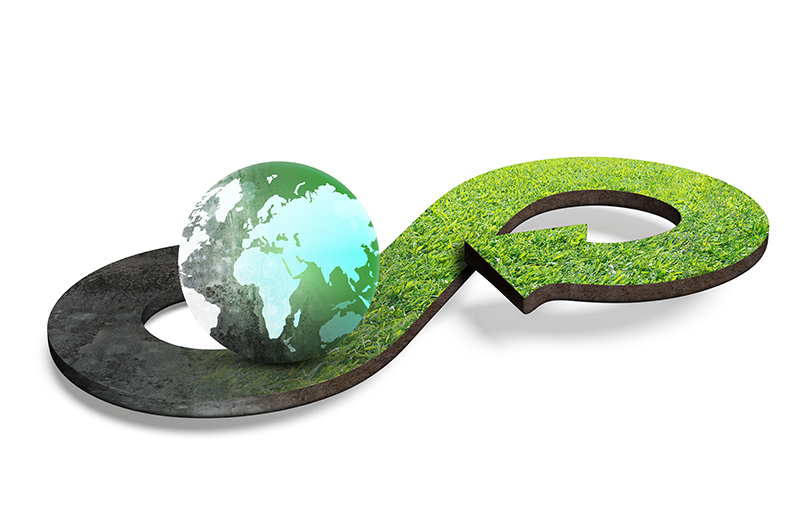 The circular economy is a new economic system that delivers better outcomes for people and the environment. Business models, products, and materials are designed to increase use and reuse, replicating the balance of the natural world, where nothing becomes waste and everything has value. A circular economy, increasingly built on renewable energy and materials, is distributed, diverse, and inclusive.
Procurement is a powerful tool that colleges and universities can use to enable the transition towards a circular economy due to their large purchasing power. In the United States, higher education expenditure exceeds $600 billion annually, with some individual institutions spending in excess of $1 billion on goods and services annually. In the United Kingdom, higher education spending exceeds £7 billion per year, with £3.5 billion of that going to capital works. This combined purchasing power gives these institutions a vital role in developing financial markets and boosting local economies.
By embedding circular economy criteria into procurement policies and contracts for goods and services, universities can help create demand for the circular economy. Circular procurement can be a major driver for innovation, as it challenges the market and industry to develop solutions that address rather than contribute to global challenges such as climate change, waste and pollution, and biodiversity loss. Though it may be some time before suppliers are fully capable of providing goods and services that embody or enable a full circular economy, signaling a desire for such solutions now is the key to ensuring that vendors move forward on their development. Such signaling, along with requests for innovative solutions, incentivizes circular economy markets and encourages the increased use, reuse, and repair of products through service-based business models.
Universities can save money by ensuring that procurement decisions within facilities and across all functions on the campus consider the entire life cycle of products, services, or projects. Circular procurement focuses on long-term opportunities and on developing a lasting relationship with the market.
Circular procurement is the process in which the higher education sector purchases products, services, or projects according to the principles of the circular economy. The procurement, tendering, and bidding processes remain the same. It is what universities seek to purchase—or choose not to purchase—that changes.
The Circular Economy Procurement Framework
To help organizations make more circular purchasing choices, the nonprofit Ellen MacArthur Foundation has published a new Circular Economy Procurement Framework. This web-based resource provides key principles and practical advice to embed circular economy concepts throughout the procurement process. It can be used to guide procurement decisions within an organization, engage suppliers in circular economy conversations, and build collaborative circular partnerships.
This framework is more than just a list of circular or sustainable clauses to insert into future contracts. The circular procurement framework outlines the standard process that any organization goes through during their procurement journey. These steps include confirming and defining the sourcing need, preparing an agreement and including all the necessary criteria, shortlisting suppliers, engaging them in clarifying conversations, going through the evaluation and selection process, and managing the suppliers' performance. There are circular intervention opportunities present in each step, and the resource outlines how these interventions can be undertaken.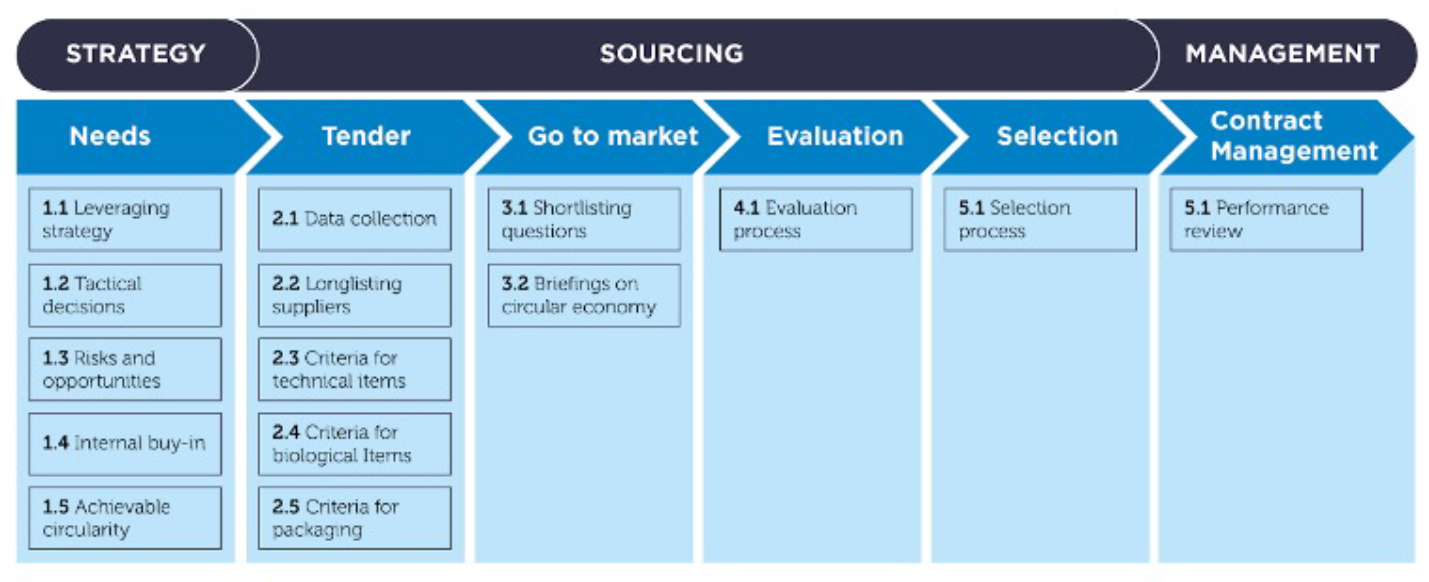 The Foundation aims to make this framework a living resource by continuously adding case studies to showcase circular procurement in action. For that purpose, the resource includes a case example submission form for organizations to share their best-case practices in circular procurement.
Examples from the Higher Education Sector
In the "Leveraging Strategy" section, the Foundation resource invites users to look for circular economy opportunities by rethinking their existing needs on a strategic level. Universities are well placed to establish a research base or testbed for new circular economy models, products, and services.
For example, the Massachusetts Institute of Technology (MIT) utilized its research capacity to rethink its waste management services, then took a fundamentally different approach to redesign its waste contract. The new contract included requirements for a campus-waste hauling partner to share the campus commitment to design out waste and grow a data-driven platform of strategies. Focusing on the data required to drive upstream decision-making was key to unlocking a new relationship with a waste hauler.
In the "Tactical Decisions" section, the resource invites users to reframe the sourcing need by looking for opportunities to reuse. For universities, reusing and repurposing existing assets can provide great cost-saving examples. One asset-exchange platform drives the visibility on inventory across all of a client's sites, enabling the transfer of idle equipment either within or outside an organization. For MIT, using this solution saved over $44,000 in its first six months on the platform in a pilot of ~800 users.
Another area in which universities can push the transition to new business models is purchasing without ownership and opting for product-as-a-service solutions. Air conditioning, lighting, furniture, and flooring are just a few examples of where this innovative new approach can be applied while delivering cost- and CO2-emission savings.
The National Union of Students (NUS) has utilized the Light as a Service lighting model in its new building in London, with lighting manufacturer Signify retaining responsibility for the performance of the lighting over a 15-year period and the NUS paying for the energy consumed through a quarterly fee.
What Can You Do Next?
To go beyond the immediate economic wins that the asset exchange or product-as-a-service model might bring, it is necessary to enhance one's understanding of the circular economy as well as sustainable procurement more generally. Here are some ways in which you can do this:
---
Reniera O'Donnell is higher education lead at the Ellen MacArthur Foundation, Cowes, Isle of Wight, UK, and Ilma Stankeviciute is the Foundation's learning programmes manager. Johanna Anderson is director of learning & member engagement with the Sustainable Purchasing Leadership Council, Portland, OR.  This is the first article for Facilities Manager for Stankeviciute and Anderson. Thanks to Debra Rowe for her assistance.