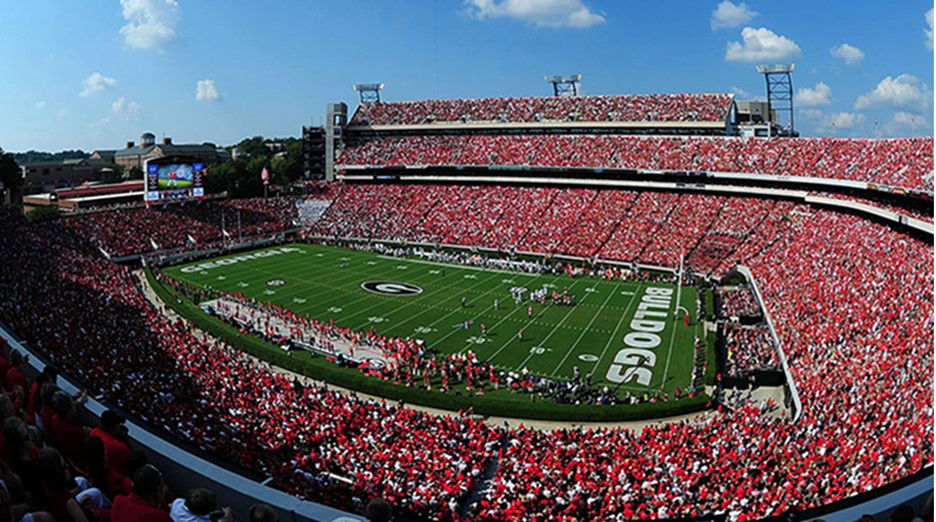 Kimberly J. Thomas, senior director of services in the Facilities Management Division (FMD), leads a team of 700 facility professionals at the University of Georgia. UGA is the flagship institution for the state and was chartered in 1785.  There are 465 campus buildings at Athens' locations, with 300 residence-instruction facilities maintained by FMD on over 760 acres, all of which are managed by Thomas' team.
To get a sense of what goes on at UGA, Thomas shared a picture from one of last year's home football "game days" on campus. Facility challenges range from waste/recycling collections throughout the campus, flooding in sanitary sewer lines, after-care in parking lots and green spaces throughout the campus, resupply of stock, and minor damages to signs and footbridges.
"So far, I haven't received any complaints," says Thomas.
Most campus buildings are locked on game days, but facilities are still responsible for animal hospitals, research areas, public dining and merchandising areas, and public restrooms in the ten open-access buildings.
Thomas and her team have a lot of ground to cover and are kept extremely busy, but we managed to squeeze in a great conversation that also covered a lot of ground – everything from how to encourage more women to pursue facilities management as a career, how retirement is impacting facilities operations, best ways to handle emergencies, and more.
Thomas got her start in the industry through a series of on-campus positions, including campus police, student affairs, and facility manager for the campus African American organization.
"It's not easy being the only female in a room with 20 folks, but women's voices are needed," she says.
With 16 years of experience at UGA and more than 30 years of industry experience, Thomas has seen many changes in the evolution of university facility management, which encompasses grounds, fleet management, recycling, building services, sustainability, emergency services, and supply chain–a major business operational concern right now
Also on Thomas' mind is the impact of retiring workers on productivity and compassion. Early retirement incentives at UGA have been taken by more than 60 professionals, and these vacancies haven't been filled. Thomas shared concerns about losing institutional knowledge, but her team has developed a system of "pass down" books and standard operating procedures to ensure consistent approaches to problem-solving and internal and external relationship communications.
"My advice? Work on your succession planning right now," she says. "Know what's going to happen after Bill leaves. Let new people step into leadership roles with confidence. Allow people to retire, enjoy themselves and their families."
Thomas would love to see more women and minorities enter the facility management field. Her team encourages mentorships, job shadowing, and experiential learning. Through organizations such as ISSA, Healthy Green Schools & Colleges, and APPA, Thomas and her team stay on top of industry trends and keep engaged with colleagues in other industries.
"Don't just sit at the table at meetings," she says. "Be an active participant to gain confidence, develop public speaking skills, and make connections."
"College campuses, custodial operations, and facility commodities sales teams have large numbers of women but fewer numbers in leadership roles. This can change with targeted recruitment, mentoring programs, and expanding Diversity-Equity-Inclusion training," she added.
With so many buildings and different types of facilities located on- and off-campus, renovations are inevitable to aging buildings. In some situations, maintenance is deferred because needed funding for renovations is not available or sufficient. Tough decisions need to be made such as when it's time to retire an HVAC system. Prioritizing is key to cover what needs to get done based on factors including risk mitigation.
In terms of campus safety and security, Thomas is fortunate to have dedicated emergency response and safety teams, statewide disaster vendors, an active tabletop exercise program and facility-wide active shooter plans.
"It's always better to over-communicate," she says.
"My advice? Work on your succession planning right now. Know what's going to happen after Bill leaves. Let new people step into leadership roles with confidence. Allow people to retire, enjoy themselves and their families."
As for the future at UGA and the facility management industry in general, the pandemic has impacted collaboration because some people are working remotely while work needs to get done on campus.
"We've had to be nimble to adapt to workplace changes due to the pandemic," she says.
Thomas is a fan of technology to better manage construction costs, improved use of state/national commodity contracts to keep costs down, and better collaboration across departments to improve space utilization. She sees Artificial Intelligence as an important technology and favors biology-based security systems such as facial recognition, voice activation, and eye sensors.
"We are using GPS delivery technology to alert campus staff/faculty when requested shipments are available for pick-up and delivery to buildings. This tracks our delivery vehicles, sends a text message to customers, and archives times/dates when delivery is completed," says Thomas.
As a believer in over communications, Thomas offered valuable insight into best strategies for communicating challenges and opportunities for facilities departments to C-Suite executives.
"It's all about understanding ROI of everyday operations, large purchases, and their impact to the campus, plus priority needs as determined by senior administration. We need to be able to 'sell' the importance of the campus facility operation as a business entity and be conscious of our impact on state public funding," she offers.
Thomas is optimistic about the future of facility management and adding a fresh perspective to problem-solving.
"I would encourage women to not be afraid to step into this profession," says Thomas. "There are people who will welcome your perspective. Your thoughts and experience will enrich this industry."
---
Jack Rubinger is content marketing writer at ARC Facilities, San Ramon, CA. He can be reached at jack.rubinger@arcfacilities.com.  This is his first article for Facilities Manager.
This article first appeared on the ARC Facilities website on October 4, 2021, and is reprinted with permission.