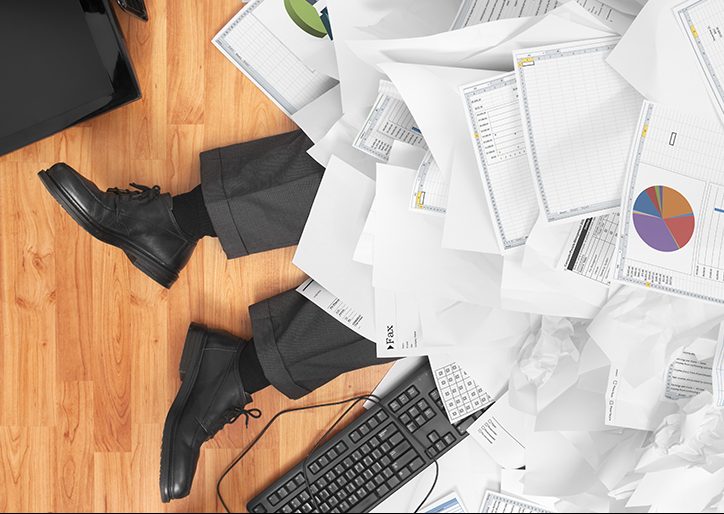 You know the list. It is a mile long and incomplete. When it comes up during your leadership meetings, you sink in your seat, nod in dismissive agreement about the hole your organization is in, and choose to allow this thought to rush out of your mind as you proceed to the next pressing challenge.
You tell yourself that someone else will find a way to manage this problem—the inaccurate dataset, the backlog that dwarfs what you have managed to collect, the three separate systems full of different information, and the unimaginable task of developing a methodology to get caught up, while adding in all the new assets that are part of your current and future construction plans.
Leaders of many facilities organizations (likely including you) are drowning in the number of assets that need to be tagged, located, and tracked in a way that provides comprehensive data to make better strategic, financial, and operational decisions.
Why Is the Progress So Slow?
We Are Chasing the "Perfect" Pipe Dream
Facilities organizations comprise fixers, perfectionists, and problem solvers. It only makes sense that when we set out to do something, the desire is to have it done the right way, the first time. Perfect is the only option.
However, when we apply that mindset to data collection on assets, we end up with a slow, painstaking process at best. The successes we see are often in small chunks and on new construction where clean, new data exists. Those brownfield facilities continue to wait for attention, and our backlog along with them.
In the meantime, the assets get older, we lose track of their location (because Bill retired), and what started off as a somewhat manageable challenge has turned into one riddled with many more issues.
We Think Our Assets Are Special
With pride, we let everyone around us know that our information and dataset are different or special because of their purpose.
For that reason, "we built our own repository" or "we made our own application" ends up being the tagline of the committee tasked with figuring this out.
The truth?
We end up cutting ourselves off from collecting a full dataset because it takes too long with all the fields we have developed without good reason.
Other units or organizations that need to use and integrate with our data cannot.
Developing useful reports is limited—we find ourselves spending time trying to organize the collection process to produce meaningful reporting because we are using tools with limited technology capabilities.
We give no more than five people responsibilities for this challenge. Maybe that's an exaggeration, but I bet that number is close.
"We Will Get to It When There Is Time"
In facilities, there is always something emergent, urgent, or of higher priority.
It becomes hard to justify setting urgent work aside to make space for taking on the completion of large, time-consuming projects—even when we know our success hinges on it.
Operations Without Good Data Are Unsuccessful in Asset Management
An Age-Old Conversation
I know many of you have been nodding your head with me as you read this. What is most troubling about this topic is that it is old news. At some point, we have all drawn up or pitched some "magnificent" plan to attack this challenge.
For some, it is hiring the consulting firm who will come in and do this over the course of several years and several million dollars, but in a post-pandemic world, this seems more impossible than ever. For others, we have set out to hire retirees, college students, and others who can walk our campuses to locate and manually tag the assets. As they work on this, we continue to add more buildings and equipment, and the light at the end of the tunnel seems to become more of a mirage.
In the past year, I have spent time with other industry professionals, operational technologists, and IT professionals looking to better understand what we are up against.
The Research Findings
"…when we set out to do something, the desire is to have it done the right way, the first time. Perfect is the only option."
When it comes down to it, the asset and inventory management challenge circles around three things:
Labor resources
How do we maintain enough labor resources to deploy into the field to tag our assets and inventory?
Data ingestion
How do we access and utilize technology capable of ingesting and enriching large amounts of information without human touch?
Reporting
How can the data we collect be converted into meaningful reports that can be updated in real time?
Answering the Challenge
Crowdsourcing
Artificial intelligence
Data-focused reporting
Crowdsource Your Labor
Crowdsourcing is the use of our immediate communities to collect and provide meaningful information.
Every day in our organizations, we employ and deploy staff with mobile devices to work in every nook and cranny of our facilities. Whether they are cleaning, repairing equipment, or walking from one job to the next, they have access to all the assets that surround us, are on our backlog, and waiting for attention. What if we used crowdsourcing as the input to asset management?
How long does it take us to put a tag on an asset? I bet you it takes no longer than one minute. Now, think about every employee doing that as a part of their day, or even after if they want to.
For the purposes of simple math, that means for 1,000 assets, it could take around 1,000 minutes, or roughly 16 hours. If you spread those 16 hours of work across a staff of 500, that is less than 5 minutes of time per employee to capture those 1,000 assets. Your time to value just increased exponentially.
Leverage Computer Vision
Artificial intelligence is a large topic, and one that we spend more time being afraid of than learning to understand. One component of artificial intelligence is the ability of computers to take in images, videos, and other files to read them, pulling information in seconds.
Adding computer vision to your asset team causes an exponential increase in data-ingestion capacity, a large decrease in human error, and the ability for your staff to use their time in more valuable ways than manually typing the information from each asset's data plate.
Leveraging Technology Saves Buildings
Focus on Clean Data, Not Your Platform
We hang our hats on phrases such as, "When we get that new CMMS [computerized maintenance management system], we'll be able to do so much more." It is time to focus on the data going into our building and work management systems, rather than how we will view it.
Having clean, accurate data is what truly drives our success. It allows us to improve processes in ways that make a difference.
Organizations must find help through technology to process and gain access to clean datasets that can be put into any system, in any format necessary.
Prioritize the Long Term Now
Even though you have been making progress with your methodologies in the short term, the pace you are moving at is ultimately more costly to the long-term sustainability of the organization you serve.
At the end of the day, you are responsible for managing your organization into the future. So it's important to realize that your budgets, resource capacity, and abilities to reinvest are much stronger when you have good information at your fingertips.
---
Sabrina Hebeler is president of OverPower, LLC, in Hastings, MI. She can be reached at sabrina.hebeler@over-power.com.