APPA Dues are Due!
APPA has sent membership renewal invoices to all APPA members for the fiscal year April 1, 2022 – March 31, 2023.
Please pay your dues promptly to keep receiving APPA's many membership benefits. For more information, contact member services at [email protected].
Thank you to the many member schools that have already renewed their memberships.
---
APPA Publishes New Operational Guidelines for Educational Facilities: Maintenance
Price: $89/APPA members; $120/nonmembers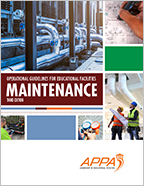 Filled with color charts, graphs, and case studies, these operational guidelines assist in creating staffing levels for your institution using APPA's Levels of Maintenance, and exposing the reader to best management practices across a wide variety of campuses.
Additionally, the book addresses a wide spectrum of issues facing the maintenance community today such as outsourcing, maintenance of buildings, customer service, Total Cost of Ownership (TCO), sustainability, staff development, turnover of work (TOW), and managing a major interruption of basic services.
This book also provides real-world management examples of the impact and importance of technological enhancements within the facilities profession. It explores the evolution and broader implications and opportunities of integrated platforms, and the utilization of data and mega-data in identifying pending concerns, and their use in driving decisions and procedures to address them.
Be sure to update your library with this new must-have publication!
---
Submit Your Own Event on the APPA Online Calendar
APPA maintains a calendar of events taking place in your region or chapter, as well as other events focused on educational facilities. You can view the Events calendar at https://www.appa.org/events/, and add events of interest to your APPA colleagues at https://www.appa.org/event-submission/.
---
APPA's CEFP Program – Your Edge in Facilities Management

The Certified Educational Facilities Professional (CEFP) credential represents the highest standards of performance and understanding in educational facilities management.
The Certified Educational Facilities Professional credential (CEFP) is a certification designed for both aspiring and existing educational facilities professionals with eight years of combined education and professional facilities management experience. Earning the CEFP demonstrates that you have a mastery of professional expertise and is a mark of superior proficiency in the core competencies for education facilities professionals.
The purpose of APPA's certification program is to:
Assure educational institutions of the quality of their facilities management professionals
Drive professional development
Establish standards for professional performance in educational facilities management
Learn more about APPA's CEFP credential.
---
Anita Dosik is APPA's associate director of publications and managing editor of Facilities Manager.  You can reach her at [email protected].