Earning your CEFP Credential is easy as 1, 2, 3!
To begin the registration process for the CEFP course and exam, you must have an account with APPA. If you need to create an account please use this link. Use the magnifying tool to search for your organization/institution.
Non-members: $1310 Members: $550 (or less) Please check and see if the region you are a member of, offers an even deeper discount to the already low member price!
Step 1
Qualify for the CEFP Course
You must have at least 8 years of combined education and experience to qualify for the CEFP course/exam but you can use any combination to qualify. Complete the short Questionnaire now!
Step 2
Register and Complete CEFP Course
Choose the Cohort Group (below) that you want to join, check to see if you are eligible for a discount, then register for the 90 day course.
Step 3
Take CEFP Exam and Earn Certification
The CEFP Examination is administered online by our internationally recognized testing platform provider, Kryterion and is included with your registration. Test results are known immediately after submitting the exam.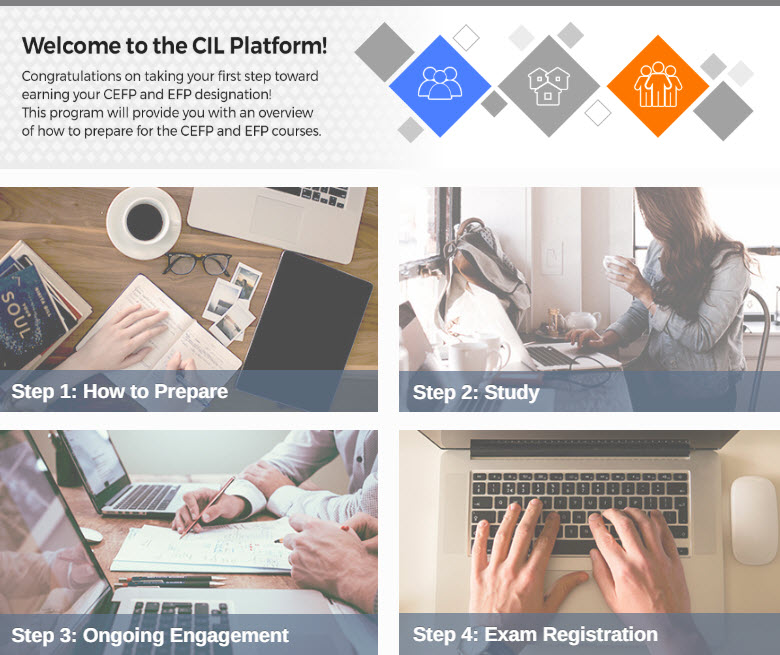 The APPA Online CEFP Certification Course is a 90-day (13 week) online course designed to help you prepare for the CEFP examination with peers across APPA's six (6) regions. Study materials provided are found in the Customized Interactive Learning Platform or CIL Platform for short.
The CIL Platform is an interactive platform with peers and a qualified CEFP facilitator. Upon enrolling in the CIL Platform, you will select a Cohort Group to join with four (4) predetermined live webinars scheduled during the 90 day course.
We realize that not everyone retains information the same way so we have developed the CIL Platform so you can customize a study plan that is right for you. Utilize the state-of-the-art online learning tools available to you 24 hours a day, 7 days a week to help you prepare for your exam.
You will have access to the study material once you enroll in the course. Ready to begin? Register Today!
Course Schedules
| | | | |
| --- | --- | --- | --- |
| Group/Study Calendar | 90-day Online Course | Testing Dates | Status |
| Group A25 | July 25, 2023 – October 22, 2023 | October 23, 2023 – November 21, 2023 | In Progress |
| Group A26 | September 19, 2023 – December 17, 2023 | December 18, 2023 – January 17, 2024 | In Progress |
| Group A27 | November 7, 2023 – February 4, 2024 | February 5, 2024 – March 5, 2024 | In Progress |
| Group A28 | January 17, 2024 – April 15, 2024 | April 16, 2024 – May 15, 2024 | Register Today! |
All webinars are 1 hour in duration.
To view the Study Calendar for any of the Cohorts above, simply click on the Cohort Group.
---
For questions or inquires:
Kelly Ostergrant
Certification Coordinator
[email protected]
Office phone: 703-542-3835
Christina Hills
Director of Credentialing and Benchmarking
[email protected]
Office phone: 703-542-3844