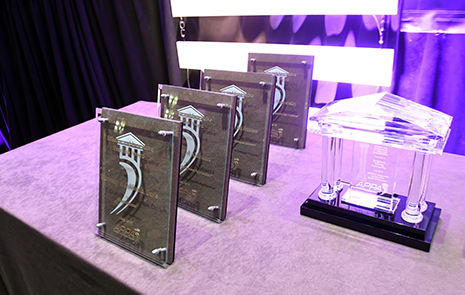 Each year, APPA recognizes individual and institutional excellence and achievement through its awards program. The APPA Awards Program was established to:
– Identify and encourage individual and institutional excellence in facilities management.
– Encourage and promote active participation in APPA's programs and services.
---
The 2023 Awards Season Is Now OPEN!
The 2023 APPA Award season, which highlights innovation and excellence across the vast educational community —is NOW OPEN! Don't miss out on the opportunity to submit the creative accomplishments of your staff, department, or institution through December 15th.
Submitting for the 2023 APPA Award season is easy as 1-2-3:

– Log into your myAPPA account from the APPA Home Page
– Click on myAPPA at the top orange menu
– Locate on the left-hand side under your myAPPA Menu Quick Links the myAwards Submissions
And submit away!

At any time during the submission process, should you require assistance, contact APPA Member Engagement Staff. Just a reminder – only members in good standing at submission and awarding are eligible.
---
Individual Awards
---
Institutional Awards
---
Congratulations to our 2022 APPA Awards Recipients!