APPA's T3 Series: APPA's Operational Guidelines for Educational Facilities
Registration Now Open!

The content and tools of APPA's trilogy, Operational Guidelines for Educational Facilities: Custodial, Maintenance, & Grounds, have been recently revised and updated. Whether you have used previous versions of the guidelines or this is your first foray into them, you won't want to miss APPA's upcoming T3 (Targeted Titles & Topics) workshop focused on improving your organization's operational performance and effectiveness.
Join us in Ft. Worth, Texas, January 10-12, 2023 for this exceptional opportunity to meet and join your colleagues to share your experience of successes and lessons learned, as well as gain valuable insights from experts on operational best practices.
Click here for more information.
---
2023 APPA Member Awards and Recognition
Each year, APPA recognizes individual and institutional excellence and achievement through its awards program. The APPA Awards Program was established to:
—Identify and encourage individual and institutional excellence in facilities management.
—Encourage and promote active participation in APPA's programs and services.
The 2023 APPA Award season is NOW OPEN! Don't miss out on the opportunity to submit the creative accomplishments of your staff, department, or institution through December 15th.
Click here for more information.
---
APPA365 APP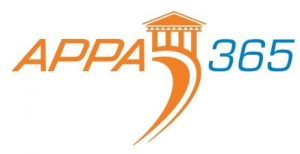 Imagine having all the answer to the issues you are facing in your back pocket. With our app, APPA365, you don't have to imagine anymore—it's here!
Share in real-time discussions
Easily reach out to other members
View the latest Job Express ads
Easily find and contact vendors
Receive timely notifications
APPA's APPA365 app is available for iPhone and Android users to download now. The ad-free app was developed in response to analysis of APPA's website usage. "Our careful analysis of what our members were looking for online led us to develop this resource," explains Lander Medlin, APPA's president & CEO. "We tracked the areas of our website that our members visited most often; given how busy facilities managers are today, we decided to put that information in an easily accessible format for them. Whether they're somewhere on campus or in a meeting in the office, APPA365 is easy to access—anytime, anywhere."
---
Thought Leaders Report 2022: From Thin Words to Thick Action: Diversity, Equity & Inclusion
The 2022 Thought Leaders Report, From Thin Words to Thick Action: Diversity, Equity & Inclusion, focuses on today's demands for truly inclusive institutions, and reminds us that diversity, equity, and inclusion (DEI) are rooted in the deepest-held values of higher education: excellence, integrity, respect, responsibility, and community. Yes, DEI benefits the institution by increasing innovation, boosting productivity, and preparing students for a global economy. A classroom of students from di¬verse backgrounds with a variety of life experiences is an electric environment, snapping with energy and ideas. But DEI isn't a priority because someone ran a cost-benefit analysis and diversity came out with a higher ROI. We value diversity, equity, and inclusion because it is the right thing to do.
Available free from the APPA Bookstore to APPA members; nonmember price is $99.00.
---
Renewing Your Certified Educational Facilities Professional (CEFP) Credential

Are you among APPA's CEFP holders? As a CEFP recipient you have taken the first important step of demonstrating your competence in your field and have earned the right to use our trademarked credential, CEFP.  The CEFP credential is not just four letters after your name; it is a recognized sign of professional excellence. Now, let's make sure you keep your credentials up to date!
How do I Keep Current?
The certified educational facilities professional (CEFP) credential must be maintained by earning a combination of 120 points from four (4) categories: Experience, Educational, Leadership, and Research/Publications, with a minimum of 40 points being earned from the Educational category. One point is equivalent to one single contact hour and can be tracked in your Recertification account found on the APPA website.
Those Points Add Up
You will be amazed at how fast the points add up!
During your four-year cycle, you earn 10 Employment/Experience points for every year you are employed full-time at a facilities management organization (10 points × 4 years), so that is 40 points total.
Attending APPA programs such as the Leadership Academy, the Institute for Facilities Management, webinars, and Supervisor's Toolkit also count towards recertification.
Serving on a committee or board with APPA, an APPA Region, State/Chapter or locally on your own campus will help earn points under Leadership.
Authoring articles related to facilities management or participating in the Facilities Performance Indicators (FPI) will help earn points under Research/Publications.
You can also earn points for attending annual on-campus safety meetings, leadership or ethics training, hazards and safety training, staff development, or anything that would correlate with the APPA Body of Knowledge (BOK.)
Still need additional points?  You can watch archived APPA Webinars. Recruiting fellow colleagues to take the CEFP Course can also give you points, so spread the word about the CEFP to earn points.
Recertifying is easy, but it takes time and some effort on your part. APPA sends out email reminders often, so if your myAPPA profile is not current, update it today! A list of qualifying activities has been outlined and can be found on the APPA website under Qualifying Activities.
For more information on recertification, visit our website. You can also email our credentialing coordinator, Kelly Ostergrant, at [email protected], or call her at 615-294-5780.
---
Become a CFaR Researcher

APPA's Center for Facilities Research (CFaR) was established in 2002 to organize and consolidate research in educational facilities management. The mission of CFaR is to advance the body of knowledge of facilities management through research, discovery, and innovation.
We invite educational facilities professionals, students, faculty researchers, and others to consider submitting a research idea for CFaR. Some of the benefits and opportunities include:
Survey access to APPA's membership
Guidance and mentoring assistance
Peer-review assessment of final report
Publication of report and summary article
Opportunity to present findings at an APPA Virtual Summit or Facilities Symposium
Learn more about becoming a CFaR researcher.
---

Find Unique Holiday Gifts at the APPA Lands' End Online Store

Show the world you are part of the educational facilities world's top professional organization and share the sentiment with your coworkers and friends—in time for the holidays!
At the APPA Lands' End store, you can purchase high-quality apparel and other gear of your choice and have it personalized with the APPA logo. All personalized products are backed 100 percent by the Lands' End product guarantee.
Visit the store today to fulfill your APPA gear needs, and those of your staff!
---
Anita Dosik is APPA's associate director of publications and managing editor of Facilities Manager.  You can reach her at [email protected].