APPA and The University of Texas at San Antonio Partnering to Create Unique Learning Opportunities for Facilities Professionals
In a unique collaboration, APPA has partnered with The University of Texas at San Antonio (UTSA) to offer its educational facilities management certification to students in the university's facilities management academic program.
UTSA's Facilities Management online graduate certificate program consists of five courses designed to provide students the skills and knowledge they need in management, operations and leadership to become a fully qualified facilities manager. While enrolled in the program, UTSA students will have access to APPA's Certified Educational Facilities Professional (CEFP) credential at a significant discount. Reciprocally, APPA members enrolled in the graduate facility management program at UTSA will receive a tuition discount.

"Today, there is a sharper focus on the safety and sustainability of the places where people live, work and learn," says Lander Medlin, APPA Executive Vice President. "The professional- development partnership between APPA and UTSA ensures that those working in this growing field will be equipped to meet today's challenges and embrace tomorrow's opportunities."
Like the UTSA program, APPA's recognized CEFP credential can be completed online, and thus, there are no additional travel costs or time away from the office. Participants have 24/7 access to APPA's customized learning portal with a variety of self-directed resources. In addition, live webinars with expert educational facilities-management facilitators provide helpful and relevant information that can be put to use on a campus right away.
For students who want to take the academic credentials to the next level, UTSA is introducing a Master of Science degree in Facilities Management beginning in the fall of 2021, pending SACSCOC approval. Both the certificate and the degree are granted through UTSA's College of Architecture, Construction and Planning.
"We at UTSA are very excited to be partnering with APPA to offer a high-quality graduate education with 'stackable' certificates and degrees, alongside APPA's delivery of their CEFP credential to qualified students," says Dave Riker, Coordinator of UTSA's Online Facility Management Program. "Graduates of UTSA's graduate facilities management program who also earn APPA's CEFP credential will be well equipped to take on the many challenges facing today's facilities management community."
Complete information about UTSA's graduate certificate can be found at https://online.utsa.edu/facilities . Those interested in learning more about APPA's CEFP credential can visit us at www.appa.org/cefp-credential/.
---
Take Full Advantage of the New APPA365 APP!
After going live with the new APPA365 app in early October, we've had great positive response and usage. Here are just two of the features you'll find useful for every day use!
— In addition to providing easy access to information from the website, the app includes brand-new features like APPAexch. This feature allows for peer-to-peer sharing of information in the format of a quick-response discussion list.  A member can post a question, and people can immediately respond via the app—at their time and place of choice.
— Another feature that is sure to be frequently used is the Buyers Guide. When facilities managers need information on potential vendors, the app puts them in control for finding the services they need.
APPA365 is available as a free download through the Apple App Store and the Google Play Store.
---
Operational Guidelines for Educational Facilities: Grounds – Now Available in Print Format!
The print version of the most recently updated APPA Operational Guidelines: Grounds is now available in print format!  Chock-full of updated information on grounds management, it contains current and vital information on staffing, service levels, and technological advances, while emphasizing sustainability and using real-world examples you can use at YOUR facility!
Anyone who purchased the e-book format will receive information on how to order the print version at a discounted rate.
Be sure to purchase your copy soon!
---
It's Time to Show Off Your Campus and Staff!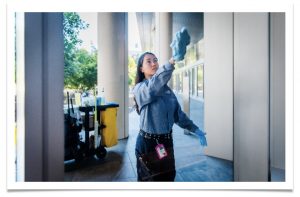 Each month, APPA has the honor and pleasure of choosing four images of our member institutions to highlight on the APPA homepage.  We invite you to send one or more photos that APPA would be free to use on our website. We're looking for a variety of images—a new building completed or under construction; facilities staff at work; students and faculty in COVID-designed spaces; and traditional campus beauty shots. Please help us increase and enhance the photos we can share with your fellow APPA members.
Here are details on how to submit your images:
Horizontal format whenever possible (most useful for the homepage, as well as other landing pages.)
As high a quality and resolution as possible. If you aren't sure if your image will work, please send it as-is and we will do our best to use it.
Include the institution's name, and a description of the image.
Include wording in the email stating that APPA has permission to use the image (and credit information if it must be given.)
Simply email your image(s) as an attachment to Anita Dosik or contact her with any questions.
We compile and review images on an ongoing basis. Thank you in advance for your submissions!
---
Thought Leaders Report 2020: Preparing for the Student of 2024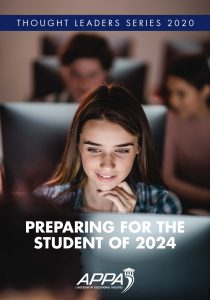 APPA's 2020 Thought Leaders report, Preparing for the Student of 2024, addresses how students entering higher education in the next decade will be the most diverse incoming class in higher education history—and the vanguard of an increasingly diverse generation.
These students will have been raised with technology from birth and will consider online interaction as natural as breathing. They will be alert to the importance of mental health and wellness, both in themselves and in their peers. They will have low tolerance for slow administrative processes. They will expect their professors to teach in engaging, interactive ways and make smart use of technology. They will expect a lot of themselves. They will expect a lot of their institutions. They will know what they are paying for their education, and they will demand every penny's worth. Is today's campus ready for these students? The answer: Yes—and no.
The report is a must-have for educational facilities professionals at every level, on every campus. Available free from the APPA Bookstore to APPA members; nonmember price is $99.
---
Renewing Your CEFP Credential
By Kelly Ostergrant
APPA currently has 839 current and active certified educational facilities profession (CEFP) holders. Are you among this prestigious list of members?
Once you earn your CEFP, you need to stay abreast of current trends and technological advancements, best practices, and methods to reduce costs and improve operations on campus. As a CEFP recipient, you have taken the first important step of demonstrating your competence in your field and have earned the right to use our trademarked acronym, CEFP, with your name. "CEFP" is not just four letters after your name; it is a recognized sign of professional excellence and of your character.
Keep Your myAPPA Profile Updated
Recertifying is easy, but it takes time and some effort on your part. APPA sends out email reminders often, so if your myAPPA profile is not current, update it today! A list of qualifying activities has been outlined and can be found on the APPA website under Qualifying Activities.
The CEFP credential must be maintained by earning a combination of 120 points from four (4) categories: Experience, Educational, Leadership, and Research/Publications, with a minimum of 40 points being earned from the Educational category. One point is equivalent to one single contact hour and can be tracked in your Recertification account found on the APPA website.
Do the Math
You will be amazed at how fast the points add up! During your four-year cycle, you earn 10 points for every year you are employed full-time for an FM organization (10 points × 4 years), so that is 40 points total. Attending the APPA conference each year earns you 16 points per year (16 points × 4 years), so that earns you 64 points, bringing your total up to 104; and if you attend your regional conference earning you 15 points per year (15 points × 4 years), that earns you 60 more points, bringing your total to 164 points.
Maybe you went to a few conferences before COVID, but now you can't travel. APPA still offers the same points for their virtual conferences as they did for their in-person conferences. What a terrific way to keep earning points with less travel! Don't forget about the online webinars and Town Halls! CEFP points are earned for both live and archived viewings! 
You can also earn points for annual on-campus safety meetings, leadership or ethics training, hazards and safety training, staff development, or anything that would correlate with the APPA Body of Knowledge (BOK.)
For more information on recertification, visit our website at appa.org/recertification. You can also email our credentialing coordinator, Kelly Ostergrant, at kelly@appa.org, or call her at 703-542-3835.
---
Find Unique Holiday Gifts at the APPA Lands' End Online Store

 
Show the world you are part of the educational facilities world's top professional organization and share the sentiment with your coworkers and friends—in time for the holidays!
At the APPA Lands' End store, you can purchase high-quality apparel and other gear of your choice and have it personalized with the APPA logo. All personalized products are backed 100% by the Lands' End product guarantee.
Visit the store today to fulfill your APPA gear needs, and those of your staff!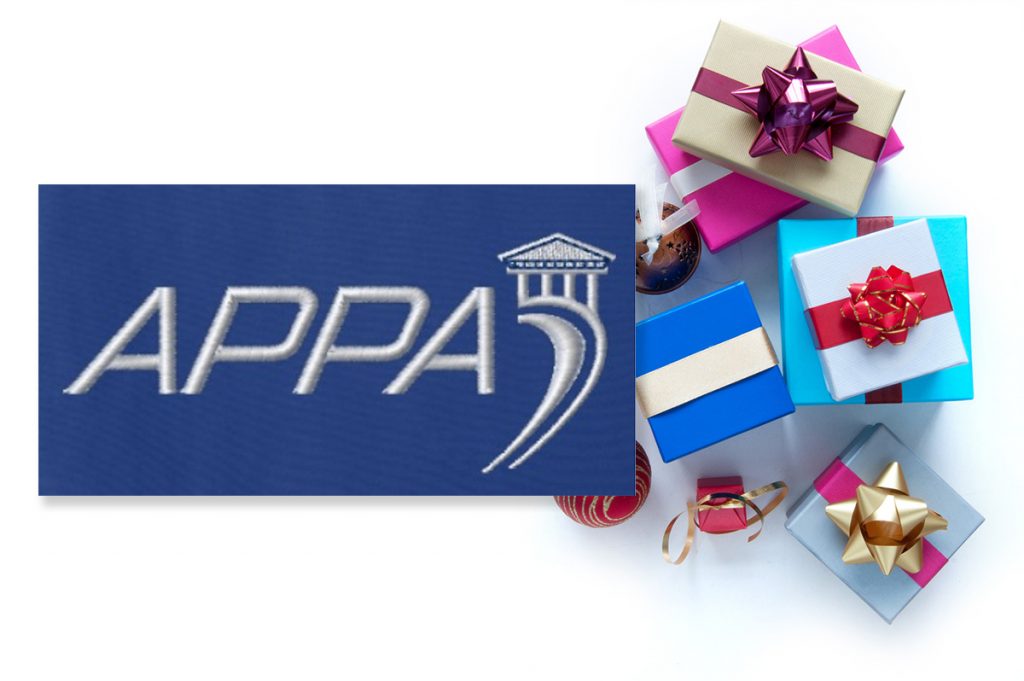 ---
Anita Dosik is APPA's associate director of publications and managing editor of Facilities Manager.  She can be reached at anita@appa.org.