APPA's YouTube Channel Presents Free Webinar Recordings and More
APPA's YouTube channel, APPALeadership, is the comprehensive archive for all past webinar, Town Hall, annual conference, Body of Knowledge, and other content presentations of value to facilities professionals at colleges, universities, K-12s (public and independent), and other educational organizations.
For instance, you can find recent webinars on implementing an FM plan, trends in the 2002 State of Higher Education report, and highlights of the recently published Operational Guidelines: Maintenance resource.
Click on the title below to view a sampling of recently posted recordings:
Energy Management System That Pays for Itself 5/18/2022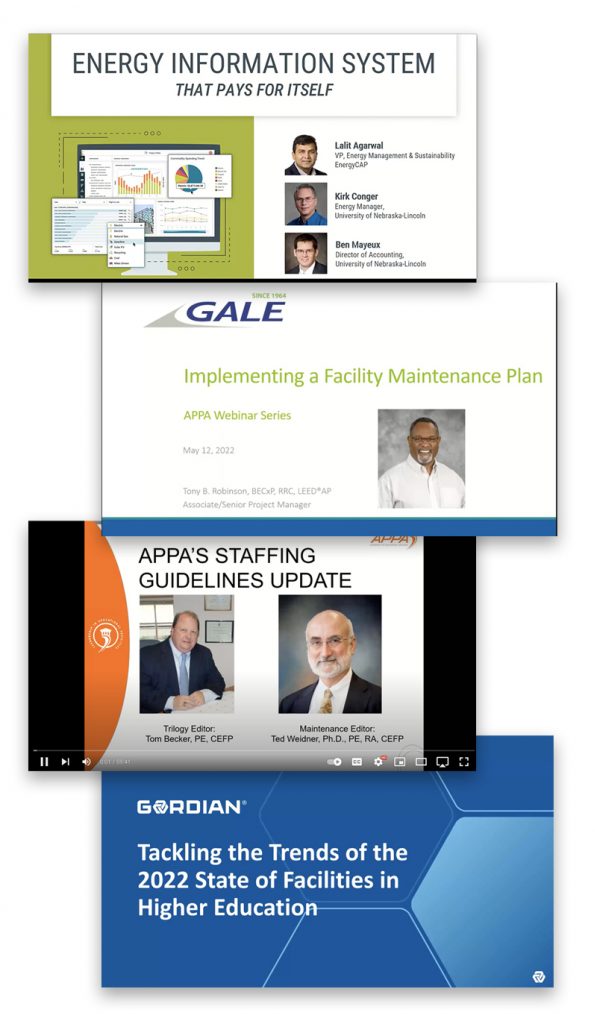 Presenters:
Lalit Agarwal, EnergyCAP
Kirk Conger, University of Nebraska Lincoln
Ben Mayeux, University of Nebraska Lincoln
Implementing a Facilities Maintenance Plan 5/12/2022
Presenter:
Tony Robinson, Gale Associates
APPA Maintenance Guideline – What New in the Latest Edition 3/24/2022
Presenters:
Tom Becker, Thomas Jefferson University (retired)
Ted Weidner, Purdue University
Tackling the Trends of the 2022 State of Facilities in Higher Education 3/23/2022
Presenters:
Marion Bracy, Xavier University of Louisiana
Lander Medlin, APPA
Cindy Torstveit, University of Wisconsin Madison
Pete Zuraw, Gordian
APPA's BOK Videos (26 entries)
Be sure to visit the APPALeadership channel on YouTube and subscribe today.
View and register for upcoming APPA webinars.
---
Coming in July/August 2022
Governance Update from Board Chair Dave Irvin
FM and DEI
Considering Color in the Built Environment
---
Steve Glazner is APPA's director of knowledge management and editor of Facilities Manager.  You can reach him at [email protected].