Challenges Finding, Keeping Skilled Labor Resonate in APPA Survey
Staffing shortages and mounting retirements among skilled trades professionals are top challenges facing educational facilities departments in 2024, according to preliminary findings of a new survey of APPA members. The survey, which launched October 20 and is still fielding responses, suggests a long road ahead resolving the staffing crisis facing the field. Exacerbating the challenges are both diminished financial resources and "the double whammy of increasing costs and increasing demand for services," as one respondent put it.
Read More
---
Medlin: "Sense of Belonging" Critical for Addressing Recruitment and Retention Crisis
Difficulties recruiting and retaining facilities management professionals are barely the tip of the iceberg of challenges facing higher education these days. But solutions do exist, according to APPA President and CEO Lander Medlin, and they don't necessarily cost a lot of money. Medlin outlined recommendations—such as providing an appreciative and welcoming culture, a sense of belonging, and professional development opportunities—in early-October during a panel discussion at the CUPA-HR Annual Conference and Expo in New Orleans.
Read More
---
APPA's 2023 Awards Recipients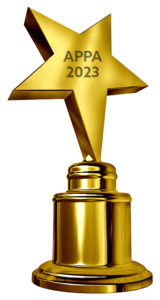 Each year, APPA recognizes individual and institutional excellence and achievement through its awards program. The APPA Awards Program was established to identify and encourage individual and institutional excellence in facilities management and encourage and promote active participation in APPA's programs and services.
Congratulations to our 2023 APPA Awards Recipients, whose efforts and accomplishments have been recognized by these awards.
Individual
Pacesetter Award
Priti Bhatia, Georgia Institute of Technology
Phillip Melnick, Pennsylvania State University
Angie Mitchell, Southeast Missouri State University
Institutional
Award for Excellence in Facilities Management
Effective and Innovative Practices Award
The California State University – Women in Facilities
Sustainability Innovation Award
University of California, Davis – Small Workplace Automation & Remote Monitoring Program (SWARM)
Look for details on the awards, winners, and next year's award cycle in the January/February 2024 issue of Facilities Manager magazine.
---
Registration Opens for 2024 APPA Professional Development Events in New Orleans, Nashville
APPA will offer an array of educational and networking opportunities to facilities professionals in 2024.
The APPA 2024 Spring Conference in Nashville, April 15–17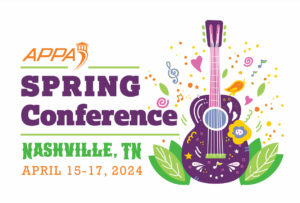 The conference will focus on the biggest issues facing educational institutions. In two immersive days of thought leadership, you'll learn how your colleagues from around the world are addressing challenges and opportunities alike, from emerging realms of crisis management to new strategies for recruiting, retaining, and training your staff.
Institute for Facilities Management
January 8-11, 2024
New Orleans Marriott
New Orleans, LA
Register now
Leadership Academy
January 9-11, 2024
New Orleans, LA
Register now
---
Share Your Best Practices in Facilities Manager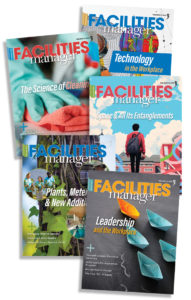 What's the good news from your campus? Facilities Manager welcomes recent case studies and emerging best practices from facilities management professionals at APPA-member institutions in 2024. The magazine's 2024 editorial calendar outlines issue themes, submission deadlines, and more information related to practical and big-picture perspectives on the most pressing issues and challenges advancing and impacting your work.
Publishing in Facilities Manager is a great way to share engaging, behind-the-scenes accounts of why your work matters and how you get it done. Each issue features a range of voices, perspectives, and topics related to best practices in facilities management.
See the 2024 Editorial Calendar
---
Over 60 Professionals Earn CEFP Credential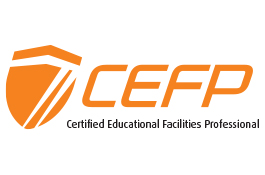 APPA congratulates the 62 facilities professionals who earned their APPA CEFP (the Certified Educational Facilities Professional credential) during the period from June 26, 2023 – September 30, 2023. The latest class includes professionals from universities and other institutions in nearly two dozen U.S. states as well as Africa, Canada, and China.
APPA's Certified Educational Facilities Professional (CEFP) credential is an advanced level of certification that represents a mastery of professional expertise and is a mark of superior proficiency in the core competencies for education facilities professionals. This designation demonstrates superior proficiency, professional strength, and unfailing dedication in the field of educational facilities. The CEFP represents the foundational knowledge, talent, and skills of facilities professionals by highlighting accountability and emphasizing the importance of the profession as a whole and also at the institutional level.
Get more information on earning or renewing your CEFP credential. Or contact Kelly Ostergrant, APPA's credentialing coordinator, at [email protected] or 615-294-5780.
---
Get Your Copies of APPA's Updated Operational Guidelines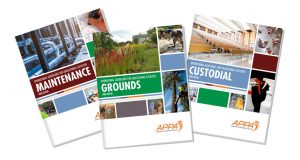 Filled with updated color charts, graphs, and case studies, the updated and revised edition of APPA's three Operational Guidelines books (custodial, maintenance, and grounds) are now available.
APPA's popular operational guidelines books help facilities professionals and departments establish comprehensive staffing levels and learn about best management practices across a wide variety of campuses. Available in both print and digital formats, the guidelines are $89 for APPA members, and $120 for non-members. They are also available as a set called the Trilogy at the discounted price of $217 for APPA members and $281 for non-members. Visit the APPA Bookstore for more information and to order.
---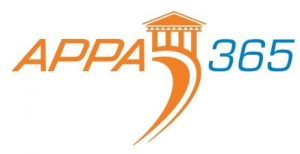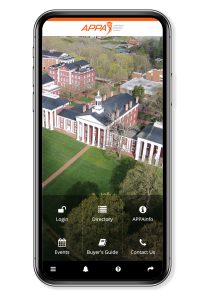 The APPA365 app provides you with the answers you need from the convenience of your phone. Use the app to connect with other members and share in real-time discussions, view the latest Job Express ads, find and contact vendors, and much more.
Get APPA 365 from the App Store or Google Play.
---
Thought Leaders Report 2023: Leadership Reimagined: Navigating the Higher Education Workplace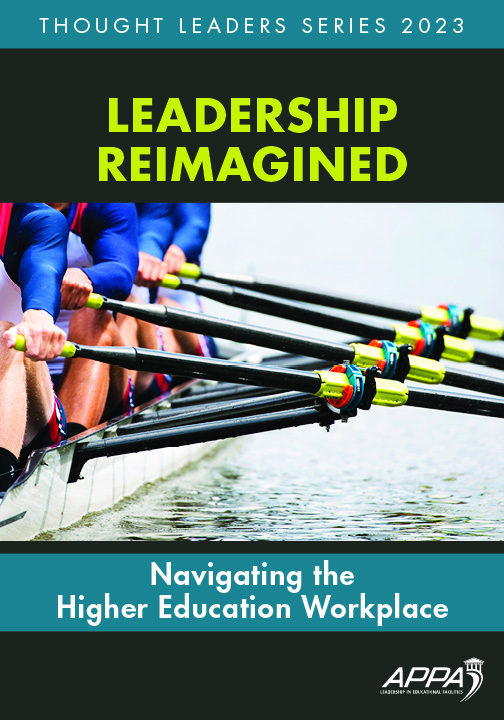 APPA's 2023 Thought Leaders Report, Leadership Reimagined: Navigating the Higher Education Workplace, focuses on the workforce. APPA recognizes that workforce issues are incredibly challenging and understands that an engaged and empowered workforce can solve overwhelming campus problems. A major theme throughout this report is the significance of leadership that now requires a shift in mindset. To develop a clear picture of the situation confronting leaders at colleges and universities, the Thought Leaders Report is based on a SWOT analysis of the strengths, weaknesses, opportunities, and threats facing campus leaders.
Available free from the APPA Bookstore.
---
Find Unique Holiday Gifts at the APPA Lands' End Online Store

Show the world you are part of the educational facilities world's top professional organization and share the sentiment with your coworkers and friends—in time for the holidays!
At the APPA Lands' End store, you can purchase high-quality apparel and other gear of your choice and have it personalized with the APPA logo. All personalized products are backed 100 percent by the Lands' End product guarantee.
Visit the store today to fulfill your APPA gear needs, and those of your staff!

---
Anita Dosik is APPA's associate director of publications and managing editor of Facilities Manager.  You can reach her at [email protected].