APPA U Returns in-Person—Registration Now Open!
September 11-15, 2022
Join your colleagues for an in-person APPA U this coming September 11-15, 2022, at the OMNI Providence and Rhode Island Convention Center in Providence, Rhode Island!
Institute for Facilities Management
September 11-15, 2022
Leadership Academy
September 13-15, 2022
---
Upcoming Targeted Titles & Topics Series
Critical Issues Facing Senior Facilities Officers
 July 27-29, 2022
The Hilton Chicago O'Hare Airport Hotel
Registration Available
Programming will focus on a) skills, reskilling, and recruitment of the labor force; b) educational facilities budget/financial frameworks; c) sustainability/climate change and its impact on energy & utility costs & delivery systems; and d) the criticality of the facilities organization's focus on diversity, equity, and inclusion (DEI), all with enhanced experience exchange
Space & All Its Entanglements
Week of October 15th
Charlotte, NC Metro Area
Registration Opens August 29, 2022
Centered on such topics as physical and economic constraints; issues of remote/hybrid delivery systems; utilization of technologies; benchmarking needs to revenue drivers; assessing physical requirements; and more.
---

APPA 2022 Award Winners
APPA is pleased to announce our 2022 award winners:
2022 APPA Fellow – Glen Haubold, New Mexico State University (emeritus)

2022 Meritorious Service – David Handwork, CEFP, United Commercial Energy Partners, LLC
2022 Pacesetter – Sheri Vucci, CEFP, Smithsonian Institution
2022 Rex Dillow Award for Outstanding Article –
Cameron Christensen, CEFP, The Juilliard School
Ventilation as a Tool to Protect Against COVID-19
2022 Sustainability Innovation –
Portland State University Green Revolving Fund
Wayne State University Compost Pilot
2022 Effective & Innovative Practices –
Florida State University Campus Master Plan
The Juilliard School Ventilation Study and Improvements Project
University of Alabama Emergency Response Project Team
University of California, San Francisco Campus Custodial Services
University of Virginia Partners In Promoting Mindful Driving
Nominations and applications are now being taken for APPA's 2023 institutional and individual awards:
Individual Awards
• Douglas K. Christensen Distinguished Leadership and Ethics Award
• APPA Fellow
• Pacesetter Award
• Meritorious Service Award
• President's Award
• Unsung Heroes Award
• Rex Dillow Award for Outstanding Article
• Business Partner Award
Institutional Awards
• Award for Excellence in Facilities Management
• Effective and Innovative Practices
• Sustainability Innovation Award
Complete a submission by logging into your myAPPA account. Click on the myAPPA link at the top of the page. In the left column of options, you'll see myAwards Submissions.
---
APPA365 APP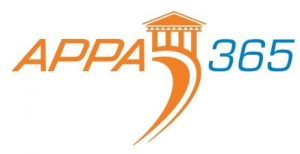 Imagine having all the answer to the issues you are facing in your back pocket. With our app, APPA365, you don't have to imagine anymore—it's here!
The app has many features including APPAexch, offering a searchable compendium of peer-to-peer sharing of expertise in the format of a quick-response discussion list. You can easily post questions and get immediate responses from your colleagues and members of APPA's growing community.
Other features include the searchable membership directory, access to Job Express and Facilities Manager, timely notifications, and a Buyer's Guide of products and services from APPA's Business Partner members.
Download the app today at the Apple app store or the Google Play Store.
---
Check Out APPA's Webinar Schedule for 2022
APPA's popular webinar series continues in 2022 with scheduled free educational facilities webinars on a near-weekly basis throughout the year.
---
Visit the APPA Lands' End Store!

Show everyone you are part of the educational facilities world's top professional organization. At the APPA Lands' End store, you can purchase high-quality apparel and other gear of your choice and have it personalized with the APPA logo. All personalized products are backed 100% by the Lands' End product guarantee.
Visit https://business.landsend.com/store/appa today to fulfill your APPA gear needs—and those of your staff—at the APPA Lands' End store.
---
Anita Dosik is APPA's associate director of publications and managing editor of Facilities Manager.  You can reach her at [email protected].