How many questions are on the CEFP exam?
The exam is administered completely online and consists of 110 multiple-choice questions including questions from up to ten (10) case studies (also multiple choice). Unanswered questions are considered incorrect.
How much time does a person have to complete the CEFP exam?
All test candidates are given four (4) hours to complete the exam.
What if I need to cancel or reschedule my exam?
You MUST provide at least 72 hours notice when cancelling or rescheduling your exam for any reason. You can log in to your account and reschedule your exam outside of the the 72 hour window at https://webassessor.com/APPA.
Log in and chat with a Kryterion employee to cancel or ask questions about your exam at www.kryterion.com by opening a chat box 24/7.
**Please note that you will receive an invoice for $150 if you do not give 72 hours notice.
What do you need to score in order to pass the CEFP exam?
There is not a "passing score" for the exams but there is what's called a "Cut Score". Our credentialing exams are scored using a propriety and complex rating system called the Angoff method. The pass/fail designation on our exam comes from the assessed cut score determined by our subject matter experts (SMEs). Each question is weighted differently and assigned a number based on its level of minimal competency required to correctly answer each question. Keep in mind that there are three exams that are available for the CEFP and each exam is assigned different questions. The cut score for the CEFP is a 61.
I attempted the course but never tested. Can I come back and retake the course and exam?
If you have not used your FREE Second Chance Option, you can come back FREE of charge by using this option within 30 days of the last day of your Cohort Group. We will consider your first attempt at the course as your first attempt at the exam and your FREE Second Chance Option will be used when you return to the course. If you have already taken advantage of the FREE Second Chance Option, you must register for the course again and pay full price. Remember you must come back within 30 days of the last day of the Cohort Group you were in without having to pay for the course.
How do I register for the exam?
You can register for the exam at any time during your 90 days in the course. After the 90 day course is complete, you will have 30 days to schedule and take the exam. Retrieve the exam voucher code that was emailed to you from APPA when you registered for the APPA Credentialing Course and follow the instructions found on Step 4 of the CIL platform.
What is the BOK content distribution for the CEFP exam?
The CEFP exam consist of APPA's four core areas of the Body of Knowledge or BOK. The four core areas and the content distribution by area are: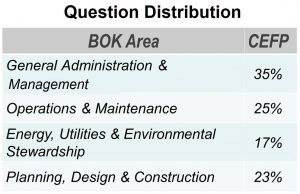 How soon after taking the CEFP exam can I expect to receive my results?
You will receive your pass/fail notification immediately upon concluding/submitting your exam. A new screen will pop up on your computer and provide you with your exam pass/fail.
Does APPA provide additional exam feedback beyond the test results?
Your exam results will be either pass/fail. APPA does not provide your raw score. The reason the exams only provide a pass/fail is because these are credentialing/certification exams. The industry now makes a clear distinction between educational based exams (which would merit additional feedback) vs. exams tied to earning a specific designation or credential.
If I fail the CEFP exam, how long must I wait before signing up to re-take the CEFP exam?
To take advantage of the FREE "Second Chance Option" you must join a new cohort group within 30 days of failing your exam. If you wait more than 30 days to return to the program, you will have to pay regular price. Contact Kelly Ostergrant at [email protected].
How many times in one year can I re-take the CEFP exam if necessary?
APPA allows a test candidate to re-take the CEFP exam up to four times in one year (from the date of the first exam) if necessary. You must retake your exam within 30 days of the fail date.
What is the cost to re-take the CEFP exam?
Every APPA region allows its institutional APPA and regional members to re-test once for free using the FREE Second Chance Option. (i.e. members are granted one free fail). Any additional exam re-takes will result in a $150 fee being assessed before the next exam can be scheduled and must be scheduled within 30 days of the failed exam.
Does APPA require the CEFP exam to be proctored?
Yes, the CEFP exam must be proctored.
If you will be using the Kryterion Testing Center Proctored* or the Secure Wrapper Proctored (webcam) option then you will NOT need to worry about selecting a proctor. You will be provided a proctor by Kryterion.
*PLEASE NOTE: Effective January 1, 2021 APPA will no longer offer the Kryterion testing center as an option for testing due to scheduling issues and closures as a result of the COVID-19 pandemic. We are sorry for any inconvenience.
If you will be using the Campus Testing Proctored (on campus, using your own computer) you will need to secure your own proctor. You will need to notify Kelly Ostergrant via email with your designated proctor contact information (name, email address, etc.) APPA will then email your proctor with all the information he/she will need in order to assume full responsibility as your proctor for your exam.