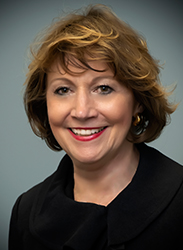 An occasional blogpost from Lander Medlin, APPA's Executive Vice President
---
Member Connection – Initiatives & Opportunities for Engagement
March 29, 2021 — Last Friday, we welcomed long-time and new APPA members, mentors, and inspirational leaders, all at differing stages in their career journey, to connect with the volunteer leadership. We hoped you would hear the Presidents and Vice Presidents give voice to the value of APPA and its niche network of educational facilities professionals through their advice, guidance, and personal and professional journeys.
Given all we have endured this past year, we're continuing to learn from colleagues' successes and failures so we all get better. Yet, Peter Drucker said, "The greatest danger in times of turbulence is not the turbulence, it's to act using yesterday's logic." We certainly don't need to relive this past year; however, we believe this is the absolute best time to be an educational facilities director/professional. Most campuses understand the unbelievable role we played better than they ever have before. Facilities relevance is at an all-time high and facilities professionals have emerged with greater influence, maybe even a seat at the table.
APPA's Presidential Triad spoke about the past, present, and future and the tremendous value of APPA's visionary strategic framework to assist you in Preparing for Every Future by creating a future of continuous learning. Our four Vice Presidents focused their remarks on the exciting initiatives and available APPA resources, and their value for your professional development and to ensure you're positioned for any future.
With COVID's impact on every aspect of our personal and professional lives, relationships are more important than ever. Although we're learning to quickly adapt, we still need to support and nurture one another. Reach out to others in your network. Make time for those connections. It's all about "cultivating the community" – developing, fostering, and growing those all-important relationships. And, don't forget to take time for yourself. We're all under a great deal of stress and need those breaks for our own mental health and wellness.
We emphasize that quality professional development plays a key role in the growth and development of your professional career. Ask any member and your will hear their passion for this special community and our organization. We should not lose sight of the fact that interaction with our industry peers is the real, everlasting benefit that we receive from our involvement with APPA. That's the value of this collaborative, supportive community – sharing ideas, growing, and thriving. That's how we find new, innovative solutions to old, standing problems. We recognize these problems existed prior to the pandemic but they were further revealed and accelerated by COVID-19 realities. Such issues as diminishing financial and budgetary resources, aging facilities and deferred renewal needs, increasing technological demands, focus on safe/healthy buildings, heightened student expectations, an aging workforce with added reskilling requirements, succession management, and the list goes on. Many of these issues will require continued reinvestment in our staff's professional development. That's where APPA comes into play with a wide range of subject matter experts and talented faculty to guide and develop your career training efforts. The return on investment in terms of productivity and performance is unsurpassed.
Rupert Murdoch said, "The world is changing very fast. Big will not beat small anymore. It will be the fast beating the slow." We're going to have to become much faster to respond, and that's what APPA has been doing for us. APPA's visionary strategic framework is sharpening our focus, strengthening our core, and building organizational capacity to provide the best value for our institutions and its individuals to make our campuses a better place. This visionary strategic framework had us well-positioned pre-COVID. Now the work is focused on further building out the educational program across various delivery systems with the best technology infrastructure using peer-to-peer collaboration to greatest advantage. Warren Buffet said, "We can't do today's jobs with yesterday's methods, measures, and skills and expect to be in business tomorrow. You will be replaced." APPA is the place that gives this community the tools and the skills for growth and progress. Another aspect of how APPA is pivoting and reinventing itself is its collaboration with business partners and other associations and organizations that bring different, creative ideas to the table. It was said that "If we reject change and new ways of doing things, we will be the architects of decay; but if we embrace them, we will be the architects of the future."
We were fortunate to have such an enthusiastic group of volunteer leaders on the webinar's panel who provided their insights and expertise.
Panel Members
Jim Jackson, President; Assistant Vice Chancellor for Facilities Operations, University of Nebraska Lincoln
Dave Irvin, President-Elect; Associate Vice President for Facilities, Florida State University
Ruthann Manlet, Immediate Past President; Associate Director, Facilities Management, University of Minnesota Twin Cities
Rob Murchison, Professional Affairs Committee Member; Co-Founder, Intelligent Buildings, LLC
Margaret Tennessen, Vice President for Member & Community Engagement; Deputy Associate Vice Chancellor, Facilities Management, University of Wisconsin Madison
Beth Clark, Vice President for Professional Development; Budget Analyst III, The Pennsylvania State University
David Handwork, Vice President for Information & Communications; Assistant Vice Chancellor of Facilities Management, Arkansas State University
More highlights from the panel members' who identified numerous existing resources and future initiatives follow:
Our existing committee members have done amazing work over the past year in transitioning to more closely align with APPA's governance restructure and to support APPA and members during this time of great change. We thank each and every one of them for their service, their enthusiasm, their creativity, their ingenuity, and their engagement for the entire length of their terms, especially in this last year, to APPA and to their regions.
The opportunity to serve is not disappearing with the governance restructuring of committees. It's actually expanding the opportunity for everyone to serve in an area(s) and/or role(s) that targets their passion for engagement no matter how extensive or limited one's time commitment. We will be able to tap into the expertise of more members more frequently as a result of this transition.
We recognize the critical importance of preserving APPA's culture of community, which is such a special differentiator for our organization. We also recognize the need to keep the delicate balance between volunteer participation and engagement with staff execution and implementation.
Although staff will provide a specific membership message on the results from the Membership Survey, a few points for this communique follow. We received very high marks (in the 90th percentile) for the value of services and benefits versus the cost of dues. Plus, your likelihood to recommend APPA to a colleague or friend received an equally high score. You specifically appreciated our focus on "educational" facilities as a niche market, the expansive body of information provided, and the professional development programs curated by and for the educational facilities community. Clearly, the value of networking received extremely positive ratings and you were particularly impressed with the peer-to-peer information sharing both formally and informally. Indeed, when we dug even deeper into the responses we found six words that became key themes repeated throughout your long form narrative responses. They were: information, networking, professional development, opportunities, education, and knowledge. They appeared in comments across all levels of the organization, international, regional, and local chapters. What was so compelling was how integrated and interdependent these six key themes are and their direct connection to what makes this the special community we share. You also reinforced the high value you have experienced with the Town Halls and webinars. We will continue to deliver emerging and targeted hot topics for our Town Halls and add more webinars with technical topics and even some mini lunch and learns across the regions.
The value of professional networking and mentoring was reinforced innumerable times. Frankly, you can own the network that you've created within APPA. Send some emails, fire off some text messages, check in with your APPA friends and colleagues, and keep that lifeline open and active until we're able to get back together in person.
From the last face-to-face delivery of the APPA U, January 2020, to the first-ever virtual facilities summit, and now the AFS (APPA Facilities Symposium) deliveries (you can still register for the March 31-April 2 AFS this week), APPA's professional development programs, webinars, and Town Halls continue to offer a variety of topics from a wide-range of presenters. Indeed, there has been no shortage of professional development opportunities for our members. In addition, we are now ready to bring you in-person, Professional Development programs to your campus as long as all the proper protocols are in place. We don't know how long it will be until we're all able to assemble for an annual meeting or an APPA U, but we have the ways, the means, and the people who can bring APPA to you.
Credentialing (your CEFP certification program) has seen a major uptake in the last year. Not only has the credentialing program delivery been virtual all along, but now all the means for recertification are as well. You have everything you need to get recertified at your fingertips.
APPA has demonstrated the ability to pivot adeptly to keep you engaged and informed; and, considered worth the price of APPA membership.
The Healthy, Smart Building Initiative represents an old problem of indoor environmental quality and the potential of innovative solutions through focused metrics and measures and an expanded use of SMART technologies.
When it comes to SMART technology tools, it was emphasized that the technology is really not the challenge. It's a collaborative effort between the facilities and IT organizations/staff and the technology. We need to work together and get the right processes in place.
Transitioning Military is another initiative we have delineated on the APPA website and represents our desire to get new, talented individuals involved in educational facilities management.
The Campus of the Future project wraps around the future of SMART campuses and the role of technology as buildings and campuses go through digital transformation and determining what that vision is or should be. This project encompasses a broad search for strategic industry partners across the corporate world. We're looking for guidance on how to get this done. The bigger picture reflects a combination of the physical experience, the digitization of many building systems and learning environments, coupled with experiential learning in all its forms. In addition, we're developing a plan for strategic alliances that will broaden and advance the reach and relevancy of the educational facilities profession and its practitioners through targeted relationship building.
We encourage you to provide facilities internships for students as a way your campus can address experiential learning opportunities. Plus, internships benefit your facilities department with motivated, eager young minds and a valuable source of talent. In this way, you can help students better understand the facilities profession and the career opportunities it affords. Finally, and possibly most importantly, this is a perfect way to institute your own diversity, equity, and inclusion program.
There are numerous opportunities across the APPA informational platform through its virtual assets and virtual/digital resources. Virtual assets comprise Facilities Manager magazine (fully searchable and interactive information medium); Inside APPA newsletter and newsfeed; the APPA website; and the new APPA365 app for all things APPA and enhanced membership connectivity. These assets are heavily reliant on APPA membership engagement and support to drive the content and overall purpose. These digital media assets are the principal front door for APPA members, visitors, and facilities professionals to access educational facilities information. Multiple digital resources comprise the BOK (Body of Knowledge), which is also the principal source of content for the CEFP credential; FPI (Facilities Performance Indicators); APPA Standard 1000 TCO (Total Cost of Ownership); emerging Facilities Informatics Work Group; and Facilities Terms and Definitions. These resources are a wealth of information and cumulative knowledge base from hundreds, if not thousands, of educational facilities professionals.
The Standards & Codes Council members actively monitor engaged standards development organizations (SDOs) (e.g., ICC, NFPA, ASHRAE). Investment in these SDOs and sharing developments with the membership accomplishes APPA's strategic objectives of having a voice or a seat at the table with codes and standards development, and educating the membership of impactful changes.
At this time, we have a call for service for APPA volunteers to continue to advance these strategic objectives and elevate APPA as a well-recognized user/owner and consumer. The most recent development with the ICC's IECC (International Energy Conservation Code), which is the energy building code for most U.S. states and jurisdictions, is that it is no longer a governmental consensus code. This change is an immediate opportunity for our membership to rise to the call for service and engagement. Please consider applying for membership to the redeveloped IECC committee. APPA will post the ICC's IECC call for membership application this week. APPA desires one of the organizational seats and several additional individual seats to represent our industry. In many ways, education institutions have led the world with energy conservation and sustainability while being cost effective regarding the total cost of ownership of emerging and proven technologies and best practices. Who better to have a voice on the future of the ICCs IECC than APPA and our member institutions?!
These are just a few of the opportunities for you to serve not only your institution but the profession. We encourage each APPA member to find where you can engage, contribute, and grow.
At APPA, we have dreams and we have plans. What we need is YOU! We need your engagement, your talent, your expertise, your inspiration, and your imagination. There are plenty of places where you can help us, where we can support you, and make you, APPA, the community, and the profession even better. This is a great organization. This is a great profession. And, this is a great time to be part of it. I challenge you; I ask you to join us.
E. Lander Medlin
APPA Executive Vice President
---
---